Dodgers Report:

Derek Jeter
July, 15, 2014
Jul 15
10:55
PM PT
MINNEAPOLIS --
Yasiel Puig
was so excited for his first All-Star Game, he cleaned up his Mohawk and shaved a giant star into the side of his head.
It's hard to know what haircut he'll be wearing when the
Los Angeles Dodgers
open after the All-Star break in St. Louis on Friday, but he might want to switch it up.
Puig didn't have much luck in his first All-Star experience. He went homerless in Monday night's Home Run Derby -- the only participant to do so -- and he was 0-for-3 with three strikeouts in Tuesday night's All-Star Game.
[+] Enlarge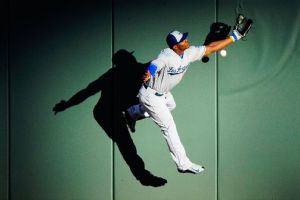 Jeff Curry/USA TODAY SportsYasiel Puig couldn't come up with the catch on a drive off the bat of Mike Trout in the first inning of Tuesday's All-Star Game.
Puig also turned the wrong way on
Mike Trout
's triple over his head in the first inning. But to have caught that ball would have taken a perfect route and a great catch.
Teammate
Dee Gordon
, who has seen Puig's prodigious talents up close for the past two seasons, was shocked by his struggles here. The Dodgers typically have seen Puig thrive under the bright lights.
"That was crazy. I can't believe that happened," Gordon said. "He'll be here for a lot more and be able to do his thing."
Puig, who is batting .309 with a .915 OPS, is hoping for another chance at an All-Star Game. He said he leaves Minneapolis "happy" because he was able to spend time with so many players he knew in Cuba -- particularly pitcher
Aroldis Chapman
-- and be part of
Derek Jeter
's final All-Star Game.
"I did the best I can," Puig said through an interpreter. "I participated in the Home Run Derby and didn't hit home runs. I played in the game and had three punchouts. It happens.
"Now, I'm focused on doing the best I can in the second half. And if I get a second opportunity to be an All-Star, I think I'll do better."
At times Puig has looked vulnerable against elite pitching. He batted .227 with 10 strikeouts against a hot
St. Louis Cardinals
staff in last October's NLCS.
Then again, most hitters are vulnerable to elite pitching. Puig struck out Tuesday against
Felix Hernandez
,
Yu Darvish
and
Max Scherzer
.
July, 15, 2014
Jul 15
10:25
PM PT
MINNEAPOLIS --
Zack Greinke
speaks plainly, as you might have noticed by now. If you don't want his true opinion, don't ask him.
So when someone asked Greinke whether he would have been able to groove pitches to
Derek Jeter
in a situation such as Tuesday night's All-Star Game -- the last of Jeter's Hall of Fame-bound career -- Greinke didn't exactly condone
Adam Wainwright
's decision to do just that. Wainwright threw two 90-mph fastballs to Jeter and later admitted they were "pipe shots" designed to give Jeter a better chance of getting a hit.
[+] Enlarge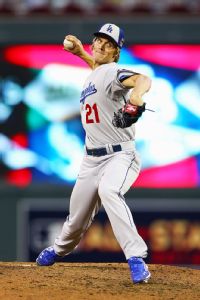 Elsa/Getty ImagesZack Greinke struck out two in a scoreless inning against the AL during Tuesday's All-Star Game.
After those initial comments to reporters, Wainwright said those were made partly in jest and maintained he did not serve up a pitch to Jeter's linking.
Jeter wound up hitting a double to right field and sparked a three-run American League rally in the first inning that helped the AL beat the NL 5-3. Greinke's teammate,
Clayton Kershaw
, who many think should have started over Wainwright, said he thought Wainwright did the "right thing," but he didn't say he would have grooved pitches himself.
There is a difference.
"I don't think I would throw it right down the middle to him by any means," Greinke said. "At least, ideally I wouldn't. I don't think he would want that either. He wants your best stuff. I would probably try to throw best stuff -- four strikes -- and see what happens."
Greinke, like Kershaw, pitched a perfect inning. He got
Jose Bautista
to ground out and struck out
Nelson Cruz
and
Adam Jones
swinging. It was only Greinke's second All-Star appearance. He also pitched a perfect, two-strikeout fourth inning in St. Louis in 2009, the year he won the Cy Young award, but he said this one came a lot more easily.
He remembered feeling in 2009 as though he didn't have enough time to get loose and his arm didn't feel good when he got in the game.
"I just remember getting real nervous, like, 'I need to get my arm going,' and it just wasn't going," he said. "I was running out of time. By the end, it was fun, but I was worried for a while."
Greinke admits the All-Star experience is a difficult one for him. He was diagnosed with social anxiety disorder in 2006 and said at his introductory news conference with the Dodgers that he takes medication to manage his condition. He was not in the NL clubhouse when the media was allowed in Tuesday, because for him it's a claustrophobic experience. Crowds aren't Greinke's thing, and neither is the frenetic pace.
"There are just so many obligations that you have to do and go meet for stuff, which is more difficult for me than other people," he said.
July, 14, 2014
Jul 14
11:27
AM PT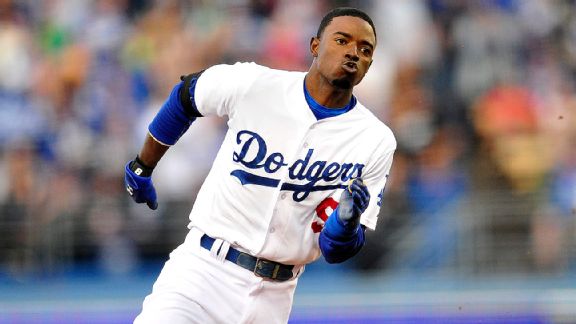 Gary Vasquez/USA TODAY SportsDee Gordon is looking forward to hearing his name at All-Star introductions.
Dodgers second baseman Dee Gordon has agreed to offer occasional journal entries about his experiences at his first All-Star Game.
I've always wanted to be an All-Star. That's the highest honor you can have as a professional athlete and just to share that and be part of that is incredible. Now, I have another piece of the legacy to add. My dad, Tom "Flash" Gordon, was an All-Star pitcher and I went with him three times, in Colorado, Houston and Pittsburgh.
I was 10 in Colorado. It was a long time ago. I was sick. I didn't get to see anything. I went back to the hotel room and didn't even watch it, I was so sick. In 2004, in Houston, I was 16 and I remember being at the Home Run Derby, just hanging out, trying to steal home runs in the outfield. In 2006, I was 18 and I was too cool to go on the field, so I just sat in the stands.
My dad is coming up from Florida and I hope I get to spend a lot of time with him. I've heard it's pretty jam-packed with activities, so we'll see. Both my grandmas, my sister, some aunts and uncles and cousins are coming, too. They're excited.
I'm the most excited about just getting my name called. I don't know if I'm going to play or not.
It's going to be cool just to be around those guys and listen. It's weird because my dad played with
Derek Jeter
and know I'm playing with him in my first one and it's going to be his last one. It's cool.
I knew him when I was younger. I haven't seen him since. I'm going to go say, 'Hi.' I think I was 12 or 13 or something crazy last time I saw him. Even then, I learned something about professionalism. He never got in trouble. His name was never in the paper for the wrong thing. It's crazy you could play that long and nothing is ever said about him, nothing but good.
I modeled myself after him. My little brother Nick, [the Minnesota Twins' first-round draft pick] does as well. But I'm a second baseman now. Those dreams died, but I try to model my professionalism after him and stay out of the way, stay out of the papers and things and make sure people respect you.
July, 31, 2013
7/31/13
11:11
PM PT
LOS ANGELES --
Clayton Kershaw
had an ominous tone in his voice when he talked about the raucous crowds that urged the
Los Angeles Dodgers
on during this six-game homestand. More than 300,000 people showed up and, for the most part, they were treated to a good time.
"If we start to lose, it's not going to be like that," Kershaw said. "We need to remember that."
[+] Enlarge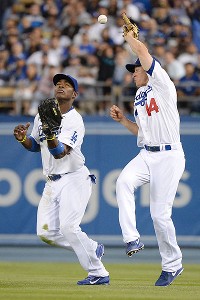 Harry How/Getty ImagesMark Ellis, right, drops a ninth-inning pop-up as he nearly collides with the onrushing Yasiel Puig.
Those are the kinds of thoughts that start to creep into your head on a night like Wednesday. Kershaw pitched brilliantly, again, but a couple of shaky moments -- one by the manager, one by the second baseman and right fielder -- cost the Dodgers in a 3-0 loss to the
New York Yankees
.
The little things are hard to see when a team is as hot as the Dodgers have been. When things start to slow down -- and, though the Dodgers have been pulling out some wins, their bats have gone soft lately -- you can't miss the little things.
The trouble began when manager Don Mattingly lifted Kershaw in a scoreless tie after he had just laid down a sacrifice bunt the previous inning -- and after a manageable 97 pitches -- going into the ninth inning.
There was no video evidence of it, but the Yankees must have been dancing for joy inside. Up to that point, Kershaw had limited New York's activity to five baserunners, widely scattered. Mattingly said he made the decision after talking to Kershaw between innings.
He said he has learned to gauge Kershaw's energy level by reading between the lines of his comments.
"It's either, 'I'm good. I've got this,' or he gives you a different answer," Mattingly said. "He won't ever tell you that he won't go back out, but I could tell that he was out of gas."
Kershaw was in no mood to expand on Mattingly's comment or decision.
"That's fine. We'll leave it at that," he said ... twice.
The Dodgers might have been in position for one of their dramatic rallies -- though this time it would have come against the man they honored before the game,
Mariano Rivera
-- if not for a miscommunication between Puig and Ellis. They converged on a shallow popup and, just as they brushed into each other, Ellis dropped the ball. That gave New York a three-run lead with Rivera warming up. For a man with 642 lifetime saves, that's like a 4-inch tap-in putt.
July, 31, 2013
7/31/13
10:12
PM PT
LOS ANGELES -- Games had been so exciting around here the past few days, it was easy to overlook an intruder sneaking up on the
Los Angeles Dodgers
' party, step by stealthy step.
The bats stayed in Canada. There was the 20-strikeout game Sunday, the feeble effort against aging and inconsistent
Andy Pettitte
on Tuesday. And Wednesday, it finally caught up to them in a 3-0 loss to the
New York Yankees
at Dodger Stadium.
The Yankees' ninth-inning rally started like so many have over the past couple of decades: with
Derek Jeter
getting on base. The captain walked and his pinch runner,
Eduardo Nunez
, scored the winning run on pinch hitter
Lyle Overbay
's single off
Paco Rodriguez
.
Then, the Dodgers got sloppy, with
Yasiel Puig
colliding with
Mark Ellis
, who dropped a fly ball to allow two more Yankees runs to score. In spring training, Dodgers manager Don Mattingly said Puig still hadn't mastered the ability to call for a fly ball.
That put the Dodgers in a bad spot: between
Mariano Rivera
and his 642nd career save, which he earned in fairly crisp fashion.
It was another dominant outing by
Clayton Kershaw
and another one not rewarded with a win. Kershaw lowered his ERA to 1.87 with eight dominant innings but remained stuck on 10 wins. In nine of Kershaw's 23 starts, he has left the game with the Dodgers having scored no runs or one run. In five others, they scored two.
Most of that lack of support came before the All-Star break. The Dodgers' offense ignited in July, but it has stalled since coming back from Toronto. The Dodgers have scored four runs in their past 29 innings.
The Yankees made the mistake of missing an opportunity early and that's a bad idea against Kershaw. New York had runners at first and third in the second inning after
Brent Lillibridge
's single up the middle.
The rally started when Puig made an ill-advised dive for
Vernon Wells
' sinking liner near the right-field line, but somehow caught it on a bounce any way, got to his knees and made a strong throw to
Hanley Ramirez
to hold Wells to a single. In fact, had Ramirez not bobbled it, he might have thrown Wells out scrambling to get back to first.
Kershaw got
Jayson Nix
to line weakly to Ramirez and
Chris Stewart
to ground out to third and cruised for the next six innings.
The Dodgers' problem was trying to figure out a former teammate,
Hiroki Kuroda
, a pitcher they made an offer to in the free agency period last fall. Kuroda, as he has been all year, was hard to handle. The Dodgers were lurching at his split-finger pitch all night.
The Dodgers got just one runner to second base in the game's first six innings. They might have had a bigger rally in the seventh, but
Adrian Gonzalez
was thrown out -- by a lot -- trying to stretch his hit down the right-field line into a double.
Andre Ethier
and
A.J. Ellis
had back-to-back hits with two outs, but
Skip Schumaker
struck out to end the threat.
July, 30, 2013
7/30/13
11:14
PM PT
LOS ANGELES -- Jay Z was in the building.
In fact, he was seated in the first row behind home plate, about 20 feet from Scott Boras, the fellow agent from whom he recently stole
Robinson Cano
and then insulted in one of his songs. That had to be a little awkward.
[+] Enlarge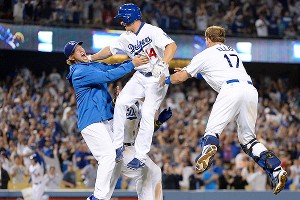 Harry How/Getty ImagesMark Ellis, center, celebrates his walk-off hit as the Dodger Stadium crowd erupts around him after the Dodgers beat the Yankees.
But it was hardly the only locus of A-list activity at Dodger Stadium on Tuesday night, judging by the faces the Dodgers kept putting up on the big videoboards. Half the NBA seemed to be here, including
Kevin Durant
,
Russell Westbrook
,
Chris Paul
and
James Harden
.
The Screen Actors Guild, as usual, was well-represented, with Jack Nicholson, George Lopez and others. Brooklyn native Mel Brooks, who just turned 87, was here, for crying out loud.
And the show went on. The Dodgers got their second walk-off win in as many games when
Mark Ellis
hit a sinking liner over
Derek Jeter
's head to beat the
New York Yankees
3-2.
The place went mad, with the fans in the top deck bobbing up and down, shaking the 51-year-old stadium. It was the loudest this place had been since ... well, the last time the Dodgers played here. Sunday,
Yasiel Puig
ignited things with his home run to snap a scoreless tie in the 11th inning.
In other words, things are again as they probably should be in a place that has hosted its share of big events over the years. Dodgers fans endured the drudgery of the tail end of the Frank McCourt years for these kinds of nights.
"We're playing like we should play and this is what you hear about when you're playing on other teams," Ellis said.
The Dodgers drew more than 200,000 fans for their four-game series with the
Cincinnati Reds
over the weekend. They followed that up with a crowd of 52,447 on a Tuesday night, and while the term "playoff atmosphere," might be a bit of a stretch, the crowd's mood Tuesday seemed to match the team's: joyful.
July, 29, 2013
7/29/13
3:03
PM PT
LOS ANGELES -- When did Don Mattingly get so much smarter?
On May 22, there were national baseball writers either calling for the Los Angeles Dodgers manager to be fired or predicting his imminent downfall. The Dodgers scrambled to squash those rumors, but a month later, the Dodgers' season had settled into a more humdrum rut, and it seemed like Mattingly might make it until the final game of the season, but not much beyond that.
And now? Mattingly's club is as hot as it has ever been in the 55 years the Dodgers have been in Los Angeles and, funny, nobody is raising the issue of his job security. If anything, his name is now being bandied about in early discussions for Manager of the Year.
With the New York Yankees coming to Dodger Stadium for interleague play for the third time ever, it seemed like a good time to catch up with Mattingly. He was a six-time All-Star for the Yankees between 1982 and 1995.
Q. When you guys were in New York earlier this year (the Dodgers' first trip there in 32 years), the Yankees played a tribute to you on the video board, and you got a standing ovation. How did that feel?
A. It was nice. I'm downplaying it, but it was nice.
I always like going back there. It's hard to explain that. I played my whole career there, you know, and they were always good to me. The fans appreciated the way I played. It's where I grew up. I learned how you were supposed to play the game from their perspective. It's like, you play your whole career there, so …
[+] Enlarge
Linda Cataffo/NY Daily News Archive/Getty ImagesDon Mattingly on former student Derek Jeter: "Father Time's going to get you at some point, but one thing I've seen with Derek is you don't ever underestimate him."
Q. You coached Derek Jeter, who came back Sunday (and homered on the first pitch he saw). What do you expect from him the rest of his career?
A. I'm not sure. I don't know how serious everything is. Obviously, Father Time's going to get you at some point, but one thing I've seen with Derek is you don't ever underestimate him because he finds a way to get it done. Two years ago, they were saying he can't do this and he can't do that, and he gets 200 hits and had a tremendous year. It's hard to sell him short.
He'll play the same. Jete plays hard, but he's under control. He's not doing dumb stuff. He steals bags when you need them. That's kind of the way he plays. When he wants an out, he's going to go make a play, even if he has to go in the stands.
Q. Earlier this year, you said you were prepared for all the rumors about your job because of your experience playing under George Steinbrenner during that time of volatility at Yankee Stadium. When you went through it, though, was it any different than you'd expected?
A. It's a little different, because you can't really do a whole lot about it. I've been through a lot, obviously, just as a player. It was a good situation, but still you go through stuff. You struggle in your career, they get on you. It's just the way it is.
You're prepared for that. You just know how to deal with stuff, but as a manager, you don't really have any control. So, you've just got to keep making good decisions, that's the main thing. You can't start listening to outside influences. I don't want them in my head. I don't want to see Twitter, I don't want to see comments. I want to go off facts to make baseball decisions, not based on what's trending or what talk radio is saying about what you should be doing. You want to just keep making good decisions and then trust your guys. But it was hard, though.
Q. When you read that stuff …
A. I didn't read it. I heard the questions, so I know what they're saying. I read MLB.com, the Dodger news, because I want to hear my guys' comments, because it tells me what they're thinking and how they're thinking. Just a little thing they may say, a word in there, tells me something. If something's going on with the guys, I'll kind of read a little bit. But that's all.
[+] Enlarge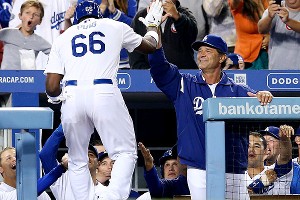 Stephen Dunn/Getty ImagesOn Yasiel Puig: "This kid's exciting. The way he plays is infectious."
Q. The event that led to the flare-up in firing talk was your comments in Milwaukee about wanting to see more fight from your team? It seems like guys have played a little harder since then, but then again, maybe it's because you're just playing better. Do you see any cause-effect going on there?
A. There's more energy, but I think we have to give Yasiel [Puig] a lot of credit, because he brought a lot of energy. It's always good to have a mixture of young and old. You get too many old guys, guys who are settled, they're in the big leagues, nothing makes them excited. This kid's exciting. The way he plays is infectious and, if you don't like the way he plays and the reaction from people … man, that's the way you're supposed to play. You're supposed to play like a little kid.
Everything he's going through is right there to see. There's no hiding it. It's like, if he's mad, he's mad, if he's happy, he's happy. It's great. Then, we started winning, and that's where the true energy comes from.
A couple things happened. We got healthy in there. Hanley [Ramirez] came the same time as Puig. He was quietly just banging away, getting no attention until lately. Adrian [Gonzalez] continued to do his thing and, during that period, Andre [Ethier] started to swing the bat. All of a sudden, you've got four guys.
We kind of got beyond that period of having to nurse Hanley back. It was like, we'd win a series, and then it was like, 'Well, Hanley's going to be down today.' Finally, after Pittsburgh, I was like, this is crazy. You've got to play your guys, and Hanley wanted to play that day. ... I told the medical people, 'We can't keep doing this.' That New York series was the first time we started just playing these guys, and that's when we started playing better. Right there. We crushed the ball in both games. We only won one, but we swung the bats in both games.
Q. Hanley said the other day that, since he's been a Dodger, he thinks differently. What do you make of that? Has his baggage been less cumbersome than you expected, given his reputation from Miami?
A. I didn't really hear, because I don't go and read about guys. I saw the big stuff, the clashes with management and some of the stuff on ESPN. I know how those things go, though. You see something, it could get blown out of proportion. You get six guys on this side and six guys on that side. That's how those shows work. This guy says 'bad' and this guy says 'good.' It's a fight and they argue.
I try to look at the whole picture. Here's a young guy, had success, got paid. Nobody really around him. Organization-wise it can go in and go out. They go for it, then they kind of sell out. It's just up and down. And I just knew how good he was. It's like, 'This guy is so talented,' and you put him in the right situation and give him a chance. He's just taken over, taken off with that opportunity. It's like a new day.
I take this from my own childhood. I was a pain in the butt in grade school. Oh my God, I was in trouble all the time. I didn't want to go to the school my mom and dad wanted to send me. They sent me across town a little bit, to a school my brother went to. I said, 'You know what, I'm tired of being in trouble.' ... The baseball coach there was great, he was tough, and it changed everything for me. I look at changes of scenery as a chance to say, 'You know what, I'm done with the past. I don't want that crap.'
Q. Tell me more about your high school coach, Quentin Merkel [from Memorial High in Evansville, Ind.]. Biggest influence on you as a manager?
A. He was tough. He was like, 'If you don't get your grades, if you get in trouble, you don't play.' If you got caught smoking, you're off the team. If you got detention and missed practice, you're off. The first meeting we had is like a 3 o'clock meeting. School's over at 2:50. He locks the door. If you come late, he's like, 'I'll see you next year.' That's the way it was.
There were two or three of them that were late. Two of them just left. The one that stays, he gives him a chance. He wanted to see. You've got to fight for what you want.
He just retired. He had over 900 wins, playing 30 games a year. That's a lot of baseball. He's coming out for this series. They asked me if I could get him tickets, so he's coming out. He's awesome. Great guy. All the stuff he said stays with you. It was pretty simple, fundamental, solid. He pushed me to get better. That stuck with me to this day. He was a worker.
May, 28, 2013
5/28/13
5:53
PM PT
LOS ANGELES –
Derek Jeter
slid into second base, called timeout and had a few seconds to chat with
Baltimore Orioles
second baseman
Jerry Hairston Jr
.
Like the rest of baseball at that time -- late May of 2004 -– Hairston was aware of how badly the
New York Yankees
captain was struggling.
Through 184 at-bats, Jeter was hitting .190 and -– yes -– getting booed at Yankee Stadium.
"I turned to him and said, 'DJ, you all right?,'" Hairston said. "He goes, 'Oh yeah. I'm a bad boy.' And that's the mindset you want."
Matt Kemp
said he has had conversations with several future Hall of Fame players as his struggles have dragged through the season's first two months. He wouldn't say who he has spoken to, but he said they've all given him the same advice.
"That I can hit and you've got to believe you can hit and it'll come back," Kemp said. "All I'm going to do is continue to work, grind this thing out and continue to try and help my team in any way possible."
Kemp, 28, is batting .253 with two home runs, 17 RBIs and a .637 OPS in his first 186 at-bats. On Tuesday, for the first time since 2010, Kemp was not hitting second, third or fourth for the Dodgers in a game he started. Don Mattingly moved him into the No. 5 hole.
If he wants to have another such conversation with a Hall of Fame-caliber player, he won't have to get all the way to second base tonight. Angels first baseman
Albert Pujols
was batting .227 with a .646 OPS after his first 185 at-bats. He didn't hit his first home run as an Angel until May 6.
A year ago, reporters were asking Kemp about Pujols' struggles and whether he had become a better player than Pujols.
"I was like, 'Hell no, are you serious?'" Kemp said.
By the end of last season, Pujols was batting .285 with 30 home runs and 105 RBIs -- career lows, but far from shabby.
"That's not bad," Kemp said. "If I can do that, that's a successful season right there, I think."
In 2004, by the way, Jeter rebounded to bat .292 with 111 runs scored.
Hairston took to Twitter Tuesday afternoon and sent the following message to his followers: "Our CF is coming off a tough surgery. keep believing in @TheRealMattKemp and all us."
Hairston has had surgery on his left shoulder and said it can take months to regain full trust in it. He said he tweeted support because he didn't want the booing to get out of hand.
"I didn't want it to become the chic thing to do," Hairston said. "Matt has given this city so much at such a young age. I see how much Matt puts into it."
Here are lineups for Tuesday night's game against the Angels:
Angels
1.
Erick Aybar
SS
2.
Mike Trout
CF
3.
Albert Pujols
1B
4.
Mark Trumbo
LF
5.
Josh Hamilton
RF
6.
Howie Kendrick
2B
7.
Alberto Callaspo
3B
8.
Chris Iannetta
C
9.
Joe Blanton
RHP
Dodgers
1.
Carl Crawford
LF
2.
Mark Ellis
2B
3.
Adrian Gonzalez
1B
4.
Andre Ethier
RF
5.
Matt Kemp
CF
6.
A.J. Ellis
C
7.
Juan Uribe
3B
8.
Luis Cruz
SS
9.
Hyun-Jin Ryu
LHP