November, 13, 2012
11/13/12
9:20
PM PT
By
Mark Simon, ESPN Stats & Information
The NL Cy Young race is intriguing, as the three finalists are very different in pitching style, but very similar in statistical accomplishments.
The case could be made for any of the three. Let's look closely at the advantages for each.
The case for Clayton Kershaw
The
Los Angeles Dodgers
lefty's win total wasn't as gaudy as either of his competitors, but he fared better in other traditional and advanced statistical measures.
Kershaw led the NL in both ERA and WHIP. One neat thing about Kershaw's WHIP is that
his
defense helped in thwarting those who did reach.
Of the baserunners he allowed, 14 were wiped out either by caught stealing or pickoff, well more than Dickey and Gonzalez.
Kershaw also led the NL in highest average Bill James Game Score. That stat rates a pitcher's start (usually on a scale of 0 to 100), based on innings, runs, hits, strikeouts and walks.
How did Kershaw thrive? Largely on the strength of his breaking ball. His 156 strikeouts on breaking pitches were 17 more than any other pitcher.
Lastly, Kershaw led the NL in Baseball-Reference's wins above replacement, a stat intended to show how tough it would be to replace that pitcher.
No one rated more irreplaceable than Kershaw.
The case for R.A Dickey
The
New York Mets
' knuckleballer outdid his fellow finalists primarily in the area of accumulated totals.
Dickey led the NL in both complete games and shutouts, and led the majors in quality starts (those of at least six innings with three earned runs or fewer allowed).
He also won the NL strikeout crown by one whiff over Kershaw. That came about largely because of the improvement in his knuckleball location. Dickey got misses on 29 percent of his swings against pitches in the upper half of the strike zone, up from a 17 percent rate in 2011.
Dickey's biggest advantages over his competitors come in his win-loss record (a .769 winning percentage) and that he demonstrated great control with a non-traditional pitch.
He averaged 4.3 strikeouts per walk, considerably better than Kershaw and Gonzalez.
The case for Gio Gonzalez
The
Washington Nationals
lefty made a great transition from the AL to the NL.
Gonzalez led the NL with 21 wins. Though some might say that doesn't measure pitching performance well, he has other numbers to back up his efforts.
They include the highest strikeout rate in the NL and the lowest opponents' OPS.
Gonzalez thrived largely because of his ability to get opposite-handed hitters out. Righties hit just .199 against him, the second-lowest opponents' batting average in the majors.
Gonzalez's ability to strike out hitters at a high rate and keep opposing hitters from hitting the ball out of the ballpark led to him also leading the NL in fielding independent pitching.
That stat is an ERA estimator based partly on those two abilities that are key to any pitcher's success.
September, 2, 2012
9/02/12
7:52
PM PT
LOS ANGELES -- When
Bobby Abreu
walked into the
Los Angeles Dodgers
' clubhouse Sunday morning, he could hardly recognize the players surrounding him.
He had been gone for only one month after being sent down to Triple-A Albuquerque when the Dodgers traded for
Shane Victorino
on Aug. 1. But Victorino was just one of the many new faces that had joined the team over the past month.
"It's different," Abreu said. "It's totally different."
While the players the Dodgers have acquired over the past month arrived with high expectations, most of them have yet to reach those standards while they are still getting acclimated to their new surroundings. It's an understandable process. But if the Dodgers hope to make it to the postseason with their revamped roster, the fast-forward button on that process needed to be punched soon.
Adrian Gonzalez
, the most high-profile new face on the team, may finally have hit that button Sunday with his walk-off double that scored Victorino and
Mark Ellis
to give the Dodgers a 5-4 win against the
Arizona Diamondbacks
.
After Victorino slid home, he was lifted up by Ellis as the rest of team proceeded to surround Gonzalez and rip off his jersey. With his jersey gone, Gonzalez attempted to make it through an on-field interview after the game while being sprayed with water by
Aaron Harang
, then having a bucket of water dumped on him by
Matt Kemp
.
In the clubhouse, Victorino was humming Flo Rida's "Good Feeling" as he and Kemp goofed around with the children of Ellis and
Andre Ethier
.
For all the closed-door, open-door and side-door meetings the team has had over the past month, nothing brings a team closer together than a walk-off win. Few players are humming songs and playing catch with their teammates' kids in the clubhouse after a loss.
"Winning games now is what's going to put this thing together," Dodgers manager Don Mattingly said. "We're getting to a point now where you're not going to have time to learn guys' families and go out and get dinner, or whatever it is. At this point chemistry is going to come from winning and being in tough spots."
It was a message Mattingly tried to drive home to the team after the game, as he specifically looked at many of the new players who were due for a turnaround at some point.
"Don brought us together and said we're all great players and we're all good," Victorino said. "We know what kind of lineup we have; just go out there and let it happen. Don't press, don't do things out the ordinary; just be who we are. That was the easiest thing for us to understand. There's no pressure; just go out there and play hard."
Coming into Sunday, Gonzalez and Victorino were a combined 3-for-24 during this homestand and started the game a combined 0-for-6 before turning things around and playing huge roles in the Dodgers' comeback win against the D-backs. It was the positive reversal Gonzalez was hoping would happen sooner rather than later. He wasn't sure when it would take place until he was mobbed by his teammates after his walk-off double.
"I felt great the first couple of days, and then I got a little quick and I was trying to work through a couple of mechanical things," Gonzalez said. "In baseball, every day is a new adventure and you just have to work through it."
Mattingly has talked to his players about working through it, knowing it will take time for them to reach their former levels. He also has been totally realistic when talking about their struggles, understanding there's a real possibility they might not reach their expectations by the end of the season after being traded so late.
"It's a short window," Mattingly said. "Guys are going to reach their level. Matt Kemp is going to do his thing. Adrian is going to do his thing. These guys are going to do their thing over the course of a season. You just don't know what they're going to do over the course of 30 days. Are they going to get hot or are they going to have a bad month? We don't know what's going to happen in a short window.
"It's just different putting something together so quickly. It's different for me, because I don't really know these guys and they don't know me. And they don't necessarily know their teammates. It doesn't have to be that way to work, but it's just different."
For as many question marks as the Dodgers may have coming into the stretch run of this season, Mattingly admits he doesn't have much time to second-guess himself or his new roster. The Dodgers' playoff hopes will live or die with this current group and their ability to play back to the level they were accustomed to before changing addresses.
Sunday's walk-off win was one short step in the right direction of a long journey the Dodgers may or may not have time to complete this season.
"These are our guys," Mattingly said. "If we're going to go, they're going to carry us there. That's just the way it's going to be. It's too late to be trying to trick something into happening. We either go or we don't go with these guys."
August, 8, 2012
8/08/12
11:15
PM PT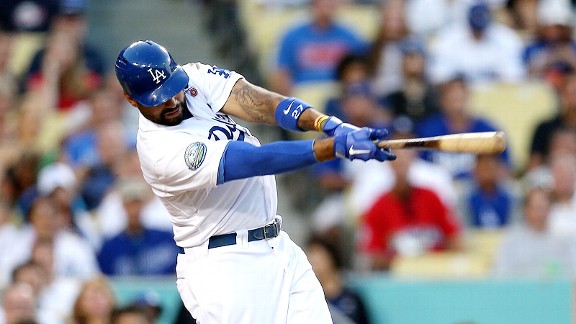 Stephen Dunn/Getty ImagesMatt Kemp's first-inning three-run homer Wednesday allowed the Dodgers to play free and easy again.
LOS ANGELES -- When
Matt Kemp
batted in the fifth inning Wednesday night, fans at Dodger Stadium serenaded him with the now-familiar "M-V-P! M-V-P!" chant.
Probably not going to happen, folks.
Kemp might have gotten robbed by
Ryan Braun
last year, but this year his own body cost him. Players who miss nearly one-third of the season because of injuries typically don't get much play in the MVP discussion.
But if the Dodgers manage to push their way into the postseason with an offense that -- when Kemp isn't hitting -- is about as scary as a Labrador retriever puppy, who really cares about a trophy anyway? It will be all the same to Dodgers fans.
At a most valuable moment, Kemp came through again. The Colorado Rockies came in with a pitching staff that was held together with bubble gum and tape -- just four healthy starters and a small army of middle relievers being called on to get about 15 outs a night. The Dodgers' sputtering offense had made them look like the 1969 New York Mets for two nights.
So, when
Chad Billingsley
put the Dodgers in a 2-0 hole in the top of the first inning Wednesday, the atmosphere wasn't exactly joyful and light at Dodger Stadium.
But great players can change an entire city's mood, and Kemp energized this fan base in the first inning by launching a
Jeff Francis
changeup into the left-field bleachers for a three-run home run that allowed the Dodgers to play free and easy again, the way they did when they were the best team in baseball back in April.
Before that swing, the Dodgers had scored one run the previous two nights against a pair of Colorado pitchers with 5.00-plus ERAs who didn't throw a pitch as late as the fifth inning.
May, 29, 2012
5/29/12
9:56
PM PT
LOS ANGELES -- The Los Angeles Dodgers' offense was silenced by a Milwaukee Brewers starting pitcher for the second evening in a row, the Dodgers falling 2-1 before 51,137 on Tuesday night at Dodger Stadium. This time, though, it may have stung a little more.

This time, the Dodgers didn't have the excuse of a depleted lineup, Matt Kemp having been activated from the 15-day disabled list earlier in the day. And this time, the pitcher silencing the Dodgers was a rookie named Michael Fiers making his first major league start -- he did make two relief appearances last year.

Fiers held the Dodgers to a run on five hits over seven dominating innings, using just 89 pitches. The Dodgers' only run came in the sixth, when Ivan De Jesus and Andre Ethier doubled, but Ethier wound up stranded when Jerry Hairston grounded to short to end the inning.

The Dodgers (32-17) are once again in danger of their first three-game losing streak of the season. Clayton Kershaw, the reigning National League Cy Young Award winner, will take the mound against the Brewers on Wednesday night, but he will be opposed by right-hander Yovani Gallardo, who also garnered numerous Cy Young votes last season.

The good

Welcome back. Kemp's return from the disabled list was a welcome sight for the Dodgers. So far, though, that is all it was. Kemp went hitless in his first three at-bats, including a strikeout and a tapper in front of the plate. Kemp later led off the ninth with a beautiful, nine-pitch at-bat against Brewers closer John Axford before doubling off the wall, but Kemp wound up stranded on third when James Loney grounded to short to end the game.

Settling in. After giving up a one-out, two-run homer to Ryan Braun in the first inning, Dodgers right-hander Nathan Eovaldi, who was making his first start of the season after being recalled from Double-A Chattanooga before the game, retired 18-of-21 batters the rest of the way before being lifted after seven. That included one stretch of 12 batters in a row. Braun would be the last Brewers runner to get past first base against Eovaldi.

Glove work. Loney made another of his increasingly frequent, spectacular plays, this time diving to his left to take extra bases away from Nyjer Morgan leading off the ninth. Alas, on the very next play, Loney committed what initially was called an error, allowing a hard smash by Braun to get through him, but the official scorer soon changed his mind and credited Braun with a single. Braun wound up stranded on third base at the end of the inning, so no harm, no foul.

The bad

Boo this. Greeted once again by the loud catcalls that have showered him every time he has stepped into the batter's box in this series, Braun shrugged it all off in the first inning and slammed a two-run homer into the right field bullpen against Eovaldi, putting the Dodgers into an immediate, 2-0 hole. The boos, by the way, only got louder as Braun circled the bases.

Leather-seeking missiles. While being held to one hit through the first four innings by Fiers, the Dodgers hit several balls hard enough to do damage, but each time, that ball wound up in someone's glove. Following Ethier's leadoff single in the second, Loney hit a shot to the wall in right that Corey Hart had to reach for while backtracking. In the third, Eovaldi hit what looked like a flared single to right, but Brewers second baseman Rickie Weeks caught up with it and hauled it in. And in the fourth, Kemp hit what was sure to be his first home run since coming off the disabled list, right up until it died on the track and was caught by Hart.

Lonely at the top. As valuable as Tony Gwynn has been to the Dodgers this season, especially during the absence of Kemp, he hasn't been especially good when hitting in the leadoff spot. Gwynn's overall average of .287 coming into the game was 33 points higher than the .254 he sported as a leadoff man, and his on-base percentage in the top spot was .290. With Kemp back in the lineup, Gwynn moved from center to left but remained in the leadoff slot, going 0-for-4 with three popups, one of them on a bunt, and a harmless groundout.
May, 25, 2012
5/25/12
8:24
AM PT
By
Dan Braunstein | ESPN Stats & Information

Here is a statistical look at the Dodgers, focusing on games from May 18 to May 23. Baseball-Reference.com continues to be an invaluable resource.

HOME, SWEEP HOME

The Dodgers' sweep of the Cardinals over the weekend was their fifth of the year, all at home. Last season, the Dodgers had four series sweeps all season. The Dodgers are now 19-4 at home, and their ERA at Dodger Stadium is nearly two full runs lower than it is on the road.

Clayton Kershaw's shutout in the middle game of the series improved the Dodgers to 7-0 on Saturdays and lowered his career ERA at Dodger Stadium to 2.39. According to the Elias Sports Bureau, it's the best home ERA among any active pitcher with at least 50 starts.

The sweep of the Cardinals was the Dodgers' second straight sweep against St. Louis, dating back to last season. It's the first time the Dodgers have swept consecutive series against the Cardinals since 1976.


May, 4, 2012
5/04/12
3:00
PM PT
By
Christina Kahrl
| ESPNLosAngeles.com
CHICAGO -- From a foggy day in Wrigley, the news was more bad than good in a one-run loss (lowering the Dodgers' league-leading record in one-run games to 9-4), but let's focus on the positive first.
The good:
After seeing the Cubs put an infield shift on him in every at-bat and in every situation,
Matt Kemp
did some damage is fourth time up in the eighth inning, Matt Kemp hammered a triple to right field. But it's important to keep in mind that he didn't beat the defense to do that, he beat the pitcher he was facing (
Kerry Wood
). The infield was shifted -- not the outfield. Kemp's hard-hit sailing fly ball made it into the ivy, and Ellis scored easily from second. He then scored on Andre Ethier's sac fly to center, pulling the Dodgers within a run.
Super-sub Jerry Hairston Jr. provided at least three more reasons to keep him in the lineup more often than not. His first time up, Hairston popped his first home run of the season into Wrigley's left-field bleachers, he laced an opposite-field single in his second at-bat, and in his third, his triple into the right-field corner plated the Dodgers' second run. Nevertheless, if Don Mattingly's pre-game comments are any kind of guide,
Juan Uribe
won't have to worry about being Pipp'd just yet -- his injury aside, Uribe is still the Dodgers' regular third baseman.
And in something of a reach for something positive to say, let's note A.J. Ellis' seventh-inning throw to gun down Campana was the seventh baserunner kill notched on his watch behind the dish, against just nine successful steals at that point. (Later in the inning, Castro stole third, but drew no throw -- what, you thought the home scorer was going to call defensive indifference on one of his own guys?) On attempted steals of second, Ellis has thrown out six of 14 would-be thieves. His overall caught-stealing rate of 41 percent ranks fourth among regular receivers in the National League.
April, 12, 2012
4/12/12
5:19
PM PT
The Los Angeles Dodgers are set to visit Muir High School in Pasadena on Friday morning in advance of Jackie Robinson Day this weekend. Current players Dee Gordon and Tony Gwynn Jr., as well as former players Tommy Davis, "Sweet" Lou Johnson, Kenny Landreaux and Derrel Thomas are scheduled to speak to students about Robinson's legacy and his impact on baseball and society as a whole.

Before playing at UCLA, Robinson was a four-sport star at Muir, excelling in basketball, football, track and baseball. Sunday will mark the 65th anniversary of Robinson breaking baseball's color barrier.

Students will have the opportunity to ask questions in a panel discussion, and will be presented with tickets to Sunday's Jackie Robinson Day game at Dodger Stadium.
April, 8, 2012
4/08/12
4:31
PM PT
By
Sarah Trotto
| ESPNLosAngeles.com

SAN DIEGO -- The Dodgers were unable to sweep their first series of the 2012 season, finishing with four hits in an 8-4 loss to the Padres on Sunday afternoon at Petco Park.

But the Dodgers took three of four games in the opening series and head home to face the Pirates during a favorable early schedule.

Dodgers right-hander Aaron Harang struggled against his former team, allowing four runs (three earned) in 4 1/3 innings. He struck out six, but walked five (one intentional) and gave up seven hits to a Padres team that scored eight runs in the first three games.

The Padres took their first lead of the four-game series in the first inning after a hit batter, stolen base, walk and Jesus Guzman's RBI single off Harang. San Diego went ahead 2-0 on Yonder Alonso's sacrifice fly and took a 4-0 lead in the fourth inning after Andy Parrino's first big-league home run.

Matt Kemp's two-run home run cut the Padres' lead to 4-2 in the sixth inning.

Chase Headley's grand slam off Scott Elbert in the eighth inning blew open what was a 4-2 game. It was Headley's first hit in 13 at-bats this season.

Andre Ethier hit his first home run of the season, a two-run shot in the ninth off Ernesto Frieri.

The good

More Kemp. Kemp extended his hitting streak to 16 games, dating back to last season, with a two-run home run to center field off Richard in the sixth inning. It was his second home run of the season.

The 'pen. Reliever Josh Lindblom, who picked up the win Thursday, was good again -- he threw two shutout innings. Lindblom won one of the final spots on the Dodgers roster out of spring training.

Streaky Uribe. After he was out of the starting lineup on Saturday, Juan Uribe hit sixth on Sunday and recorded the Dodgers' first hit of the game in the fifth inning. He's now 1 for 12.

The bad

The offense. The Dodgers had two hits through eight innings. They collected two hits and scored two unearned runs in seven innings against left-hander Clayton Richard, who went 5-9 with a 3.88 ERA during an injury-marred 2011. Uribe broke up Richard's no hitter with a single in the fifth inning. Before Uribe's single, Richard had struck out just two and committed two errors. He retired the first nine batters he faced. That streak ended when Richard made a throwing error to first on a grounder by Dee Gordon in the fourth inning, but Richard got out of the inning with a forceout and two fly outs. The Dodgers' only other hit through the first six innings was Kemp's home run.

Pitching. Against Harang, the Padres took their first lead in the four-game series. Harang allowed four runs (three earned) in 4 1/3 innings. After Harang gave up Parrino's first career home run, a solo shot, in the fourth inning, the right-hander allowed a two-out single and two walks to load the bases. But Harang escaped with a strikeout of Guzman. Harang was pulled in the fifth after allowing two singles and issuing an intentional walk to Parrino. In the four games, the Dodgers got one long outing from a starter -- 8 1/3 innings from Chad Billingsley on Friday. Illness limited Clayton Kershaw to three innings Thursday, and Chris Capuano lasted 4 2/3 innings Saturday. As for the bullpen, Dodgers relievers allowed four runs Sunday.

Defense. After they were errorless in the first three games, the Dodgers committed their first error of the season on shortstop Gordon's fielding miscue in the third inning. The Padres went on to score an unearned run after a walk and single by John Baker to take a 3-0 lead. Uribe also committed a throwing error in the fifth inning from third base, but the Padres didn't score.
April, 2, 2012
4/02/12
11:32
PM PT
ANAHEIM, Calif. -- Before the Dodgers played the Angels on Monday night, Dodgers manager Don Mattingly said he and the team were just happy to be back home and out of Arizona.

"It's nice," Mattingly said. "You know what the best thing is? Waking up today and not having to come straight to the ballpark."

Mattingly probably wishes he were anyplace else other than the ballpark after the Angels beat up on the Dodgers, 12-3, Monday night. The game was so one-sided, almost all of the 33,111 in attendance were long gone by the time the final out was recorded as the public address announcer had to remind the crowd on more than one occasion that the exhibition game would go the full nine innings regardless of the score.

The Dodgers and Angels will finish the final two games of the Freeway Series at Dodger Stadium on Tuesday and Wednesday before the Dodgers open their season on Thursday in San Diego.

When the Dodgers finally do play games that matter, the focus will shift to the team's two biggest stars, Clayton Kershaw and Matt Kemp, as they attempt to replicate two of the best seasons from a pitcher and a hitter in team history.

As Mattingly looks at his two star players, he said he will closely monitor both to make sure they aren't trying to do too much this season to live up to the hype and expectations they created for themselves last season.

"There are a lot of guys that have a Cy Young award," Mattingly said. "You know, they've had a good season, but if you get into what Clayton can be and what Clayton wants to be over time; it's time. It's consistency, it's every year, it's a true ace that you can count on every year and every start. So one year is great but knowing Clayton he wants to go do it again and that's what we're going to have to be aware of, him trying to do a little too much and thinking he has to do everything, every time and pitch nine innings and win every time out ... The same thing goes for Matt, both of those guys.

Mattingly knows from his days as a player, Kershsaw's stellar performance might not always lead the record and accolades he deserves and that's something he simply can not control.

"Clayton could actually go out and pitch just as good or better and maybe win 15 games where if things don't go his way or he doesn't get the runs, you don't know," Mattingly said. "I played with a guy in New York, and I won't mention his name, but he won 16 games one year and he had no business winning 8. He had 8-10 runs every time he pitched and he shouldn't have won 8 but he did. Clayton could play as well as he did last year and we might not play as well and he might not do as well. I just want him to go be himself."

It's a simple message that Mattingly has tried to convey to all his players as opening day approaches.

"I ask all these guys to play up to their level and if they play to their watermark we'll be fine," Mattingly said. "If these guys do what they're supposed to do and do what it says on the back of their card and have been consistent, we're going to be OK."
April, 2, 2012
4/02/12
9:10
PM PT
ANAHEIM, Calif. – The Freeway Series doesn't quite have the same ring to it as the Subway Series does and Los Angeles Dodgers manager Don Mattingly also doesn't believe it's as much of a rivalry as the one he experienced in New York.

"It doesn't seem like the same type of rivalry [as the Subway Series]," Mattingly said on Monday of the annual Freeway Series between the Dodgers and Angels. "I know these guys changed their name and that kind of thing. It needs to be a rivalry because we're going to see these guys six times and they're a good club so it needs to be a rivalry to the point where we need to win these games but from there I look at the Dodgers historically and I don't think you can look at them the same way you do the Angels."

Not only did Mattingly not have the same affinity for the Freeway Series as he did the Subway Series but he apparently hasn't been in L.A. long enough to know what a Sigalert is. He smiled and asked what it was twice as he sat in the opposing dugout at Angel Stadium before saying it's something he doesn't have to worry about.

"I come against traffic all the time," Mattingly said. "I'm never in traffic."
April, 2, 2012
4/02/12
8:55
PM PT
ANAHEIM, Calif. – Los Angeles Dodgers manager Don Mattingly has yet to meet the newest owner of the Dodgers, Magic Johnson.

Not just since Johnson's group bought the Dodgers last week but ever. Despite watching almost every game between the Los Angeles Lakers and Boston Celtics in the 1980s, Mattingly has never met Johnson before.

When the two finally do sit down and chat in the near future, however, Mattingly has a confession to make to his new boss. The Indiana native always rooted for Larry Bird's Celtics to beat Johnson's Lakers.

"We've never crossed paths, other than just watching him play a ton," Mattingly said. "He was always killing me. I was a Larry Bird guy…Indiana, man. I've met Larry a few times. He's an Indiana legend. Growing up as a kid you always heard his name and how can you ever forget a name like Larry Bird? It was fun watching them. I'm obviously a basketball fan so even though he's been killing me for a long time you have a lot of respect for him because the things you saw him do were cool to watch."

Mattingly has already spoken to new Dodgers CEO Stan Kasten and said he's sure he'll talk with Johnson and the other members of the Guggenheim Baseball Management soon. He said he didn't need to talk to them to know how much their presence will change the team this season and in the future.

"It's brought a ton of good energy," Mattingly said. "Just the feeling you get and hear from fans, even at the ballpark that first day, there was a different energy in the people that are coming to see you play. For the players, I'm sure they're happy knowing who's running the show and who's taking us where we want to go. That's really been missing over the last couple of years.

As much as Mattingly tried to say the divorce and bankruptcy proceedings Frank McCourt dragged the team through didn't change what he and his players did on the field, he admitted Monday, baseball clearly was not a priority for McCourt and that was felt throughout the clubhouse.

"Mr. McCourt had a lot to deal with and it seemed like the baseball team was second," Mattingly said. We just had to keep going and doing our thing and now you see Guggenheim partners and Magic and Stan, we know who's running the show and they're going to be the ones making the decisions on where we're going and how we're getting there.

"That doesn't really change our jobs because you're still trying to play the best baseball you can possibly play every day. It doesn't really change that part of it but just knowing you have someone up above you that is a driving force is a good thing for this organization and is good for us."

Mattingly shrugged his shoulders when he was asked who he'd like to meet next after he finally meets Johnson.

"I don't know, when I was younger I kind of liked that stuff but now I'm old and I don't care," Mattingly said. "Maybe Jack Nicholson. I haven't met Jack yet, maybe I'll be able to meet him now."

That should be one introduction that shouldn't be too hard for the new Dodgers owner to facilitate.
March, 28, 2012
3/28/12
3:47
PM PT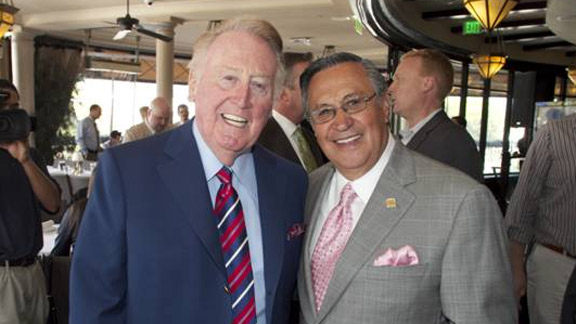 710 ESPN RadioLegendary Dodgers broadcasters Vin Scully and Jaime Jarrin had lunch together at The Capital Grille on Wednesday.
LOS ANGELES -- On the day the Los Angeles Dodgers' ownership changed hands from arguably the most hated man in Los Angeles to the most beloved man in the city, the team's two hall of fame announcers,
Vin Scully
and
Jaime Jarrin
enjoyed lunch at The Capital Grille in Los Angeles.
As Jarrin told stories of his 54-year career with the Dodgers, he commended the new ownership group led by
Magic Johnson
, who agreed to purchase the Dodgers from
Frank McCourt
for a record $2 billion.
"I think the Dodgers will be in good hands," Jarrin said. "Out of the three groups that were the finalists, I think the right group won considering the community and the impact Magic Johnson has. To be honest with you, we didn't know who would win. At the beginning we heard of eight groups and then they reduced it to three groups and no one knew who would win.
"We had heard
Steve Cohen
would be the one because he had partnered with
Dr. Patrick Soon-Shiong
, the richest man in Los Angeles. We thought they would win, but Magic Johnson's group won and I think it's great for the Dodgers."
Jarrin and Scully have been through three ownership changes during their time with the team and while the signature on their paycheck might change, their day-to-day duties haven't changed whether they have worked for the O'Malley's, Fox or McCourt
"It doesn't really change anything for us," Jarrin said. "We have been through three or four owners and for us it's the same. Probably for some other people in the upper skeleton of the organization there may be some nervousness but there's no change for us."
As difficult as the past couple of years have been for the Dodgers with the McCourt mess, which has included a messy divorce and dragging the team into bankruptcy, nothing can really change the way Jarrin feels about the Dodgers. It is a team and an organization that goes far beyond any current or former owner.
"The Dodgers have been everything to me," Jarrin said. "They have been extremely nice to my family. My son, Jorge, met his wife at a ball game; he used to work as an usher at Dodger Stadium. My other son worked and sold programs at Dodger Stadium so Dodger Stadium has been like my second home. They have been extremely good to me and made me feel at home. I would like to stay here for many, many more years."