November, 3, 2014
Nov 3
10:57
AM PT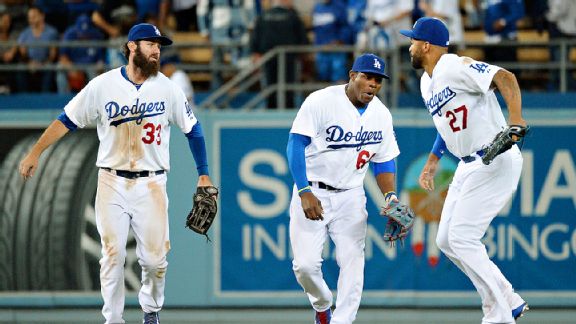 Richard Mackson/USA TODAY SportsThe Dodgers will probably be looking to move at least one outfielder between now and February.
LOS ANGELES -- Andrew Friedman had been on the job less than a week when somebody lobbed the question at him that his predecessor had been unhappily dealing with for the previous eight months: what to do with the surplus of outfielders?
"I've been asked that question as if it's a problem. If it is, it's a tremendous problem to have," Friedman said. "There are a lot of really talented players who happen to play the outfield here. We have to look through it and figure out what roster puts us in the position to have the most success next year."
It may not be a problem for either Ned Colletti's regime or Friedman's -- depth is one of the Holy Grails in baseball -- but it was a problem for
Andre Ethier
, who barely played in the second half, and for manager Don Mattingly, who said repeatedly he wasn't crazy about the headaches of keeping the benched players from grumbling.
Plus, it's getting more crowded, with younger players bumping their heads on a set outfield. After a season in which he had a 1.017 OPS at Triple-A Albuquerque,
Joc Pederson
will show up at spring training with every intention of making the major league roster. The Dodgers still have
Scott Van Slyke
, who slugged .524. Even
Alex Guerrero
, once groomed as an everyday second baseman, now plays some outfield.
Oh, and one of the Dodgers' fastest-rising prospects,
Scott Schebler
, who hit 28 home runs at Double-A, also plays the outfield.
Pederson has played 13 games in the Domincan winter league and is batting .260 with a home run, two doubles and a .339 on-base percentage. He also has 21 strikeouts in 50 at-bats a few months after striking out 149 times in 445 minor-league at-bats. After a slow start, he is nine for his last 30.
So, unless Friedman thins the position, the Dodgers will have six players show up at Camelback Ranch in a few months with designs on playing three positions. So, whether Friedman admits it, everyone in baseball knows he'll be looking to move at least one outfielder between now and February if for no other reason than to save dollars he could apply to another area of the roster.