Dodgers Report:

Drew Butera
June, 21, 2014
Jun 21
11:53
PM PT
SAN DIEGO -- Baseball players are so constantly confronted with failure, it can be difficult to discern whether the best way out of it is through perseverance or change.
Sometimes, stubbornly sticking it out is the best plan. Other times, it's a good way to find yourself sitting on your couch watching other guys play in August and September.
Josh Beckett
was smart enough to know it was time for something radical.
[+] Enlarge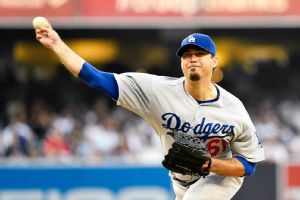 Denis Poroy/Getty ImagesJosh Beckett upped his propensity for curveballs to roughly a third of his arsenal. Batters now know to expect them, but that doesn't appear to be any kind of benefit.
The
Detroit Tigers
had started his season out on a bad footing back in April, knocking him out of the game by the fifth inning, having scored five times.
Nick Castellanos
took him deep.
Out of Beckett's 85 pitches that day, eight were curveballs. When things got hairy, he did what he always had done: reached back and tried to find a little more fastball. Only this time, at the age of 34 and after having had a rib surgically removed near his pitching shoulder just 10 months earlier, he couldn't find it.
Instead of pulling out 96 mph, he was finding a lot of 91s and 92s. That's pretty much the happy zone for many major league hitters.
So when catcher
A.J. Ellis
approached him with the novel idea of using his curveball -- always one of the most effective in the game -- as the centerpiece of his game plan, he was in a receptive mood.
Beckett, having improbably become one of the most effective starting pitchers in the game at an age when most are seeing their careers slipping away, sees it all in crystal clarity from this vantage point.
After another seven dominant innings in the
Los Angeles Dodgers
' 4-2 win over the
San Diego Padres
on Saturday, Beckett is third in the National League with a 2.28 ERA.
Who could have seen that one coming?
"I had to do it. It wasn't an option," Beckett said. "I know the Tigers' lineup probably wasn't the ideal measuring point for my first start, but it was kind of like, 'We have to make this adjustment or you don't pitch again. That's pretty much it. That's just what I have to do.'"
Beckett is throwing his curveball roughly a third of the time. By now, opposing teams know it's coming; but that doesn't make it any easier to handle for their hitters.
Dodgers catcher
Drew Butera
saw it as a hitter in an intrasquad game this spring and has seen a lot of it from behind the plate, including the day he caught Beckett's no-hitter against the
Philadelphia Phillies
.
He said Beckett's arm angle when he releases the pitch makes it look like a fastball and that Beckett can throw it at different speeds and to different locations. You're expecting something in the 90 mph area and you get something at about 73 mph.
"It's hard to stay back," Butera said.
Sometimes it's a strike. Sometimes it's in the dirt. Beckett's transformation reminds Butera of another veteran pitcher who lost his fastball and had a vibrant career thereafter:
Carl Pavano
.
Dodgers manager Don Mattingly admits he had no inkling Beckett was primed for this kind of bounce-back season. Last year while pitching with numbness in his fingertips caused by thoracic outlet syndrome, Beckett was laborious on the mound and ineffective in his results. On Friday against a watered-down Padres lineup, he looked barely challenged. He threw one curveball on a 2-and-0 count and several on 1-0 counts.
Watching the Dodgers in the playoffs last year reawakened Beckett's love for the game. You can't blame him for having lost some of it after the drudgery of his final couple of years in Boston, his bad 2013 and the surgery.
"I wanted to compete. That was part of what I missed," Beckett said. "When I came back for those playoff games, I missed the way the guys competed. I wasn't expecting to go out there and throw the ball the way that I probably have, but I think some of the adjustments I've made have been a big key."
He might think he had to make the changes, but the transaction wires are littered with players who refused to give in.
June, 12, 2014
Jun 12
8:35
AM PT
CINCINNATI -- Los Angeles Dodgers manager Don Mattingly said
Hanley Ramirez
is available to pinch-hit in Thursday's series finale against the
Cincinnati Reds
, but he won't be able to play the field for at least one more day. Ramirez is dealing with irritation in the A.C. joint in his right shoulder.
Ramirez
"The fact he walked in today feeling a little bit better with a little more movement is encouraging to us," Mattingly said.
Miguel Rojas
got a second straight start at shortstop.
The team contemplated activating catcher
A.J. Ellis
before Thursday's game, but decided to give him one more day on the disabled list. Ellis likely will be activated before Friday night's game against the
Arizona Diamondbacks
. Ellis sprained his right ankle landing on
Drew Butera
's catcher's mask while celebrating
Josh Beckett
's no-hitter on May 25.
June, 11, 2014
Jun 11
9:09
PM PT
CINCINNATI -- If you were paying only fleeting attention to the
Los Angeles Dodgers
' 5-0 loss to the
Cincinnati Reds
on Wednesday night -- say clicking back and forth between it and a hockey game -- you'd probably think it had a lot in common with all those listless games this team rolled out on its most recent homestand.
It felt nothing like those games.
[+] Enlarge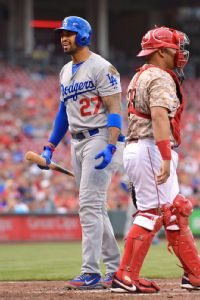 Jamie Sabau/Getty ImagesMatt Kemp questions a called third strike in the second inning. Moments later, he was ejected while continuing to argue from the dugout.
Where the Dodgers looked divided by individual agendas last week at home, they seemed united in their hostility to the umpiring crew the past two nights, especially Wednesday. Hey, whatever it takes, right?
Where they seemed to go down without much fight at home, they withstood some of the nastiest pitching the National League has seen this season for six innings, drove up an ace's pitch count and then had a chance to rally late.
In the end, they just felt like facing
Johnny Cueto
was hard enough. Facing Cueto and a young umpire, Seth Buckminster, having a bad night was simply impossible to avoid.
Matt Kemp
, who continued to argue balls and strikes after striking out, was ejected from the Dodgers' dugout in the second inning, Buckminster yelling, "Get out of here!" as he gave him the thumb.
After the game, Dodgers manager Don Mattingly said he didn't mind Kemp's tirade, even though it meant he had to field a lineup that was missing five regular players, three on the disabled list, plus
Hanley Ramirez
, who was a late scratch because of a sore right shoulder.
"Just emotion," Mattingly said. "That's really what you want your guys to be is passionate about playing and trying to have success. Sometimes, it spills over. It was one of those."
It wasn't just Buckminster's strike zone, though the Dodgers certainly weren't enamored with it. Buckminster called out
Yasiel Puig
on a checked swing in the first inning without consulting first-base umpire Manny Gonzalez. Twice in the sixth inning,
Hyun-Jin Ryu
said, he felt catcher
Brayan Pena
touch his bat while he was trying to bunt (he eventually struck out).
Billy Hamilton
made contact with Reds third-base coach Steve Smith while scoring in the third inning and the umpires ruled the contact incidental, upholding the run.
May, 26, 2014
May 26
8:30
PM PT
LOS ANGELES -- If you were at Monday night's
Dodgers
game -- and millions of you would have said you were -- you nearly saw something that had never been done.
Hyun-Jin Ryu
carried a perfect game into the eighth inning before
Todd Frazier
yanked a changeup into the left-field corner for a leadoff double, foiling a bid at history.
Had Ryu been able to get six more outs in what wound up a 4-3 Dodgers win over the
Cincinnati Reds
, he would have combined with
Josh Beckett
to give the Dodgers the first back-to-back no-hitters in baseball history. Beckett, who no-hit the
Philadelphia Phillies
on Sunday, was among the first people to greet Ryu with a high-five when he came into the dugout after being removed by Don Mattingly in the eighth.
One team, the 1917 St. Louis Browns, pulled off no-hitters on consecutive days, but the second came on the back end of a doubleheader.
How it happened:
Ryu was mesmerizing, changing speeds as usual and summoning unusual zip when he got in jams. He got
Brandon Phillips
to ground out on a 95 mph fastball in the seventh inning.
The Dodgers didn't exactly rack up the baserunners off the Reds'
Johnny Cueto
, one of the National League's toughest pitchers this season. L.A. got a run in the third inning but also left the bases loaded that inning.
Dodgers third baseman
Justin Turner
, a utility player thrust into the starting lineup by an injury to
Juan Uribe
, made two diving stops behind Ryu. Turner also drove up Cueto's pitch count with a 16-pitch at-bat that led to a walk in the seventh inning and started a three-run rally.
The long Dodgers' rally in the seventh, during which Ryu had to run the bases, seemed to throw off his rhythm. The Reds bunched two more hits. Then reliever
Brian Wilson
continued to struggle, with closer
Kenley Jansen
having to be summoned to get the final four outs. Jansen struck out Phillips to get out of a bases-loaded jam in the eighth.
Hits:
For a guy who has started only 170 major league games,
Drew Butera
has done some extraordinary things. He has caught two no-hitters, Beckett's and
Francisco Liriano
's for the
Minnesota Twins
in 2011. Much of it, of course, is luck. But Butera is an excellent defensive catcher and, apparently, calls a pretty fair game behind the plate.
Misses:
The Dodgers are trying their best to fix their defensive shortcomings. They replaced
Matt Kemp
in center field with
Andre Ethier
. They're using acrobatic shortstop
Erisbel Arruebarrena
at shortstop in place of injured
Hanley Ramirez
. But it has come with some cost in the lineup. The Dodgers have scored four runs or fewer in five of their past six games. As usual, all personnel decisions have trade-offs. The Dodgers apparently are going all in on pitching and defense, at least for now.
Stat of the game:
Yasiel Puig
reached base safely for the 27th consecutive game with his third-inning walk.
Up next:
The Dodgers' strong pitching has a good chance to continue for a while. The next two games are pitched by
Zack Greinke
(7-1, 2.01 ERA) and
Clayton Kershaw
(3-1, 3.49). The Dodgers will face
Alfredo Simon
(6-2, 2.31 ERA) Tuesday at 7:10 p.m. PT.
May, 21, 2014
May 21
8:15
PM PT
By
Danny Knobler | Special to ESPNLosAngeles.com
NEW YORK --
Drew Butera
was just tagging along, having some fun.
The
Los Angeles Dodgers
backup catcher was at the MLB Fan Cave on an off day in New York, and when teammate
Dee Gordon
was asked to go play dodgeball with some local kids, Gordon asked Butera to come along.
He never thought he'd end up on Deadspin. He never thought he'd hear about it from his sister.
He never thought there would be a video of him on
Instagram with nearly 5,000 "likes,"
or that there would be comments about how he "destroyed that kid."
"Hey, he was talking trash," Butera said with a smile on Wednesday.
Butera said it hadn't been that long since he had played the schoolyard game.
"I played it in 2010, when we were on a cruise," he said. "But no, I'm not a professional dodgeball player."
No, on the field, he's a Dodger. On the Internet, he's a dodgeballer.
May, 10, 2014
May 10
6:58
PM PT
By
Andy Kamenetzky
| Special to ESPNLosAngeles.com
LOS ANGELES -- Before Saturday afternoon's eventual 6-2 win over the
San Francisco Giants
,
Los Angeles Dodgers
manager Don Mattingly was asked if there was a sense of urgency to kick things into a higher gear.
After all, the team was just one game above .500 and sitting in third place of a National League West division that they were considered the odds-on favorite to win
"I think there should be a sense of urgency every day, to be honest with you," the skipper said. "I think that good teams are going to come to play every day. I've said it probably a thousand times that anything that's happened behind us right now, there's just not a damn thing we can do about it.
[+] Enlarge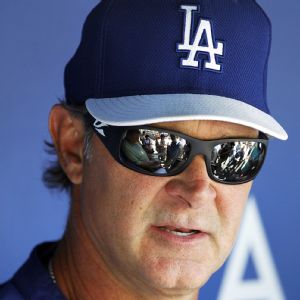 AP Photo/Alex Gallardo"I think there should be a sense of urgency every day, to be honest with you," Dodgers manager Don Mattingly said Saturday before his team ended its losing streak against the Giants.
"To me, you always look at it like today could be the start of us winning 10 in a row. Or today could be the start of us being hot, playing .700 baseball for the next two months."
There's obviously a lot of baseball left to be played this season, which is a positive for a team falling behind in the pursuit of its high goals. On the flip side, when you're scuffling, 100-plus games could just as easily feel like a threat.
And for whatever reason, whether the Australian pilgrimage, bizarre weather delays, four outfielders who have struggled to find an offensive rhythm while platooning, widespread poor defense, injuries or just good, old-fashioned underachievement, the Dodgers haven't of late resembled a squad pegged as a legit World Series contender.
It may be just early May, but the time has come for the Dodgers to begin the process of proving themselves.
The first step was simply to break a three-game losing streak, a challenge met against a high-end divisional rival. But perhaps truly significant was the Dodgers pulling out a win on Saturday after five innings spent flailing from behind.
Giants starter
Matt Cain
was barely touched and
Zack Greinke
was uncommonly vulnerable, allowing two runs and barely escaped a higher tally. Based on the template of the last week or so, the Dodgers' fate already seemed sealed and they'd be staring down the dismal prospect of a series sweep on Sunday.
But rather than pack up the tents, the Dodgers hung in and fought. Weakness was eventually discovered in Cain, who was bounced out of the game after falling into a sixth-inning, bases-loaded jam. Key hits came from stars like
Yasiel Puig
and
Matt Kemp
, "Who?" reserves like
Drew Butera
and guys in between like
Dee Gordon
-- a constant source of energy with his bat and feet (three stolen bases).
Greinke overcame a few more dicey patches to keep his team in the game.
Brian Wilson
and
Chris Perez
threw a pair of scoreless innings to seal the deal.
There was even some strong defense when Puig ran down a ball in foul territory for a spectacular catch.
In the midst a stretch marked by spotty production, the significance of a comeback win was lost on nobody.
"I think those are really big," said Greinke. "I don't know if we've done that too much lately. Maybe earlier in the year. Those are the best ones.
"To win a tie game and win in extra innings is big, but we were down for a long time and still stayed in there. I think it was really big."
Kemp agreed.
"Every comeback is a good comeback," he said. "I'm just glad we put some runs on the board. We didn't really score any runs last night. We came out and started swinging the bats good and getting some big hits in some key situations.
"We're not getting beat bad. These are close games we're losing. But we gotta learn how to win those close games and do a better job of that."
Gordon chimed in, as well.
"Shoot, it felt good, man," Gordon said. "It hasn't happened for us like that in a long time. To see guys score insurance runs. Get guys over. Just shows you the type of team that we have the potential to have."
As Mattingly noted, every game carries the potential to be the start of something bigger. Whether that's the case of Saturday's win is, at best, an open question and one that nobody claims to have the answer.
"The only thing I know is we won," Gordon said. "That's it. That's all I know. I'm coming hard and I'm coming ready to play tomorrow. That's it. That's all I can control."
Whatever the future holds, the Saturday provided at least a pretty solid blueprint for success.
"We just fight, you know," Kemp said. "We kept going, and we got the win. We gotta keep doing that."
May, 10, 2014
May 10
5:11
PM PT
By
Andy Kamenetzky
| Special to ESPNLosAngeles.com
LOS ANGELES -- After Friday night's shouting match between
Los Angeles Dodgers
outfielder
Yasiel Puig
and
San Francisco Giants
pitcher
Madison Bumgarner
over Flipped-Bat-Gate -- and then the ejection of L.A. manager Don Mattingly's -- everyone wondered whether the ensuing matinee would feature more flaring tempers.
As it turned out, not so much. Good behavior was exhibited by all.
However, the key to winning games isn't good manners but rather production.
And for the game's first half, the Dodgers remained in their seemingly perpetually lifeless rut.
Better late than never, their offense finally was discovered, and the bleeding from a three-game losing streak was stopped.
Whether this win marks the start of something larger or just a brief respite from the latest malaise remains to be seen. For the time being, the Dodgers avoided falling to .500 and the very definition of average.
How it happened:
After scuffling badly for five innings against Giants starter
Matt Cain
, the Dodgers finally broke through in the sixth, drawing two walks and adding a single to force the righty's exit.
Adrian Gonzalez
didn't exactly pounce on a bases-loaded, no-out opportunity by hitting into a double play, but a runner was pushed across the dish.
Matt Kemp
then tied the game at 2 all with a single to left. In the seventh inning,
Dee Gordon
laced a single down the left field line to score
Drew Butera
, and push the Dodgers ahead for good. Kemp sealed the victory with an eighth inning solo shot to right field.
Hits:
Gordon led off the first inning with a base hit to right, then stole second and third base, putting himself in prime (if ultimately stranded) position. Gordon stole three bases in all, drove in the go-ahead RBI and was without question the Dodgers' biggest spark on the day.
Perhaps
Zack Greinke
is a creature of night, because a 1:10 p.m. start didn't seem to suit him. The ace began the game lacking his characteristic sharpness. The first inning required him to wriggle out of a bases loaded jam, and that 20-pitch frame set the tone for an afternoon where he wasn't necessarily beaten up, but often labored. In fairness, he wasn't done consistent favors by the fielding behind him (more on that later) and a few balls just fell into the right spot for San Francisco. On the other hand, he also accumulated eight strikeouts along the way and generally fared better as the game progressed. Greinke has seen better days and there will be better days to come, but he did enough to keep his team in the game until the bats woke up and collect the win.
Puig's second-inning laser throw on an attempted sacrifice to shallow right kept
Brandon Crawford
on third and saved an otherwise sure run. (Crawford scored on a sacrifice to center by
Hunter Pence
on the next at bat, but it's the thought that counts, right?) Puig also extended his career-high hitting streak to 10 with a two-hit, one-RBI day. And he ran down a foul ball in right field for a sensational ninth-inning catch.
Misses:
Defense reared its ugly head yet again, when a miscommunication between Greinke and
Chone Figgins
left third base uncovered on Cain's bunt, and Brandon Crawford in eventual position to score. The third inning also witnessed Figgins brick a routine throw to first. Between these mishaps, a hitless day and getting caught stealing in the second, it was a day Figgins would likely just as soon forget.
There's no question
Brian Wilson
's eighth-inning appearance protected the Dodgers' lead, but not without a bases-loaded, two-out scare. Still, The Bearded One came through, which is all that matters in the end.
Stat of the game:
.307, the Dodgers average with runners in scoring position. It felt for a while that number would be roughly 0.00, but the Dodgers eventually capitalized on chances.
Up next:
The Dodgers look to honor their mothers by tying up the series on Sunday. Thankfully, they've got
Clayton Kershaw
(2-0, 0.66 ERA) taking the hill. And with
Tim Hudson
(4-2, 1.99 ERA) representing the Giants, the potential for an exceptional pitcher's duel is high.
March, 18, 2014
Mar 18
8:00
PM PT
SYDNEY -- A group of Australian little leaguers were asked who they were most excited to meet on the Dodgers. After a few quiet seconds, one of them piped up, "Ryan Kershaw!"
Clearly, there's a little work to do in spreading the gospel of America's pastime to the Australian youth.
In fact, that is a pretty good way of describing the whole point of this Opening Series Down Under. Wednesday, the Dodgers played their part in that mission, with a group of their younger players visiting one of the most famous, most beautiful beaches on earth -- Bondi Beach -- to mingle with two little-league teams from the Sydney suburbs.
Teresa Fletcher had her two boys, Jack, 6, who was wearing a Dodgers cap and Luke, 9, who was wearing a Diamondbacks hat. They play for the Ilawong Marlins. Teresa Fletcher said her family was watching the news on TV Tuesday night when a clip of the Dodgers-Diamondbacks brawl from last June was shown. Nice way to hype this weekend's series, huh?
[+] Enlarge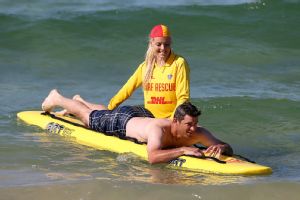 AP Photo/Rick RycroftThe Dodgers' Drew Butera got a demonstration in paddleboard rescue from an Australian lifeguard during the team's visit to Bondi Beach.
"I said, 'Oh, no, none of that,' " Teresa Fletcher said.
If you've ever been around two young boys, you know exactly what she was feeling. They don't need any more prompting to start fighting again.
Emma Green, 13, was at Bondi Beach, too, to mingle with the Dodgers. She's 13, but she has been playing baseball since she was 5. A club baseball team visited her elementary school and gave a demonstration and she was hooked. Green's mom woke up the other day and her daughter was in front of the TV watching a U.S. spring training game. It was 3 a.m.
So, yeah, there are some kids in Australia who have caught the baseball bug. Many of the little-league families I met were planning to attend one of the Dodgers-Diamondbacks games or one of the exhibitions against the Australian national team.
Dodgers catcher
Tim Federowicz
looked as if he was having a good time in his sunglasses and flip-flops mingling with the Australian kids. He said most of them asked him how he liked Australia so far, but he didn't get much probing about the intricacies of catching. He sensed more enthusiasm than knowledge.
"A lot of them said they like it better than cricket, so that's good," Federowicz said.
The players got something out of it, too, in addition to spending time with some charming kids. They took a boat ride back to their hotel that featured stunning views of the Harbor Bridge and the Sydney Opera House. First, they stopped to pose for pictures with a comely young blond lifeguard. She gave catcher
Drew Butera
a demonstration in paddleboard rescue and he looked pretty pleased with it.
Adrian Gonzalez
walked up a few minutes later in sunglasses and a backward baseball cap. He was just visiting Bondi Beach when he ran into the Dodgers goodwill mission. He good-naturedly posed for a few photos. The beach sweeps to the south and then climbs some stone stairs to a sweeping view of the beach and those to the south, with rocks and the dark blue Tasman Bay dominating the senses.
Mark Trumbo
, the
Arizona
Diamondbacks
new outfielder, was hanging out enjoying the view. He said it reminded him some of Newport Beach, not far from where he grew up.
It appears the players are enjoying this Australia trip more than they thought they would.
July, 31, 2013
7/31/13
2:33
PM PT
LOS ANGELES – The Dodgers had their quietest trade deadline in four years.
They made a last-minute deal to acquire catcher
Drew Butera
from the
Minnesota Twins
for a player to be named later or cash considerations, and immediately optioned him to Triple-A Albuquerque. He's unlikely to have an impact at Dodger Stadium until Sept. 1, at the earliest.
Last year, the Dodgers landed
Shane Victorino
from the
Philadelphia Phillies
on July 31. Previous deadline acquisitions include
Tim Federowicz
and
Alex Castellanos
in 2011 and
Ted Lilly
and
Octavio Dotel
in 2010.
Federowicz will remain the backup to
A.J. Ellis
, but Butera could be the team's third catcher after rosters expand in the season's final month.
The Dodgers, of course, haven't shown too many glaring needs while rattling off 27 wins in their last 33 games. Meanwhile, general manager Ned Colletti thinks he addressed what remained of the team's needs with the July 6 trade for starter
Ricky Nolasco
and Tuesday's signing of former All-Star closer
Brian Wilson
, who is working his way back from Tommy John surgery.
Butera, who turns 30 on Aug. 9, has a .182 career batting average with five home runs and 41 RBIs in 186 major league games. He is a .217 minor league hitter. He is the son of former major league catcher Sal Butera.
The Dodgers might not be done dealing. Last season, they acquired
Joe Blanton
from the Phillies in August and later swung a blockbuster trade with the
Boston Red Sox
that brought in
Adrian Gonzalez
,
Carl Crawford
,
Josh Beckett
and
Nick Punto
.
Players acquired after the deadline must first clear waivers, meaning those who get through typically are carrying hefty contracts.