Dodgers Report:

Erisbel Arruebarrena
July, 6, 2014
Jul 6
1:51
PM PT
By
Brent W. New
| Special to ESPNLosAngeles.com
DENVER -- The
Los Angeles Dodgers
again are feeling the pinch at the shortstop position.
On Sunday, a sunscreen-necessary one at that in the Mile High City, the Dodgers placed
Erisbel Arruebarrena
on the 15-day disabled list with a right hip flexor and recalled infielder
Carlos Triunfel
from Triple-A Albuquerque before the team's series finale against the
Colorado Rockies
.
[+] Enlarge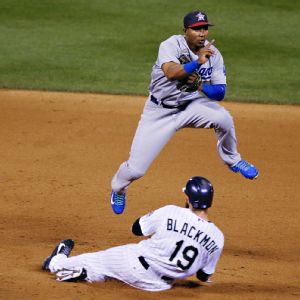 AP Photo/David ZalubowskiErisbel Arruebarrena was placed on the 15-day disabled list after injuring his right hip Friday.
After coming in for
Hanley Ramirez
during Friday's contest here, Arruebarrena apparently injured himself running on an eventual ground ball out during his first at-bat in the sixth inning. Dodgers manager Don Mattingly let Arruebarrena finish the game though, saying the shortstop felt fine until he woke up Saturday morning.
"Yesterday, when he came in, he just wasn't able to do anything," said Mattingly, who played Ramirez, a health concern in his own right, for all nine innings in Saturday's 8-7 loss to Colorado.
Arruebarrena, who is 5-for-16 at the dish for L.A. this season, will head to Arizona to get a MRI on his hip later this week. His replacement, Triunfel, is 2-for-13 and has a home run in 10 games with the Dodgers this season.
The Dodgers gave
Miguel Rojas
the start at shortstop Sunday, with Ramirez getting the day off.
Who's in the ASG?
The All-Star teams will be announced at 4 p.m. PT Sunday. The Dodgers will most likely send
Yasiel Puig
and
Clayton Kershaw
, while
Dee Gordon
,
Zack Greinke
and
Kenley Jansen
also are in the running.
"One thing I will say about the All-Star Game, making it as a young player, you come back with a lot of confidence," Mattingly said. "You come back into the season, the second half of the season, with a different confidence."
Asked if he really believed Puig would come back from the ASG in Minneapolis feeling "even more confident," Mattingly had to retract a bit.
"He may be an exception; he's pretty confident already," Mattingly laughed. "He doesn't seem to lack in confidence."
Down Under understanding
Mattingly wouldn't blame the early series in Sydney, Australia, for team's rough start.
"I can't go back and guess that," Mattingly said. "I think we have a rhythm now, definitely. But I can't be guessing about Australia and blame it on that."
July, 4, 2014
Jul 4
9:23
AM PT
By
Brent W. New
| Special to ESPNLosAngeles.com
DENVER -- Here's some relief for Dodgers fans: shortstop
Hanley Ramirez
's strained left calf and aggravated right shoulder appeared healthy in the team's 3-2 win over the
Colorado Rockies
on Thursday night.
[+] Enlarge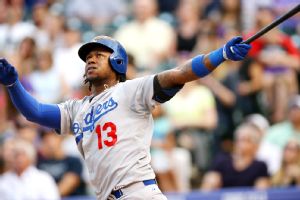 AP Photo/David ZalubowskiHanley Ramirez went 0-for-2 with two walks Thursday against the Rockies.
Well, at least they appeared to be somewhat healthy. After speculation that Ramirez would most likely end up on the disabled list Thursday, Ramirez instead returned to the lineup and carved out two walks in four plate appearances before he was replaced by rookie
Erisbel Arruebarrena
for defensive purposes in the eighth inning.
"I can still help this team win games," Ramirez said.
On Thursday, though, it was starting pitcher
Zack Greinke
who took much of the spotlight, going eight innings while giving up only two runs. And
Juan Uribe
took most of the rest of the work, collecting three hits, including the game-winning single in the top of the ninth inning.
Ramirez, meanwhile, made it clear that he's happy the team is winning. And although his offensive production has dipped -- dipped in the most plunging sense of the word, going from a batting average of .345 in 86 games last year to an average of .269 in 77 games this year -- Ramirez assured reporters Thursday that he wasn't worried about it.
"The past is the past. I never think about the past," he said. "I don't care what people think. The only thing I care about is winning games. Numbers, at the end of the year, they're going to be there."
Ramirez, who will turn 31 in December, will be a free agent after the season. His health and production from here on out will likely be a huge factor in the kind of contract he'll be offered.
Dodgers manager Don Mattingly, who was pleased with Ramirez's performance on Thursday, said his shortstop will be in and out of the lineup heading into the All-Star break.
May, 29, 2014
May 29
11:28
PM PT
LOS ANGELES -- Don Mattingly seemed to get a little tense the other day when asked to explain the difference between
Matt Kemp
's struggles in center field and
Hanley Ramirez
's struggles at shortstop, and why one led to a position switch and the other has not.
Kemp was asked to veer from center and keep walking until he found a position where he could do less damage -- left field as it turns out. Why shouldn't Ramirez be asked as well?
[+] Enlarge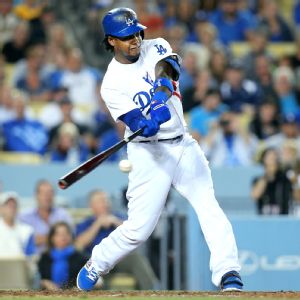 Stephen Dunn/Getty ImagesHanley Ramirez is considered the worst shortstop in the major leagues when it comes to defensive WAR.
If anything, Ramirez is the bigger liability than Kemp. Now that he's healthy and playing in the field every day, the issues that were so obvious in Miami are becoming worrisome in Los Angeles. He has, frankly, been exposed. He's not a shortstop any longer. The advanced defensive metrics paint an absolutely frightening picture for the Dodgers: Ramirez is -10 in Defensive Runs Saved; -6.9 in UZR. He is the worst shortstop in the major leagues, by a wide margin, according to defensive WAR.
Granted, if we take last season as the barometer, Ramirez clearly swings a more impactful bat than Kemp, and the drop-off to the other everyday options at shortstop -- say
Erisbel Arruebarrena
or
Alex Guerrero
-- might be steeper than that from Kemp to
Andre Ethier
.
But still, wouldn't you think the Dodgers have to be considering moving Ramirez to third base, and maybe soon? Their latest medical information on
Juan Uribe
isn't good. His strained hamstring, Mattingly himself admitted, won't be healthy enough to get him back on the field within the next two weeks and, for all they know, it could be months.
So, why not slide Ramirez to the far left side of the infield and, when Uribe is healthy, use him as in a super-utility role, spelling whomever plays shortstop, playing second base against left-handed pitchers, giving Ramirez a blow at third base once a week or so. He could easily play four or five days a week and the other players would have fresher legs for it.
If the Dodgers really are serious about going all in on their starting pitching -- and that seems like a smart bet if you've been watching these guys throw lately -- they'd be crazy not to at least consider going to their best defensive alignment. The way
Dee Gordon
has improved at second base, imagine how impermeable this team could be up the middle with Gordon and Arruebarrena turning double plays.
It's simple and doesn't involve shifting Ramirez back and forth, the one thing he has asked the team not to do. Move Ramirez to third and leave him there. It might even take some of the pressure off and allow him to start swinging the bat better.
May, 26, 2014
May 26
9:47
PM PT
LOS ANGELES -- As
Hyun-Jin Ryu
was getting ready to board the
Los Angeles Dodgers
' charter flight from Philadelphia on Sunday evening, he ran into manager Don Mattingly and pitching coach Rick Honeycutt on the tarmac.
"I told him he had to throw a perfect game to top [
Josh] Beckett
," Mattingly said.
We're uncertain whether an interpreter was present, but Ryu apparently took Mattingly's meaning quite literally. Either way, his response speaks louder than words:
Ryu carried a perfect game into the eighth inning Monday against
Cincinnati Reds
before
Todd Frazier
doubled into the corner and foiled the Dodgers' bid to become the first team in baseball history to throw back-to-back no-hitters.
[+] Enlarge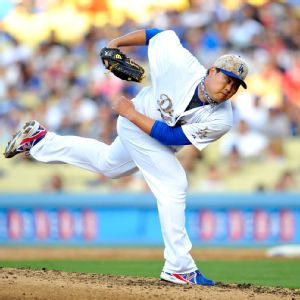 Gary A. Vasquez-USA TODAY SportsHyun-Jin Ryu clearly was up for the challenge set forth by Josh Beckett on Sunday. Ryu flirted with perfection into the eighth on Monday but ultimately fell short of duplicating Beckett's feat.
Ryu was brilliant, mixing his usual assortment of baffling changeups and soft curveballs with a livelier-than-usual fastball that touched 95 mph to render the Reds' lineup lifeless until a long Dodgers' seventh inning broke his momentum. It also sapped his legs of some of their vigor when he had to run all the way around the bases to score one of the three runs in the inning.
For a long while, in fact, Ryu was performing better than Beckett, who pitched the first Dodgers' no-hitter in 18 years Sunday against the
Phillies
.
What that really tells us is that the Dodgers have a very good starting rotation that is trending toward special. After all, this was 17 hitless innings from the Nos. 3 and 4 starters. The next two guys to pitch are both Cy Young winners --
Zack Greinke
and
Clayton Kershaw
.
If ever the Dodgers had a chance to get on a roll, it's now, behind a rotation humming and purring its way through the schedule. And if ever they needed to fix their defensive shortcomings to appease those pitchers and go all-in on stopping the other team from scoring, it was now.
So, if it's uncomfortable to see one of the team's most talented players --
Matt Kemp
-- stuck to the bench and, according to scouting reports, one of the organization's weakest hitters --
Erisbel Arruebarrena
-- playing every day, keep the prime directive in mind. The Dodgers are about pitching and defense ... always were, really.
They just lost some of their identity while they were jousting with the
Washington Nationals
for most errors in the league.
So, that's why
Andre Ethier
and his two home runs are playing center field every day. That's why Arruebarrena was tapped as
Hanley Ramirez
's replacement. That's why the Dodgers won't think about moving
Yasiel Puig
out of right field, where they think he's the best defender at his position in the league.
The organization has been in frantic, fix-the-fielding mode for a while now.
"It wasn't about trying. We were trying, but it was just costing us too much," Mattingly said. "I know it's not sexy to play good defense and nobody talks about it too much. But when you watch games, it can cost your pitchers an extra 25 pitches and force you to use your bullpen in different ways.
"It tells you you've got to catch the baseball. This pitching is that good that we've got to be able to catch the ball for them."
Justin Turner
made two diving stops or nobody would have been buzzing about Ryu's performance going into the eighth. Arruebarrena has a reputation for brilliant glove work, and if he can hit just a little he might force the Dodgers to consider moving Ramirez to third base when he returns from a strained calf.
In fact, moving Ramirez seems like a smart move this point. It would turn
Juan Uribe
into a utility player, but they should be able to find at-bats for him at third, shortstop and second. Plus, neither Uribe, 35, nor Ramirez, 30, has held up physically when asked to play every day over the past two seasons.
Kemp might prove a perfectly serviceable left fielder or someone you can live with in center when you're facing a left-handed pitcher. But leaky defense has always looked like the thing that could sink this Dodgers season.
When you have pitching this good, the last thing you want to do is leave your pitchers stranded.
May, 26, 2014
May 26
8:30
PM PT
LOS ANGELES -- If you were at Monday night's
Dodgers
game -- and millions of you would have said you were -- you nearly saw something that had never been done.
Hyun-Jin Ryu
carried a perfect game into the eighth inning before
Todd Frazier
yanked a changeup into the left-field corner for a leadoff double, foiling a bid at history.
Had Ryu been able to get six more outs in what wound up a 4-3 Dodgers win over the
Cincinnati Reds
, he would have combined with
Josh Beckett
to give the Dodgers the first back-to-back no-hitters in baseball history. Beckett, who no-hit the
Philadelphia Phillies
on Sunday, was among the first people to greet Ryu with a high-five when he came into the dugout after being removed by Don Mattingly in the eighth.
One team, the 1917 St. Louis Browns, pulled off no-hitters on consecutive days, but the second came on the back end of a doubleheader.
How it happened:
Ryu was mesmerizing, changing speeds as usual and summoning unusual zip when he got in jams. He got
Brandon Phillips
to ground out on a 95 mph fastball in the seventh inning.
The Dodgers didn't exactly rack up the baserunners off the Reds'
Johnny Cueto
, one of the National League's toughest pitchers this season. L.A. got a run in the third inning but also left the bases loaded that inning.
Dodgers third baseman
Justin Turner
, a utility player thrust into the starting lineup by an injury to
Juan Uribe
, made two diving stops behind Ryu. Turner also drove up Cueto's pitch count with a 16-pitch at-bat that led to a walk in the seventh inning and started a three-run rally.
The long Dodgers' rally in the seventh, during which Ryu had to run the bases, seemed to throw off his rhythm. The Reds bunched two more hits. Then reliever
Brian Wilson
continued to struggle, with closer
Kenley Jansen
having to be summoned to get the final four outs. Jansen struck out Phillips to get out of a bases-loaded jam in the eighth.
Hits:
For a guy who has started only 170 major league games,
Drew Butera
has done some extraordinary things. He has caught two no-hitters, Beckett's and
Francisco Liriano
's for the
Minnesota Twins
in 2011. Much of it, of course, is luck. But Butera is an excellent defensive catcher and, apparently, calls a pretty fair game behind the plate.
Misses:
The Dodgers are trying their best to fix their defensive shortcomings. They replaced
Matt Kemp
in center field with
Andre Ethier
. They're using acrobatic shortstop
Erisbel Arruebarrena
at shortstop in place of injured
Hanley Ramirez
. But it has come with some cost in the lineup. The Dodgers have scored four runs or fewer in five of their past six games. As usual, all personnel decisions have trade-offs. The Dodgers apparently are going all in on pitching and defense, at least for now.
Stat of the game:
Yasiel Puig
reached base safely for the 27th consecutive game with his third-inning walk.
Up next:
The Dodgers' strong pitching has a good chance to continue for a while. The next two games are pitched by
Zack Greinke
(7-1, 2.01 ERA) and
Clayton Kershaw
(3-1, 3.49). The Dodgers will face
Alfredo Simon
(6-2, 2.31 ERA) Tuesday at 7:10 p.m. PT.
May, 26, 2014
May 26
9:01
AM PT
The Dodgers have overcome losing ace
Clayton Kershaw
for more than a month, shaky fielding all season and scant production from a handsomely paid outfield during April. Monday presents another challenge: trying to score off the most dominant pitcher in the National League.
Most numbers indicate that's what
Johnny Cueto
has been for the
Cincinnati Reds
, who visit Dodger Stadium for a three-game series Monday through Wednesday.


Cueto leads the majors in WHIP (0.74) and the National League in strikeouts (82). He's fourth in the league with a 1.86 ERA, but carries just a 4-3 record. Then again, the one starter who has, arguably, pitched better than Cueto, the Chicago Cubs'
Jeff Samardzija
, is 0-4.
Cueto is coming off his only so-so outing of the season, in which he gave up six earned runs on six hits in 5 1/3 innings against the
Washington Nationals
and, afterward, told reporters, "I'm human." It was his only non-quality start of 2014. He also is 1-3 with a 4.09 ERA at Dodger Stadium.
Dodgers starters haven't been too shabby themselves. After
Josh Beckett
's first career no-hitter Sunday in Philadelphia, they are third in the National League with a 3.14 ERA. One area they'd like to improve on is pitching deeper into games. Dodgers starters have worked 298 1/3 innings, good for 12th in the majors.
The Dodgers were impressed with
Hyun-Jin Ryu
's command after he spent nearly three weeks on the disabled list with some discomfort in his left shoulder and they were even more impressed after he struck out nine New York Mets and gave up two runs in six innings in his last start. The only time Ryu faced the Reds, he was amped up for a showdown with fellow Korean
Shin-Soo Choo
, who signed last winter as a free agent with the
Texas Rangers
.
Ryu allowed only two hits and struck out nine in seven innings against the Reds at Dodger Stadium last year.
The Reds might be a little sluggish after traveling through the night after playing the Sunday night game.
The Reds have made the fewest errors in the National League while the Dodgers have made the second-most. On the other hand, the Dodgers have taken some steps to try to improve their defense in recent games, replacing
Matt Kemp
with
Andre Ethier
in center field and using light-hitting defensive whiz
Erisbel Arruebarrena
at shortstop. Kemp, who has begun working out in left field, figures to get a start against Cueto since he's 6-for-12 against him lifetime.
The Dodgers have not announced whether
Hanley Ramirez
will be put on the 15-day disabled list with a calf injury, but it appeared to be heading that way.
March, 7, 2014
Mar 7
12:50
PM PT
Hanley Ramirez
is setting himself up for a pretty handsome payday.
One could argue he was, when healthy, the best offensive player in baseball not named
Miguel Cabrera
or
Mike Trout
last season. After a few down years, perhaps due to his recovery from shoulder surgery, Ramirez returned to being the force his early career had suggested.
And, for a player who has been dogged for a while by questions about his attitude, he showed up this spring
in good shape
and
saying all the right things
. The Dodgers have made it known they'd like to sign Ramirez to a long-term contract extension to keep him in Los Angeles beyond 2014. Ramirez said he'd like that, too.
But where should he play? That's the question that has followed Ramirez around for the last few years. Dodgers manager Don Mattingly told Bill Plunkett of the Orange County Register this week that, presuming the Dodgers can sign him long-term, a return to third base is
in the works
.
"I've asked him, 'Honestly, where do you think you're going to end up?' " Mattingly told Plunkett. "And he says, 'Third base.' I think he knows as you get older, you make that move. Hanley is like Alex (Rodriguez). He's got third base power and pop. As he gets older, obviously guys are going to slow down."
Ramirez was agnostic about the move, saying he'll do whatever the Dodgers ask and that he only would object if he's asked to move back and forth within a season. The move seems to be in keeping with the Dodgers' long-term plan of using slick-fielding Cuban defector
Erisbel Arruebarrena
at shorstop and shifting
Juan Uribe
into a utility role for the second season of his two-year deal.
The only problem with the plan is that Ramirez might be a worse third baseman than he is a shortstop. The Dodgers would simply be stashing him at a position where he his shaky defense would be less exposed, because third base typically sees the least action of any of the infield spots. In 2012, his one season at third base, Ramirez had an Ultimate Zone Rating (UZR) of -3.6 and his Defensive Runs Saved (DRS) was -11. These are worse numbers than in five of Ramirez's seasons at shortstop, including last year, when he may even have been above-average in a smaller sample.
Essentially, the Dodgers seem to be hinting that Ramirez would do less harm at third than he would at shortstop. That begs the question of whether his best long-term trajectory might be in left field, first base or designated hitter. Of course, none of those options are open to the Dodgers at the moment.