Dodgers Report:

Freddie Freeman
April, 13, 2014
Apr 13
10:35
PM PT
1.
The biggest story of the first two weeks has to be the
Milwaukee Brewers
, winners of nine in a row and at 10-2, two wins better than any other team in the early going. The big surprise is the Brewers have allowed just 29 runs, fewest in the majors. They swept Pittsburgh over the weekend by out-Pirating the Pirates, winning 4-2, 3-2 and 4-1.
Kyle Lohse
was dominant in Sunday's win, falling one out short of a complete game when manager Ron Roenicke removed him after
Andrew McCutchen
singled with two outs (Roenicke was greeted with a smattering of boos from the home crowd but was vindicated when
Will Smith
fanned
Pedro Alvarez
on three pitches to end it).
The Brewers are a difficult team to analyze. They've drawn just 25 walks, fourth fewest in the majors, so they love to swing the bats and you wonder if this aggressive approach will be exploited as the season rolls on. They have a 1.80 ERA and it hasn't been just smoke and mirrors -- they're fourth in the majors in strikeout percentage and tied for sixth in lowest walk percentage. The unknown at this point is whether the staff is really shaping up as one of the best in the majors. A year ago it ranked 27th in strikeout percentage and 11th in walk percentage.
Anyway, without overanalyzing two weeks of results, what I wanted to know about Milwaukee is this: Does a long winning streak mean good things are ahead for the Brewers? There are a lot of nine-game winning streaks in a season, so searching for any nine-game winning streak might not tell us much. I thought I'd check nine-game streaks in April to see if that correlates to season-long success. For example, last season the Braves and A's both had nine-game winning streaks in April and went on to division titles.
But you know who else had a nine-game winning streak in April? The Milwaukee Brewers. Of course, they had started 2-8 before reeling off nine a row from April 14 through April 23, so that put them at 11-8. They were 14-11 through April 30 but then went 6-22 in May and the season was over.
Another way to look at the Brewers' hot start is to look at teams that began 10-2 or better to start the season. Here are the teams since 1996 to do that:
2013 Braves: 11-1 (96-66, division title)
2012 Rangers: 10-2 (93-69, wild card)
2011 Rockies: 10-2 (73-89, missed playoffs)
2009 Marlins: 11-1 (87-75, missed playoffs)
2006 Mets: 10-2 (97-65, division title)
2005 Dodgers: 10-2 (71-91, missed playoffs)
2003 Giants: 11-1 (100-61, division title)
2003 Royals: 11-1 (83-79, missed playoffs)
2003 Yankees: 10-2 (101-61, division title)
2002 Indians: 11-1 (74-88, missed playoffs)
1999 Indians: 10-2 (97-65, division champ)
1998 Indians: 10-2 (89-73, division champ)
1998 Padres: 10-2 (98-64, division champ)
1998 Orioles: 10-2 (79-83, missed playoffs)
1996 Orioles: 10-2 (88-74, wild card)
The tally: The 15 teams went an average of 88-74 with nine of them making the playoffs. So a hot start isn't a guarantee of reaching the postseason. The 2005 Dodgers started 10-2 and went 15-8 in April, but that proved to be their only winning month. Still, a 10-2 stretch is a sign of
something
. In the tough NL Central, it means we could be seeing a four-team race this year.
2.
We'll have more Braves coverage Monday to preview the Braves-Phillies game on ESPN, so just a couple of quick thoughts on the Braves' impressive weekend sweep of the Nationals.
Justin Upton
, who is 11-for-14 over his past four games with four home runs, two doubles and 8 RBIs, is in one of his patented hot streaks. But we've seen this before, most notably last April. I still don't expect Upton to suddenly morph into anything different from what he was last year, but it's fun to watch when he gets in a groove.
The Nationals are 6-0 against the Mets and Marlins, 1-5 against the Braves ... which sounds a lot like 2013, when the Nationals went 6-13 against the Braves and 80-63 against everyone else. Until they prove they can beat the Braves, I'm going to withdraw my preseason evaluation of the Nationals as one of the three best teams in baseball.
Finally,
Freddie Freeman
: No hitter has looked more impressive through two weeks than Freeman, who is hitting .442/.519/.814. He hit his fourth home run Sunday -- a
towering fly ball
to right field (about as high as you'll see any home run hit). Most impressive to me is he's struck out just four times in 52 plate appearances -- a 7.7 percent strikeout rate compared to 19.2 percent in 2013. If this K-rate is a sign of a new and improved Freeman, he's going to win the batting title.
3.
Mark Buehrle
is one of those players you don't properly appreciate until you take the time to properly appreciate him. The fastest pitch he's thrown this season is 86.0 mph and after a sterling seven-inning effort in Toronto's 11-3 pounding of the Orioles he's 3-0 with a 0.86 ERA.
He has as many swings and misses in his three starts (24) as
Felix Hernandez
got on Opening Day, but he pounds that outside corner to right-handed batters and they often pounded it into the ground. When they say velocity doesn't matter, what they really mean, "Well, no, not if you can paint the corners like Mark Buehrle." Since Buehrle debuted in 2000, the only pitchers with more than his 189 wins are
CC Sabathia
(206),
Tim Hudson
(196) and
Roy Halladay
(194).
4.
In that game,
Ubaldo Jimenez
had his third shaky outing, giving up 10 hits and five runs, including two home runs. He's 0-3 and has allowed 13 runs in 16 innings, with a 13-10 strikeout-walk ratio and four home runs.
Colby Rasmus
and
Brett Lawrie
tagged him Sunday, Rasmus on a 3-2, 92 mph low fastball over the middle of the plate and Lawrie on a 2-1 splitter that was pretty much down the middle. Obviously, both were pitches in bad locations.
[+] Enlarge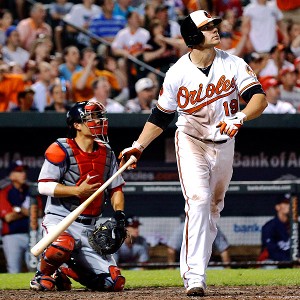 AP Photo/Patrick SemanskyDon't worry about Chris Davis -- he'll still hit a bunch of home runs this year.
Compared to last year, Jimenez's velocity on his fastball is down a bit (91.7 to 90.0) and while his overall percentage of strikes is about the same, he's throwing fewer pitches in the strike zone (50 percent to 46 percent) and inducing about 4 percent fewer swings and misses. We don't want to consign this to the bad signings bin after three outings, but so far Jimenez hasn't resembled the pitcher who had a 1.82 ERA over his final 13 starts last season for Cleveland.
5.
More Orioles:
Chris Davis
, last year's 53-homer monster, finally hit his first of 2014, a 433-foot bash to straightaway center. The good news here is that Davis hasn't actually been "slumping" like he's prone to do; he's still hitting .279/.353/.419, so at least he has been contributing even without the home runs. I'm not worried about the slow power output so far and still see him as a 38-to-40 homer guy. I thought I'd check to see which players who hit 50-plus home runs had the biggest decrease the following season. Here are those who fell by 25 or more home runs:
Hack Wilson, 1930-31: -43 (56 to 13)
Mark McGwire
, 1999-2000: -33 (65 to 32)
Brady Anderson
, 1996-97: -32 (50 to 18)
Luis Gonzalez
, 2001-02: -29 (57 to 28)
Roger Maris, 1961-62: -28 (61 to 33)
Barry Bonds
, 2001-02: -27 (73 to 46)
Hank Greenberg, 1938-39: -25 (58 to 33)
Of the 42 previous players to hit 50, they dropped on average from 55.7 home runs to 43.6 the following season, which puts Davis right around 40.
6.
After tearing apart the Angels in their opening series, the Mariners' offense is starting to look a lot like ... the Mariners' offense. In four of their five losses since that 3-0 start they've allowed three runs or fewer, so the pitching staff has done its job even with
Hisashi Iwakuma
and
Taijuan Walker
on the disabled list.
The A's beat the Mariners 3-1 Saturday and shut them out 3-0 Sunday behind
Scott Kazmir
(looking good early on) and some late runs. Suddenly, the Mariners are hitting .225 and rank 27th in the majors in batting average and on-base percentage.
Robinson Cano
is hitting .333 but hasn't homered and some disturbing numbers have come from
Kyle Seager
(.121),
Brad Miller
(17 strikeouts, one walk),
Mike Zunino
(12 strikeouts, no walks) and
Corey Hart
(nine strikeouts, one walk).
7.
Here's a double play
you rarely see: 6-2-4-3-2 as the Rays recorded two outs at home plate. It didn't matter in the end as the Reds won 12-4, but the Rays still won the series after winning 2-1 and 1-0 in the first two games behind
David Price
and
Alex Cobb
.
Cesar Ramos
started Sunday in place of the injured
Matt Moore
in what was essentially a bullpen game -- Tampa Bay used six pitchers, none for more than two innings. For all the attention given to Billy Hamilton's slow start, shortstop
Zack Cozart
is hitting even worse (.114/.162/.171). The more you look at this Reds lineup, the more you wonder where the runs are going to come from.
8.
Continuing on our struggling offenses theme, we bring you the
Kansas City Royals
, who have one home run in 11 games. They suffered a three-game sweep in Minnesota, getting outscored 21-5. Sunday's 4-3 loss was especially dispiriting as the Royals had scored three runs in the top of the eighth to take a 3-2 lead on a 42-degree day in Minneapolis. But
Aaron Crow
walked the first two batters of the eighth, bringing on
Wade Davis
, who struck out
Joe Mauer
but then loaded the bases with another walk.
He induced a tapper back to the mound for what could have been a 1-2-3 inning-ending double play but
instead threw wildly
to catcher
Salvador Perez
. One major reason for the Royals' 86-76 record last year was beating up on the hapless Twins -- they went 15-4 with a plus-47 scoring margin (exactly their scoring margin for the season). We give the two-week caveat, but this game showcased my concern with the Royals heading into the season: a lack of power and a bullpen that probably wasn't going to repeat last year's AL-leading 2.55 ERA.
9.
Two general takeaways from the first weeks: There is
a lot
of parity in the American League this season. It wouldn't surprise me to see two or even three playoff teams from the AL win fewer than 90 games. The only AL playoff teams in the past decade to win fewer than 90 were the 2012 Tigers (88), 2009 Twins (87) and 2008 White Sox (89).
Second, offense is puttering along at about the same pace as last year, when batters hit .253/.318/.396, the lowest major league average of the DH era (since 1973). This year, we're off to a .247/.316/.393 start heading into the Sunday night Red Sox-Yankees game. And, no, offense doesn't always pick up when the weather heats up.
Last year, the OPS per month ranged from .706 (July and September) to .722 (May). In 2012, hitters were "cold" in April with .711 OPS and increased that to .730 and .731 in May, June and July. In 2011, the OPS ranged from .708 (June) to .740 (August).
10.
Adrian Gonzalez
homered Sunday for the fourth straight game and
Giancarlo Stanton
hit another mammoth bomb Saturday,
a 469-foot blast
that now gives him the
first- and third-longest home runs of 2014
. But the biggest home run news of the week came Wednesday when
David Ortiz
took
32.91 seconds to round
the bases after his home run -- the slowest trot yet recorded on
Larry Granillo's Tater Trot leaderboard.
July, 10, 2013
7/10/13
6:12
PM PT
It might be about time for Major League Baseball to approach one of the National League's All-Star outfielders and convince him his knee is killing him.
If things don't change in the next 24 hours or so, the nation might miss a chance to watch
Yasiel Puig
, the most talked-about player in baseball, compete against the best players in the world -- at least the ones who aren't left behind in his native Cuba.
Puig continues to trail Atlanta first baseman
Freddie Freeman
in MLB's Final Vote contest, in results announced Wednesday morning. No matter what the Dodgers seem to do -- clever tweets, voting parties, an alliance with the
Boston Red Sox
, a Puig Power Hour -- nothing has been able to reverse it.
We do have to give the Dodgers' Tweet-master, Josh Tucker, some credit for his efforts, though. His parents can rest assured that all that money they poured into a USC education are paying off. Here are some of the team's tweets just from the past day:
* "Coffee, tea or juice? No matter what you choose, Vote Puig!"
* "West coast, best coast, Puig the vote all night."
* Something in Korean, which we assume implores
Hyun-Jin Ryu
fans to vote for Puig.
* And, at 1 a.m. PT, this morning, "The south is sleeping. Time to Vote Puig!"
The most exciting part of this whole process, of course, is the build-up.
Even if Puig does make it, he'll probably get one at-bat, maybe two, and an inning or two of defense. Still, who knows? He tends to have a flare for big moments. Maybe he'll break it open with one swing or throw out the go-ahead run at the plate. As another Dodgers tweet pointed out, if the National League wants to gain home-field advantage for the World Series, it's time to get it done.
April, 23, 2012
4/23/12
10:13
PM PT
LOS ANGELES -- The Los Angeles Dodgers, who allegedly has fashioned their hot early-season start around a weak schedule, began what figures to be a challenging six-game homestand by hammering the Atlanta Braves 7-2 on Monday night at Dodger Stadium.

The Dodgers got a strong pitching performance from Chris Capuano, and their offense came to life one day after being shut out in the final game of their series in Houston, this time pounding out 15 hits, nine of them against normally formidable Braves starter Jair Jurrjens, who was knocked out after three-plus innings.

The good

Busting out. James Loney, Juan Uribe and A.J. Ellis, who hit sixth, seventh and eighth in the Dodgers lineup and whose averages coming into the game ranged from .211 to .222, combined to go 8-for-11, score four runs and drive in five. Uribe led the way, tying his career high for hits in a game by going 4-for-4 to raise his average from .211 to .286.

Wriggling free. With his pitch count rising fast, Capuano, who to that point had been in and out of trouble and generally pitched like the fifth starter he is, worked deftly out of a first-and-third, nobody-out jam in the fourth to preserve a two-run lead, with an assist from the fact that jam came in a good spot in the Braves' order. Capuano began his escape by striking out Jack Wilson. After Jurrjens bunted David Ross to second, Michael Bourn grounded harmlessly to second, stranding both runners in scoring position. The Dodgers came back in their half to score two runs, doubling their lead.