Dodgers Report:

Homer Bailey
May, 28, 2014
May 28
11:36
PM PT
LOS ANGELES --
Clayton Kershaw
threw a nasty slider in the dirt, it skipped through
Drew Butera
's legs and the winning run scored.
With two runners on base,
Andre Ethier
scalded a low line drive and it went right to shortstop
Zack Cozart
, who caught it and started an easy inning-ending double play.
Homer Bailey
pitched a lot more like the guy who threw two no-hitters than the guy who had a 5.34 ERA coming in. When the
Los Angeles Dodgers
left the game in the hands of
Aroldis Chapman
and his 102-mph fastball, that wasn't really playing the percentages.
[+] Enlarge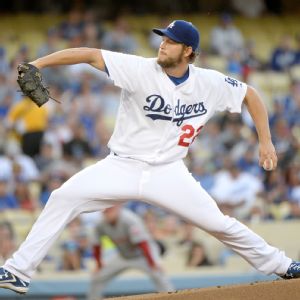 Harry How/Getty ImagesClayton Kershaw struck out nine in a loss to the Reds on Wednesday, but he's feeling better about how the Dodgers are playing lately.
In other words, the Dodgers lost because of an accumulation of little things against the
Cincinnati Reds
on Wednesday night in a 3-2 defeat. Considering all the big things that were piling up around this team about a week ago -- sloppy fielding, an unreliable bullpen -- they can live with these kinds of losses more than those kinds of losses.
And, yeah, there's a difference in the feelings that linger in a clubhouse. Wednesday's loss was the Dodgers' third in their past nine games, and nobody seemed too glum about it afterward.
"I just think, overall, we're playing better," Kershaw said after losing to Bailey despite striking out nine batters over seven innings. Not long ago, it wasn't fun being a Dodgers starting pitcher. Their pitch counts were driven up by poor fielding behind them and their leads were rarely safe once they left the game.
Lately, the mound has been a more pleasant place to work around this team. One guy,
Josh Beckett
, threw a no-hitter. Another,
Hyun-Jin Ryu
, did more than flirt -- he courted -- a perfect game. The next two,
Zack Greinke
and Kershaw, combined for 20 strikeouts between Tuesday and Wednesday. None of these things -- better defense, stauncher relief, improved starters' morale -- are unrelated, by the way.
"I don't think we're at a point where we want to live with any loss really, but I do feel like these are the types of games we're going to win our share," Dodgers manager Don Mattingly said.
So, the Dodgers have made some legitimate fixes in the past couple of weeks. If there's one thing they could use right now, it's a little more
Hanley Ramirez
. Or maybe it's a little less Hanley Ramirez. They could use more production, which might mean a little less effort and a little shorter swing from the player who -- along with
Yasiel Puig
-- ignited this team's run in 2013.
Puig has done all the igniting he can -- he has reached base in 29 straight games and is batting .406 with eight home runs this month -- but there's something about a one-two punch.
Ramirez returned from a strained calf two days ago and has gone 1-for-8. He struck out twice Wednesday and Mattingly continues to see a player trying to do too much. Ramirez is batting .245 and his .764 OPS tells a different story than the 1.040 he produced last season, best in the National League.
"Well he's just not clicking the ball the way he did last year," Mattingly said. "Hanley's a guy that's going to hit. I'm confident he's going to hit. He's just not quite squaring up on that ball away from him, it looks like right now."
The Dodgers have squared up some unruly edges of their team, but a few more wouldn't hurt.
May, 28, 2014
May 28
10:19
PM PT
LOS ANGELES --
Matt Kemp
looked perfectly comfortable playing left field for the first time in eight years and
Clayton Kershaw
continued to show ace-like signs, but the pitching-and-defense formula faltered for at least one night when the
Los Angeles Dodgers
lost to the
Cincinnati Reds
3-2 on Wednesday night.
That stalled a bit of the momentum they had gathered, snapping a three-game winning streak and giving them just their third loss in the past nine games.
How it happened:
The game got off to an ominous start for Kershaw and the Dodgers when the second hitter of the game hammered a double into the left-field corner and the third hitter of the game,
Brandon Phillips
, hit a 94-mph fastball over the left-field wall for a two-run homer.
But Kershaw steadied himself after the first inning, getting through seven innings and striking out nine batters. Meanwhile, the Dodgers kept plugging, but couldn't quite break through against
Homer Bailey
or the Reds' struggling bullpen.
Hits:
Two quality starts in a row have eased some worries after that clunker Kershaw had in Arizona. After the home run, Kershaw did what you expect him to do. He got mad. He struck out six of the next eight batters he faced. The Dodgers aren't seeing Kershaw in his finest form and you could argue that
Zack Greinke
has taken over as the ace of the staff, at least temporarily, but the past two starts have represented a return to normalcy. He has struck out 18 batters combined in the two starts.
Misses:
It still feels as if the Dodgers need
Hanley Ramirez
to get going on a sustained roll. Maybe that's just because it's exactly what happened last year. Ramirez, who has slid down to the cleanup spot from No. 3, was 0-for-4 with two strikeouts and stranded the tying run at third in the eighth. In his second game back from a strained calf, he continues to search for his timing.
Stat of the game:
On April 24, the Dodgers lost 7-3 to the
Philadelphia Phillies
and
Yasiel Puig
went 0-for-4 without a walk or being hit by a pitch. Since then, he has been on base at least one time in every game, giving him a majors-best 29-game streak of getting on. He homered off Bailey to extend it in the sixth inning. As usual, he savored the moment, barely getting out of the batter's box by the time the ball (narrowly) cleared the right-field wall.
Up next:
The Dodgers face a struggling opponent, the
Pittsburgh Pirates
, on Thursday night, but they also have to contend with one of the hardest throwers in the major leagues,
Gerrit Cole
(4-3, 3.76 ERA). The Dodgers counter with veteran
Dan Haren
(5-3, 3.16) in a game that begins at 7:10 p.m.
September, 8, 2013
9/08/13
3:19
PM PT
AP Photo/Jeff RobersonClayton Kershaw has many different ways to get hitters out.
The Cincinnati Reds and Los Angeles Dodgers meet with the Reds trying for a series sweep on "Sunday Night Baseball" at 8 p.m. ET (ESPN). Here's a look at five statistical storylines our broadcast crew will surely be talking about.
1.
Despite a three-game losing streak, the Dodgers are 36-11 since the All-Star break. If they can maintain that pace, it would be the fourth-best second-half winning percentage by a team since the All-Star Game began in 1933. After a 30-42 start, the Dodgers are 53-16 in their past 69 games. Their starting pitchers entered Sunday with a 3.09 ERA, best in the majors. The Reds rank second with a 3.37 ERA.
2.
Clayton Kershaw
enters Sunday night with a 1.89 ERA, which would be the lowest by an NL lefty since Sandy Koufax's 1.73 in 1966.
Kershaw could be only the fifth pitcher to lead his league in ERA in three straight seasons (the first since
Greg Maddux
from 1993 to 1995) and only the third to lead the majors in three straight seasons (joining Maddux and Hall of Famer Lefty Grove, 1929 to 1931).
Kershaw is the only pitcher in the majors with at least 60 strikeouts on three different pitch types (69 slider, 68 curveball, 63 fastball).
Kershaw is coming off his worst start of the season. In his first start of September, he allowed more earned runs (five) than he did in five starts in August combined (four).
3.
Reds starter
Homer Bailey
is 5-0 with a 2.42 ERA in his past seven starts. Bailey enters this start with back-to-back outings of seven innings pitched and no earned runs allowed. The last Reds pitcher with three straight such outings was Jim Maloney in 1968.
4.
The Kershaw-
Joey Votto
matchup should be a good one. Lefties are hitting an NL-low .159 against Kershaw this season. Votto is 5-for-20 against Kershaw with 11 strikeouts, his most against any pitcher. He's also one of four left-handed hitters to hit a pair of homers against Kershsaw. (The others are
Adam Dunn
,
Carlos Gonzalez
and
Brad Hawpe
.)
5.
Each team has a rookie doing something notable from a historical perspective.
Yasiel Puig
is currently hitting .347. Over the past 80 years, the only players 22 or younger to finish a season with a batting average higher than that (minimum 300 plate appearances) are Ted Williams,
Alex Rodriguez
and Stan Musial.
Meanwhile, the Reds now have a unique offensive weapon in
Billy Hamilton
, who stole 75 bases in the minor leagues this season. The Elias Sports Bureau reports that Hamilton, who has not yet come to the plate in a major league game, is the first player in the modern era (since 1900) to record a stolen base in each of his first four major league games.
September, 21, 2012
9/21/12
9:09
AM PT
By
Dan Braunstein, ESPN Stats & Information
As they come perilously close to being eliminated from playoff contention, the Dodgers head to Cincinnati for three games against the Reds, owners of the league's second-best record.

Losing two out of three would probably be the end for L.A. (If the Cardinals finish just 6-6, the Dodgers would have to finish 9-3 to force at best a tie with St. Louis.)

This weekend, the Dodgers will be facing three pitchers who have all had recent success against L.A. and carry ERAs in the threes this season.

Friday's starter for the Reds is Bronson Arroyo. Arroyo has made four starts against the Dodgers since the start of 2010, winning all four with a 2.60 ERA. Two of those starts were in Cincinnati, where Arroyo allowed just two runs and no homers over 13 innings.

Throughout his career, Arroyo has had home run problems, most notably last season when he allowed a league-high 46 home runs. He's been better this year, allowing just 24, and should be helped further by facing a Dodgers offense that ranks second-to-last in baseball with 101 home runs this year.

Adrian Gonzalez's struggles might continue against Arroyo; Gonzalez's .115 average (3 for 26) against him is his second lowest against any pitcher he's faced at least 20 times.

The Dodgers draw Mat Latos Saturday, a pitcher they saw seven times over the previous two seasons when he was with the Padres. He went only 1-5 in those starts but posted a 2.70 ERA, striking out 44 hitters in 43 1/3 innings. Latos' slider was a key weapon against the Dodgers in those starts; they hit just .121 (4 for 33) in at-bats ending with his slider and missed on 27 of 57 swings against it.

Latos didn't initially handle his adjustment out of San Diego well, posting a 5.97 ERA in April. Since then, however, his ERA stands at 3.36, and he's 11-2 since May 1. The Reds have won 17 of his last 22 starts, including four in a row.

The Dodgers missed both Arroyo and Latos when the Reds were at Dodger Stadium at the beginning of July. L.A. took two of three from Cincinnati in that series, with the Reds' only win coming in the first game behind eight strong innings from Homer Bailey. Bailey gets the start in the series finale on Sunday Night Baseball.

Bailey struck out seven in that start in L.A. in July, allowing five hits and two runs. It was one of many excellent road starts this season for Bailey, who's struggled at home. Bailey's ERA at Great American Ball Park is almost two-and-a-half runs higher than his road ERA. Bailey has excelled this September, posting a 1.55 ERA over four starts in the month, so something will have to give.

Dodgers hitters have had wildly varying degrees of success against Bailey. Adrian Gonzalez has three home runs and six hits in 12 at-bats against him, and Shane Victorino and Matt Kemp have hit .417 and .364, respectively, against Bailey. At the other end of the spectrum, Andre Ethier and Hanley Ramirez are each 0-for-9, and Ramirez has never even reached base.

One of the hallmarks of the Reds' season has been something currently ailing the Dodgers, and that's rotation stability. The Reds have needed only one start from someone not in their Opening Day rotation, and that was because of a doubleheader. In a series the Dodgers desperately need to win, they avoid Cincinnati ace Johnny Cueto but are faced with the two-through-four starters on the team with the second-best record and most stable rotation in baseball.

With those three pitchers ahead of them and the knowledge that any losses might knock them out of contention, the playoffs are already here for the Dodgers.