Dodgers Report:

Hunter Pence
September, 14, 2014
9/14/14
4:00
PM PT
SAN FRANCISCO -- After trading blowouts in the most anticipated series of the year, the
Los Angeles Dodgers
and
San Francisco Giants
returned to what they most frequently do when they meet. They fought each other hand to hand for nine innings.
But the Dodgers had
Clayton Kershaw
, which means they normally win those fights. Their ace went eight strong innings again to become the majors' first 19-game winner in a 4-2 Dodgers win that padded their NL West lead to three games with 13 left.
How it happened:
The Giants battled Kershaw in their at-bats and drove his pitch count up, so he was in jeopardy of having his streak of going at least eight innings snapped at six. Then he talked his way into staying on the mound in the eighth and cruised, striking out
Buster Posey
and quickly dispatching
Joe Panik
and
Hunter Pence
. The Dodgers used a couple of singles and a couple of Giants errors to score two runs in the second inning, but the game was tense until
Matt Kemp
launched a high, two-run homer to left-center field in the sixth inning.
Hits:
Given the standard he set in 2011, Kemp's season has been widely viewed as a bit of a disappointment. And yet his home run was his 20th and the RBIs were his 73rd and 74th. That means he has tied Posey in home runs and is just 10 behind him in RBIs, and Posey is viewed as a league MVP candidate. Since the All-Star break, Kemp has been the Dodgers' most dangerous hitter, tallying 12 of his home runs.
Misses:
It's not often that a catcher will work a night game and then catch the following afternoon, but
A.J. Ellis
and Kershaw are a tandem. That meant the Dodgers' No. 1 catcher went another tiring nine innings. He has started seven of the Dodgers' past eight games, a reflection of the time of the season. Ellis might be wearing down. He drove in a run with a sacrifice fly, but had another oh-fer day at the plate. Late as it is, Dodgers manager Don Mattingly might want to mix in a day off here or there for Ellis to keep him fresh for the playoffs.
Stat of the game:
Kershaw went into Sunday's start with a 0.32 edge over
Chris Sale
for the major league ERA title. If he wins it, and it's hard to imagine he won't, he would be the first pitcher ever to win four straight major league ERA titles. Sandy Koufax led the National League five straight seasons but was edged out by the Angels' Dean Chance in 1964.
Up next:
The Dodgers head to Colorado for a three-game series with the
Rockies
.
Roberto Hernandez
(8-11, 4.04 ERA) goes for the Dodgers opposite
Christian Bergman
(2-3, 4.89) in a 5:40 p.m. PT game on Monday.
July, 17, 2014
7/17/14
7:00
AM PT
It is fair to say that
Miguel Montero
is not a fan of the
Los Angeles Dodgers
. The
Arizona Diamondbacks
catcher, whose locker was – awkwardly – right next to
Yasiel Puig
's for two days at the All-Star Game in Minneapolis, is kind of blunt about it.
Montero was asked to assess the strengths and weaknesses of the two teams vying for control of the NL West and, in the middle of his answer, he blurted out, "I don't know. I really like the Giants a little better than the Dodgers."
[+] Enlarge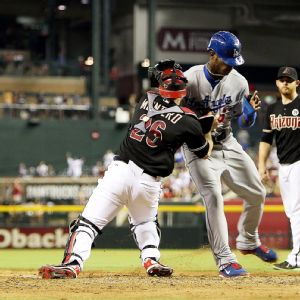 Christian Petersen/Getty ImagesYasiel Puig and Miguel Montero, who were locker room neighbors at the All-Star Game, have a history of bad blood that includes a collision at home plate last season.
The Dodgers can only hope the rest of the division doesn't feel that way or, if it does, that those three teams don't play any harder against them than against the Giants, because their playoff hopes could hang in the balance.
The Dodgers, who lead the Giants by one game, have only 65 games remaining, including 12 head-to-head games with San Francisco, starting July 25 at AT&T Park. The Dodgers have 20 games left against the three other teams in their division, teams they have dominated to climb into first place.
Montero, it should be noted, has a history of bad blood with the Dodgers. Puig collided with him at home plate last season and appeared to glare in his direction afterward, prompting a finger wag from Montero, who criticized Puig to the media. He was in the middle of the teams' fight at Dodger Stadium in June of 2013.

Montero said he has a fondness for San Francisco manager Bruce Bochy and prefers San Francisco's style of play to the Dodgers'. He does give the Dodgers an edge over San Francisco in terms of offensive firepower, but would award "intangibles" to the Bay Area team, it's fair to say.
"They kind of respect the game. They go out there and play the game really hard," Montero said of the Giants, before gesturing in the direction of some Dodgers' All-Star game lockers. "These guys, too… They've got a great pitching staff. One to five, you can't go wrong and they've got a really good offense. I don't know, I just like the Giants better, just me personally. They're a sneaky team, quieter."
With Puig on their team, nobody has called the Dodgers "quiet" lately, but that doesn't mean they aren't good. They just haven't been particularly good when they play the Giants so far, going 3-7 in head-to-head matchups. On the other hand, they have gone 26-10 against the three sub-.500 teams in their division while the Giants have gone just 18-18 against those teams. It's that disparity, largely, that allowed the Dodgers to make up 10 games in the standings in about four weeks.
But what, exactly, will that dramatic June charge set up? Could this be the great Giants-Dodgers pennant race the teams' fans have been missing for the last 10 years, or are the Dodgers in the midst of sailing right on by the Giants? Is the balance of power about to swing dramatically in the Giants' favor once again?
"Baseball is exciting when there are close races. As a competitor you live for that," said San Francisco's
Hunter Pence
. "We'll see. It can go a lot of different ways. The future is yet to be told, and that's why we play the games."
September, 18, 2013
9/18/13
3:53
PM PT
By
Will Cohen, ESPN Stats & Info
Jake Roth/USA TODAY SportsDon Mattingly has the Dodgers on the verge of a 3rd division title in the last 6 years.
The
Los Angeles Dodgers
and
Arizona Diamondbacks
play the third game of a four-game series in Phoenix tonight (10 ET on ESPN/WatchESPN). Arizona needs only one win in the next two days to win the season series for the third straight year.
Here are a few storylines you might hear about during the broadcast.
1
. The Dodgers magic number to clinch first place in the NL West is two, meaning they can clinch with a win tonight.
This would be LA's third division title in the last six years. However, in each of the last two instances (2008, 2009) the Dodgers were eliminated in the NLCS by the
Philadelphia Phillies
.
2
. The Dodgers have overcome a number of injuries this season. In fact, they've used the DL 25 times, more than any other team in the Senior Circuit.
Matt Kemp
made his first start off the DL Tuesday night and posted his first four-hit, three-RBI game since Sept. 26, 2012. This was also the fifth such game of his career (four have come against NL West opponents).
3
.
Paul Goldschmidt
has belted five home runs and 18 RBIs off Dodgers pitching this season. His RBIs are tied with
Colorado's
Michael Cuddyer
and
San Francisco's
Hunter Pence
for the most among all players against Los Angeles this season.
In addition, Goldschmidt is riding a seven-game hitting streak that has seen him hit .566 (15-for-27) with nine RBIs.
4
. The Diamondbacks have won their share of dramatic games this season. Arizona has 16 extra-inning wins, most by an NL team since the 1999
Atlanta Braves
(17) and their 13 walk-off wins are a club record.
Misc. Notes
•
Yasiel Puig
is hitting .554 on the first pitch of an at-bat this season, the highest average in the majors (minimum 50 plate appearances).
• Arizona's
Didi Gregorius
has had a solid rookie season. Among NL rookies, only Yasiel Puig (.401 to .328) has posted a higher OBP (minimum 300 at-bats).
• Opponents are hitting .071 (4-for-56) with runners in scoring position this season against Dodgers reliever
Kenley Jansen
.
September, 15, 2013
9/15/13
4:35
PM PT
LOS ANGELES -- For the first time in nearly three months, the
Los Angeles Dodgers
have hit some serious turbulence, and it's no surprise it has coincided with a series of injuries.
The Dodgers got no closer to clinching the NL West with a 4-3 loss to the
San Francisco Giants
on Sunday, their eighth loss in the past 11 games. The
Arizona Diamondbacks
won, so the earliest the Dodgers can clinch is Tuesday at Chase Field in Phoenix.
Yasiel Puig
, who was the latest Dodgers outfielder to go down with an injury, pinch hit in the ninth inning and swung at the first pitch from
Sergio Romo
, grounding out to shortstop.
Due to injuries, the Dodgers had an outfield of
Jerry Hairston Jr
.,
Skip Schumaker
and
Nick Buss
on Sunday. Remember those stories about how difficult it would be to accommodate four star outfielders when
Matt Kemp
gets healthy? Now, the Dodgers are desperate to get Kemp back.
Brett Pill
, the pride of San Dimas, Calif., hit the decisive home run off
Paco Rodriguez
in the eighth inning.
Perhaps this offseason
Hunter Pence
can celebrate that he kept the Dodgers from clinching right in the Giants' faces. He had quite a series, mashing five home runs and driving in 12 runs. It wouldn't have hurt for the Dodgers to make better pitches to him.
Edinson Volquez
grooved one that Pence sent screaming over the left-field fence in the sixth inning, a two-run shot that tied the game at 3-all.
The last Giants hitter to have five home runs and 12 RBIs in one series was Mel Ott. That was 84 years ago.
The Dodgers didn't do much against
Ryan Vogelsong
, but he made the mistake of having to pitch to the wrong man in the wrong situation. Against an injury-riddled lineup, Vogelsong hit
Mark Ellis
with a pitch to load the bases for
Adrian Gonzalez
, one of the Dodgers' best clutch hitters.
Gonzalez pulled a double into the right-field corner to clear the bases.
June, 26, 2013
6/26/13
11:06
PM PT
LOS ANGELES -- For a while,
Clayton Kershaw
didn't see Don Mattingly walking up behind him. Either he didn't see him or he was acting as if he didn't see him.
Then, when Mattingly forced himself into the little scrum that had formed around the pitcher's mound and made his intentions known, Kershaw handed him the ball without ever looking in his manager's direction. He stared into the left-field corner and walked briskly off the field.
[+] Enlarge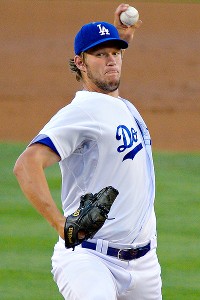 AP Photo/Mark J. TerrillClayton Kershaw won for the first time since May 20 as the Dodgers completed a sweep of the Giants on Wednesday.
Twenty minutes after Wednesday's 4-2
Los Angeles Dodgers
win over the
San Francisco Giants
, which gave them their fifth straight win, Kershaw had a little time to reflect on that ninth-inning pitching change and decided, "Overall, it was probably the right decision."
Oh, but it had to burn at the time.
Earlier in the game,
Buster Posey
had pummeled a hanging slider over the left-field fence to give the Giants a lead and imperil Kershaw's first win in more than a month.
You have to know that Kershaw, who is as competitive as they get, wanted one more chance at Posey -- the best pitcher in the rivalry, if not the world, against the best hitter in the rivalry, if not the league. Posey was due up, representing the tying run with nobody out.
That's when Mattingly came out to hand the ball to closer
Kenley Jansen
, Kershaw's pitch count at a highly manageable 104.
"Do I think I could have gotten him out?" Kershaw said. "Sure, but you know, he'd already gotten me this game. He's obviously seeing me OK tonight. We've got a pretty good guy back there, too, to finish games."
This is true and it's also the only reason Mattingly ever would have considered pulling his best pitcher in that spot. The rest of the Dodgers' bullpen is a mess, but Jansen has been a squeamish at-bat for everybody he has faced for more than a month.
Since his last walk, back on May 19, Jansen has struck out 27 batters. He got
Hunter Pence
and
Pablo Sandoval
swinging on vicious, mid-90s cutters at neck level.
August, 22, 2012
8/22/12
10:28
PM PT
LOS ANGELES -- The Los Angeles Dodgers didn't exactly bring their 'A' games in their most meaningful series so far.
The San Francisco Giants beat them 8-4 Wednesday night at Dodger Stadium to complete the three-game sweep and grab a 2 1/2-game lead in the NL West. The Dodgers, who pulled a similar trick on the Giants up north last month, were outscored 14-6 in the three games, their top hitters all falling into slumps.
The Dodgers have lost 12 of their past 17 home games.
The Good:


Rubby Dub-Dub. Rubby De La Rosa
returned after missing just over a year following elbow ligament-replacement surgery and did just fine. His anatomy appeared to remain intact and his velocity, mid-90s, was just a tick off last year's.
Jamey Wright
jogged in and allowed the two guys De La Rosa walked to score, but it was otherwise a fairly encouraging step forward for the 23-year-old. De La Rosa could give the Dodgers another crucial hard thrower in the bullpen.
Containment tactic.
The Dodgers pitchers did not -- repeat
not
-- allow part-time, light-hitting shortstop
Joaquin Arias
to hit for the cycle or break any RBI records. They held Arias to 3-for-4 with two doubles, a home run and five RBIs. Whew.
Pick an Ellis, any Ellis.
It's a bit baffling that
A.J. Ellis
hits eighth so frequently considering he's one of the Dodgers' best on-base guys and he has a better batting average than every regular other than
Matt Kemp.
While the rest of the lineup was inert, the catcher had a single, a double and hit a deep drive to the wall in right-center that was caught.
Mark Ellis
also had two hits and also has the same last name.
The Bad:
Early damage.
It's not that the Dodgers pitched poorly in this series, but they were playing from behind in all three games because their pitchers couldn't get out of the first inning with the 0-0 tie intact. For teams that rely on winning close games, that's a bad formula.
Chris Capuano
gave up three first-inning runs, including Arias' third home run of 2012. Capuano steadied himself for a while, but unraveled in the sixth.
Missing spark.
The slumps of Kemp and
Andre Ethier
may have been the primary culprits in this rough offensive series, but
Shane Victorino
wasn't exactly a dynamic force atop the lineup. Victorino had two hits in 13 at-bats and those were the only times he got on base. The first two games of the series were low scoring and the Dodgers could have used Victorino's disruptiveness on the bases, but it never emerged because he couldn't get on.
Bereft of bench.
Is there another team in the history of baseball that would have used a sub-.190 hitter to pinch-hit in all three games of a big series? That would take too much time to research, but the fact that
Juan Uribe
appeared in all three sums up the Dodgers' bench. It's about as thin as you can get. Asked if there could be help in the waiver trade market or at Triple-A,
Don Mattingly
hemmed and hawed for a while but basically said, "No."