Dodgers Report:

Ian Kennedy
September, 8, 2014
Sep 8
9:28
AM PT
LOS ANGELES -- Every
Clayton Kershaw
start between now and the end of the season will be heavily scrutinized.
If he can pick up 20 wins, it would be a bit easier for National League MVP voters to elect a pitcher and it just might be enough to get the Dodgers their second straight NL West title.

After facing the
San Diego Padres
Monday night, going for his 18th win, two of Kershaw's next three starts will come against the second-place
San Francisco Giants
, on Sept. 14 and Sept. 24. If he has another regular-season start after that, it would come against the Giants yet again, in a one-game playoff to decide the division on Sept. 29.
In other words, the Dodgers plan to bet heavily on winning the division in order to avoid the crap shoot of a one-game wild-card playoff.
The Dodgers have chosen the luxury of giving their pitchers extra rest for weeks now, but they're getting to the point of the season where they'll look to unleash as heavy a dose of Kershaw,
Zack Greinke
and
Hyun-Jin Ryu
on the league as they can. Those three will each pitch in both Giants' series.
Kershaw leads the majors in ERA (1.70), WHIP (0.83), batting average against (.191) and complete games (six) and he's in a four-way tie for wins, despite missing six weeks with a back injury. The Padres have been a relatively tough matchup for Kershaw, but not this season. He has gone 2-0 with a 1.06 ERA against them in two 2014 starts. Less than three weeks ago, he held San Diego to a run on three hits over eight innings.
The time before that, he pitched a complete game, allowing three hits and striking out 11. In that July 10 game, the Dodgers managed just seven hits and two runs against San Diego right-hander
Odrisamer Despaigne
, a rookie who is 3-5 with a 3.06 ERA this season.
The Dodgers are still looking for some more offensive continuity. Lately, when they've scored runs it has usually been because
Matt Kemp
or
Adrian Gonzalez
do something dramatic. Gonzalez hit a pair of three-run home runs Sunday and broke through the 100-RBI mark for a fifth straight season (he had 99 in 2009, or it would be eight). Kemp is batting .307 with a .960 OPS in the second half, reminiscent of his 2011 season minus the stolen-base element.
The Dodgers would love to finish this three-game series with at least a three-game lead over San Francisco, meaning they could get swept at AT&T Park and still be in a tie heading into seven straight road games against the woeful
Colorado Rockies
and
Chicago Cubs
. The Dodgers haven't quite dominated San Diego as they have the other bad teams in the NL West. They have gone 10-6 against the Padres and just lost two of three in San Diego. The Giants, meanwhile, are 8-5 against the
Arizona Diamondbacks
, the team they play starting Tuesday.
Two pitchers who might be vying for a postseason roster spot,
Roberto Hernandez
and
Dan Haren
, both will pitch in this series. Hernandez, who pitches Tuesday, has been struggling while Haren has been impressive in his last three starts. The Dodgers will face big right-hander
Andrew Cashner
, who typically pitches well against them, on Tuesday and then face
Ian Kennedy
for the sixth time this season.
August, 19, 2014
Aug 19
6:00
AM PT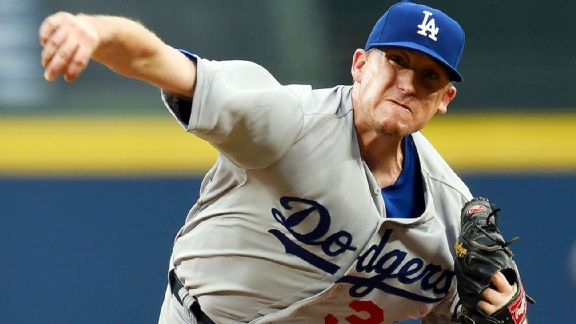 Dale Zanine/USA TODAY SportsKevin Correia gave up one earned run over six innings for a win in his Dodgers debut on Aug. 11.
LOS ANGELES -- A lot was made of the fact the Dodgers hadn't won more than three games in a row until they rattled off a six-game winning streak to end July. But the flip side was the fact they also hadn't lost more than three in a row.
They still haven't, but a loss Tuesday night to the
San Diego Padres
-- and they're relying on
Kevin Correia
, who amounts to their No. 6 starting pitcher -- would make it four losses in a row. With the
San Francisco Giants
playing better lately, this would be an inopportune time for the Dodgers to go on a lengthy losing streak.
It would also be surprising, considering they won't face a team with a winning record until Labor Day. In fact, the Dodgers have just three series left against contending teams and two of them are against the Giants, who they lead by 3½ games for the NL West lead.
The Padres, who shipped out several of their highest-paid veterans before the trade deadline, had actually won five straight games and nine of 11 before dropping three of four to the
St. Louis Cardinals
in their last series. They also recently hired a new general manager, former Texas assistant GM A.J. Preller. The Padres fired their last GM, Josh Byrnes, when the Dodgers were last in San Diego, in June.
It's not out of the question the Padres could be a team the Dodgers have to look out for in upcoming seasons. But for now the Dodgers just need wins to rebuild what not long ago felt like a fairly comfortable lead. They have won seven of the 10 meetings with the Padres this season.
Correia pitched six strong innings, allowing just one run, in his Dodgers debut in Atlanta, which came right after his Aug. 9 trade from the
Minnesota Twins
. The former Padre will be pitching on seven days' rest as the Dodgers initially moved him to the bullpen, but then needed him as a replacement for injured starter
Hyun-Jin Ryu
.
The Dodgers didn't fare well against the pitcher they'll face Tuesday,
Ian Kennedy
, the last time they saw him. Kennedy, a former USC Trojan, pitched eight scoreless innings July 12 although the Padres lost 1-0. He's also the pitcher who, last season, helped spark an ugly benches-clearing brawl when he grazed
Yasiel Puig
's nose with a 92-mph fastball. Kennedy, who was the subject of trade rumors but never moved, is 4-1 with a 2.57 ERA over his last eight starts.
Some of the Dodgers' pitching issues could be exposed in this series. In the second game, they'll send
Roberto Hernandez
, another one of their acquisitions after the non-waiver deadline, to the mound against soft-tossing lefty
Eric Stults
. On Thursday, they'll rely on
Zack Greinke
, who has been dealing with some elbow soreness and walked five in five scoreless innings in his last outing. They'll have to contend with All-Star right-hander
Tyson Ross
, who matched a San Diego record with his 11th quality start last time out.
July, 12, 2014
Jul 12
9:58
PM PT
LOS ANGELES -- The
Los Angeles Dodgers
fell into the trap of playing the only kind of game the
San Diego Padres
can win, games in which nobody scores many runs.
But they interrupted a night of lifeless at-bats at an opportune time, the bottom of the ninth inning.
Adrian Gonzalez
led off with a hustle double to center field and scored on an
A.J. Ellis
sacrifice fly to give the Dodgers a 1-0 walk-off win Saturday night, putting them alone once again in first place.

How it happened:
The Dodgers couldn't have expected more from lefty
Paul Maholm
, who was making his first start since May 14. Maholm held the Padres to two hits and no walks over six innings. Granted, he was facing the worst-hitting team in baseball, but Maholm's strong outing could buy him another start after the All-Star break if
Josh Beckett
isn't ready to go.
Problem is,
Ian Kennedy
pitched just as well and for longer. The veteran right-hander cruised through eight innings. When the Dodgers mounted a threat in the seventh,
Matt Kemp
was thrown out stealing and Kennedy escaped a two-on, one-out jam by inducing popups from Ellis and
Miguel Rojas
. The Dodgers managed only three hits off Kennedy, who struck out eight.
Hits:
It wasn't a hard decision to pull Maholm from the rotation when
Clayton Kershaw
got healthy, back in mid-May. Maholm had a 5.40 ERA after his first seven starts. He actually pitched pretty well in relief at times since despite sporadic work and the Dodgers decided he was a better option for a spot start than Triple-A right-hander
Red Patterson
. Maholm rewarded their faith. He had a good pace going and he worked efficiently. Of course, bear in mind the Padres had scored 279 runs coming into the game. The next-worst offense in the majors is the Atlanta Braves, who had scored 341.
Misses:
Yasiel Puig
has a habit of arguing with umpires, which makes it a bit surprising that Saturday night was only his second career ejection -- the other coming in the brawl with the
Arizona Diamondbacks
last year. The umpire, David Rackley, might have given Puig the benefit of the doubt if he hadn't stood at home plate while making his points in the third inning. By refusing to budge, Puig showed Rackley up in front of the big crowd and the ejection wasn't a surprise. Unless Puig homers Sunday, he heads into Monday's Gillette Home Run Derby with only one long ball since May 28, not ideal momentum for the showcase. Then again, it is batting practice, not game-speed pitching.
Stat of the game:
Kemp has fallen back into a bad habit: chasing pitches out of the strike zone. After going four straight games without a strikeout, he has nine whiffs in his last five games.
Up next:
The Dodgers can head into the All-Star Game on a solid roll if they can take the series by winning Sunday behind
Hyun-Jin Ryu
(9-5, 3.65 ERA), who is opposed by San Diego's
Tyson Ross
(7-9, 2.93). The game begins at 1:10 p.m. PT
June, 14, 2013
6/14/13
11:31
AM PT
It has been suggested that Yasiel Puig's rage during Tuesday's brawl with the Arizona Diamondbacks is another sign of his immaturity and, in baseball terminology, questionable "makeup."
Could be, but if that's the case, why did Major League Baseball
suspend Arizona Diamondbacks pitcher Ian Kennedy 10 games
and Puig none? The guy who doles out these sentences nowadays, MLB senior VP Joe Garagiola Jr., clearly gave Puig a pass because he'd just had a 92 mph fastball graze off his nose.
I've never had a 92 mph fastball anywhere near my nose, but I imagine whether it grazes or not, it leaves a major bruise in the fear portion of the brain. Most psychologists will tell you that anger and fear really aren't all that far apart.
The Dodgers got off relatively lightly with neither Puig nor ace Clayton Kershaw getting suspended. Puig was fined, but -- given his $42 million contract -- he can probably reach into his locker stall for the cash it will cost him.
I happen to think Puig was perfectly within his rights to fly off the handle Tuesday night. But that's not to suggest there aren't reasons to fret that he is a ticking time bomb in the Dodgers clubhouse.
After his past two games, Puig has
refused to speak with reporters
. It kind of sounds like no big deal. He hasn't had much to say anyway and the questions would have undoubtedly been repetitive.
But it's a bit troubling that, at age 22, with less than two weeks of service time, he thinks he can dictate the terms of his employment. I watched as a veteran team publicist -- one who used to work with Fernando Valenzuela when he was in far more demand than this young player is -- calmly tried to persuade Puig, through his translator, to change his mind. No dice.
Of his previous transgressions -- the minor league punishments, his arrest for reckless driving, the year the Cuban government made him sit out an entire season for an undisclosed infraction -- none of them alone appears to have been serious enough to tell us he doesn't deserve a chance to grow up on his own terms.
But if Puig carries himself like he's bigger than the game, even if he's still hitting close to .500 in a week or two, it won't take long for him to alienate the rest of the league. Incidents like Tuesday's will be just the beginning. Eventually, he will alienate his own teammates if he hasn't already.
In April, Dodgers reliever Paco Rodriguez, a fellow Cuban who got to know Puig in spring training, had this to say:
Here, you've got to be professional, know how to carry yourself and how to act around the older guys. You have to give them their space. He's kind of wild, all over the place, but you have to understand that's more of the culture of baseball in Cuba. Once he tones it down a little, you can tell he's going to be a great player.
People will say it's up to Don Mattingly to get Puig to tone things down. I don't think so. Mattingly and hitting coach Mark McGwire can try to reach him, but it's going to take an older player Puig respects to get through to him. It doesn't even necessarily have to be a teammate. Maybe after the season, Yoenis Cespedes could take him out to dinner and explain the culture of major league baseball.
I doubt it will be a pleasant conversation, but it might be the most important baseball talk he ever has.
August, 30, 2012
8/30/12
10:51
PM PT
LOS ANGELES -- The
Los Angeles Dodgers
are getting bullied in their own neighborhood and it's imperiling their postseason chances.
They lost 2-0 to the
Arizona Diamondbacks
on Thursday, their seventh straight loss to Arizona. The Dodgers are four games under .500 against the NL West and 20 of their final 30 games are inside the division.
The Good:


Tightrope walking.
Clayton Kershaw
threw a slow curveball to
Justin Upton
that started outside at shoulder level and broke toward Upton's right knee, swooping through the strike zone. The Diamondbacks' right fielder didn't even pause on his way toward the dugout. That was one of Kershaw's nine strikeouts, but his one mistake cost the Dodgers the game.
Chris Young
's two-run home run just inside the left-field pole -- and Kershaw's high pitch count -- meant his six strong innings weren't enough. Kershaw is not pitching much differently than he did last year, but he's not getting the same luck.
Stopping power.
Things could have gotten messier for Kershaw if not for his batterymate. Catcher
A.J. Ellis
threw out consecutive base stealers in the sixth inning after Kershaw had allowed back-to-back singles. Ellis also gave the big crowd its only real reason to get excited -- momentarily -- when he hit a drive to the warning track in left field that would have been a tying home run in the fifth inning. You could make an argument for Ellis as the team's fourth or fifth best player.
A little fight.
The Dodgers looked about as lifeless as you can look through eight innings, scrounging up just three hits off
Ian Kennedy
and a pair of relievers. But they rallied in the ninth inning off closer
J.J. Putz
, with the first two guys reaching base on hits. It fizzled, but it at least gave the impression they're not going down easily. The fans who stuck around seemed to appreciate getting a little entertainment value out of their tickets. Up to then, it was more than three hours of nothingness.
The Bad:
Off again.
The Dodgers would be in trouble if not for the contributions of
Hanley Ramirez
, who was second in the majors in August RBIs coming into Thursday. But there are times when he seems to be coasting. He looked unsure at shortstop again -- failing to charge a couple of slow rollers that resulted in infield hits -- and he went 1-for-4 with a strikeout. He has been a bit of an all-or-nothing proposition.
Slow starter.
It's not as if the Dodgers expected much from utility guy
Nick Punto
when they swung their mega-deal with the
Boston Red Sox
, but Don Mattingly has given him two starts already, so he obviously is going to have a role. It hasn't started well at the plate for Punto, who was batting .200 at the time of the trade. He has struck out five times in eight at-bats and his other two swings produced a dribbler to the left side and a little pop-up to the shortstop. Seems like an odd choice to lead off.
No Kemp.
Mattingly wasn't sure whether
Matt Kemp
would be available for late-game pinch-hitting duties before the game started. Considering Kemp never took off his jacket or emerged from the dugout when the Dodgers staged their ninth-inning rally, the answer apparently was "No." Kemp has an assortment of injuries stemming from slamming into that outfield wall in Colorado Tuesday night and you wonder, even when he returns, whether he'll be playing at full health. It's a big concern.
June, 22, 2012
6/22/12
7:45
AM PT
By
Dan Braunstein | ESPN Stats & Information
In his start Friday against the White Sox,
Clayton Kershaw
allowed five runs in six innings, including two home runs. It was the second time this season Kershaw's allowed multiple home runs in a game, already matching a career high.
Kershaw's first home run came on an 0-2 pitch to
Adam Dunn
in the first inning. It was the second home run Kershaw has allowed this season on an 0-2 count; he had allowed only one such home run in his career entering 2012. Dunn now has four career home runs against Kershaw in only 13 at-bats. No other player has more than two home runs against Kershaw.
Kershaw, who's already allowed 10 home runs in 15 starts, hadn't allowed more than seven home runs in his first 15 starts of any season of his career. One reason for the increase in home runs might be the relative lack of effectiveness of his slider.
A season ago, Kershaw's slider ranked among the best pitches in baseball. His 138 strikeouts with the pitch led the majors, and he allowed just three home runs with it. Opponents hit .121 against it.
This year, Kershaw's slider, while still an above-average offering, has not been quite as dominant as it was a year ago. He's already allowed five home runs with his slider, and he's averaging almost a strikeout and a half less per start with it, compared to a year ago. At least some of the difference in effectiveness can be explained by how he's using the pitch; he's using his slider this year more often before two strikes than last year and less often with two strikes, when he's looking to put hitters away.
Thursday's start against Oakland is a good example of this. Despite throwing 25 sliders, Kershaw did not strike out an Athletics hitter with the pitch. It was Kershaw's second start in the last two season in which he did not strike out a hitter with his slider; the other was last season against St. Louis, a start in which Kershaw threw the pitch just four times.
Against the Athletics, 21 percent of Kershaw's pitches before two strikes were sliders. When he got to two strikes, 24 percent of his pitches were sliders. For the season, those numbers are at 18 percent and 40 percent, respectively. Although that may seem like a wide margin, consider last year. In 2011, a season in which he led the league in slider strikeouts, 13 percent of Kershaw's pre-two-strike offerings and 46 percent of his two-strike pitches were sliders.
Even without his slider being quite as dominant as it was last year or as much of a strikeout pitch as it was last year, Kershaw has still been very effective. Thursday against Oakland, he struck out five hitters with his fastball, the second time in his last three starts in which he's done that. He didn't do it once in 2011. With or without his best slider, Kershaw will continue to rank among the league's top starters, but a return to last year's slider is key to bringing him back to last year's dominance.
Thanks to Baseball-Reference, here are some other notes looking back on the past week for the Dodgers.
OFFENSE DOESN'T TRAVEL TO OAKLAND
The Dodgers were shut out on two hits in the first game of their three-game series before mustering only one run on three hits in each of the next two games. It's the first time in the Live Ball Era that the Dodgers were held to three hits or fewer in three consecutive games. They're the first team since the 1978 Rangers to be held to no more than one run and no more than three hits in three straight games.
ETHIER COOLS OFF
Andre Ethier
was 4 for 21 (.190) on the week, which actually raised his June batting average to .171 from .163 entering last Friday. Of particular note are Ethier's struggles against lefties. In 34 at-bats against southpaws this month, Ethier has four hits, no home runs, and 15 strikeouts. He's swung and missed exactly twice as often as he's put the ball in play against lefties in June (38 to 19).
Ethier faced White Sox lefty
Jose Quintana
three times Sunday, striking out swinging in each at-bat. Ethier swung and missed eight times in the game, all against Quintana, the first time in the last four seasons he'd missed on that many swings in a game. It was the first time in almost two years that the same pitcher struck Ethier out three times in a game;
CC Sabathia
did it on June 25, 2010.
LOSING CONTROL
Aaron Harang
walked a career-high eight hitters Tuesday night, most by any pitcher since
Ian Kennedy
walked nine on June 26, 2010. The day before that, Kennedy's then-teammate
Edwin Jackson
walked eight in his no-hitter against the Rays. Jackson was also the last Dodger to walk eight, doing so on Sept. 27, 2003. Jackson allowed two hits and no runs in that start.
Harang threw 105 pitches over 3 2/3 innings. Going back to 2000, as far as pitch count numbers are complete, Harang is the first Dodgers pitcher to throw 100 pitches in an outing of less than four innings. No Dodger had walked eight hitters in a start of less than five innings since Sandy Koufax in 1955 in his first career start. Koufax walked eight over 4 2/3.
As a team, the Dodgers walked 10 hitters Tuesday, the second time this season they've walked at least that many (they walked 10 Padres on April 7). The Dodgers joined the Blue Jays and Rockies as the only teams to walk 10 hitters in a game twice. LA hadn't done it since 2006, when they did it three times.