August, 19, 2014
Aug 19
11:54
PM PT
LOS ANGELES --
Zack Greinke
politely refused to talk about it, shaking his head and smiling before he walked off.
Los Angeles Dodgers
manager Don Mattingly wouldn't offer much more detail about whatever is ailing Greinke's pitching elbow.
Asked if Greinke would make his scheduled start Thursday, Mattingly said after the Dodgers' 8-6 win over the
San Diego Padres
, "It's nothing that we would talk about right now. It's a possibility."
[+] Enlarge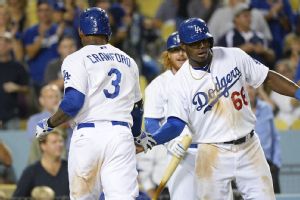 Richard MacksonThe Dodgers provided enough offense to win Tuesday's game, but that might need to be the norm if their pitching staff keeps taking injury hits.
So, there is a "possibility" that the Dodgers' second-best pitcher will be healthy enough to stay on his regular turn in the rotation.
If that possibility doesn't pan out and Greinke misses a start or goes on the disabled list, the Dodgers' pitching rotation will be:
Clayton Kershaw
, best pitcher in baseball; two guys who cleared waivers before being traded to L.A.; an unnamed pitcher from Triple-A who will take Greinke's spot; and
Dan Haren
, a banged-up veteran clinging to his spot.
In other words, get used to more of what the last two games have brought. The Dodgers were behind 2-0 after nine Haren pitches Sunday and lost. They were behind 3-0 after 16
Kevin Correia
pitches Tuesday and won.
It's going to take some offensive resiliency to weather this storm of pitching injuries.
Greinke's elbow is easily the Dodgers' biggest worry if it indeed proves to be an injury that keeps him out for more than a start or two. But Dodgers trainers have been busy trying to get enough healthy bodies and arms onto the mound lately.
The Dodgers now are all but conceding that
Josh Beckett
(hip) is lost for the season.
Hyun-Jin Ryu
(strained gluteus) has begun playing catch, but his return date remains a mystery.
Paul Maholm
is out for the season after knee surgery. So, if Greinke goes on the DL, that would be four of the Dodgers' top six starters on the Opening Day depth chart out of action.
April, 10, 2014
Apr 10
11:23
AM PT
There are some eerie similarities. The Dodgers began the 2013 season winning six of their first 10 games, precisely as they have done this year.
In the ninth game of 2013,
Zack Greinke
broke his collarbone in a fight with
Carlos Quentin
in San Diego. The injuries kept piling up and, by the latter days of June, the Dodgers had dug themselves a deep hole, going 24-38 after Greinke went down.
Greinke's injury came in his second start. The Dodgers' other Cy Young winner,
Clayton Kershaw
, was injured making his first start of this season. Days later,
Brian Wilson
, the No. 2 reliever, went on the disabled list with nerve irritation in his twice-repaired right elbow. A week later, starting catcher
A.J. Ellis
took an awkward step trying to score from second and tore the meniscus in his knee. He had surgery and will be out for at least a month.
Chad Billingsley
had a setback in his first rehab start, feeling something in his surgically repaired right elbow.
Again, the blows have been coming with steady regularity in the early weeks, but the Dodgers feel they're much better equipped to handle injuries -- presuming they don't proliferate too much -- than they were a year ago. General manager Ned Colletti learned his lesson after suffering through the first half of 2013. The winter that followed was all about disaster control.
"A lot of teams have things going on," Dodgers manager Don Mattingly told reporters this week. "It's really what Ned and his guys prepared for during the winter when you're trying to build a team, build depth."
Nobody could have predicted Kershaw would get hurt. He had never been on the disabled list before. He had pitched through hip and foot injuries. But it was a pretty good bet that other pitchers would go down. All you had to do was look at the first few weeks of 2013, when the Dodgers had to use eight starting pitchers in the first 20 games.
So, Colletti took as few chances as he could. He signed veteran
Dan Haren
to a one-year, $10 million deal then added
Paul Maholm
as insurance – for $1.5 million to $6.5 million depending on incentives -- though he was pretty sure he'd have
Josh Beckett
and Billingsley back before too long. That's seven starting pitchers, plus Zach Lee off to a good start at Triple-A. It will be hard for the Dodgers to thrive without Kershaw -- his presence every five days is a major boost to the team's confidence -- but they're at least equipped to survive while he's out.
They're deeper still in the bullpen. Even without Wilson, they have five relievers on guaranteed contracts. One who is not,
Chris Withrow
, has replaced Wilson with electrifying stuff. In his first five outings, Withrow, 24, has allowed two base runners in six innings while striking out nine. Sunday, he struck out the side against the
San Francisco Giants
on just 10 pitches.
Jansen has struggled somewhat lately, but the Dodgers' biggest issue might be finding a roster spot for Wilson when he returns rather than replacing his quality innings.
The loss of Ellis will be harder to gauge, because of his No. 1 strength, putting the Dodgers' game plan into action by calling pitches. His 3.06 catcher's ERA led the majors last season.
Tim Federowicz
had a 3.61 catcher's ERA in 45 games and
Drew Butera
is considered a plus defensive catcher, so it's possible the Dodgers could survive this blow as well.
Once again, the Dodgers are forced into hold-the-line mode in April, but it feels like a much more doable task this time.