Dodgers Report:

Jody Reed
March, 1, 2012
3/01/12
5:17
PM PT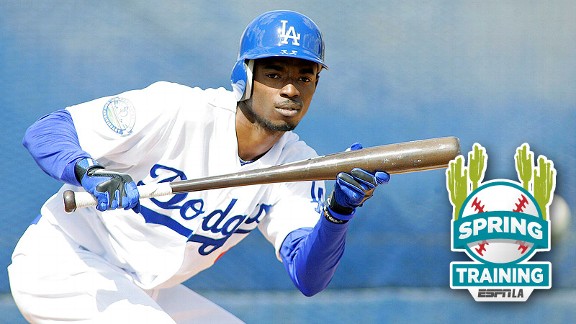 Jake Roth/US Presswire
You know
Dee Gordon
has come a long way since last spring training. A year ago, people were talking about his upside, wondering how far away he was from the majors, drooling over how exciting a player he was going to be when he got there. Now, even as they praise his ability, they also whisper about his shortcomings.
Not that he has that many.
That is what happens when a player goes from a highly touted prospect to a full-fledged big leaguer, a guy who comes to camp not to make a good impression on the coaching staff and the front office, but who arrives as the Dodgers' everyday shortstop and leadoff hitter.
Gordon spent the winter trying to get better at that everyday shortstop thing, traveling to Texas to work out with Dodgers bench coach
Trey Hillman
, staying home in Florida to work out with Hall of Famer-elect
Barry Larkin
and reporting to spring training almost two months early to work out with Dodgers minor league infield coordinator
Jody Reed
, all in an effort to develop a more cerebral approach to a position he previously played with an exciting flair but also with wild abandon.
"That was all about defense,'' Gordon said. "They talked to me a lot about certain things I need to see and watch out for instead of just relying on athleticism all the time.''
It's the leadoff hitter thing where Gordon still has room to improve. Or, more to the point, his on-base percentage has room to improve. The encouraging part, though, is that it already has improved, even though his overall OBP as a rookie was .325, marginal at best for a guy hitting leadoff.
But when Gordon came to the majors for the first time last year -- knowing it probably was going to be temporary because
Rafael Furcal
was on the disabled list but also admittedly trying too hard because he wanted to make it a tough decision to send him back down -- he posted a .250 OBP, drawing just two walks in 85 plate appearances and striking out 16 times.
February, 29, 2012
2/29/12
3:50
PM PT
Stopped by Scott Van Slyke's locker today to ask how he made the transformation from middling prospect to reigning Dodgers Minor League Player of the Year. From talking to various other second- and third-generation players over the years, I know a family baseball legacy can be both a blessing and a curse, but I didn't figure that would be the reason for Van Slyke's sudden change of fortune.

"I started taking a little more pride in the way I played the game,'' he said. "I started to play for myself and not so much for my dad."

Don't misunderstand. Van Slyke and his father, longtime major league outfielder and three-time All-Star Andy Van Slyke, have a perfectly good relationship. Scott says he never felt any undue pressure from his dad, nor did he ever feel like his dad was pushing him toward baseball. To this day, he still calls his father twice a week, often for hitting tips. But there was a long time when he really thought the only reason he was playing baseball was because that is what Andy Van Slyke's son was supposed to do.

"In high school, I played baseball and football, but I loved basketball," Van Slyke said. "It was fun, and I was good at it. But being who I was, I felt pressure to play baseball. That was just something I felt like I should do, so I did it."

But that all began to change, he said, when he hit rock bottom at the start of the 2009 season, which he began at high Single-A for the first time after being promoted there the previous season. Van Slyke was estimating the actual number of at-bats, but he said he went hitless in about his first 25 of them that season. That was what brought about the epiphany.