Dodgers Report:

Jose Guillen
August, 2, 2012
8/02/12
11:49
AM PT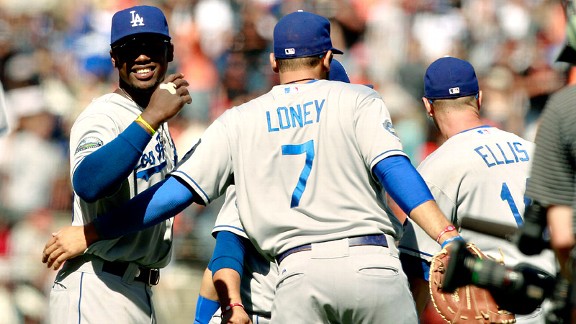 Cary Edmondson/US Presswire
When the Dodgers acquired
Hanley Ramirez
from the Florida Marlins on July 25, they had a precedent to believe the 28-year-old former batting champion would play hard and blend into the fabric of the team.
Four years earlier, another brash slugger with a history of personality clashes arrived in Los Angeles and turned around his image (for the time being), while changing the course of the franchise. That, of course, would be
Manny Ramirez
, who batted .396 with 17 home runs and 53 RBIs in just 53 games in 2008.
There are other precedents that aren't as encouraging, one of them within 30 miles of Dodger Stadium. When the Angels signed
Jose Guillen
before the 2004 season, they assured their fans that the steady leadership of
Mike Scioscia
and a change of scenery were all Guillen needed to overcome a history of clashes with authority figures.
Within eight months, Guillen had publicly pouted after Scioscia benched him (at the suggestion of owner Arte Moreno) for blowing off an on-field photo day with fans. Within weeks, Scioscia and Guillen had a blowup in the clubhouse that led to Guillen being suspended for the remainder of the regular season and the playoffs then shipped off to the Washington Nationals the next winter.
In other words, this Ramirez thing could go either way. If he remains happy and focused, he could be the extra middle-of-the-order bat that puts the Dodgers in the playoffs. But many baseball people wonder what will happen if the Dodgers fall into a long losing streak or if Ramirez becomes unhappy with the way manager
Don Mattingly
is handling him.
Things couldn't have gone better to ease Ramirez into a new scene. The Dodgers swept an emotional series in San Francisco, with Ramirez hitting a game-winning home run in one of the games. When he got back to Los Angeles, he said it was refreshing to be in a winning environment. The Miami Marlins had sky-high expectations moving into a new stadium this season but have underperformed.
"They are winning, you know, and that's the thing that I like. Everybody's happy," Ramirez said. "When you walk into a situation where everybody's laughing and getting along, I'm happy to be part of that."
In eight games, Ramirez is batting .226 with a home run and eight RBIs. Eventually, he will probably move back to his preferred position, shortstop. He played a few innings there Wednesday after a double switch.
So far, so good. But what happens when things turn south -- as they inevitably do for at least small stretches of a baseball season?
The Dodgers can't possibly know that. They were desperate enough to add offense that they felt they had to take a shot on Ramirez. Teams don't typically trade away high-performing hitters on long-term contracts who are model citizens.
"There's only so much background checking you can do," general manager
Ned Colletti
said. "Sometimes, you give people an opportunity, you give them a chance. I've had a couple good conversations with him. He seems genuinely happy to be here and glad to have a fresh start.
"I usually make my determinations about people based on how they respect the game in front of me and in front of Donny and how they interact with people, so we'll start clean because you have no idea what the dynamics were before."
March, 2, 2012
3/02/12
2:33
PM PT
By
Byu Tony Jackson
| ESPNLosAngeles.com
A year ago, Aaron Harang went to spring training with the San Diego Padres with a guaranteed spot in the starting rotation and a new $4 million contract. There was nothing in any of that to suggest his career was some sort of reclamation project, but it most definitely was, which is why Padres pitching coach Darren Balsley started looking at old video long before Harang even reported to camp.

Old video of Harang. From his days with the Cincinnati Reds. When he was a No. 1 starter. When he was winning 53 games over a four-year stretch.

When he had no idea what awaited him in the years to come -- a slew of injuries to a slew of different body parts plus an appendectomy.

What Balsley found was a delivery that bore no resemblance to the one Harang was now using.

"The mechanics from 2006 and 2007 were completely different from the mechanics from 2009 and 2010,'' said Harang, the veteran right-hander who signed a two-year, $12 million free-agent deal with the Los Angeles Dodgers this winter. "Everything was different. My arm slot. The length of my stride. Over time, you start battling injuries and maybe changing things just a little bit to try to compensate for any discomfort. Pretty soon, you have changed your whole delivery without even realizing it.''

Once he identified his old mechanics and went back to them, they felt totally natural almost immediately -- "It's kind of like riding a bike,'' Harang said -- and the results came almost as quickly. After going 18-38 over those three injury-plagued seasons with the Reds, including tying for the major league lead with 17 losses in 2008, Harang went 14-7 with a 3.64 ERA for the Padres last year. He likely would have won more games if he hadn't spent a month on the disabled list with a bruised right foot.

By all indications, he was back. And for a Dodgers team that was losing Hiroki Kuroda to free agency, that made him worth the risk.