Dodgers Report:

Josh Fields
April, 3, 2012
4/03/12
11:17
PM PT
LOS ANGELES -- And then there were 25. Or there will be 25 after the Dodgers make it official Wednesday afternoon. But the team did decide the winners of its final position battles Tuesday night after a 4-1 win over the Angels in the middle game of the Freeway Series.

Infielder Justin Sellers and right-hander Josh Lindblom will make the club. Infielders Luis Cruz and Josh Fields will be reassigned along with lefty reliever Scott Rice before the team leaves Los Angeles for Thursday's season opener in San Diego against the Padres.

Sellers earned the final nod over Fields and Cruz because of his versatility in the infield -- he can play shortstop, second base and third base -- and because he made the necessary adjustments at the plate after hitting just .203 in 36 games last season.

"The biggest thing Justin needs to do is understand who he is as a hitter," Dodgers manager Don Mattingly said. "When you play in basically a pitchers' ballpark, you can't hit fly balls. He's got a little bit of pop, but enough to get him in trouble. He needs to hit the ball low, especially into right field.

"If he wants to be here, you can't lead our team in fly ball percentage at 170 pounds. Matt Kemp hits 'em out over there, but I don't know about Justin."

This spring Sellers took those notes and worked on his approach at the plate. He brought his average up to .310 with an RBI single in the sixth inning of Tuesday's game. When Jerry Sands fizzled this spring and was reassigned to minor league camp, the door was open for Sellers to try to beat out Fields -- who once hit 23 home runs with the White Sox in 2007 and got off to a hot start this spring but fell off toward the end of camp.

"He's earned it," Mattingly said of Sellers. "He's done all the work. From Sells' standpoint, he's the kind of guy that I like because I know he's not afraid of anything and he's going to catch the baseball. He's tough as can be."

Mattingly said it was a "back-and-forth" decision to go with Lindblom over Rice, a 30-year-old non-roster invite who has never pitched in the big leagues.


April, 1, 2012
4/01/12
5:39
PM PT
GLENDALE, Ariz. -- Chad Billingsley insisted to a small gathering of reporters on Sunday that he feels good on the mound right now, he has felt good all spring and he is absolutely, positively ready to go for the regular season, when he is scheduled to make his first start on Friday night in San Diego.

The results after the Los Angeles Dodgers' right-hander's final Cactus League start, a 6-2 loss to the Arizona Diamondbacks before 9,766 at Camelback Ranch in which Billingsley was torched for four runs -- including two home runs -- didn't exactly support his claim that the only thing he really is struggling with is his cutter. His 5.91 ERA for the spring didn't exactly support it, either.

But as you may have read or heard a few thousands times before during the past six weeks, this is spring training, where statistics and results don't count for much.

``My mechanics feel really good,'' said Billingsley, who overhauled them to some degree this spring. ``I am very comfortable with where I am. My fastball, curveball and changeup have all been outstanding so far this spring.''

But his cutter, he said, hasn't been, and Billingsley blamed that on the slight mechanical adjustment he has made in his leg kick, which actually has helped him in every other way.

After the game, Dodgers manager Don Mattingly went with the usual line of how what happens in spring training stays in spring training. But Mattingly also seemed to concede that Billingsley hasn't blown anybody away this spring.

``Again, we go back to spring training and just trying to keep everybody healthy,'' Mattingly said. ``Guys are just out there trying to get their innings in and their arm strength up. History has told us, a lot of times, that it doesn't mean anything. The season will tell us what is going on.''

Meanwhile, Billingsley said that while his cutter really has stayed flat all spring because he hasn't been able to get a feel for it, he is confident that it will come with continued work and that it won't be a long-term issue.


Non-roster infielder Josh Fields, who appeared to be on the verge of making the team just a few days ago, saw his recent slide continue when he struck out in both of his plate appearances. He now has one hit in his past 17 at-bats with eight strikeouts, but the one thing he still has going for him is he remains the only player competing for that last roster spot who is a right-handed power hitter, which is what the Dodgers specifically would prefer to have on their bench for pinch-hitting purposes.

``He doesn't seem to be (getting) behind (the ball) for me,'' Mattingly said. ``Early on in the spring, we saw him driving it the other way. But lately in his at-bats, he seems to be having trouble as far as driving the ball to right field or kind of right-centerish.''

If Fields doesn't secure that spot, it likely will go to infielder Justin Sellers, who has no pop but can play three positions (second, third and short) and is hitting a solid .300 this spring. Non-roster utility man Luis Cruz, who can play second, third and the outfield, also continues to have a decent camp (hitting .286), but he has little power so it's tough to imagine the Dodgers clearing a 40-man roster spot for him if they don't clear one for Fields.

Thus, the battle for that spot probably will come down to Fields and Sellers.


Dodgers pitcher Nathan Eovaldi, who made his major league debut last season and likely would be the first pitcher called up if the club needed someone for the starting rotation, was named as this year's Jim and Dearie Mulvey Award winner as the team's top rookie of spring training. Eovaldi posted a 1.72 ERA in four starts and one relief appearance. He remains in big league camp but is expected to begin the season at Triple-A Albuquerque. ...

The Dodgers drew 121,769 total fans to 15 home games at Camelback Ranch this spring -- not including games against the Chicago White Sox in which the White Sox were the designated home team -- an average of 8,118 per game. ...

The Dodgers (14-13-4)will close out the spring with a three-game exhibition series against the Los Angeles Angels beginning on Monday night at Angel Stadium, with Jamey Wright taking the mound for what is expected to be a two-inning stint to start the game. The other two games will be at Dodger Stadium.
March, 31, 2012
3/31/12
5:19
PM PT


SCOTTSDALE, Ariz. -- It might mean nothing, but the reigning National League Cy Young Award winner will leave spring training Sunday afternoon with a bad taste in his mouth.

Whether that carries over to Thursday, when Clayton Kershaw will take the mound for the Los Angeles Dodgers' season opener at San Diego, remains to be seen. But the usually dominating left-hander was anything but in his final Cactus League start Saturday -- which the Dodgers won 9-3 over the Arizona Diamondbacks before a sellout crowd of 12,799, the largest in the two-year history of Talking Stick -- and he wasn't happy about afterward.

"It wasn't very good," Kershaw said. "I gave up runs, and I gave up hits. That usually makes for a bad outing."

Because it was his final spring-training tuneup, Kershaw's prescribed pitch count already was going to be tapered back regardless of the result. Manager Don Mattingly came to get him just after Kershaw struck out Paul Goldschmidt for the second out of the fourth inning, a point at which Kershaw had given up three earned runs and six hits, including a bomb of a two-run homer by Jason Kubel in the first inning.

Kershaw said he was missing his spots and that his slider, which he had struggled with in his previous start six days earlier, still wasn't quite right. But when asked if the slider was a concern now that the regular season is upon him, Kershaw said it isn't.

"It can't be," he said. "April 5 is coming up pretty fast. You have to be ready to go."

Dodgers pitching coach Rick Honeycutt says he continues to see good sliders from Kershaw intermittently, but that the inconsistency could be the result of Kershaw trying to force the pitch, especially in light desert air where breaking balls tend not to break as much and where simply getting a proper grip on the ball can be tough.

"But he isn't going to make that excuse, and I'm not going to make it for him," Honeycutt said. "As long as he is healthy, that is the main thing. [The slider] isn't something I'm worried about. He is going to continue to work on it until he feels comfortable with it."


March, 29, 2012
3/29/12
5:08
PM PT
GLENDALE, Ariz. -- The Los Angeles Dodgers likely will decide Friday whether to place veteran left-hander Ted Lilly on the 15-day disabled list to start the season, that decision expected to come after Lilly throws his first bullpen session since he began to suffer from neck stiffness one day last week.

As a result of that issue, Lilly was scratched from his most recent scheduled start Tuesday. While the injury isn't a concern, the fact Lilly's schedule has been thrown off is something of a concern with the team's season opener now just a week away. So far, Lilly hasn't built up his pitch count sufficiently to be ready for the regular season.

As long as Lilly doesn't appear in another Cactus League game, the move to put him on the DL could be backdated to March 26, meaning he would be eligible to pitch on April 10 -- although in that case, he wouldn't pitch until at least April 11 because Clayton Kershaw is slated to pitch the team's home opener on April 10.

Manager Don Mattingly said if Lilly is on the DL, the team will carry an extra reliever until Lilly is activated and that Chris Capuano, who for now is slated to make his first start in that April 11 game against the Pittsburgh Pirates, will instead be dropped into what originally was Lilly's spot and pitch on April 7 at San Diego.

In that case, Mattingly said it was possible the Dodgers could go through the other four starters twice before Lilly gets the ball for the first time on April 14 against the Padres at Dodger Stadium. By that time, Mattingly said, Lilly's pitch count could be sufficiently built up with a simulated game and a minor league rehabilitation game.

If Lilly does go on the DL, the most likely reliever to hold down his spot probably is Josh Lindblom because he already is on the 40-man roster, which is full, and still has minor league options, meaning he easily could be sent down when Lilly is ready to be activated.

*****

In the latest indication that he likely will have his contract purchased and be added to both the 40-man and opening-day rosters, Josh Fields played the left field for the first time this spring in Wednesday's Cactus League game, a 3-1 loss to the Chicago White Sox before 5,091 at Camelback Ranch. Fields normally plays first and third base, but he has made 22 major league appearances in left, most recently in 2007.


March, 27, 2012
3/27/12
10:30
AM PT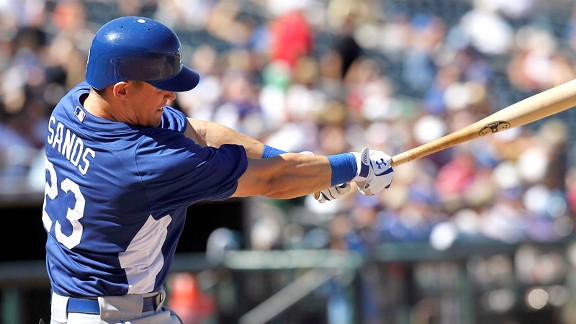 James Guillory/US Presswire
GLENDALE, Ariz. -- In a move that had become increasingly inevitable in recent days, even after he delivered a game-winning, walk-off single in a Cactus League game on Monday,
Jerry Sands
was optioned to minor league camp by the Los Angeles Dodgers on Tuesday morning at a point when he was hitting .158 for the spring.
The move could clear the way for
Josh Fields
, a non-roster invitee in camp on a minor league contract, to make the club. The former first-round draft pick of the Chicago White Sox and one-time quarterback for Oklahoma State University is batting .355 this spring with a .412 on-base percentage and is a right-handed hitter with power, something manager
Don Mattingly
admitted he is looking for in that spot.
"It's going to be a part-time guy who won't play every day, and it's a guy who is going to pinch hit,'' Mattingly said. "So it'll be somebody who kind of fits into that role.''
Mattingly insisted that utility infielders
Justin Sellers
and
Luis Cruz
still are in contention for the spot, but Fields is a veteran major leaguer with a track record who hit 23 homers in just 418 plate appearances -- albeit with 125 strikeouts -- as a rookie for the White Sox in 2007.
Sellers and Cruz, meanwhile, have little to no power. Moreoever, Fields can play both corners of the infield, while Sellers and Cruz have limited experience at third base and no experience at first.
March, 19, 2012
3/19/12
5:54
PM PT
GOODYEAR, Ariz. -- Clayton Kershaw celebrated his 23rd birthday by hitting a home run in a spring-training game. One year and one National League Cy Young Award later, the talented Los Angeles Dodgers left-hander celebrated turning 24 a little more quietly, by dropping a pair of sacrifice bunts in Monday's Cactus League game, a 4-3 loss to the Cleveland Indians before 3,101 at Goodyear Ballpark.
"I had to bunt, dadgummit,'' Kershaw said. "It was OK, though. At least I know I can get the bunt down."

Yeah, spring training is for working on everything, not just pitching. But for Kershaw, the pitching part continues to look regular season-ready, or something very close to it. He struggled in the first inning, giving up two hits, a walk and his first run of the spring in his third start. After that, though, it was pretty much vintage Kershaw, including five strikeouts in 5 1/3 innings.

"Those first two or three innings, I was pretty erratic,'' Kershaw said. "I was missing with too many fastballs and getting behind to too many hitters. But I had a little bit better rhythm later on. Physically, I feel good. Pitching-wise, I just need to get better fastball command, and I think everything else will follow suit off that.''

March, 8, 2012
3/08/12
5:22
PM PT


Eight years ago, before hip surgery wiped out almost his entire 2010 season, before he spent the 2011 season with the Yomiuri Giants and before he accepted a minor league contract from the Dodgers this winter that didn't include the ever-popular escape clause at the end of spring training if he doesn't make the team, Josh Fields was a first-round draft pick of the Chicago White Sox after starring for three seasons at Oklahoma State University in his hometown of Stillwater.

It's tempting to apply the word "bust'' to a guy who traveled such a path, especially one with a .234 career batting average in parts of five big league seasons. But based on whatever judgments you can make through three Cactus League games, Fields hasn't looked the part of a wasted draft pick.

After driving a hard single up the middle off Pedro Figueroa in his only at-bat Thursday at Camelback Ranch, Fields was 4 for 5 with two doubles so far this spring. Even if he keeps it up, it isn't likely to earn him a spot on the big league club to begin the season -- there doesn't appear to be room for another corner infielder, and the 40-man roster is full anyway. But he could be a good guy to have in the organization, ready to come to the majors at a moment's notice if somebody gets hurt.

This is, after all, a player who hit 23 home runs in 100 games for the White Sox in 2007. And the Dodgers don't exactly have a power-studded lineup.

And Fields is, by all indications, all in, despite the fact he knows he probably is headed to Triple-A Albuquerque for at least the start of the season.

"I'm a Dodger,'' he said. "I had an offer to go back to Japan, but I chose not to. My focus is here. This is where I want to be. I just want to stay healthy and show them what I can do. But I know I'm going to have to hit my way back to the big leagues.''

Fields at least is in comfortable surroundings. He spent his last big league season of 2010 with the Kansas City Royals, whose manager at the time, Trey Hillman, is now the Dodgers' bench coach and remains a strong supporter of Fields.

Even if it's too early to make definitive judgments, it isn't too early to make observations and take mental notes. And Dodgers manager Don Mattingly already has taken a couple regarding Fields.