Dodgers Report:

Josh Hamilton
August, 6, 2014
Aug 6
11:41
PM PT
ANAHEIM, Calif. -– It was a one-run lead in the bottom of the ninth inning and the leadoff hitter had just singled and stolen second base. In the box, with a hitter's count, stood
Mike Trout
, who – depending which numbers you favor -– profiles, roughly, as either the second coming of Willie Mays or Mickey Mantle's forgotten grandson.
Behind him was
Albert Pujols
, his scowling swagger back with 21 home runs and 70 RBIs, and, after that,
Josh Hamilton
, diminished but still frightening with that big, lumberjack, left-handed swing.
Angel Stadium was sold out, and
Kenley Jansen
was feeling every ounce of what this rivalry has become.
[+] Enlarge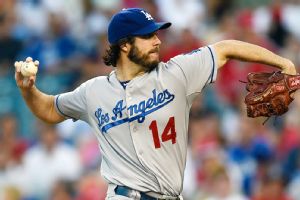 Kelvin Kuo/USA TODAY SportsA return to his old delivery served Dan Haren well in Wednesday's win over the Angels.
"It felt like a playoff atmosphere with all the adrenaline I had," Jansen said. "I had to maintain my composure, keep it down but stay aggressive, control the game."
One of the offshoots of shifting the
Houston Astros
to the American League has been gems like this series between the
Los Angeles Dodgers
and
Los Angeles Angels
, four straight games split between two vibrant venues, a little bit of October magic dust sprinkled on early August. When both teams are talented and jelling, as they are in 2014, it's as good as it gets -- at least until it actually happens in October.
Jansen was the better man Wednesday. He struck out Trout with a 96 mph fastball right down the middle and Pujols hit a lazy fly ball, and Hamilton, too, went down swinging. So Jansen ended up with his 32nd save. Had Trout ended up with his 26th home run, everything would have felt different for Southern Californians who pay close attention to baseball. It's kind of how these things are drawn up, right?
The Dodgers' 2-1 win easily could have gone the Angels' way, much as Tuesday's 5-4 Dodger win could have. The Dodgers have scored seven runs, the Angels have scored 10 and the Dodgers lead the series two games to one. As Dodgers manager Don Mattingly pointed out, it wasn't entirely a playoff atmosphere, because each teams' fans infested the other's stadium in large numbers, but it was closer to that than a sleepy midweek series with the Brewers in town, that's for sure.
What you also get in October, or what you remember more clearly in October, are unsung heroes. You get performances like Dan Haren's on Wednesday. A proud veteran who had called his previous form "embarrassing" took a perfect game into the sixth inning and pitched deeper into a game than he had since June.
He worked and he worked until he and pitching coach Rick Honeycutt found the adjustments that stuck. Wednesday, it was a combination of returning to the delivery that had been his bread and butter in his glory years, the mid-leg kick pause that he said allowed him to "hold and gather," and probably mixed a bit more deception into his delivery. He also featured more curveballs than he ever had, keeping the Angels just confused enough to hit the ball on less-productive areas of their bats.
One thing the Dodgers know about Haren: Whatever he has, he's going to give it to you.
And afterward, Mattingly discussed the reality of the situation, why Haren and
Josh Beckett
have been holding down their rotation spots despite wobbly outings piling up these past couple of months: The Dodgers simply don't have pitchers ready at the upper levels of the minor leagues.
"You just don't pick guys off trees. We've been building our system and working on building our system up, but we're really not sitting there with three or four kids throwing 96, 97 just tearing it up down there, knocking on the door at this point," Mattingly said. "We're going to get there, and that's when you have to make decisions like that, but we can't sit here and say, 'We're sitting here with starters galore and lots of choices ...'
"At least for tonight, it's a start where [Haren] ends up with a smile on his face and you're just really happy for him."
Asked if he needed an outing like that, Haren said, "I think that's probably the understatement of the year."
So, the Dodgers have a little more confidence in their pitching depth going into these final two months of a pennant race with the
San Francisco Giants
, their lead still a fairly robust 2 ½ games. The Angels, still 22 games over .500, are far from downcast after losing two one-run games.
It's been a while since baseball was this much fun in and around Los Angeles.
August, 4, 2014
Aug 4
9:59
PM PT
LOS ANGELES -- There were more than 53,000 fans at Dodger Stadium Monday and many of them booed Mike Trout's every move. Fans in Anaheim likely will give it to
Yasiel Puig
pretty good on Wednesday.
In other words, Southern California's baseball rivalry is doing pretty well, with contending teams and young stars to energize and/or irritate the two fan bases.
Trout's
Los Angeles Angels
got off to a better start in this year's regular-season Freeway Series with a 5-0 win at Dodger Stadium on Monday night.
There was just the right hint of tension, too, with Puig and
Albert Pujols
appearing to exchange some words after the top of the eighth inning. Puig apparently took exception to Pujols tagging up and advancing to second on a fly ball while he looked the other way.
How it happened:
The Angels jumped all over Zack Greinke's pitching and the
Dodgers
' shaky defense in the first inning, grabbing a quick 4-0 lead. Angels starter
Garrett Richards
pretty much took it from there.
The game never felt particularly competitive. The Dodgers managed just five hits, all singles, off Richards, the game's hardest-throwing starting pitcher, according to Fangraphs data. Greinke was good after the first inning, with the only appreciable mistake a too-hard changeup that
Josh Hamilton
clobbered over the right-field wall.
Hits:
For the Angels, it was Richards (12-4), their best starting pitcher this year, bouncing back from two rough outings with a shutout. He struck out nine batters, but mainly the Dodgers hit ground ball after ground ball. For the Dodgers, the highlight was the major league debut of pitcher Carlos Frias, who pitched two scoreless innings, allowing just Pujols' single and striking out a batter. Frias is in contention to join the Dodgers' rotation if
Josh Beckett
or
Dan Haren
continues to struggle or goes down with an injury.
Misses:
The Angels, with
Erick Aybar
at shortstop and Trout in center, have one of the stronger defensive teams. Fielding sometimes is an adventure for the Dodgers. When it is,
Hanley Ramirez
often is involved. On Monday, he made two errors, one of which was a costly throw that led to an unearned run in the first inning. Meanwhile,
Carl Crawford
made two unsuccessful attempts at sliding catches in the first inning. The second one, hit by Trout, got past Crawford and rolled all the way to the wall. Trout would have had a triple, but he had to retreat after missing first base. In the eighth, Puig stood there after catching a high fly ball and Pujols was paying attention, sprinting to second.
Stat of the game:
The Angels have the best interleague record (92-48) in the majors since 2007, and part of that is their domination of their regional rivals. The Angels are 57-40 against the Dodgers.
Up next:
The four-game series continues with the last of two contests starting at 7:10 p.m. Tuesday at Dodgers Stadium.
Clayton Kershaw
(13-2, 1.71 ERA) goes for the Dodgers, while lefty
Hector Santiago
(3-7, 3.76) pitches for the Angels.
April, 14, 2014
Apr 14
7:53
AM PT
Rising
[+] Enlarge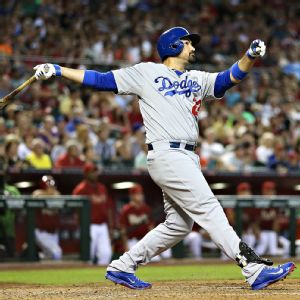 Christian Petersen/Getty ImagesAdrian Gonzalez has homered in four straight games.
Adrian's power:
Adrian Gonzalez
is the most consistent hitter in baseball. He has the same season over and over ... with one exception. His power hasn't been the same since shoulder surgery four years ago, and pitchers haven't been as careful with him, so his on-base percentage has dipped in tandem. Nonetheless, he hits in the clutch and drives in runs, so nobody has complained much. Gonzalez has looked the past year or so like he might be regaining that nice, smooth power stroke to left-center. In the past seven games, he has slugged .931 and he has hit home runs in four straight games, one shy of the franchise record. He's off to a dangerous start.
Dee Gordon
: A team could run itself into the ground making player-personnel decisions based on early April results, but the second-base situation isn't working out as badly as some feared. That's because Gordon committed himself in the offseason to the position switch and came into camp physically and mentally ready to win the job. So far, he has even hit lefties a bit (2-for-6), which means he could take over the position full time. He's been a catalyst atop the order, disruptive on the bases and is playing capable -- and sometimes outstanding -- second base.
Dan Haren
: This guy gets craftier every year. It's almost as if he spent his entire offseason watching tapes of
Greg Maddux
. His fastball doesn't top 89 mph, but he throws it where he wants it and he gets late movement with his cutter. His splitter isn't as effective as it once was because he doesn't throw the four-seamer as hard -- and thus doesn't have as much separation -- but it's good enough to keep hitters off balance. Every young Dodger pitcher should watch this guy work. He's been a huge addition so far, especially with
Clayton Kershaw
down.
Falling
[+] Enlarge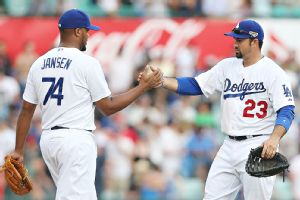 Mark Metcalfe/Getty ImagesKenley Jansen has converted on four of his five save opportunities this season.
Kenley Jansen:
It's too early to draw any sweeping conclusions, but the early returns on the closer's reinvigorated fastball -- he has gained a few mph since last year -- are mixed. Jansen was dominant, touching 100 mph Sunday. He also blew a save in a game the Dodgers won Tuesday and was the losing pitcher after giving up a
Victor Martinez
home run Wednesday. Jansen's greatest asset -- what made him such a swing-and-miss machine last season -- is the late movement on his cutter. You wonder whether the increased velocity has affected that.
Headfirst slides:
Both Southern California teams got hit hard by baseball's dumbest play: the headfirst slide into first base.
Josh Hamilton
severely injured his thumb doing it for the Angels and is out 6-8 weeks.
Yasiel Puig
got away with a minor thumb injury doing the same thing in a game against the Giants. In Puig's case, he wasn't even avoiding a tag, making it utterly baffling. The early comparisons of Puig to Bo Jackson look better by the day. He often looks like a great athlete learning how to play the game as he goes. Let's hope he picked up this lesson quicker than he learned to hit cutoff men. Making this mistake won't just cost his team a game, it could cost him a career.
Catching and throwing:
We thought it was going to be a problem and it is a problem, so far. The Dodgers have made 12 errors in 13 games. They are 26th in baseball in fielding percentage. With Gordon adjusting to a new position,
Hanley Ramirez
highly erratic at shortstop and
Matt Kemp
playing on a recovering ankle in center, this could be a problem for a while. Teams should be able to make a good living hitting the ball up the middle, which is easier to do anyway. There is not a real immediate solution to this problem, so Dodgers pitchers might just have to work around it.
November, 9, 2012
11/09/12
4:33
PM PT
Lately, it's as if all these general managers are waking up and thinking, "Hey, wait a minute! I might be able to afford the most powerful left-handed hitter in baseball."
In recent days, the
Baltimore Orioles
,
Seattle Mariners
,
Philadelphia Phillies
and
Boston Red Sox
have all been reported to have expressed some interest in slugger
Josh Hamilton
. How could the Dodgers, baseball's
nouveau riche
, not at least kick the tires? Frankly, shouldn't they be setting their sights on a player with that much impact? Then, if it doesn't work out, there is a whole army of Plan B's out there waiting to sign deals.
Let's keep it simple,
Los Angeles Dodgers
fans: Which changes your perception of the team's chances next season more, a rotation that comes at you with
Clayton Kershaw
-
Anibal Sanchez
or a middle of the order that goes
Adrian Gonzalez
-
Matt Kemp
-Josh Hamilton?
There are some good starting pitchers out there, but even the best free agent on the market,
Zack Greinke
, is far from a guaranteed difference maker. There were 25 starting pitchers in the majors last season with WHIPs better than Greinke's 1.20. His lifetime ERA is 3.77, worse than
Chad Billingsley
's.
Which is a more worthwhile investment, $90 million for Sanchez or $115 million for Hamilton? Of course, there are a whole host of reasons to object and obstacles to such a move, so let's explore some:
The risk
Hamilton's well-publicized addiction issues, some very public lapses and his occasionally flaky behavior last season (blaming a slump on caffeine use, among others) have led a lot of people to wonder about the wisdom of giving him a mega-deal akin to those signed by
Albert Pujols
and
Prince Fielder
.
That market uncertainty is the best thing the Dodgers and other teams have going for them.
It's otherwise not that easy to sign a 32-year-old coming off a 43-home run season, five straight All-Star appearances and with an MVP trophy in his living room. A USA Today report indicated that the
Texas Rangers
aren't prepared to offer Hamilton a deal exceeding three years. ESPN.com's Jim Bowden estimated somebody will give Hamilton five years and $115 million, which seems about right.
It's potentially the best opportunity for a team to make a below-market signing since
Vladimir Guerrero
hit free agency coming off a bad back (and won the MVP the next season).
Ever since the Dodgers were linked to Hamilton shortly after the ownership change, there have been whispers that playing in Los Angeles would be a bad fit for Hamilton. Too many nightlife temptations. Too many snooping paparazzi. But you know what else Southern California has: a lot of people living really healthy lifestyles. Plenty of stuff to do during the day, a lot of places to get organic food, tons of support groups.
And, yeah, it has churches, too, just like Texas, and more celebrity rehab centers than any place on earth. If Hamilton lapses in L.A., he'd have plenty of places he could go to get anonymous help.
Clearly, this new front office is not risk-averse. Which is riskier, spending nine figures on Hamilton with his personal struggles or owing nine figures to a player,
Carl Crawford
, coming off elbow reconstruction surgery?
The glut
But wait, don't the Dodgers already have three every-day outfielders for the next four or five years? Why, yes, in fact they have three pretty good every-day outfielders. But teams solve these kinds of problems all the time. Last season, the
Detroit Tigers
asked the best hitter on earth,
Miguel Cabrera
, to switch positions to accommodate Fielder.
A position change probably wouldn't solve a glut in the Dodgers' outfield (hard to imagine Kemp playing third), but the trade market could. Already, there have been rumblings that the Dodgers would consider parting with
Andre Ethier
. They might have to cover some of the $71.5 million they still owe him, but they could certainly get some useful pieces in return -- maybe even the starting pitcher they're seeking.
The need
General manager Ned Colletti has said he views pitching as the team's greatest need. He's probably right, of course. Getting everybody together starting in spring training figures to help with offensive chemistry and to ease some of the pressure on guys like Gonzalez and
Hanley Ramirez
. It's hard to imagine the Dodgers finishing 13th in the league OPS again with the names Don Mattingly is going to write on his lineup card.
But where does it say you can only work on your weakness over the winter? Aren't pitching/defense and hitting/baserunning just mirror images of one another? Improve one and you've taken pressure off the other. If things go well on the health front, the Dodgers could go into next spring with six healthy, proven starters without doing anything in free agency.
Colletti has said it over and over. These owners have given him license to think boldly. There's really only one signing out there that qualifies as truly bold.
August, 17, 2012
8/17/12
10:26
PM PT
His career in the United States has just begun, so take it for what it is, but
Yasiel Puig
is playing like a man who doesn't plan on spending his early 20s in the minor leagues.
[+] Enlarge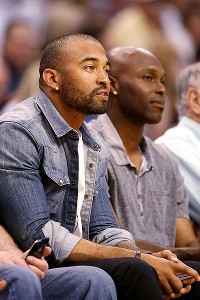 Christian Petersen/Getty ImagesMatt Kemp and Torii Hunter already have a close relationship, and it could only blossom if Hunter were to come to the Dodgers next season.
The Dodgers' $42 million Cuban prospect is batting .394 with four home runs and 11 RBIs in his first two stops in the minors, the Dodgers having just promoted him to Class A Rancho Cucamonga.
No matter how many extra-base hits Puig piles up in this dwindling minor league season, though, the Dodgers know he isn't going to be ready to play left field for them next April. The 6-foot-3, 215-pound outfielder is 21, five years younger than his former teammate
Yoenis Cespedes
, who started his U.S. career in the major leagues. It's a pretty good bet Puig will spend much of next season at Rancho Cucamonga and, if things go well, visit Double-A, putting him on target for 2014 or 2015 in Dodger Stadium.
That leaves the Dodgers with a two-year hole to fill in left field, a swampy patch of underproduction for them all season until general manager
Ned Colletti
traded some minor league pitchers to land
Shane Victorino
last month.
Victorino and
Josh Hamilton
will be two of the best free-agent outfielders on the market coming this November, and you could make an argument for the Dodgers' chasing either player. Victorino wants to play here and solves their leadoff problem. Hamilton solves their power problem and gives them a right-left combination in the middle of their order, along with
Matt Kemp
, that would be the best in baseball.