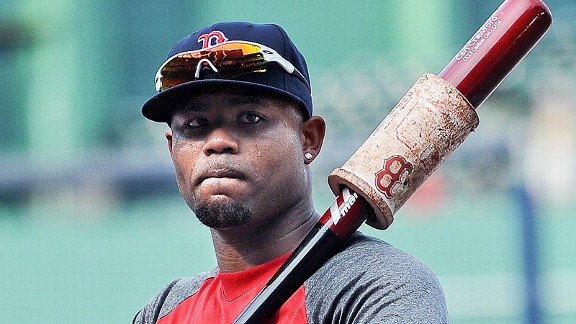 Bob DeChiara/US Presswire
Carl Crawford could be the final piece of the most dynamic outfield in baseball next season.
Perhaps the most important Dodger for 2013 has yet to make an appearance in the team's clubhouse or dugout. He has quietly begun physical therapy back home in Houston.
The Dodgers think Carl Crawford will be ready to start taking batting practice in late December. At some point in spring training, they hope, he will begin a throwing program to test his surgically repaired left elbow. If all goes according to plan, he'll be standing in left field at Dodger Stadium on April 1 when the San Francisco Giants come to bat for the first inning of 2013.
"I think Carl will be ready," Dodgers general manager Ned Colletti said.
If he is, the Dodgers could have the final piece of the most dynamic outfield in baseball. In 2012, things tilted awkwardly to the right, with left field the shakiest of legs in the tripod. Dodgers left fielders collectively hit six home runs in 630 at-bats. Their .674 OPS ranked 13th in the National League.
Even after they thought they had fixed the problem, they really hadn't. Shane Victorino didn't do any better as a Dodger than he had done as a Philly, finishing with career lows in batting average (.255), on-base percentage (.321) and runs (72). Victorino, a free agent, figures to move on this fall, but the Dodgers could replace him with an even faster alternative in Crawford, who led the majors in triples four times.
If Crawford proves healthy and thrives away from Boston, the Dodgers would have elite speed in two outfield spots, elite power in one outfield spot and elite hitting ability in all three. Crawford, Matt Kemp and Andre Ethier have all won Gold Gloves.
Kemp had a great start to 2012, but fought through injuries most of the season and struggled mightily in the final month. He'll be coming off a fairly invasive shoulder surgery this spring and might not be fully cleared for baseball activities by mid-February. Still, six weeks in Arizona should be enough to have him healthy and ready to go on Opening Day, the team thinks.
For a guy who led the team in virtually every offensive category -- and is the team's nominee for the Hank Aaron Award -- Ethier took a lot of heat. That's because he batted .222 against left-handed pitchers. Never mind that many of the game's best left-handed hitters -- Robinson Cano among them -- struggle to hit lefties.
The overall numbers -- 36 doubles, 20 home runs, a .351 on-base percentage -- suggest he's still one of the Dodgers' best hitters. It became apparent how important Ethier was to the team when he missed a couple of weeks before the All-Star break and the Dodgers went 4-7 and averaged 2.9 runs per game.
The Dodgers will likely decline Juan Rivera's $4 million option for 2013, but they still should have adequate depth with Jerry Hairston Jr. and Alex Castellanos to cover for Crawford if he's not ready on Opening Day. There's also a slim possibility that Yasiel Puig could be a factor in 2013, though he'll need to prove he can hit Double-A pitching first.
Though questions persist -- primarily how Crawford and Kemp bounce back from injuries -- the Dodgers have a lot more answers in their outfield than they had at this time last year.
Grade: B+