October, 11, 2012
10/11/12
11:53
AM PT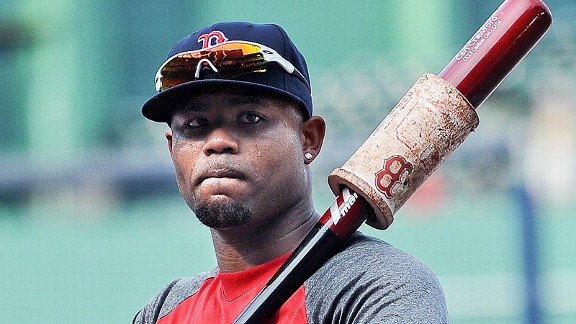 Bob DeChiara/US Presswire
Carl Crawford could be the final piece of the most dynamic outfield in baseball next season.
Perhaps the most important Dodger for 2013 has yet to make an appearance in the team's clubhouse or dugout. He has quietly begun physical therapy back home in Houston.
The Dodgers think Carl Crawford will be ready to start taking batting practice in late December. At some point in spring training, they hope, he will begin a throwing program to test his surgically repaired left elbow. If all goes according to plan, he'll be standing in left field at Dodger Stadium on April 1 when the San Francisco Giants come to bat for the first inning of 2013.
"I think Carl will be ready," Dodgers general manager Ned Colletti said.
If he is, the Dodgers could have the final piece of the most dynamic outfield in baseball. In 2012, things tilted awkwardly to the right, with left field the shakiest of legs in the tripod. Dodgers left fielders collectively hit six home runs in 630 at-bats. Their .674 OPS ranked 13th in the National League.
Even after they thought they had fixed the problem, they really hadn't. Shane Victorino didn't do any better as a Dodger than he had done as a Philly, finishing with career lows in batting average (.255), on-base percentage (.321) and runs (72). Victorino, a free agent, figures to move on this fall, but the Dodgers could replace him with an even faster alternative in Crawford, who led the majors in triples four times.
If Crawford proves healthy and thrives away from Boston, the Dodgers would have elite speed in two outfield spots, elite power in one outfield spot and elite hitting ability in all three. Crawford, Matt Kemp and Andre Ethier have all won Gold Gloves.