Dodgers Report:

Julio Urias
March, 15, 2014
Mar 15
3:40
PM PT
GLENDALE, Ariz. -- Julio Urias got on a mound in front of 13,000 people or so on a brilliant sunny day in Arizona, about to compete against three major league baseball players who are 14, 17 and 10 years older than him.
He took off his cap, held it to his chest with his right hand and rapidly, almost frantically, crossed himself, over and over, with his left.
[+] Enlarge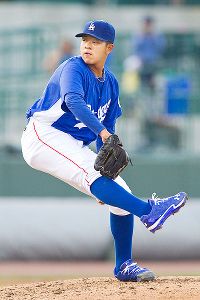 AP Photo/Brian Westerholt/Four Seam ImagesJulio Urias, the Dodgers' top-rated pitching prospect, said his goal is to pitch in the major leagues this season.
Then, he got on the mound and pitched the biggest inning of his 17 years on earth. Afterward, the left-hander would say he wasn't nervous at all.
"Normal," he said.
He looked normal, though his talent is well beyond that. Urias, the Dodgers' top-rated pitching prospect, blew away
Will Venable
on a 93-mph fastball, got
Chris Denorfia
to hit a weak ground ball to third base and struck out
Yonder Alonso
on a slider during the Dodgers' game with the
San Diego Padres
at Camelback Ranch on Saturday.
A veteran major-league scout, sitting behind home plate, watched Urias' 14 pitches and typed in his first impressions of the youngest prospect in the game, in a text message. One of the first words he came up with is "Poise."
"Stuff was good," the scout added. "He pitches to both sides of the plate, with tail and sink. He has deception with his changeup."
All of those things will come in handy if -- or, maybe it's when -- he pitches in the major leagues, but the first description seems the most apt at this point. Poise. He must have plenty of it, to have signed a professional contract the day he turned 16, to have been one of the youngest players in the history of the Midwest League last season and, now, to have crossed this hurdle against players nearly his father's age.
January, 29, 2014
Jan 29
10:27
AM PT
Experts are starting to recognize the efforts the Dodgers have made in rebuilding a farm system neglected under former owner Frank McCourt.
In Keith Law's
list of the Top 100 prospects in baseball
, the Dodgers' wunderkind, 17-year-old left-hander Julio Urias, ranks No. 14. That is the highest a Dodgers prospect has appeared in ESPN's preseasons rankings since 2008. The Dodgers did pretty well with that young lefty.
Clayton Kershaw
has won two Cy Young awards, signed a $215 million contract and is still only 25.
Law also ranks infielder Corey Seager as his No. 18 prospect. Overall, Law ranks the Dodgers' system No. 11, up seven spots from 2013. Here is what Law writes about Urias:
The Dodgers signed Urias -- who is the youngest player on this list by a wide margin -- during the same trip to Mexico that netted them Yasiel Puig, which may end up one of the most productive scouting runs in baseball history, as Urias has enormous upside if he can just stay healthy while Los Angeles gradually builds up his arm to handle a starter's workload.

He has four pitches now, with a fastball up to 95 mph and a plus curveball, but stood out more for his feel for pitching, carving low Class A hitters up with his full assortment and by locating his fastball around the zone. He's barely 5-foot-11, but is young enough that he could still be growing; his weight is of greater concern, as he's a little chubby already -- although guys like Fernando Valenzuela weren't exactly body-beautiful, either. He also has a drooping eyelid (ptosis) that scared some teams off, but the issue is cosmetic and doesn't affect his ability to pitch.

For Urias to reach his ceiling, it's about staying healthy, and continuing to improve his command as he faces tougher hitters who won't chase fastballs up or watch curveballs right over the heart of the plate.
Realize, of course, that no ranking is entirely reliable or predictive. Last year, for example, Yasiel Puig didn't crack Law's Top 100 and yet he made a significant contribution at the major league level.
Just as important as the health of the Dodgers' overall system is the fact that it's beginning to grow up. The next two prospects on Law's list, outfielder Joc Pederson and pitcher Zach Lee, figure to be at Triple-A and could be ready to contribute in the major leagues this season.
The Dodgers' new owners have managed to bring the team back to contention quickly, largely by spending a lot of money, but they're now starting to see their long-term strategy take root and that's equally encouraging.
October, 20, 2013
10/20/13
11:00
AM PT
Two hours before the first game of the
Los Angeles Dodgers
' biggest series in four years, on a warm evening in St. Louis, the team's most famous owner, Magic Johnson, stopped to answer a few questions on the Busch Stadium field.
What he said gave a glimpse into the Dodgers' long-term plan.
[+] Enlarge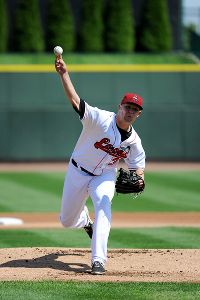 Mike Janes/Four Seam Images/AP Images
Chris Anderson, the Dodgers' top pick in the last draft, pitched in the upper 90s for Class-A Great Lakes.
"If you could model an organization, I think you'd pick [the
St. Louis Cardinals
], with the consistency they've had and the winning they've done while losing players, losing a [Albert] Pujols. It's truly amazing," Johnson said. "It's outstanding what they've built here, and we want to build the same thing back in L.A."
Magic, who is high on enthusiasm but still learning the nuances of baseball, could have taken it a step further and gotten a little more specific. General manager Ned Colletti took it there shortly after the Dodgers bowed out in the sixth game of the NLCS and gave the Cardinals a crack at their third World Series title since 2006.
"They've taken a lot of college power arms," Colletti said. "They've done a great job of developing and a great job of drafting."
Michael Wacha
, the rookie MVP of the series, otherwise known as the guy the Dodgers couldn't touch, was pitching for Texas A&M last college season;
Trevor Rosenthal
, the nastiest reliever the Dodgers faced all year, pitched at a Kansas community college in 2009;
Seth Maness
was pitching at East Carolina in 2011;
Joe Kelly
, who won Game 1 (and broke Hanley Ramirez's rib with a pitch) was pitching at UC Riverside the same year;
Lance Lynn
came out of the University of Missisippi the year before.
Sense a pattern here? St. Louis' young arms were the difference in the series. It certainly wasn't the St. Louis lineup, which didn't show up until Game 6. The Dodgers hit .234 in the six games. The Cardinals hit .178. The Dodgers hit two more home runs than St. Louis.
The Cardinals' edges both were the direct result of their organizational plan. They're younger, so while several Dodgers were dealing with nagging ailments of various kinds, the Cardinals looked fresh. They have unprecedented bullpen depth stocked from the farm system. The Dodgers fretted about covering the sixth and seventh innings all season and had to plug their holes with expensive veterans like
Brian Wilson
and
Carlos Marmol
.
The Cardinals' payroll was $116 million, $100 million less than the Dodgers', so there's that.
[+] Enlarge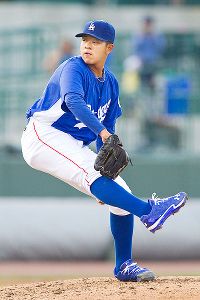 AP Photo/Brian Westerholt/Four Seam Images
Julio Urias, a 15-year-old lefty from Mexico, also had great success at Great Lakes.
In a way, the Dodgers already have begun following the Cardinals' model. In the last draft, 21 of their 40 players taken were pitchers. Of the 40 picks, 31 came out of colleges. The team's top pick out of Jacksonville University, Chris Anderson, pitched in the upper 90s at Class A Great Lakes and had a 1.96 ERA with 50 strikeouts in 46 innings.
The Dodgers also have beefed up their international scouting efforts to historic levels. They're spending as freely as the rules allow. We're not just talking about
Yasiel Puig
. They signed a 15-year-old left-hander, Julio Urias, out of Sinaloa, Mexico, who dominated alongside Anderson at Great Lakes. They limited his innings because he is so young, but he had a 2.48 ERA.
It wouldn't be surprising if Anderson were a factor for the Dodgers some time next season and Urias the year after that. (Or, who knows, maybe he'll be the rare 18-year-old major leaguer).
While people were dazzled by the excitement of this 2013 Dodgers team, some of the most impactful moves were happening in the shadows, the work of baseball's unheralded ranks -- the scouts. If the Dodgers can soon find and develop pitchers as well as the Cardinals have, they could enter a series like this past NLCS with the swagger of celebrity talent filled in with young, inexpensive talent from below. Once the games begin, talent is talent.
That combination could make them, as the Cardinals are, a yearly World Series contender. That, of course, is what Magic was talking about.
June, 18, 2013
6/18/13
6:01
PM PT
If not for
Yasiel Puig
, the
Los Angeles Dodgers
wouldn't have the most advanced 16-year-old pitcher in the world
Dodgers scouts, led by scouting director Logan White, were in Mexico City last June to watch Puig's workouts when they decided to swing by a showcase of some young Mexican League players in Oaxaca, a two-hour flight south.
[+] Enlarge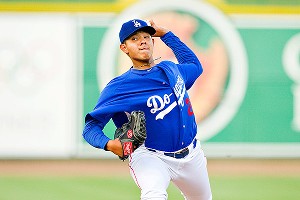 AP Photo/Brian WesterholtJulio Urias was 15 when Dodgers scouts saw him, and a year later he's pitching in the minor leagues at Class-A Great Lakes.
The Dodgers had money again and they were in a hurry to sign as many international players as they could before new limits went into place on July 2.
White has a 14-year-old son who plays high-level club and travel baseball, so he has a good idea what players that age are capable of. When he witnessed Julio Urias, a 15-year-old left-handed pitcher, touching 92 mph with his fastball, he knew he might be onto something.
"When I saw this kid, I said, 'My goodness, he has really got a chance to be something special,' " White recalls.
He already is. The Dodgers had to wait until Urias turned 16 on Aug. 12 before signing him. They were able to land Urias and three other prospects for $1.8 million. Some teams heard rumors that Urias couldn't see well out of his left eye, which has a saggy appearance due to a tumor he had removed as a child. The Dodgers did enough medical research to know that Urias could see fine out of both eyes.
Because three-quarters of that money goes to their Mexican professional teams, only $450,000 of that counted against the Dodgers' no-luxury-tax limit of $2.9 million.
Urias was so special, the Dodgers decided to start him at low Class-A ball in Great Lakes, Michigan. He's 1-0 with a 3.12 ERA so far in five starts and, oh yeah, he's the youngest player to compete at that level in at least 20 years.