March, 31, 2014
Mar 31
8:00
AM PT
SAN DIEGO -- Martin Kim, who works in the
Los Angeles Dodgers
' business offices, visited South Korea with
Hyun-Jin Ryu
last October.
Kim, who doubles as Ryu's interpreter during the season, traveled with the pitcher in his native country and, while he was there, tried to drum up some sponsorships for the team with South Korean companies. Kim wasn't quite prepared for what would greet them at Incheon Airport in Seoul when their plane landed.
There were 200 South Korean reporters waiting. It would have been more, but that was the day of the fifth game of the Korean Baseball Organization's championship series. Everywhere Ryu went, he was mobbed. He had to give another well-attended news conference when he left the country to report to spring training.
"It was like traveling with The Beatles," Kim said.
[+] Enlarge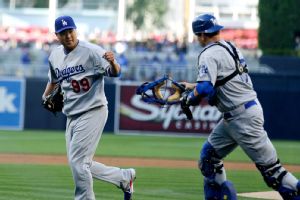 AP Photo/Gregory BullL.A. will lean on Ryu to be its de facto ace for as long as Clayton Kershaw remains on the disabled list.
Ryu noticed his celebrity had ramped up considerably. When he left South Korea, he was the best pitcher in the country. When he returned, he was one of the best pitchers in the world. Ryu was the first player to jump directly from the Korean league to the major leagues and he finished fourth in rookie of the year balloting after going 14-8 with a 3.00 ERA.
"I think the difference is, before I left, I was recognized by baseball fans," Ryu said. "Now, I'm recognized by everyone, whether they like baseball or not, from kids to their grandparents."
If Ryu now has an entire nation counting on him to represent it internationally, he has a slightly jittery major league organization counting on him to represent it domestically. The Dodgers are in need of an ace with
Clayton Kershaw
on the disabled list
with a sore upper back, and, through his first two turns in the rotation, Ryu has looked perfectly ace-like.
March, 22, 2014
Mar 22
4:47
PM PT
SYDNEY --
Hyun-Jin Ryu
's older brother and a good friend flew to Australia to watch him pitch against the
Arizona Diamondbacks
on Sunday and his parents will be watching back home in Korea, where the game starts at 11 a.m.
Ryu said he enjoyed Australia. He saw a koala, avoided eating kangaroo. He slept well. Sydney even has a Koreatown.
Who knows, perhaps one day the Ryu family will be able to watch a game in an even more familiar setting. Major League Baseball has had discussions with South Korea about one day playing a season-opening series there. The Dodgers, with the biggest Korean baseball star in the world, would be a logical choice to make the trip.
"Opening a season in Korea is a fantastic idea," Ryu said through an interpreter. "I will make it my personal wish to do that."
In another sense, familiarity is Ryu's biggest challenge this season. Teams tended to have greater success against Ryu the second and third times they faced him and only one team is more familiar with Ryu than the Diamondbacks. The Diamondbacks have had more plate appearances against Ryu than any other team aside from the Giants. They're batting .300 with a .739 OPS against him. He's 1-2 with a 4.65 ERA in five games against Arizona.
Ryu admitted to being a little anxious before Sunday's start at the Sydney Cricket Ground and said he usually isn't nervous before starts. Then again, he wasn't acknowledging any edge for the Diamondbacks because they've seen him so frequently.
"As much as they've seen me, I've seen them equally," Ryu said. "I think it's a two-way street."
July, 27, 2013
7/27/13
10:03
PM PT
LOS ANGELES -- Saturday's game at Dodger Stadium was far from meaningless -- two good teams with something to play for easing into pennant races -- but hardly the crux of these teams' seasons. Those days will come in August and September, inside their divisions.
It was, however, a colossal sporting event for South Korea.
It was the first time
Hyun-Jin Ryu
ever faced
Shin-Soo Choo
.
[+] Enlarge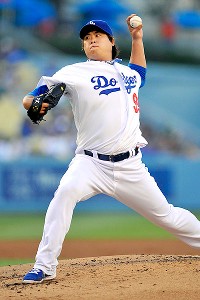 Gary A. Vasquez/USA TODAY SportsHyun-Jin Ryu admitted to more nerves than usual Saturday night as he faced countryman Shin-Soo Choo for the first time.
And, make no mistake: Ryu felt it.
"I was definitely more nervous than before a normal start," Ryu said after dominating Choo and the
Cincinnati Reds
in a 4-1 win for the
Los Angeles Dodgers
.
Ryu was the
Randy Johnson
of the Korean major leagues before signing a six-year, $36 million deal to join the Dodgers in December. Choo was signed out of a Korean high school by the
Seattle Mariners
13 years ago and established himself as a borderline star in Cleveland before being traded to the Reds last December.
The two men were friends and former teammates on the Korean World Baseball Classic team and they had dinner Thursday night. Who paid?
"The owner of the restaurant actually paid," Ryu said through an interpreter.
Not surprising given their star power back home. The Korean TV station MBC sent commentators for the first time since Ryu's U.S. debut and beamed the game live back home, where first pitch was at about 10 a.m. Sunday. The Dodgers credentialed 90 members of the Korean media and sold about 8,000 tickets just in Korean group sales.
And, yes, Psy was in the building.
"This is really big. Historical," said Jongwan Kwak, who works for the Daily Sports Chosun, a Korean sports newspaper. "
Chan Ho Park
faced Choo in the past, but both those players were not in their heyday at the time. This is two Korean players in their primes and it's viewed with a lot of patriotism."
November, 14, 2012
11/14/12
1:33
PM PT
The other day, someone asked general manager Ned Colletti whether he thought Korean pitcher Ryu Hyun-jin could slide into the No. 2 or 3 spot in the Dodgers' rotation next season.

"Not sure," Colletti said.

Added team president Stan Kasten: "Now, remember, everything he says, Scott Boras is going to read."

Bidding $25.7 million for the rights to talk to Ryu is only the first step in acquiring him and maybe not the most difficult. The Dodgers have until Dec. 10 to work out a contract with Boras. If not, Ryu returns to the Korean league and the Dodgers get their posting fee back.

Lucky for the Dodgers, baseball's winter meetings in Nashville, Tenn., wrap up Dec. 6, meaning the Dodgers can survey the rest of the pitching talent available to them before making a final call on Ryu. Boras tends to take negotiations to the final hour anyway, so it works out well for both sides.

Ryu, 25, is a riskier option than a major-league free agent because his numbers were posted against Korean professional talent, rather than major-league talent. But he could also prove a relative bargain, believe it or not. There has been speculation that Zack Greinke could command a contract of $120 million or more and even second-tier starters are said to be asking for $15 million a year or more.

The Dodgers didn't go into the posting process blind, far from it. Their assistant general manager for scouting, Logan White, had been following him for years and Bob Engle, the recently hired top international scout, had seen him pitch multiple times while working for the Seattle Mariners.

Ryu is a left-handed pitcher with a 90-mph fastball and an excellent changeup. He's listed as 6-foot-2 and 215 pounds. Pressed for a major-league comparison, Engle came up with David Wells.

"I'm not associating his ability to David Wells', but he is someone who can definitely come in and be a contributor with a major-league club almost immediately," Engle said. "He's big, somewhat on the rotund side."

Signing Ryu also wouldn't hurt the Dodgers' efforts at rebuilding fan loyalty. Los Angeles has the largest Korean population of any city in the United States, with more than 200,000 people of Korean descent, according to the 2010 census.