Dodgers Report:

Kyle Lohse
April, 13, 2014
4/13/14
10:35
PM PT
1.
The biggest story of the first two weeks has to be the
Milwaukee Brewers
, winners of nine in a row and at 10-2, two wins better than any other team in the early going. The big surprise is the Brewers have allowed just 29 runs, fewest in the majors. They swept Pittsburgh over the weekend by out-Pirating the Pirates, winning 4-2, 3-2 and 4-1.
Kyle Lohse
was dominant in Sunday's win, falling one out short of a complete game when manager Ron Roenicke removed him after
Andrew McCutchen
singled with two outs (Roenicke was greeted with a smattering of boos from the home crowd but was vindicated when
Will Smith
fanned
Pedro Alvarez
on three pitches to end it).
The Brewers are a difficult team to analyze. They've drawn just 25 walks, fourth fewest in the majors, so they love to swing the bats and you wonder if this aggressive approach will be exploited as the season rolls on. They have a 1.80 ERA and it hasn't been just smoke and mirrors -- they're fourth in the majors in strikeout percentage and tied for sixth in lowest walk percentage. The unknown at this point is whether the staff is really shaping up as one of the best in the majors. A year ago it ranked 27th in strikeout percentage and 11th in walk percentage.
Anyway, without overanalyzing two weeks of results, what I wanted to know about Milwaukee is this: Does a long winning streak mean good things are ahead for the Brewers? There are a lot of nine-game winning streaks in a season, so searching for any nine-game winning streak might not tell us much. I thought I'd check nine-game streaks in April to see if that correlates to season-long success. For example, last season the Braves and A's both had nine-game winning streaks in April and went on to division titles.
But you know who else had a nine-game winning streak in April? The Milwaukee Brewers. Of course, they had started 2-8 before reeling off nine a row from April 14 through April 23, so that put them at 11-8. They were 14-11 through April 30 but then went 6-22 in May and the season was over.
Another way to look at the Brewers' hot start is to look at teams that began 10-2 or better to start the season. Here are the teams since 1996 to do that:
2013 Braves: 11-1 (96-66, division title)
2012 Rangers: 10-2 (93-69, wild card)
2011 Rockies: 10-2 (73-89, missed playoffs)
2009 Marlins: 11-1 (87-75, missed playoffs)
2006 Mets: 10-2 (97-65, division title)
2005 Dodgers: 10-2 (71-91, missed playoffs)
2003 Giants: 11-1 (100-61, division title)
2003 Royals: 11-1 (83-79, missed playoffs)
2003 Yankees: 10-2 (101-61, division title)
2002 Indians: 11-1 (74-88, missed playoffs)
1999 Indians: 10-2 (97-65, division champ)
1998 Indians: 10-2 (89-73, division champ)
1998 Padres: 10-2 (98-64, division champ)
1998 Orioles: 10-2 (79-83, missed playoffs)
1996 Orioles: 10-2 (88-74, wild card)
The tally: The 15 teams went an average of 88-74 with nine of them making the playoffs. So a hot start isn't a guarantee of reaching the postseason. The 2005 Dodgers started 10-2 and went 15-8 in April, but that proved to be their only winning month. Still, a 10-2 stretch is a sign of
something
. In the tough NL Central, it means we could be seeing a four-team race this year.
2.
We'll have more Braves coverage Monday to preview the Braves-Phillies game on ESPN, so just a couple of quick thoughts on the Braves' impressive weekend sweep of the Nationals.
Justin Upton
, who is 11-for-14 over his past four games with four home runs, two doubles and 8 RBIs, is in one of his patented hot streaks. But we've seen this before, most notably last April. I still don't expect Upton to suddenly morph into anything different from what he was last year, but it's fun to watch when he gets in a groove.
The Nationals are 6-0 against the Mets and Marlins, 1-5 against the Braves ... which sounds a lot like 2013, when the Nationals went 6-13 against the Braves and 80-63 against everyone else. Until they prove they can beat the Braves, I'm going to withdraw my preseason evaluation of the Nationals as one of the three best teams in baseball.
Finally,
Freddie Freeman
: No hitter has looked more impressive through two weeks than Freeman, who is hitting .442/.519/.814. He hit his fourth home run Sunday -- a
towering fly ball
to right field (about as high as you'll see any home run hit). Most impressive to me is he's struck out just four times in 52 plate appearances -- a 7.7 percent strikeout rate compared to 19.2 percent in 2013. If this K-rate is a sign of a new and improved Freeman, he's going to win the batting title.
3.
Mark Buehrle
is one of those players you don't properly appreciate until you take the time to properly appreciate him. The fastest pitch he's thrown this season is 86.0 mph and after a sterling seven-inning effort in Toronto's 11-3 pounding of the Orioles he's 3-0 with a 0.86 ERA.
He has as many swings and misses in his three starts (24) as
Felix Hernandez
got on Opening Day, but he pounds that outside corner to right-handed batters and they often pounded it into the ground. When they say velocity doesn't matter, what they really mean, "Well, no, not if you can paint the corners like Mark Buehrle." Since Buehrle debuted in 2000, the only pitchers with more than his 189 wins are
CC Sabathia
(206),
Tim Hudson
(196) and
Roy Halladay
(194).
4.
In that game,
Ubaldo Jimenez
had his third shaky outing, giving up 10 hits and five runs, including two home runs. He's 0-3 and has allowed 13 runs in 16 innings, with a 13-10 strikeout-walk ratio and four home runs.
Colby Rasmus
and
Brett Lawrie
tagged him Sunday, Rasmus on a 3-2, 92 mph low fastball over the middle of the plate and Lawrie on a 2-1 splitter that was pretty much down the middle. Obviously, both were pitches in bad locations.
[+] Enlarge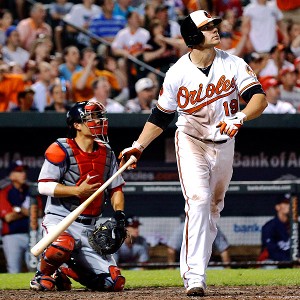 AP Photo/Patrick SemanskyDon't worry about Chris Davis -- he'll still hit a bunch of home runs this year.
Compared to last year, Jimenez's velocity on his fastball is down a bit (91.7 to 90.0) and while his overall percentage of strikes is about the same, he's throwing fewer pitches in the strike zone (50 percent to 46 percent) and inducing about 4 percent fewer swings and misses. We don't want to consign this to the bad signings bin after three outings, but so far Jimenez hasn't resembled the pitcher who had a 1.82 ERA over his final 13 starts last season for Cleveland.
5.
More Orioles:
Chris Davis
, last year's 53-homer monster, finally hit his first of 2014, a 433-foot bash to straightaway center. The good news here is that Davis hasn't actually been "slumping" like he's prone to do; he's still hitting .279/.353/.419, so at least he has been contributing even without the home runs. I'm not worried about the slow power output so far and still see him as a 38-to-40 homer guy. I thought I'd check to see which players who hit 50-plus home runs had the biggest decrease the following season. Here are those who fell by 25 or more home runs:
Hack Wilson, 1930-31: -43 (56 to 13)
Mark McGwire
, 1999-2000: -33 (65 to 32)
Brady Anderson
, 1996-97: -32 (50 to 18)
Luis Gonzalez
, 2001-02: -29 (57 to 28)
Roger Maris, 1961-62: -28 (61 to 33)
Barry Bonds
, 2001-02: -27 (73 to 46)
Hank Greenberg, 1938-39: -25 (58 to 33)
Of the 42 previous players to hit 50, they dropped on average from 55.7 home runs to 43.6 the following season, which puts Davis right around 40.
6.
After tearing apart the Angels in their opening series, the Mariners' offense is starting to look a lot like ... the Mariners' offense. In four of their five losses since that 3-0 start they've allowed three runs or fewer, so the pitching staff has done its job even with
Hisashi Iwakuma
and
Taijuan Walker
on the disabled list.
The A's beat the Mariners 3-1 Saturday and shut them out 3-0 Sunday behind
Scott Kazmir
(looking good early on) and some late runs. Suddenly, the Mariners are hitting .225 and rank 27th in the majors in batting average and on-base percentage.
Robinson Cano
is hitting .333 but hasn't homered and some disturbing numbers have come from
Kyle Seager
(.121),
Brad Miller
(17 strikeouts, one walk),
Mike Zunino
(12 strikeouts, no walks) and
Corey Hart
(nine strikeouts, one walk).
7.
Here's a double play
you rarely see: 6-2-4-3-2 as the Rays recorded two outs at home plate. It didn't matter in the end as the Reds won 12-4, but the Rays still won the series after winning 2-1 and 1-0 in the first two games behind
David Price
and
Alex Cobb
.
Cesar Ramos
started Sunday in place of the injured
Matt Moore
in what was essentially a bullpen game -- Tampa Bay used six pitchers, none for more than two innings. For all the attention given to Billy Hamilton's slow start, shortstop
Zack Cozart
is hitting even worse (.114/.162/.171). The more you look at this Reds lineup, the more you wonder where the runs are going to come from.
8.
Continuing on our struggling offenses theme, we bring you the
Kansas City Royals
, who have one home run in 11 games. They suffered a three-game sweep in Minnesota, getting outscored 21-5. Sunday's 4-3 loss was especially dispiriting as the Royals had scored three runs in the top of the eighth to take a 3-2 lead on a 42-degree day in Minneapolis. But
Aaron Crow
walked the first two batters of the eighth, bringing on
Wade Davis
, who struck out
Joe Mauer
but then loaded the bases with another walk.
He induced a tapper back to the mound for what could have been a 1-2-3 inning-ending double play but
instead threw wildly
to catcher
Salvador Perez
. One major reason for the Royals' 86-76 record last year was beating up on the hapless Twins -- they went 15-4 with a plus-47 scoring margin (exactly their scoring margin for the season). We give the two-week caveat, but this game showcased my concern with the Royals heading into the season: a lack of power and a bullpen that probably wasn't going to repeat last year's AL-leading 2.55 ERA.
9.
Two general takeaways from the first weeks: There is
a lot
of parity in the American League this season. It wouldn't surprise me to see two or even three playoff teams from the AL win fewer than 90 games. The only AL playoff teams in the past decade to win fewer than 90 were the 2012 Tigers (88), 2009 Twins (87) and 2008 White Sox (89).
Second, offense is puttering along at about the same pace as last year, when batters hit .253/.318/.396, the lowest major league average of the DH era (since 1973). This year, we're off to a .247/.316/.393 start heading into the Sunday night Red Sox-Yankees game. And, no, offense doesn't always pick up when the weather heats up.
Last year, the OPS per month ranged from .706 (July and September) to .722 (May). In 2012, hitters were "cold" in April with .711 OPS and increased that to .730 and .731 in May, June and July. In 2011, the OPS ranged from .708 (June) to .740 (August).
10.
Adrian Gonzalez
homered Sunday for the fourth straight game and
Giancarlo Stanton
hit another mammoth bomb Saturday,
a 469-foot blast
that now gives him the
first- and third-longest home runs of 2014
. But the biggest home run news of the week came Wednesday when
David Ortiz
took
32.91 seconds to round
the bases after his home run -- the slowest trot yet recorded on
Larry Granillo's Tater Trot leaderboard.
April, 28, 2013
4/28/13
3:31
PM PT
LOS ANGELES -- The
Los Angeles Dodgers
continue to wait for their best player to emerge from a month-long slump, but their best starting pitcher looks like he's back.
Clayton Kershaw
struck out 12
Milwaukee Brewers
in eight innings Sunday in a 2-0 Dodgers win. It was Kershaw's first win since April 6.
Matt Kemp
, meanwhile, came off a nice road trip to go 2-for-9 in this three-game series while misplaying at least two balls in center field. Kemp, who is batting .261 with one home run after 88 at-bats, seems to be hitting a lot of slow rollers to shortstop.
Kershaw (3-2) was coming off two mediocre starts, but he was nearly as dazzling Sunday as he was on Opening Day. Sunday was the fifth time he has struck out as many as 12 batters, the first since June 9 of last year.
Kershaw had failed to get out of the sixth inning against the
San Diego Padres
and
New York Mets
in his two previous starts. The Brewers had action in the first two innings, but after that, they couldn't touch Kershaw.
Jonathan Lucroy
hit into an inning-ending double play to wipe out a two-on threat in the first inning, and
Jean Segura
led off the second with sinking liner that was misplayed into a double by Kemp.
Kershaw retired the next 18 batters before
Carlos Gomez
lined a double to left-center field leading off the eighth. Kemp seemed to get a late read on the ball, which short-hopped the wall. Kershaw helped erase that threat by snaring
Martin Maldonado
's sharp grounder and getting Gomez in a rundown.
The Dodgers didn't do much against Milwaukee starter
Kyle Lohse
, but
Carl Crawford
continued to put on a show at Dodger Stadium. The speedy leadoff hitter hit two home runs. Crawford is batting .391 in home games.
December, 5, 2012
12/05/12
5:44
PM PT
NASHVILLE, Tenn. -- The best thing to happen to the
Los Angeles Dodgers
on Day 3 of the winter meetings was what one of their competitors did -- or won't do -- and that's not uncommon this time of year.
The
Los Angeles Angels
reached agreement with
Joe Blanton
, reportedly for two years and $15 million, and that -- plus their trade for Atlanta's
Tommy Hanson
-- would seem to indicate they're moving away from a mega-deal with free agent
Zack Greinke
. The floor, at least for now, appears to be a two-team dance between the Dodgers and
Texas Rangers
.
Not that Greinke's agent doesn't continue to wait to see if others want to cut in.
Dodgers general manager Ned Colletti met with Greinke's agent, Casey Close on Wednesday and, unlike the day before, Colletti wouldn't say whether he has extended an offer. That lack of comment in itself could be meaningful.
"I can't tell you we have any movement, I can't tell you we're close to anything," Colletti said. "A lot of groups, including some of the bigger names out there, are still doing due diligence and not necessarily in a mood to do anything."
The Dodgers have shelved some of their other business to concentrate on starting pitching. On Wednesday that meant one of the pitchers they were considering for their bullpen signed elsewhere. The Dodgers discussed re-signing lefty
Randy Choate
, but shied away when Choate asked for a three-year deal and a hefty raise. He got both by signing Wednesday with the
St. Louis Cardinals
for $7.5 million.
The Dodgers also have made no appreciable progress in signing Korean lefty Ryu Hyun-jin, who will return to pitch in Korea if he doesn't come to an agreement by 2 p.m. Sunday. Agent Scott Boras said he made a counteroffer to the Dodgers of shorter duration. But asked if that got the sides any closer, Colletti said, "No, we just got closer to Sunday."
Other notes
The Dodgers are looking to add a catcher before spring training, but Colletti indicated they're setting their sights on backup types who could offer competition to rookie
Tim Federowicz
. The Dodgers are content with
A.J. Ellis
as their No. 1 catcher.
Some have speculated that Greinke would prefer not to pitch in Los Angeles because of the size of the city and the media attention, but Colletti said he hasn't been told by any free agents that they don't want to pitch in L.A.
"We're not going to try to convince anybody this is a great place and a great city and a great ownership," Colletti said. "If they don't want to be part of it, we're not going to convince them."
Day 3 progress:
Scant
Wish list:
Starting pitcher(s); left-handed reliever; fourth outfielder; catcher
November, 28, 2012
11/28/12
12:23
PM PT
The Dodgers are still mapping out their strategy for fortifying their starting rotation and, according to a source, have not made offers to any free agent pitchers yet. They'll likely begin that process next week in face-to-face meetings at the winter meetings.

It's likely the Dodgers will add two starting pitchers, since Ted Lilly might not pitch next season due to a shoulder injury and Chad Billingsley is a major question mark coming off two stints on the disabled list with elbow pain.

But who are the likeliest names to pitch at Dodger Stadium in 2013?

Reports of the Dodgers' interest in Zack Greinke may have been slightly exaggerated. Greinke's 6.48 post-season ERA is a bit of a concern and his reclusive personality may not set the right tone for a team that lacks post-season experience. Greinke's overall resume, however, might fit the bill of what the Dodgers are looking for -- a No. 2 starter -- better than some of the other available pitchers.

It might come down to whether the Dodgers are willing to take on the risk of what might prove to be a record contract for a right-handed pitcher.

They have inquired about Kyle Lohse, a source confirmed. Lohse had the best 2012 ERA of any of the free agent starters (2.86) and relies on a sinker rather than a hard, four-seam fastball, so age shouldn't be a major concern. At 34, he wouldn't command the six-year deal it might take to land Greinke or even Anibal Sanchez and he answered some questions by going 2-1 with a 3.54 ERA in four post-season starts last month.

It appears the Dodgers' strategy will be to try to land one of the established major leaguers (perhaps Greinke or Lohse) some time during the winter meetings, then turn their attention to serious negotiations with agent Scott Boras to sign Korean left-handed Ryu Hyun-jin. They have until Dec. 10 to get a deal done or Ryu would return to pitch in his native Korea. Thus far, the Dodgers have had only preliminary discussions with Boras about Ryu.

Before the 2009 season, Derek Lowe signed a four-year, $60 million contract with the Atlanta Braves, which might prove a good starting point for the Lohse negotiations since they're both veteran sinkerballers. Ryu won't get a deal that approximates Yu Darvish's six-year, $56 million contract with the Texas Ranges. For argument's sake, let's say it takes $25 million to keep him in America.

The Dodgers could still get two starting pitchers for less than two-thirds of what it would cost to sign one, Greinke. Don't be surprised if that's the route they take in the coming weeks.




November, 5, 2012
11/05/12
12:28
PM PT
It's no secret the Dodgers would like to add a starting pitcher, ideally in the No. 2 spot behind Clayton Kershaw. In fact, their ability to improve the rotation might prove decisive in whether they can close the gap on the pitching-rich San Francisco Giants.
And, now that free agency is underway, it's a good bet the Dodgers have reached out to at least one or two available pitchers' agents. Let's take a look at some of the candidates and discuss how they might fare in a Dodgers uniform:
1. James Shields
Technically, he's not available. But everyone views him as available. The Tampa Bay Rays last week picked up his $10.25 million option for 2013, making Shields the highest-paid player in the history of the Rays' franchise and, with David Price due for a huge raise via arbitration, the Rays probably can't afford them both.
The Rays could have seven starting pitchers going into spring training and they desperately need position players. Just after the Rays announced they had picked up his option, Shields acknowledged he could be traded.
"In the past years, my name has been thrown out there quite a bit and I expect it to be thrown out there this off-season as well," Shields told Tampa-area reporters.
The Dodgers would have competition, but it's not out of the question they could acquire Shields this winter. At their organizational meetings shortly after the season ended, according to a source, they identified him as their top target. They could put a package together around shortstop Dee Gordon, who would otherwise figure to start next season at Triple-A, to get the conversation started.
Shields, 30, couldn't match his Cy Young-caliber form of the season before in 2012, but he was still better than solid pitching in the toughest division in baseball. He was 15-10 with a 3.52 ERA and 1.168 WHIP. His fastball velocity (92.3 mph) was actually up a tick from the year before, so his health appears sound. Luck might have been the main difference between his two seasons, as his BABIP (batting average on balls in play) rose from .258 in 2011 to .292 last year.
Shields' crucial edge over the rest of the pitchers on this list is cost control. As fragile as pitchers are, long-term contracts for free agents rarely wind up making financial sense. The Dodgers' risk would be limited to one or two seasons with Shields, who also has a club option for 2014 (at $12 million). It's pretty clear why Shields is the Dodgers' preferred choice, but it will take more than writing the biggest check to land him and that's the tricky part.
2. Zack Greinke
Here is what ESPN's
Keith Law wrote
about the highest-profile free agent pitcher on the market:
What you will hear about Greinke, unfortunately, are references to his battles with anxiety and depression, as if they constitute bad makeup or make him unfit to play in a high-pressure market. Greinke's condition, which is a medical matter and not a personality defect, has been under control for years, and he has pitched in pennant races the past two years, this last one in a major media market. If he is not a true No. 1 starter, then he's a 1A, which is more about an occasional tendency to get too much of the plate than about any softness in his character. I'd be very comfortable giving him a five-year deal.
The question around Greinke has always been where he would be comfortable playing. His first two stops were in smaller markets in the middle of the country, Kansas City and Milwaukee. After he was traded to the Angels last season, he said he liked Southern California and had no trouble pitching in this market.
The fact that New York and Boston are off the table is a huge assist to the Angels and Dodgers, but the price could still soar if the two local teams are pitted in a bidding war for Greinke.
The Angels, who have lost Ervin Santana and Dan Haren this winter, might be more desperate to land Greinke, but the Dodgers proved last summer there's virtually no limit to the amount of money they're willing to spend to improve the team. Local TV deals have shifted the balance of power -- at least financially -- to the West Coast, which could make Southern California the center of the off-season universe.
Pitching for mostly bad teams, Greinke is 91-78 with a 3.77 ERA lifetime. He just turned 29, so he is less risky than many pitchers who reach free agency. The question you have to ask is whether he'll be worth $100 million or more over five years. Also, signing Greinke to a mega-deal could make it even more expensive to lock up Kershaw, who -- justifiably -- would likely want to be the team's highest-paid pitcher.
3. Kyle Lohse
His numbers last season (16-3, 2.86 ERA) were easily the best of any pitcher on this list and he answered some questions about his ability to pitch under pressure with some good post-season starts (and one really bad one). But is he the kind of guy you want to lean on in Game 2 of a playoff series? That's what contending teams will be asking themselves this winter, because Lohse will probably get the second most-lucrative free agent contract for a pitcher.
His stuff, with a fastball that barely touches 90 mph, doesn't suggest he'll be a top-of-the-rotation starter and he has reached 200 innings just three times in a 12-year career. If the Dodgers can't land Shields or Greinke, he's a good fall-back option, but fans shouldn't view him as a major difference maker.
4. Hiroki Kuroda
He seemed like just another aging veteran the New York Yankees were collecting to guard against injuries in their rotation, but he pitched one of his finest seasons -- in the toughest division and one of the toughest places to pitch. Kuroda was 16-11 with a 3.32 over 219 2/3 innings. Those numbers are the absolute definition of a good No. 2 starter.
Kuroda's first four seasons were in Los Angeles, so we know he's willing to pitch in this market. The only red flags are age -- 38 -- and declining velocity. Still, the Dodgers might be better-served to scrape together a competitive two-year package for someone they know rather than risk a long-term deal on someone they don't.
5. Dan Haren
He's the X-factor in the free-agent market. He could prove to be the steal of the winter or a painfully costly mistake and it all hinges on the health of his lower back and right arm.
Haren wasn't just one of the most durable starters in baseball for eight years, he was one of the best. From 2005 to 2011, he pitched at least 216 innings and struck out at least 140 batters a year. You could look at the heavy workloads in two ways, of course. You can say that he has the type of physique to handle such abuse or you can wonder whether all that wear and tear has finally taken its toll.
Haren's declining fastball velocity finally caught up with him last year as it didn't afford him enough separation from his strikeout pitch. If he can work in the 89-91 mph range, his split-finger fastball is far more devastating than when he works at 86-88, as he did much of last year.
A winter of rest, coupled with physical therapy, could allow Haren, 32, to bounce back strong in 2013 and he'll likely be determined to prove he's still got it. He's settled with his family in Irvine and might be willing to give the Dodgers a discount to stay close to home.