Dodgers Report:

Lyle Overbay
May, 15, 2012
5/15/12
11:29
PM PT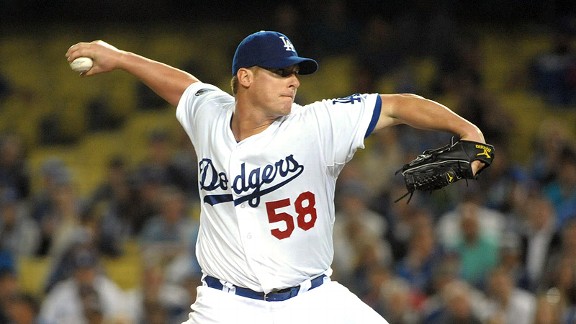 Kirby Lee/US PresswireChad Billingsley seemed to lose a bit of focus in the second inning of an eventual loss to Arizona.
LOS ANGELES -- Our eyes tell us we have seen this before. Common sense tells us the same thing. But on Tuesday night, just after a 5-1 loss to the Arizona Diamondbacks before 47,077 at Dodger Stadium, Los Angeles Dodgers manager
Don Mattingly
told us this was something completely different from what our eyes, and our common sense, told us it was.
No, Mattingly said,
Chad Billingsley
wasn't pitching all that poorly as he was giving up four runs and eight hits over four-plus innings.
"I'm being serious," Mattingly said. "I thought he was throwing the ball better. I'm not saying everything was perfect, but he should have come out of it better. Obviously, we don't like the result, but I liked the way the ball was coming out of his hand. He has been working hard to get back to where he was at the start of the season and get his delivery where it needs to be."
OK, fair enough -- to a point.
Yes, Billingsley has been working with pitching coach
Rick Honeycutt
lately on a slight mechanical adjustment, and yes, Billingsley said he felt better in that regard during this game -- "It was just a matter of getting my hand out of my glove a little bit sooner. I was drifting toward home, and when I took my hand out of my glove, I had to play catchup with my arm." And yes, as Mattingly was quick to point out, two of the four consecutive singles Billingsley gave up to start the fifth inning, resulting in his early exit, had been a foot or two over from where they were, either one of them might have been a double play.
And OK, even if this was Billingsley's second consecutive start in which he failed to record an out past the fourth inning, this one probably wasn't as frustrating or as discouraging as the other one.
But the definitive moment of this one didn't come in the Diamondbacks' three-run fifth that chased Billingsley. Instead, it came in their one-run second, when something that has plagued Billingsley throughout his seven seasons in the majors jumped up to bite him once again.
After a leadoff double by
Jason Kubel
that probably should have been a single --
Jerry Sands
, playing left field after arriving from Triple-A Albuquerque earlier in the day, took a bad route to the ball -- Billingsley came right back to strike out
Ryan Roberts
and induce a grounder to third by
Lyle Overbay
, all without Kubel advancing.
Next came an intentional walk to
Aaron Hill
to get to the pitcher's spot, a strategy that is at least debatable at such an early juncture, but that was what Mattingly opted to do. And then, Billingsley struck out
Wade Miley
to end the threat, or so it seemed.