Dodgers Report:

Manny Ramirez
August, 15, 2012
8/15/12
1:39
PM PT
The last thing the Dodgers should be doing is gloating.

It was only three years ago that they were the ones dealing with the shame and disappointment of having a star player banned for 50 games for testing positive for a banned substance. The difference is that Manny Ramirez got caught in May while Melky Cabrera will miss the remainder of the San Francisco Giants' season and, if they get there, a handful of playoff games.

Cabrera just took away any excuse the Dodgers could have for not reaching the post-season. He's the second-best position player on a team that, like the Dodgers, has rooted around in every corner for offense. Other than Buster Posey, Cabrera is the only Giant with a batting average greater than .300 or a double-digit home run total.

Posey's WAR, according to baseball-reference.com, is 4.9. Cabrera's is 4.8. The next best Giants hitter, Brandon Belt, is at 1.8.

The news of Cabrera's suspension leaves the Giants spinning. The Dodgers should be viewed as having gone from slight favorites to overwhelming favorites to win the West. It's not just the impact it has on the NL West, though, but the way it shifts the whole NL playoff picture. The Dodgers play the Giants nine more times this season. Even if the Arizona Diamondbacks suddenly catch fire, as the Colorado Rockies did a few years ago, the Dodgers should have a wide berth in the wild-card race.

Just as the Giants' offense takes a blow it might not be able to recover from, the Dodgers are looking as productive as they've been all season. Newcomers Shane Victorino and Hanley Ramirez are beginning to mesh in the lineup and the Dodgers' two best hitters, Matt Kemp and Andre Ethier, have their legs under them again. The Dodgers are halfway through their toughest remaining road trip and they've taken four of five games thus far.

Dodgers fans will remember that their team still won 95 games and made it all the way to the NLCS the year Ramirez got nabbed. But by then, Manny had probably already been passed as the best player on his team, perhaps twice. Kemp and Ethier combined for 57 home runs and 207 RBIs that season.

The parallels are a little too close for the Dodgers' comfort. The differences open up a world of possibilities.
August, 2, 2012
8/02/12
11:49
AM PT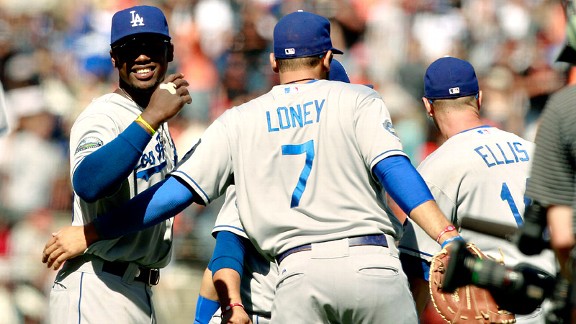 Cary Edmondson/US Presswire
When the Dodgers acquired
Hanley Ramirez
from the Florida Marlins on July 25, they had a precedent to believe the 28-year-old former batting champion would play hard and blend into the fabric of the team.
Four years earlier, another brash slugger with a history of personality clashes arrived in Los Angeles and turned around his image (for the time being), while changing the course of the franchise. That, of course, would be
Manny Ramirez
, who batted .396 with 17 home runs and 53 RBIs in just 53 games in 2008.
There are other precedents that aren't as encouraging, one of them within 30 miles of Dodger Stadium. When the Angels signed
Jose Guillen
before the 2004 season, they assured their fans that the steady leadership of
Mike Scioscia
and a change of scenery were all Guillen needed to overcome a history of clashes with authority figures.
Within eight months, Guillen had publicly pouted after Scioscia benched him (at the suggestion of owner Arte Moreno) for blowing off an on-field photo day with fans. Within weeks, Scioscia and Guillen had a blowup in the clubhouse that led to Guillen being suspended for the remainder of the regular season and the playoffs then shipped off to the Washington Nationals the next winter.
In other words, this Ramirez thing could go either way. If he remains happy and focused, he could be the extra middle-of-the-order bat that puts the Dodgers in the playoffs. But many baseball people wonder what will happen if the Dodgers fall into a long losing streak or if Ramirez becomes unhappy with the way manager
Don Mattingly
is handling him.
Things couldn't have gone better to ease Ramirez into a new scene. The Dodgers swept an emotional series in San Francisco, with Ramirez hitting a game-winning home run in one of the games. When he got back to Los Angeles, he said it was refreshing to be in a winning environment. The Miami Marlins had sky-high expectations moving into a new stadium this season but have underperformed.
"They are winning, you know, and that's the thing that I like. Everybody's happy," Ramirez said. "When you walk into a situation where everybody's laughing and getting along, I'm happy to be part of that."
In eight games, Ramirez is batting .226 with a home run and eight RBIs. Eventually, he will probably move back to his preferred position, shortstop. He played a few innings there Wednesday after a double switch.
So far, so good. But what happens when things turn south -- as they inevitably do for at least small stretches of a baseball season?
The Dodgers can't possibly know that. They were desperate enough to add offense that they felt they had to take a shot on Ramirez. Teams don't typically trade away high-performing hitters on long-term contracts who are model citizens.
"There's only so much background checking you can do," general manager
Ned Colletti
said. "Sometimes, you give people an opportunity, you give them a chance. I've had a couple good conversations with him. He seems genuinely happy to be here and glad to have a fresh start.
"I usually make my determinations about people based on how they respect the game in front of me and in front of Donny and how they interact with people, so we'll start clean because you have no idea what the dynamics were before."
March, 7, 2012
3/07/12
9:33
AM PT
Somewhat lost amid all the things we can expect to see when the Los Angeles Dodgers take on the Oakland A's at Phoenix Municipal Stadium in a few hours -- Aaron Harang making his Dodgers debut, back-end bullpen mates Kenley Jansen and Javy Guerra making their first Cactus League appearances this spring and Manny Ramirez wearing a green-and-gold jersey -- is the fact that we also will get a look at Chris Withrow.

We have seen him before, actually. He came over from minor league camp a couple of times last year and was very impressive, both with his results and with the stuff the fireballing right-hander was throwing. But now, the Dodgers' first-round pick from the 2007 draft is on the 40-man roster and in big league camp, and he has an outside chance of being in the majors sometime this year.

What makes it an outside chance, as opposed to one of those knocking-at-the-door, going-to-get-here-anyday-now chances, is the fact that Withrow is strictly projected as a starter, and there is at least one other starter who figures to begin the season at Triple-A Albuquerque, Nathan Eovaldi, who is ahead of him on the depth chart right now.

This morning, I asked manager Don Mattingly whether Withrow would be considered for a callup if an opening came up in the bullpen sometime during the season, because with injuries and whatnot, openings always come up in the bullpen, usually with some degree of regularity.

Mattingly seemed to say, in so many words, no.


March, 6, 2012
3/06/12
5:17
PM PT
Highlights from the Dodgers' Cactus League loss to the Giants on Tuesday:
Or, more to the point, lowlights.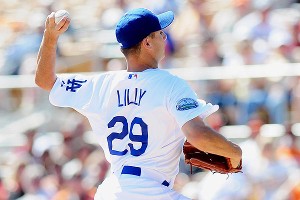 Jennifer Hilderbrand/US Presswire
Ted Lilly got rocked for five runs on six hits over two innings
Ted Lilly
wasn't very good. The veteran lefty got rocked for five runs on six hits over two innings, including, in typical Lilly fashion, two home runs in the first inning alone. In fact, the first batter he faced this spring,
Melky Cabrera
, yanked one not only over the wall, but out of the ballpark, into the front yard of the Dodgers' offices beyond left field.
"I know it's spring training, but you're still looking for (good) results,'' Lilly said. "I went into it planning on really trying to execute my fastball to both sides of the plate, and I really didn't intend to throw very many breaking balls. But when you can't locate your fastball, it puts you in a position where you have to throw the breaking ball.'' ...
Ronald Belisario
took the mound in a Dodgers uniform for the first time in a year and a half, coming out of the bullpen to pitch the fourth inning. He gave up a couple of two-out hits, one of which was an infield single by
Brett Pill
, but no runs. He still has a long road back, though. Belisario has to serve a 25-game suspension when the regular season starts, and at some point the Dodgers have to move him off the restricted list onto what already is a crowded 40-man roster.
Manager
Don Mattingly
was asked after the game what he thought of Belisario. "He was all right,'' Mattingly said, adding that it's way to early to start making judgments on any relief pitcher. ...