Dodgers Report:

Marco Scutaro
February, 15, 2013
2/15/13
10:45
AM PT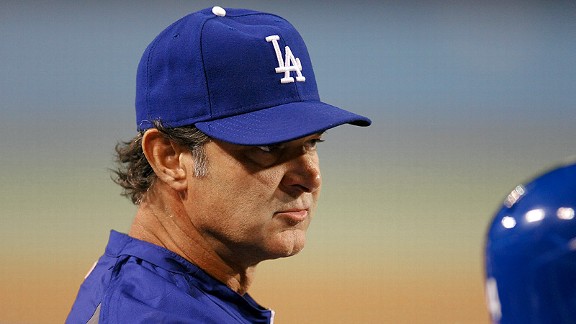 Cal Sport Media/AP Images
The Dodgers declined to pick up a one-year option on manager Don Mattingly this offseason.
The Dodgers' new owners have spent more than $600 million in acquiring players since they bought the team less than one year ago. They will enter the 2013 season with the highest payroll (more than $220 million) in baseball history.
Now the only question is if they can they turn money into wins.
We'll take a look at some of the issues facing the Dodgers as they enter a season filled with promise but, as always, fraught with peril. What are the costs -- and what are the opportunities -- inherent in such a high-stakes gamble?
Next up: Is third-year manager Don Mattingly the man to lead this team far into October?

The Dodgers gave $42 million to a Cuban defector, Yasiel Puig, they had scarcely had a chance to scout. They put about $100 million into a stadium they won't even commit to staying in over the long term. They paid $62 million to sign a pitcher, Hyun-Jin Ryu, that their general manager, Ned Colletti, had never seen in person.
To cap it all off, they signed (at the time) the most expensive right-handed pitcher in baseball history, Zack Greinke.
But while all this was going on, they declined to pick up a one-year option on manager Don Mattingly, probably for less than $2 million. No matter what the club says or how gracefully Mattingly accepts it, that is a telling omission.
Exactly what it tells us isn't quite as crystalline. Does it mean Dodgers owners or president Stan Kasten -- I don't think it's Colletti -- aren't sold on Mattingly's style? Do they think he's too laid-back to manage a team with massively paid players up and down the roster, that he won't be forceful enough to stand up to all the egos?
Does it mean they want to retain a lever -- Mattingly's job status -- should this experiment in hyperconsumption prove misguided? Or, is it, despite all appearances, simply a matter of time before they lock up his services?
Until the Dodgers exercise Mattingly's 2014 option, the players will know their popular manager is in limbo. Might that add to the already sizable pressure on their shoulders?
Whatever fans think of Mattingly's style, it's hard to imagine he's not well-liked inside his clubhouse. Players have to respect his resume. He was a fringe Hall of Fame-caliber player, a .307 lifetime hitter and team captain. He seems relatively easy to play for. He rarely criticizes players in the media, probably because he played under George Steinbrenner, who seemed to relish it.
October, 5, 2012
10/05/12
10:27
AM PT
If we've learned anything about Don Mattingly in the past couple of months, it's that he's not against taking a walk. He wore out a path from the dugout to the pitchers' mound after the Dodgers got into a pennant race for the first time in his managerial tenure.

In a 12-inning game against the St. Louis Cardinals, Mattingly set a Dodgers record by using 10 pitchers. When Chris Capuano's stuff looked soggy on the second-to-last game of the season, Mattingly yanked him after three innings -- though he'd allowed just two runs, both on solo home runs. He used reliever Ronald Belisario in four straight games near the end, testing the elasticity of his ligaments and tendons.

Part of being a good manager is being willing to hurt your players' feelings, something Mattingly learned in the past month or so, and making quick pitching changes doesn't make you popular.

"When you pull a guy after 4 2/3 [innings] and he's got 90 pitches -- he feels like he's got plenty in the tank, he wants to be the guy to get that next out -- he's not very happy with you," Mattingly said. "But you can't worry about that. You can talk about it the next day with him and give him your reasoning.

"They may like it and they may not like it."

There are disciplinarian, old-school managers left in the game, though their numbers are dwindling. There are laid-back, player-friendly managers, too. No matter what their interpersonal style, though, the good ones leave the impression with their players that they're in charge.

You could sense Mattingly's grip on the team tightening as the season wound down, perhaps driven by his frustration with the team's underachievement in the fateful month, shortly after the biggest trade in franchise history.

On Sept. 26 in San Diego, Mattingly finally had seen enough. He called a team meeting and, according to his players, let them know they would be held accountable some way or another for their uninspired play.

"He called us all on the carpet and kind of put us in a spot," said catcher A.J. Ellis.

Said pitcher Chris Capuano, "I think everyone kind of really responded after that and gave great effort."

The Dodgers front office put Mattingly in a more difficult spot than it first appeared when it effectively ripped off one-third of the team photo and spliced in nine new players with late-season trades. Mattingly had helped foster a spirit of overachieving in the early weeks of the season, but after those trades, expectations were that the Dodgers could walk into the playoffs. They did the opposite, going 11-17 immediately after the big Aug. 25 trade with the Boston Red Sox.

You could argue that Mattingly needed to show a bit more urgency earlier to jolt a hibernating offense back to life. But in the final weeks of a season, most managers would rely on their best players to come up with the spark. That didn't happen after Matt Kemp slammed into an outfield wall and went into a massive slump and when Clayton Kershaw missed a couple of starts with a hip ailment.

It was exacerbated when Adrian Gonzalez had trouble adjusting to the expectations that come with his first major-league in-season trade. He was homerless in 33 of his 35 games as a Dodger.

When a team begins to sputter in the clutch, a manager's questionable decisions become lightning rods for fans' disappointment. Mattingly's moment of scrutiny came Tuesday night, when he intentionally walked Angel Pagan to get to the hottest hitter in the league, Marco Scutaro. It didn't work out when Scutaro hit a two-out, two-run double. Mattingly said later he made the move because Scutaro was 2-for-19 in his career against the pitcher, Jamey Wright.

Eventually, if a manager has enough success, people tend to forget those moments. It's rarely mentioned any more that Mike Scioscia let Brendan Donnelly pitch to Bernie Williams in the eighth inning of Game 1 in the 2002 ALCS though Troy Percival was warmed up and ready to go.

Williams hit the home run that proved the game winner. Why isn't it often mentioned these days? Because the Angels won the World Series.

Next season, if the Dodgers have the team they think they have, Mattingly can sit back and let his players make him look good. If not, he'll have to continue to learn to be unpopular.

Grade: B
October, 2, 2012
10/02/12
10:49
PM PT
LOS ANGELES -- The
Los Angeles Dodgers
fought stubbornly against stiffer and stiffer odds, but the law of averages caught up to them in the end.
Their six-game winning streak came to a halt -- and so did their postseason aspirations -- with Tuesday night's 4-3 loss to the
San Francisco Giants
in front of 42,475 fans at Dodger Stadium.
The Dodgers had an opportunity to make Wednesday a thrilling final day of the season when the
St. Louis Cardinals
lost 3-1 to the
Cincinnati Reds
earlier on Tuesday. The Dodgers saw the final in the top of the fourth inning, but they couldn't take care of their end in a frustrating loss.
The defining moment was
Mark Ellis
desperately trying to stretch a double and getting thrown out at third base by 10 feet with one out in the seventh inning. That might have proved the tying run had Ellis been more cautious, as
Shane Victorino
followed with a triple.
The Good:


Battling back.
A.J. Ellis
took a fastball down the middle from
Guillermo Mota
for strike two. Then he did what he does. He took a few borderline pitches, got the count to 3-and-2, then got a pitch to hit. This time, he pulled the trigger, hitting a towering fly ball to center field that narrowly cleared the fence for a two-run home run to cut San Francisco's lead to one in the seventh inning. It was an outstanding at-bat, in a big spot, for a player who has been among the Dodgers' best players this season.
Lockdown.
When the Dodgers have gotten the ball to their key relievers lately, it has been over. The combination of hard throwers
Ronald Belisario
,
Kenley Jansen
and -- if they can re-sign him --
Brandon League
could give the Dodgers an excellent bullpen in 2013. Belisario worked his fourth straight game -- fourth! -- and got a crucial out. Jansen was the most impressive, though. The Giants' best hitters all struck out swinging against his lively fastball in the eighth. Jansen needed only 13 pitches to strike out
Pablo Sandoval
,
Buster Posey
and
Hunter Pence
.
Live wire.
Much like
Adrian Gonzalez
, Victorino got off to a sluggish start as a Dodger but quietly he has been coming on lately. Victorino had a double and a triple, though he was stranded both times. He's batting .429 with five extra-base hits in the five games of this homestand. Victorino was stranded in scoring position both times when
Matt Kemp
made the final out of the inning.
The Bad:
Capuano's capers.
He has had a solid -- borderline good -- season, but he'll probably be remembered for Tuesday night's start, his shortest of the season. With the importance of the game, Dodgers manager Don Mattingly wasn't going to give
Chris Capuano
much of a leash, and Capuano didn't seem to merit one. Even the outs he was getting were loud and he gave up deep home runs to Buster Posey and
Joaquin Arias
to put the Dodgers in an early hole. Capuano hurt his left shoulder taking batting practice when the doughnut on the bat smacked him near the shoulder blade. Put it all together and you have the makings of a memorable pennant race pitching meltdown.
Intentional talk.
There will be some discussion of Mattingly's decision to intentionally walk
Angel Pagan
in the fifth inning to face
Marco Scutaro
, who was riding a 19-game hitting streak. It will be warranted, of course, but one fact to consider: In 19 at-bats against
Jamey Wright
, Scutaro had two hits. Make that three. He ripped a double into the right-field corner for the key hit. Scutaro just isn't the kind of guy you want to face when all the other team needs is a base hit.
Missing piece.
Matt Kemp swung at a slider in the dirt in the seventh inning and chucked his bat. The Dodgers best hitter had a great week, but in the Dodgers' past two games, with the season in the balance, he was virtually silent. He went 0-for-4 in Monday's win and came up in the key at-bats of the game -- with runners at first and second and two outs in the fifth and with the tying run at third in the seventh -- and came up empty. He's batting .393 with four home runs and nine RBIs in his past seven games, but looked a little jumpy Tuesday.
May, 11, 2012
5/11/12
10:07
PM PT
LOS ANGELES -- Veteran left-hander
Chris Capuano
, arguably the Los Angeles Dodgers' best starting pitcher so far this year, continued his impressive early-season run with seven outstanding innings as the Dodgers rolled to a 7-3 victory over the Colorado Rockies before 35,591 on Friday night at Dodger Stadium.
Capuano gave up a run on four hits and struck out three without a walk, manager
Don Mattingly
lifting him to begin the eighth because Capuano had thrown 103 pitches.
Capuano ran his record to 5-0 and shaved his ERA to 2.06. The Dodgers (21-11) extended their lead in the National League West to six games over the second-place San Francisco Giants.
The Good


Web gems.
Juan Uribe
made nice defensive plays in each of the first two innings, including a sliding stop of a hard grounder by
Marco Scutaro
to begin the game and a lunging play to his left to get a force at second on
Ramon Hernandez
in the second. That one would have been an inning-ending double play, but
Todd Helton
slid hard into second, forcing
Mark Ellis
to make an off-line relay to first.
Long time coming.
Ellis finally hit his first home run of the season, a shot into the left field bullpen off
Jamie Moyer
in the first inning, snapping a string of 35 consecutive games for Ellis, dating to last season, without one. Ellis hit six homers in 286 plate appearances for the Rockies last year after they acquired him in a mid-season trade with Oakland, but didn't hit one for the Dodgers until his 124th plate appearance of the season. As if that weren't enough, later in the game, Uribe hit his first homer since last June 20.
Warming up. Andre Ethier
had a huge game for the dodgers, including a double and run scored in the fourth, an RBI single in the fifth and a solo homer to straightaway center in the seventh. Ethier is now hitting .364 (12-for-33) in May, with four doubles, two homers eight runs scored and eight RBI.
The Bad
Pass the Geritol.
His 50th birthday might be looming in the fall, but Moyer completely dominated the Dodgers in the early going. He retired 11 of the first 12 batters, the exception being Ellis' home run, with five strikeouts and three infield popups. The string finally was broken when Ethier lined a two-out double of the base of the wall in right-center with two outs in the fourth.
Overmatched. Dee Gordon
continued to struggle in the leadoff spot, those struggles possibly having now reached their nadir. Although Gordon did have an eight-game hitting streak earlier this month, he now has gone 0-for-10 with four strikeouts in the two games since that streak, including taking a called third strike from Rockies reliever
Carlos Torres
to end the sixth inning with runners on second and third.
All good things must end.
Capuano continued to dominate in a way no one could have envisioned before the season, but he did give up a solo homer to
Michael Cuddyer
with two outs in the seventh, snapping a personal string of 24 2/3 consecutive scoreless innings. Capuano had pitched a combined 13 2/3 shutout innings, allowing six hits, over his previous two starts. He still hasn't allowed more than one run in a start since April 18 and hasn't allowed more than two runs in a start since April 7, his first start of the season.