Dodgers Report:

Mark Trumbo
April, 11, 2014
Apr 11
9:00
AM PT
The
Los Angeles Dodgers
return to the scene of the crime -- or at least some people seemed to view it as a crime when they playfully took a dip in the Chase Field swimming pool while celebrating their NL West title last September.
Several
Arizona Diamondbacks
players ripped the Dodgers to reporters or through their Twitter accounts, and Arizona Sen. John McCain joined in, via Twitter, calling the Dodgers "overpaid, immature, arrogant spoiled brats."
[+] Enlarge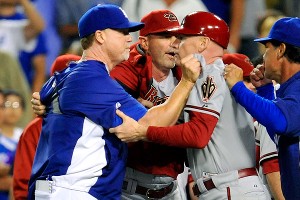 Gary A. Vasquez/USA TODAY SportsThe Dodgers and Diamondbacks haven't exactly gotten along recently.
And now?
You get the impression neither team is particularly concerned with any lingering hostility from last year, whether it's left from their June brawl or the late-season swim. Both teams have been hit fairly hard by injuries already -- perhaps in part because of their long, season-opening trip to Australia -- and the Diamondbacks are dealing with a messy pitching situation and a 4-8 record after their 10-inning win Thursday night against the
San Francisco Giants
.
The first question the Dodgers need to answer is which
Hyun-Jin Ryu
will show up? Will it be the guy who dazzled in his first two starts, pitching 12 scoreless innings, or the guy who got hit around by the Giants in the home opener, working his shortest start in the major leagues? Ryu had to wait two extra days to get that one out of his system as the Dodgers played only four games since that April 4 day game. They played a two-game series with the
Detroit Tigers
surrounded by off days.
Arizona will use
Brandon McCarthy
to oppose Ryu on Friday. McCarthy has shown revived stuff in his early starts, but has been hurt by blow-up innings.
The Dodgers have their best healthy pitcher,
Zack Greinke
, going in the second game of the series against
Wade Miley
, whom the Dodgers faced on Opening Day in Australia. Miley was a last-minute replacement for Arizona's young lefty ace,
Patrick Corbin
, who underwent Tommy John surgery.
It's likely
Yasiel Puig
will return at some point in the series, probably Friday, after missing three games because of an injured left thumb from sliding headfirst into first base on Saturday.
Meanwhile, the Dodgers will have to try to cool off slugger
Mark Trumbo
, who went deep off closer
Kenley Jansen
in Australia and has five home runs and 13 RBIs through the first 12 games.
March, 18, 2014
Mar 18
8:00
PM PT
SYDNEY -- A group of Australian little leaguers were asked who they were most excited to meet on the Dodgers. After a few quiet seconds, one of them piped up, "Ryan Kershaw!"
Clearly, there's a little work to do in spreading the gospel of America's pastime to the Australian youth.
In fact, that is a pretty good way of describing the whole point of this Opening Series Down Under. Wednesday, the Dodgers played their part in that mission, with a group of their younger players visiting one of the most famous, most beautiful beaches on earth -- Bondi Beach -- to mingle with two little-league teams from the Sydney suburbs.
Teresa Fletcher had her two boys, Jack, 6, who was wearing a Dodgers cap and Luke, 9, who was wearing a Diamondbacks hat. They play for the Ilawong Marlins. Teresa Fletcher said her family was watching the news on TV Tuesday night when a clip of the Dodgers-Diamondbacks brawl from last June was shown. Nice way to hype this weekend's series, huh?
[+] Enlarge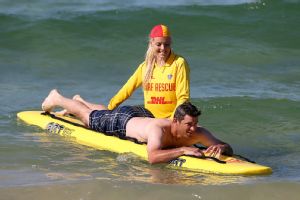 AP Photo/Rick RycroftThe Dodgers' Drew Butera got a demonstration in paddleboard rescue from an Australian lifeguard during the team's visit to Bondi Beach.
"I said, 'Oh, no, none of that,' " Teresa Fletcher said.
If you've ever been around two young boys, you know exactly what she was feeling. They don't need any more prompting to start fighting again.
Emma Green, 13, was at Bondi Beach, too, to mingle with the Dodgers. She's 13, but she has been playing baseball since she was 5. A club baseball team visited her elementary school and gave a demonstration and she was hooked. Green's mom woke up the other day and her daughter was in front of the TV watching a U.S. spring training game. It was 3 a.m.
So, yeah, there are some kids in Australia who have caught the baseball bug. Many of the little-league families I met were planning to attend one of the Dodgers-Diamondbacks games or one of the exhibitions against the Australian national team.
Dodgers catcher
Tim Federowicz
looked as if he was having a good time in his sunglasses and flip-flops mingling with the Australian kids. He said most of them asked him how he liked Australia so far, but he didn't get much probing about the intricacies of catching. He sensed more enthusiasm than knowledge.
"A lot of them said they like it better than cricket, so that's good," Federowicz said.
The players got something out of it, too, in addition to spending time with some charming kids. They took a boat ride back to their hotel that featured stunning views of the Harbor Bridge and the Sydney Opera House. First, they stopped to pose for pictures with a comely young blond lifeguard. She gave catcher
Drew Butera
a demonstration in paddleboard rescue and he looked pretty pleased with it.
Adrian Gonzalez
walked up a few minutes later in sunglasses and a backward baseball cap. He was just visiting Bondi Beach when he ran into the Dodgers goodwill mission. He good-naturedly posed for a few photos. The beach sweeps to the south and then climbs some stone stairs to a sweeping view of the beach and those to the south, with rocks and the dark blue Tasman Bay dominating the senses.
Mark Trumbo
, the
Arizona
Diamondbacks
new outfielder, was hanging out enjoying the view. He said it reminded him some of Newport Beach, not far from where he grew up.
It appears the players are enjoying this Australia trip more than they thought they would.
May, 30, 2013
5/30/13
10:50
PM PT
ANAHEIM, Calif. -- Asked about how people should read into the fact that uber-prospect Yasiel Puig played center field Thursday for one of the few times this season in a Double-A game right when the
Los Angeles Dodgers
need a center fielder, Don Mattingly smiled.
"Whatever you want," Mattingly said. "It's fun doing that anyway. You can imagine what he might be doing tonight or whatever."
It appears to be down to Puig or former big leaguer
Tony Gwynn Jr.
, who has been playing at Triple-A Albuquerque, for the race to take Matt Kemp's spot while he's on the 15-day disabled list. According to a source, the Dodgers are not considering the other hot outfield prospect at Double-A Chattanooga, Joc Pederson.
So, perhaps the Dodgers are about to get the jolt of energy a young, vibrant player can provide. Puig batted .517 in spring training and is hitting .322 at Chattanooga.
But even if the team opts for the more conservative choice, Gwynn -- a strong fielder with limited offensive impact -- they're set up for a promising weekend in Colorado. Their three best starters,
Clayton Kershaw
,
Zack Greinke
and
Hyun-Jin Ryu
are all going against a Colorado team that has cooled off quite a bit since a hot start.
The Dodgers are 17-10 in games started by their top three and 5-20 in games started by anyone else, including Thursday's 3-2 loss to the
Los Angeles Angels
with
Ted Lilly
on the mound.
And, yeah, the Dodgers have been feeling more energy since Mattingly's stern words in Milwaukee about a week ago.
Add it all up and ... who knows, maybe a step or two of momentum, finally? Have you heard that one before this season?
"You say that daily," Mattingly said. "It's a good place to start. Today was a good place, yesterday was a good place, we'd won two in a row. ... Every day is a chance for us to sustain it, get going and put wins together."
Every day is a chance, and these are as good as any others. Let enough of them pass, though, and they add up to a wasted season.
May, 28, 2013
5/28/13
10:34
PM PT
LOS ANGELES – First, there was the picture that circulated on the Internet of
Hyun-Jin Ryu
at In-N-Out Burger with a platter of three hamburgers in front of him and one in his hand. Then, he got to Arizona and couldn't keep up with the other
Los Angeles Dodgers
pitchers in their first conditioning runs.
Once he'd been there awhile, he approached pitching coach Rick Honeycutt and said he preferred not to throw between starts. Typically, major-league starters throw a fairly strenuous bullpen session two days after they pitch.
[+] Enlarge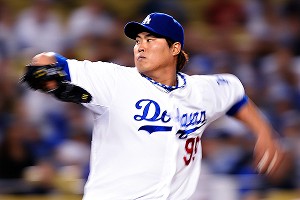 Harry How/Getty ImagesHyun-Jin Ryu is 6-2 with a 2.89 ERA. On Tuesday against the Angels, he recorded his first shutout, allowing just two hits.
The Dodgers' $62 million investment must have had some people wondering if he was going to work for the money when he first showed up.
"He came in with his way of doing things and wanted things a certain way," Dodgers manager Don Mattingly said. "When you've had success, why would you change it. It's been a pretty good decision not to push our way on him."
The lax treatment of the Dodgers' rookie left-hander from Korea has its limits, though.
"We can't just let them do whatever they want or they would be doing nothing, really, for the most part if you just let them," Mattingly said. "Certain parts of the program he has to do like everyone else."
He may not have a chiseled physique -- the first comparison Dodgers scouts made of him was to a young
David Wells
-- but who really cares so long as he keeps pitching like him? He's two months through his first season as the pioneer Korean professional leaping straight to the major leagues, and it couldn't have gone much more smoothly.
Ryu is 6-2 with a 2.89 ERA, and Tuesday was the epitome of his surprisingly breezy cultural exchange. He may be a rookie technically, but be real: He's an eighth-year pro and you can tell he knows how to set hitters up.
He has noted the primary difference between major league hitters and those of the Korean Beaseball Organization is that the Americans are "very aggressive" and "just have brute strength."
That certainly was the case Tuesday with Ryu facing a muscular collection of
Los Angeles Angels
hitters, all right-handed:
Mike Trout
,
Albert Pujols
,
Mark Trumbo
and
Howie Kendrick
. It didn't matter, because Ryu can use aggression against the perpetrator. He mixed a popping 93-mph fastball with a high-70s changeup and low-70s curveball to baffle them all night.
Ryu allowed just two hits in nine innings.
"I didn't think my first shutout would come this early in the season," Ryu said.
Just stay out of his way and this could be just the beginning.
January, 24, 2013
1/24/13
4:11
PM PT
Who knows, maybe this is the season it finally happens. The Dodgers, having spared no expense, will field a balanced, dangerous team and feel like they are positioned for a World Series run. The Angels, who jacked up their already formidable power with the surprise acquisition of
Josh Hamilton
, have similar aims.
If there really is to be a Freeway Series in 2013, a lot of things have to go right for both teams. But the team that made -- and makes -- the best personnel decisions likely will go further into October.
Let's break down the key areas of both rosters to try to decipher which team is better constructed to play longer into 2013.
Starting rotation
This is the part of the discussion in which Dodgers fans get to gloat and Angels fans have to just sit there and marinate. You could argue -- in fact, you don't really even have to -- that the Dodgers have better pitchers in all five spots.
We know this because one of the Angels starters,
Joe Blanton
, couldn't have cracked the Dodgers' seven deep. We also know this because one of the Dodgers' starters,
Zack Greinke
, almost helped the Angels make the playoffs.
Jered Weaver
is perfectly ace-like. About 25 teams would put him at the top of their rotation. He has finished in the top five in Cy Young voting three years running and even got a couple of MVP votes last year -- always a cool accomplishment for a pitcher. He won 20 games, had a sub-3.00 ERA for the second season in a row and usually gives you more than 200 innings. And we won't even hold the .250 and .241 BABIPs from the past two seasons against him. Weaver is a fly ball pitcher and he relies on mishits to pitch deep into games. He gets strikeouts when he needs them, which is quite often, actually.
The only reason he doesn't get the edge is that
Clayton Kershaw
might be the best pitcher in baseball. We don't need SABR to tell us that. It's not that scientific. For the past two seasons he led baseball in ERA and was in the top three in WAR for pitchers. If he's not the most dominant pitcher in baseball, he's in the team photo and it's a small team (probably Kershaw,
Stephen Strasburg
,
Felix Hernandez
and
Justin Verlander
).
So, the Dodgers get an edge in the No. 1 department, though it's a fairly slight edge because of Weaver's competitiveness and consistency. "Slight" isn't the right word for the rest of the Dodgers' edge in starting pitching.
Greinke has never come close to touching his 2009 Cy Young season, but neither has just about any other active pitcher. Greinke flirted with a sub-2.00 ERA, led the league in ERA+ and WHIP. Nobody could square him up. He gave up 0.4 home runs per nine innings. He was mediocre the following season, probably in part because of a personal crisis, but has gone 31-11 with a 3.63 ERA the past two years. Is he worth $147 million? Is any pitcher? He's as good a No. 2 starter as there is out there.
June, 23, 2012
6/23/12
7:15
PM PT
By
Brian Kamenetzky
| ESPNLosAngeles.com
ANAHEIM -- Having lost four straight and seven of 10, the Dodgers will take victories in any way they come. That includes games where the formula for winning is almost completely unsustainable, as was the case Saturday in the second game of their weekend series with the Angels in Anaheim.
Once again, the Dodgers' bats were generally M.I.A., but as has been the case most of the year, they made up for it with excellent pitching and timely defense.
Your easily digestible summary of Saturday's win:
The Good:


Chris Capuano.
Heading into Saturday's game, only twice in Capuano's last 10 starts had he given up more than three earned runs. The trend continued today. He rolled through the early innings, facing only 14 hitters and needing only 54 pitches (41 strikes) through the first four. Great defense bailed him out of trouble in the fifth, but Capuano settled down over his next two. Final line: Seven innings, one run, no walks, four strikeouts. Good work in the eighth and ninth from
Ronald Belisario
and
Kenley Jansen
(save No. 11) preserved his ninth win of the year, and Capuano's strong bid for a spot on the All-Star team continues.
Defense.
When they're not giving themselves much wiggle room offensively, the Dodgers need to be near perfect defensively. The fifth inning wasn't quite perfection, but it was close.
Howie Kendrick
should have been thrown out at second trying to stretch a single into a double, but
Jerry Hairston Jr.
couldn't hold on to the ball applying the tag. From there, though, it was all highlight reel stuff. Capuano made a diving play on a
Maicer Izturis
nubber, turning what would have been in an infield single into the first out. After a pair of singles put runners at first and second,
Dee Gordon
made a spectacular diving stop up the middle on a
Mike Trout
shot, saving a run and nearly turning the DP after tagging second for the force.
Torii Hunter
followed with a shot to deep left center pulled back into the park by
Elian Herrera
for the third out.
Gordon.
Of the eight position players, Gordon was the star for the Dodgers. His first inning single/stolen base got the ball rolling. His defense in the fifth took the Angels out of a big inning, and in the sixth he sent a shot the other way over the head of
Mark Trumbo
in left for a triple, scoring on a single from Hairston. Gordon hit the ball hard in the eighth, as well. Highlights at the plate have been few and far between for Gordon, who was 3-for-27 over his last six games and came into Saturday hitting .220 with an OBP of .269. Any positive signs are welcome.
The Bad:
Production.
Friday night, the Dodgers went silent offensively after hanging five runs on Angels starter
Dan Haren
in the first two innings. Saturday, they again scored early, but the runs were due more to generosity on the part of their hosts than their lightening bats. Their two runs came on only one hit, a leadoff single from Gordon, who promptly stole second. From there, the Dodgers benefitted from two Angels errors and a wild pitch from
Ervin Santana
. Unfortunately, the Dodgers wouldn't scratch out another hit until Gordon's sixth inning triple.
We live in a world where Juan Uribe makes $7 million this year and next.
Just saying.
The bottom six guys in the Dodgers lineup went 0-19.
I'm aware this is just another way of saying for the third time "The Dodgers didn't/can't hit." But when offense is the only problem and the post isn't called "3 up, 1 down," you do what is necessary.