Dodgers Report:

Mark Walter
October, 8, 2013
10/08/13
12:25
AM PT
LOS ANGELES -- As
Juan Uribe
was being showered with champagne and beer in the
Los Angeles Dodgers
' clubhouse and ushered into the press conference room after the game,
Carl Crawford
was tucked away safely behind a plastic curtain near his locker.
Crawford needed a moment to himself and sat down, while his 9-year-old son, Justin, danced to music blasting in the background.
[+] Enlarge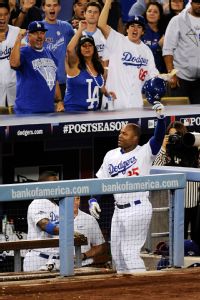 Robert Hanashiro/USA TODAY Sports
"I was happy I got the first home run," Carl Crawford said after Monday's heroics. "But the second home run? I couldn't believe it. To hit two home runs in the postseason is definitely big. I was really amazed."
While Sandy Koufax congratulated
Clayton Kershaw
on his game, and a dozen Dodgers and owner Mark Walter hugged Uribe, Crawford quietly smiled as he watched his son boogie before giving him a hug.
Before Uribe became the Game 4 hero for his game-winning home run that closed out the
Atlanta Braves
, Crawford was the only player keeping the Dodgers in the game.
Crawford hit a solo home run in each of his first two at-bats, including the first team at-bat, which was just the second leadoff homer in Dodgers postseason history.
It was the ninth multiple-homer game by a Dodger in the postseason, and Crawford was just the seventh Dodger player to accomplish the feat.
"I knew it was going to be a close game with tough pitching, so I wanted to be aggressive," Crawford said. "I was happy I got the first home run. But the second home run? I couldn't believe it. To hit two home runs in the postseason is definitely big. I was really amazed."
Braves starter
Freddy Garcia
only allowed the two runs from Crawford while giving up just eight hits in six innings.
"No one else could get to Freddy tonight other than him,"
Andre Ethier
said of Crawford. "He came up big there and got us on the board quick with two runs. Carl really kept us in the game while Freddy was shutting us down."
As Crawford looked on while his team celebrated in the clubhouse, he smiled while thinking back to where he was last year.
Crawford underwent Tommy John surgery last year, which ended his season before he was traded from the
Boston Red Sox
to the Dodgers. He had signed a 7-year, $142 million contract with Boston after the 2010 season, coming over from the
Tampa Bay Rays
. It was a signing that was quickly panned as a bust and resulted in two of the most miserable years of Crawford's life.
"The change of scenery for me was great," Crawford said. "I felt like myself again. I love it here in L.A. and I'm happy they brought me over here."
When Dodgers general manager Ned Colletti was considering a blockbuster trade with the Red Sox last year that would bring Crawford,
Adrian Gonzalez
,
Josh Beckett
and
Nick Punto
to Los Angeles, Crawford was a big part of the deal despite the fact he was not going to play last season while recovering from surgery.
"Carl Crawford has been tremendous," Colletti said. "To see what he's done in this series is great. I'm happy for him, because the crowd loves him and he's turned it up big time with big hits. Two years ago when he was a free agent, he was one of the most sought-after free agents in a long time. He's got power and speed and can play good defense, and to see him feel good about himself again is great."
Crawford wasn't supposed to begin the season with the Dodgers after recovering from surgery, but he made his debut as the starting left fielder and leadoff hitter on Opening Day. He had hoped to stay off the disabled list but missed a month with a hamstring injury.
Crawford, however, was a key player in the Dodgers' historic summer run. He played in 116 games and hit .283 with six home runs, 31 RBI and 15 stolen bases.
"Coming back, for me, I just wanted to get a full year," Crawford said. "I was on the DL, but I felt I was able to do something. And hopefully l'll be healthier and even better next year."
Don Mattingly grinned as he walked past Crawford after the game in the clubhouse. "The look on his face was great when he hit those home runs," the Dodgers' manager said.
Crawford was happy to be happy.
"Just to be able to smile again feels good," he said. "I feel like I hadn't done it two years. Just to be able to smile again and feel good again is great. Hopefully I'll be smiling some more."
June, 9, 2013
6/09/13
1:12
AM PT
LOS ANGELES --
Dodgers
chairman Mark Walter was so new in the baseball game, the first time he heard the name
Yasiel Puig
, he wasn't sure if someone was pulling a fast one on him.
"We'd just bought the team, so you don't know whether the scouts have superlatives for lots of people that they see," Walter said.
Veteran baseball men, top player development guys and scouts were comparing Puig to all-time greats like Roberto Clemente and calling him a once-in-a-lifetime player.
Walter listened to them all, intrigued but skeptical.
Could he really be that good? Or did these guys just see the team's new owners as loose with their money after they'd paid a record $2.15 billion to buy the Dodgers?
He listened, and then he did what you'd expect from a brilliant financial mind: He assessed the risk/reward from a completely different perspective.
"When you're told he's somebody who can be another
Matt Kemp
, those players are $20 million a year," Walter said. "Six years for that player is $120 million, so it's only got to be a 1-in-3 shot [the $42 million over six years the Dodgers signed Puig for] is worth it.
"It's a lot less if he really is ready for it."
One week into Puig's big league career, it looks like the Dodgers' new owners have got themselves a steal. You could say the same for the record price they paid for the franchise now, after they inked a 25-year television deal with Time Warner Cable that's actually closer to $9 billion than the $8 billion that was previously reported.
That record $213 million payroll isn't looking as great just yet. The Dodgers dropped another game Saturday night against the
Atlanta Braves
to fall to 27-34 on the season and 7-10 in one-run games.
But Puig's mere presence these days makes you feel like it's way too soon to write these Dodgers off. Even standing in the on-deck circle, as he was when
Mark Ellis
struck out to end the game with the tying run in scoring position, Puig is intimidating. If he gets up, something's going to happen.
If the ball is hit to him in right field, something's going to happen.
If the moment is big, he'll probably be involved in it.
No matter what, you have to watch.
"It's a daily thing now. Something's going to happen, whether it's at the plate, defensively or running the bases," said Dodgers utility man
Skip Schumaker
, who went 3-for-4 to extend his career-best hitting streak to 14 games.
Saturday night Puig flashed the arm in right field that drew all those Clemente comparisons by gunning down the speedy
Andrelton Simmons
as he tried to go from first to third on a single to right. Simmons was out by a good 3 feet as Puig fired a laser to
Luis Cruz
at third for his second jaw-dropping outfield assist in six games.
He also had two more singles, one of which came on a scary headfirst dive into first base that had Dodgers manager Don Mattingly hoping he re-examines his own views on risk/reward.
"That was a little dangerous. But you know what, with guys like him, that play with that kind of energy, the game just comes out of them, you know," Mattingly said. "It's just coming natural."
So natural that scouts like Mike Brito, who first saw Puig play as a 17-year-old on the Cuban national team, are feeling pretty good about themselves these days.
"I sleep eight hours a night," Brito joked.
As for Walter, who was sitting right behind Puig as he stood in the on-deck circle at the end of Saturday night's game hoping to make a little more magic, well, he's doing just fine, too.
Last place isn't what he, or anyone associated with the Dodgers, had in mind with this kind of a roster. But men who understand the markets come to understand one thing very well:
"Over long periods of time, things work out. Unfortunately, there are those short periods of time where they don't," Walter said.
But when you take the right risks, something or someone like Puig happens.
January, 22, 2013
1/22/13
4:32
PM PT
The Los Angeles Dodgers' new owners have spent more than $600 million in acquiring players since they bought the team less than one year ago. They will enter the 2013 season with the highest payroll, at more than $220 million, in baseball history.
Now, the only question is whether they can turn money into wins.
We'll take a look at some of the issues facing the Dodgers as they enter a season filled with promise, but as always, fraught with peril. What are the costs -- and what are the opportunities -- inherent in such a high-stakes gamble?
Part three: What the Dodgers' new TV network with Time Warner Cable Inc., reportedly worth upward of $7 billion, will mean to the team moving forward.
Shortly after the Dodgers' new owners fired their first major cannon shot at the rest of baseball -- the trade that brought in
Adrian Gonzalez
and three other players and sent about a quarter of a billion dollars heading to Boston -- a high-ranking club official told me this: "It's all about the TV money … all of it."
The Dodgers' new TV deal, which
could be announced
later this week, is the answer to the question that has been hovering over this team these past 10 months: Where's it all coming from? This is where it's all coming from. All of it.
The Dodgers' annual TV revenues are about to go from roughly $40 million to somewhere in the neighborhood of $300 million, starting in 2014. That pays for a lot of middle relievers.
August, 3, 2012
8/03/12
3:23
PM PT
OK, so Joe Blanton isn't Cliff Lee. But he's also not Stephen Fife or one of the other kids from Triple-A Albuquerque the Dodgers would have been using as a fifth starter until Ted Lilly is healthy, whenever that might be.

Blanton is what he always has been: solid, if not spectacular. But for the Dodgers' purposes, he's a nice upgrade who should help add depth and dimension to a rotation that has been a little wobbly of late.

After missing out on Ryan Dempster at the deadline, the Dodgers' brass was insistent it wasn't done dealing. In fact, when I caught up with him on the field Tuesday afternoon, new controlling owner Mark Walter openly hinted at that idea.

"Do you really ever want to say we did enough?" Walter said. "That's not an attitude I really want a lot of around here. I guess if the entire All-Star team is on your team, you could feel like you had enough. But I don't want to think that way. That's now how you want to look at it.

"I think we are a very competitive team now. But you can always get better."

Walter has been an interesting guy to get to know in the three months he has owned the Dodgers. Before we met, I'd been told he was a quiet guy from Chicago who would mostly remain behind the scenes and let team president Stan Kasten and co-owner Magic Johnson do the talking. His role was to put up the cash, then authorize Kasten to spend it.

That's mostly what he has done. Except he actually has been a whole lot more visible that anticipated. Walter has been at the stadium quite a bit, and when he's there, he's often down on the field or in the clubhouse before games. He's not shy, either.

When I joked with him about how much money he had spent in the past few weeks, he laughed and said, "Yeah, I guess I have."

He described the trade deadline as something of a roller coaster ride, said he was hanging on every phone call from Kasten or GM Ned Colletti and wasn't doing much to conceal some disappointment he felt at not being able to do even more.

In other words, Walter is invested -- and not just financially.

What does that have to do with Blanton, Lee or any other trades the Dodgers might make this month? Maybe nothing, maybe a lot. The Dodgers' new owner isn't going to be a silent partner in all this. He's into it, Mark Cuban style.

As he said himself, "Do you really ever want to say we did enough? That's not an attitude I really want a lot of around here."
July, 18, 2012
7/18/12
7:05
PM PT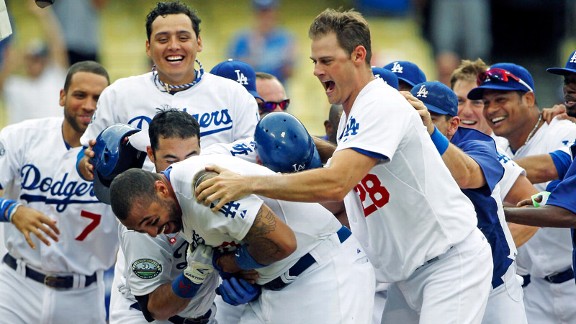 AP Photo/Reed SaxonMatt Kemp and the Dodgers were all smiles after Wednesday's win, but manager Don Mattingly is still trying to figure out what kind of team he has.
LOS ANGELES -- The small blue book rests on
Don Mattingly
's desk in his office, never far from his fingertips. He often finds himself flipping through it before games, between meetings and after games.
He doesn't know how many times he has read "Wooden,"
John Wooden
's book of observations and reflections on and off the court, but he probably has most of the 201 pages memorized by now.
He will often quote Wooden to reporters and players and has been thinking a lot about Wooden's teachings in recent weeks as he tries to find out what kind of team he has.
"One of Wooden's beliefs is that our job (as coaches) is to get the absolute most out of our team," Mattingly said. "What that ends up being, we don't know. If we get that and that's not good enough then I don't really know what you do with that. Then you have to continue as an organization to make decisions to get better."
Mattingly wasn't quite sure what to make of the Dodgers' 5-3 comeback win over the Philadelphia Phillies in 12 innings on Wednesday.
Matt Kemp
's walk-off, two-run homer could be seen as a turning point for a team that had lost four games in a row and fallen three games behind the San Francisco Giants in the NL West. Then again, it could also be nothing more than a momentary stopgap before a grueling 10-game trip that could make or break their season.
"I don't know what this says about us," Mattingly said. "It was a nice win for us."
It was easy for Mattingly not to get too excited about one of the Dodgers' more exciting wins of the season. He has seen firsthand how leads, games and standings can change on a single pitch, error or swing. The fact is, Mattingly simply doesn't know what kind of team he has yet and trying to compare the Dodgers' strong start to their recent struggles is a futile effort at this point.
"Before the break is gone," Mattingly said. "After the break we got Matt and
Andre
(
Ethier
) back and we're starting to get our team back together. But when (you lose) after the break, it's one of those things that is frustrating. A week from now this thing could look totally different if we win five of seven or something like that. No matter how it looks right now we have to get the ball going in the other direction."
During the Dodgers' recent slide, when they lost seven of eight games, Mattingly kept reminding his players they were not far from where they wanted to be. They were simply not getting the same breaks they were earlier in the season when they always found ways to win close games late.
May, 2, 2012
5/02/12
7:19
PM PT
LOS ANGELES -- The Dodgers' new ownership group is far from shy, that much we learned Wednesday morning at their introductory news conference at Dodger Stadium.
Team president and CEO
Stan Kasten
wanted fans to know he's a baseball guy, through and through. Chairman
Magic Johnson
made his feelings about former owner
Frank McCourt
known, telling those gathered in center field and those watching on television that McCourt's departure was reason enough for applause. And
Mark Walter
, chief executive and the controlling partner of Guggenheim Baseball Management, defended the group's enormous purchase price.
They made some bold statements and said all the right things. They promised to restore pride in a franchise that last captured a World Series title nearly 24 years ago.
Based on what the partners said Wednesday, here are a few things Dodgers fans can expect:
Johnson, Kasten and Walter each stressed the importance of improving the fan experience, a not-so-subtle hint at last year's parking lot incident that left Giants fan Bryan Stow beaten to a coma. Kasten, the former president of the Atlanta Braves, wants a friendlier ballpark. He suggested that, later this season, current Dodgers will greet fans at entrances while in full uniform. Is there a more welcoming image than Matt Kemp scanning a fan's ticket stub at the turnstile? "What's important to us and what's important to our fans is the building of this team, the customer experience and our work in community relations," Kasten said. "Frank McCourt has nothing to do with any of those things."
As for the 50-year-old ballpark, Kasten anticipates "near-term" improvements to the outdated power, water and information systems. Before taking the reins Kasten hosted a group of a dozen engineers to survey the stadium, giving him ideas for future enhancements, including renovations to the notoriously cramped clubhouses. Kasten says there are no plans to move the team out of Dodger Stadium or change the ballpark's name.
To the joy of many, Johnson announced a price reduction in general parking, from $15 to $10. Kasten, meanwhile, said he had a "constructive conversation" with a concessionaire last week and, for now, doesn't anticipate the need to raise prices elsewhere. "We're very mindful that we become very successful when we fill this ballpark up," Kasten said. "We know affordability is a big factor in people's mind."
Don't be surprised if the Dodgers are soon back in the top five of baseball's payroll rankings (currently they are 12th). By all indications, the new owners will be aggressive on the operations front, spending money when they have to. They want to contend now. "We're not going to pass up any opportunity, we're not going to wait for 25 kids to grow into their uniform," Kasten said. Hall of Fame manager Tom Lasorda agreed, saying, "If you don't (spend money) you're not going to win. You've got to be able to compete and to be able to compete, you're going to have to be able to put out money."
March, 30, 2012
3/30/12
6:12
PM PT


GLENDALE, Ariz. -- For the second spring training in a row, there were tense moments in a Cactus League game between the Los Angeles Dodgers and Milwaukee Brewers on Friday, this time the result of three batters being hit by pitches and another getting brushed back before the plate umpire warned both benches in the sixth inning.

Nothing much happened after that, though, and the Brewers went on to pound a Dodgers split squad 9-4 before 5,714 at Camelback Ranch. The Dodgers won their other game, 6-3 over the Chicago Cubs before 10,102 at HoHoKam Park in Mesa.

The whole thing began when Jerry Hairston, the Dodgers' first batter of the game, was plunked by Brewers reliever Francisco Rodriguez, who actually started the game but pitched only one inning on an afternoon when the Brewers went with all relievers. Dodgers pitcher Chris Capuano then hit Brewers right fielder Norichika Aoki with a pitch in the second, and Dodgers first baseman Juan Rivera later was hit by the Brewers' Marco Estrada leading off the bottom of the fifth.

When Brewers left fielder Ryan Braun, the reigning National League Most Valuable Player and the target of boos throughout the six innings he played because of his offseason positive test for performance-enhancing drugs -- he appealed the test and had his suspension overturned on a technicality -- came to the plate with two outs and none on in the sixth, he had to back away from an inside pitch from Capuano, at which point plate umpire Mike Lusky issued the warning.

Afterward, Dodgers manager Don Mattingly declined to say much on the matter.

"Nothing happened," Mattingly said. "Nobody came out. It was OK. It was fine. It's spring training. Guys are getting tired."

Last year, in a Dodgers-Brewers game at Maryvale Baseball Park, a Dodgers non-roster reliever named Roman Colon had words with Brewers infielder Casey McGehee on the way off the field between innings. This prompted Brewers first baseman Prince Fielder to come running out of the Brewers dugout in anticipation of a possible brawl, but order was quickly restored without anything close to a real incident.

*****

The game highlight was Andre Ethier, who continued to sizzle, going 2-for-4 with a two-run double and a two-run homer. He is now hitting .400 this spring, with 15 of his 18 hits having gone for extra bases. Oh, and Matt Kemp went 1-for-3 with a walk and scored twice, but didn't strike out, cutting his strikeouts from one every 2.6 plate appearances to one every 2.8 PAs. ... The highlight of the other game was a two-run triple by Dee Gordon off veteran reliever Manuel Corpas, breaking a 1-1 tie in the seventh inning. It was Gordon's third triple of the spring, and he is hitting .382.