Dodgers Report:

Matt Guerrier
June, 30, 2013
6/30/13
12:43
PM PT
LOS ANGELES -- The
Los Angeles Dodgers
recalled right-handed pitcher
Chris Withrow
from Triple-A Albuquerque and designated right-handed pitcher
Matt Guerrier
for assignment, the team announced Sunday.
Withrow, 24, appeared in three games for the Dodgers in his first stint in the majors, posting a 5.40 ERA with two walks and three strikeouts before being optioned to Triple-A Albuquerque on June 20. The 24-year-old pitched 2.0 scoreless innings of relief in two appearances for the Isotopes since being optioned.
"We feel like we're getting better," Dodgers manager Don Mattingly said when asked about the move. "I feel like we're getting better with bringing Chris up. Matt's a veteran guy and a good guy in the clubhouse but we just weren't getting results. Now we're getting a little bit young, a little bit more of a power arm and also a little bit of an unknown. We're just getting better and more athletic."
Guerrier, 34, posted a 2-3 record with a 4.80 ERA in 34 games for the Dodgers this season, and in three seasons with the club, the right-hander was 6-8 with one save and a 4.24 ERA in 120 appearances.
The 34-year-old was in the final year of a three-year, $12 million contract. It's unlikely that he will be claimed on waivers with $1.8 million remaining on his deal. Guerrier was notified of the move after he arrived at the clubhouse Sunday morning and stormed out without speaking to reporters.
"He left a lot of balls up in the zone," Mattingly said. "He didn't seem to be able to locate and get the ball to where he wanted to on the plate. When you're not a power guy you have to be able to locate and be able to change speed. He just didn't locate as well as when he first came over."
June, 20, 2013
6/20/13
10:25
PM PT
As entertaining as their phenom right fielder has been these past few weeks, the
Los Angeles Dodgers
don't want to turn the rest of their season into
Yasiel Puig
's Wild West Show. But aside from a team scrambling to get out of last place, is there much else worth watching?
Puig hit another one of those big opposite-field home runs on the first pitch he saw Thursday, but this time the Dodgers couldn't ride it to a win, losing 6-3 to the
San Diego Padres
at Petco Park.
The Dodgers showed a little late fight, getting the tying run to the plate in the ninth against
Huston Street
, but
Skip Schumaker
hit into a deflating double play and Puig struck out for the final out.
The Dodgers have issues at the back of their bullpen, but the middle is even softer.
Matt Guerrier
used to be a reliable, durable setup man, but he's not that guy anymore after last year's major elbow injury. Guerrier came into a 2-all game to start the seventh inning and gave up a double and triple to the Padres' Nos. 7 and 8 hitters,
Yasmani Grandal
and
Pedro Ciriaco
.
Ciriaco, the Padres' backup shortstop, later put it away with a two-run shot off
Peter Moylan
.
The loss would have been uglier, but
Adrian Gonzalez
made a brilliant defensive play, shoveling the ball with his glove to
A.J. Ellis
to get Ciriaco at the plate on a bunt down the first-base line. But the Padres added a two-out run on
Chase Headley
's single to center against
Paco Rodriguez
.
Even as Puig continues his historically torrid start, you have to wonder what pitchers are thinking in the way they approach him. His home run off
Jason Marquis
in the first inning was high and out over the plate. Four of Puig's six home runs have been to the opposite field.
Why do they continue to throw him anything near the plate on the first pitch? According to ESPN Stats & Info, he's batting .857 on the first pitch of his at-bats this season.
Marquis later toyed with Puig, striking him out twice, including on a curveball in the dirt. Give Puig some credit for accountability. He didn't take it out on the bat. Puig gave his bat a tender kiss on the way back to the dugout after his fifth-inning strikeout.
One statistical trend came to a crashing halt. Entering Thursday, the Dodgers had been 4-0 in games in which Puig had homered.
Puig has gotten most of the coverage, but no Dodger has been a tougher out lately than
Hanley Ramirez
. He followed up a 6-for-8 doubleheader in New York by picking up two more hits. Ramirez, the cleanup hitter at least until
Matt Kemp
returns, is batting .381, although he has spent the vast majority of the season on the disabled list because of wrist and hamstring issues.
April, 27, 2013
4/27/13
9:30
PM PT
LOS ANGELES -- The
Los Angeles Dodgers
got a nice pick-me-up for a depleted rotation when Matt Magill pitched into the seventh inning in his major league debut Saturday night.
But the feel-good story had an unhappy ending: Reliever
Matt Guerrier
allowed a pair of home runs in a 6-4 loss to the
Milwaukee Brewers
.
Magill had arrived at the Dodger Stadium clubhouse for the first time in his 23 years at about 3 p.m., having traveled the day before from Round Rock, Texas, where the Dodgers' Triple-A affiliate was playing.
Magill was an emergency replacement for pitcher
Stephen Fife
, who was scratched from Saturday's start and put on the 15-day disabled list with shoulder bursitis.
Magill got into a jam in the third inning -- his own wide throw to second fueling a two-run Brewers' inning -- but he was otherwise in command, striking out seven batters while allowing just four hits. The outing could be a one-and-done situation for Magill, as the Dodgers won't need a fifth starter again, due to days off, before veteran
Chris Capuano
is ready to come off the DL.
Still, it will give the Dodgers some added confidence in their pitching depth. They have used nine starters in 23 games due to a long string of injuries.
Guerrier hung a breaking ball to
Carlos Gomez
and
Martin Maldonado
hit a fastball. Both two-run home runs traveled deep into the night, clearing the left-field fence.
Manager Don Mattingly had pulled Magill with two outs and nobody on in the seventh inning in favor of lefty
Paco Rodriguez
, who allowed an infield hit to
Norichika Aoki
. Three Guerrier pitches later and the Dodgers were trailing.
The Dodgers brought the winning run to the plate, and got the tying run to second, in the ninth after a walk and a
Yuniesky Betancourt
error. But shortstop
Alex Gonzalez
made a spinning, off-balance throw to get
A.J. Ellis
for the final out.
January, 11, 2013
1/11/13
1:40
PM PT
A month before pitchers and catchers report, probably the biggest questions to sort out at Dodgers spring camp, roughly in this order, are: Matt Kemp's health, Carl Crawford's health, Clayton Kershaw's health, Chad Billingsley's health, Ted Lilly's health, Scott Elbert's health, Matt Guerrier's health and Jerry Hairston Jr.'s health. Have we missed anybody?

Trainer Sue Falsone might have more interesting media sessions than manager Don Mattingly.

The Dodgers have practically -- exactly? -- nothing to sort out this spring, presuming all -- or even most -- of the above-mentioned players get well by Opening Day. Yeah, they'll probably trade a starting pitcher, maybe two. They may land a veteran backup catcher.

There are always performance questions. Can Adrian Gonzalez regain his power? Can Hanley Ramirez play adequate shortstop? But those questions typically aren't answered until April or May, at the earliest. Players who win the Cactus League batting title rarely win the National League batting title.

The point is, few players will be feeling much anxiety about making the team. You typically see spring competition for back-end rotation spots, bullpen spots and reserve infielders and outfielder spots. The Dodgers might not have anything to settle in any of those areas.

They have six veteran relievers in Brandon League, Kenley Jansen, Ronald Belisario, J.P. Howell, Elbert and Guerrier. In the unlikely event they carry seven relievers, there's a good shot they'll need one spot to stash Lilly or one of the other starters. They have four bench players who are practically locks to be with the team on Opening Day: Hairston, Nick Punto, Skip Schumaker and Tim Federowicz.

Add their nine starting position players and five starting pitchers and you've got 25 players. The rules won't let you keep any more, at least until Sept. 1. That could make the spring training news wire one injury update after the next. You'd rather have it that way than how things were at this time last year, with vacancies in the rotation, the outfield and the corners of the infield.

No wonder general manager Ned Colletti told reporters in Arizona this week that, if his team gets to Glendale, Ariz., with exactly this roster, "we're in a good spot." Apparently, spending $226 million on players buys you a certain degree of certainty.
April, 12, 2012
4/12/12
10:05
PM PT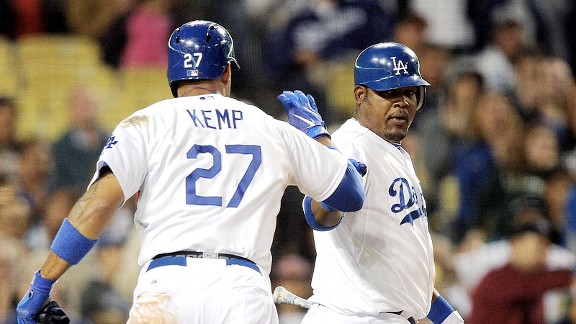 Harry How/Getty ImagesMatt Kemp rounds the bases as he scores one of the Dodgers' three first-inning runs Thursday.
LOS ANGELES -- The Los Angeles Dodgers scored three runs in the first inning, then held on for a 3-2 victory over the Pittsburgh Pirates before 28,328 on Thursday night at Dodger Stadium, giving them a three-game sweep of the Pirates and their first 6-1 start to a season since 1981, a year that ended with a World Series title.
The Dodgers' bullpen came up huge after starter
Chris Capuano
was lifted with one out in the sixth,
Mike MacDougal
,
Scott Elbert
,
Josh Lindblom
,
Matt Guerrier
and
Javy Guerra
combining to blank the Pirates on two hits over the final 3 2/3. Guerra picked up his fifth save with a perfect ninth inning.
The Good


Goose egg cracked.
James Loney
won't go the whole season without a hit. That became official with two outs in the bottom of the first inning, when the slumping first baseman broke out of his 0-for-16 skid with a hard, opposite-field single through the left side, bringing home
Matt Kemp
from second to give the Dodgers a 2-0 lead. Alas, Loney went hitless the rest of the night and now is 1-for-20, an average of .050.
Getting it done.
Elbert, the lone lefty in the Dodgers' bullpen and a guy who struggled with his command in his first two appearances, came on to face left-handed pinch hitter
Garrett Jones
with the bases loaded, two outs and the Dodgers nursing a one-run lead in the sixth. The Pirates countered with righty-hitting
Matt Hague
, but Elbert needed just two pitches to get Hague to fly out to center and end the threat. Elbert had allowed two of his three previous inherited runners this season to score.
Well-timed cutdown.
For the first time this season, a Dodgers catcher threw out a runner attempting to steal, and it came at a critical point in the game. With Pirates speedster
Andrew McCutchen
trying to get into scoring position with two outs in the seventh, Dodgers catcher
A.J. Ellis
fired a bullet to second baseman
Mark Ellis
to nail McCutchen and end the inning, preserving the one-run lead. A.J. Ellis has now cut down one of two runners who have tried to steal on him this season.
The Bad
Too much air.
Dee Gordon
, whose game relies heavily on speed and thus relies heavily on hitting the ball on the ground, made fly ball outs in each of his first three plate appearances, including with two on and two out in the fourth immediately after Capuano worked Pirates starter
Jeff Karstens
for a walk. Gordon, who is hitting a disappointing .200 with an even-more-disappointing .273 on-base percentage, has to be able to take advantage of his speed at the top of the order, but he has no chance of doing that when he hits high, catchable fly balls.
Running on empty.
For the second start in a row, lefty Capuano was dominating through the early innings, then ran out of gas well before he reached 100 pitches. This time, he began to run into trouble in the fifth, when he gave up a solo homer to
Michael McKenry
and then hit a batter. Once he gave up back-to-back hits to start the sixth and a sac fly that shaved the Dodgers' lead to one run, manager
Don Mattingly
had seen enough. Capuano was gone after 81 pitches, five fewer than he threw in 4 2/3 innings Saturday night in San Diego. On a positive note, Capuano's ERA went from a ghastly 7.71 to a just-sort-of-not-very-good 5.40.
No-shows (again).
For the second night in a row, the Dodgers played in front of a bunch of empty seats, with an official attendance of 28,328. Total paid attendance for the past two nights has been 58,057. Total paid attendance for Tuesday's home opener was 56,000.
April, 5, 2012
4/05/12
7:19
PM PT


SAN DIEGO -- Despite losing Clayton Kershaw to a stomach flu after the reigning National League Cy Young Award winner gamely battled through three shutout innings, the Los Angeles Dodgers bullpen was just good enough hold the San Diego Padres at bay in a 5-3, season-opening victory for the Dodgers before a sellout crowd of 42,941 at Petco Park.

The Dodgers went ahead to stay on a pair of bases-loaded walks in the fourth inning by James Loney and A.J. Ellis, then put the game to bed on Matt Kemp's two-run homer in the top of the eighth. Javy Guerra, who as a rookie saved 21 games for the Dodgers last season, notched his first one of 2012 by pitching the ninth inning.

Kershaw's early departure forced the Dodgers to go deep into their bullpen in their first game of the season, as he was followed by a parade of five relievers. But manager Don Mattingly didn't call on long reliever Jamey Wright, meaning the Dodgers probably are OK for Friday night's game without calling up additional bullpen help from the minors.

The good

Beast mode. Any concerns about Kemp's high strikeout rate in spring training quickly dissipated as the Dodgers center fielder went 2-for-4 with two runs scored, three RBIs and his first home run of the season, a two-run shot off Padres reliever Brad Brach in the eighth inning that landed atop the out-of-town scoreboard in right-center.

Glove Swag. Dee Gordon might have been robbed of his first triple of the year by a tough official scorer, who ruled three-base error on a ball that ticked off the glove of Padres center fielder Cameron Maybin. But nothing could take away the defensive play Gordon made to end the fourth inning, a diving stop behind the bag and on the edge of the outfield grass. Gordon got to his feet quickly and fired a bullet to first, taking what would have been a clean single to center away from Yonder Alonso.


March, 13, 2012
3/13/12
11:00
AM PT
GLENDALE, Ariz. -- After staying relatively injury-free all spring, the Los Angeles Dodgers were bitten twice this week, with both first baseman James Loney and reliever Matt Guerrier suffering minor ailments that are expected to sideline them only on a short-term basis.

Loney felt tightness in both of his calves, which manager Don Mattingly said Loney initially attributed to a new pair of shoes he was wearing.

"He felt some soreness and didn't think it was anything,'' Mattingly said. "But then he felt it a little more, so we'll hold him out and try to see what it looks like (Wednesday). I don't expect it to be more than a day or two.''

Guerrier, meanwhile, felt something in his back while doing plyometric drills at Camelback Ranch on Monday.

"I'm not sure how long it's going to be, but this will definitely take him out of things for a few days,'' Mattingly said. "We're really looking at it as a short-term thing, but we want to make sure it doesn't turn into something else.''

Both Loney and Guerrier figure to be key players for the Dodgers this season. Loney, the team's primary first baseman, is 3-for-11 with three walks in five Cactus League games this spring. Guerrier, a veteran middle reliever, has walked four of the nine batters he has faced in two appearances this spring but hasn't given up a run and has been somewhat satisfied with his stuff and his mechanics.
March, 11, 2012
3/11/12
4:22
PM PT


GLENDALE, Ariz. -- It might not look so good to the untrained eye, or in the box score, but by all accounts -- his own and his manager's -- Dodgers reliever Matt Guerrier is having a solid spring. After two Cactus League appearances, the second of which was a rather crazy fourth inning of a 5-0 victory over the Chicago Cubs before 10,380 on Sunday at Camelback Ranch, Guerrier has faced nine batters and walked five of them.

This after Guerrier walked 3.4 batters per nine innings last season, his first with the Dodgers after signing a three-year, $12 million free-agent contract. It was his highest walks-per-nine figure in three years and the second highest of his career.

Not to worry.

"My stuff was pretty good,'' Guerrier said. "I just need to get it to where it's in the zone. I made some pitches, and I felt good.''

Upon entering the game, Guerrier walked the first three batters he faced, although he managed to pick Blake DeWitt off second before issuing the third one. He then struck out Wellington Castillo and got Anthony Rizzo to pop up, completing a scoreless inning.

"That is just part of being here right now,'' Dodgers manager Don Mattingly said of the walks. "I think he is throwing quality pitches. Last year, he was up (in the zone) and side to side. Now, if you look at those walks, it was always right here'' -- Mattingly pointed at his right knee -- "and on those, we're going to get swings and we're going to get strikes. Those are all ground balls for me.''

Guerrier admits he was trying too hard at times last season to make a good impression on a new organization, a new coaching staff and new teammates.

"I'm much more comfortable now,'' he said. "I am 100 percent sure of everybody's name now. It's definitely good to have that first year out of the way.'' ...


March, 11, 2012
3/11/12
3:14
PM PT
GLENDALE, Ariz. -- Let it never be said Matt Kemp can't take a joke. But that doesn't mean a jokester who stages an elaborate prank on the Dodgers' All-Star center fielder shouldn't expect payback.

At some point while reliever Matt Guerrier was in uniform for Sunday's Cactus League game against the Chicago Cubs -- he pitched the fourth inning -- Kemp and catcher A.J. Ellis went to the Camelback Ranch players' parking lot and filled the cabin of Guerrier's SUV with Styrofoam packing peanuts.

Through hard-nosed and relentless reporting, I learned this was in response to a prank pulled by several of the team's relief pitchers but led by Guerrier, which is why he was selected as the target of the revenge. According to a source I spoke to, whose identity I will take to my grave, the whole thing started when Kemp did a magazine photo shoot, in which several of the poses were in his underwear.

So Guerrier apparently enlisted a few of his bullpen mates -- including Todd Coffey -- and, with the help of longtime team photographer Jon SooHoo, they did their own spread, also mostly in underwear. They then put Kemp's photos on a poster next to theirs, and hung the whole thing in a prominent place in the clubhouse.

It's all good fun until somebody loses an eye.
March, 8, 2012
3/08/12
5:22
PM PT


Eight years ago, before hip surgery wiped out almost his entire 2010 season, before he spent the 2011 season with the Yomiuri Giants and before he accepted a minor league contract from the Dodgers this winter that didn't include the ever-popular escape clause at the end of spring training if he doesn't make the team, Josh Fields was a first-round draft pick of the Chicago White Sox after starring for three seasons at Oklahoma State University in his hometown of Stillwater.

It's tempting to apply the word "bust'' to a guy who traveled such a path, especially one with a .234 career batting average in parts of five big league seasons. But based on whatever judgments you can make through three Cactus League games, Fields hasn't looked the part of a wasted draft pick.

After driving a hard single up the middle off Pedro Figueroa in his only at-bat Thursday at Camelback Ranch, Fields was 4 for 5 with two doubles so far this spring. Even if he keeps it up, it isn't likely to earn him a spot on the big league club to begin the season -- there doesn't appear to be room for another corner infielder, and the 40-man roster is full anyway. But he could be a good guy to have in the organization, ready to come to the majors at a moment's notice if somebody gets hurt.

This is, after all, a player who hit 23 home runs in 100 games for the White Sox in 2007. And the Dodgers don't exactly have a power-studded lineup.

And Fields is, by all indications, all in, despite the fact he knows he probably is headed to Triple-A Albuquerque for at least the start of the season.

"I'm a Dodger,'' he said. "I had an offer to go back to Japan, but I chose not to. My focus is here. This is where I want to be. I just want to stay healthy and show them what I can do. But I know I'm going to have to hit my way back to the big leagues.''

Fields at least is in comfortable surroundings. He spent his last big league season of 2010 with the Kansas City Royals, whose manager at the time, Trey Hillman, is now the Dodgers' bench coach and remains a strong supporter of Fields.

Even if it's too early to make definitive judgments, it isn't too early to make observations and take mental notes. And Dodgers manager Don Mattingly already has taken a couple regarding Fields.


February, 21, 2012
2/21/12
1:34
PM PT
We knew before today that Blake Hawksworth had surgery on Jan. 12 to remove scar tissue and a bone spur from his right elbow. What we didn't know, until we met with manager Don Mattingly this morning, was that Hawksworth had a second procedure about 10 days later to clear up an infection resulting from the first procedure. This has put him about two weeks behind schedule, meaning that when he is ready to begin throwing, he won't have enough time to get ready for the season.

That means he will begin the season on the 15-day disabled list, which in turn means that a bullpen that didn't appear to have an opening now has one -- although it likely would be a temporary opening, because Hawksworth is out of minor league options and thus virtually guaranteed a spot when he is ready to go.


February, 21, 2012
2/21/12
1:13
PM PT
With Jonathan Broxton and Hong-Chih Kuo basically forgotten now, free agency having taken them to Kansas City and Seattle respectively, Dodgers manager Don Mattingly said today that he plans on opening the season with the same back-end bullpen alignment he used most of the second half of last year. That means Matt Guerrier in the seventh, Kenley Jansen (he of the 16.1 strikeouts per nine innings last year) in the eighth and Javy Guerra in the ninth (he of the 21 saves in 23 chances).

Jansen said he would like to be a closer one day, but that he isn't worried about it right now. Guerra said he's just trying to make the team. Pretty much what you would expect a couple of young pitchers to say on the first day of spring training, and they naturally added that whatever they did last year is now irrelevant.