Dodgers Report:

Matt Harvey
May, 13, 2014
5/13/14
6:22
PM PT
LOS ANGELES -- As
Chad Billingsley
works his way back from Tommy John surgery, he has started to ponder why so many fellow pitchers have joined the club he never wanted to be part of.
[+] Enlarge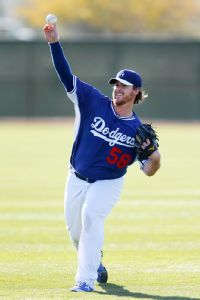 AP Photo/Paul SancyaIf all continues to go as expected, Chad Billingsley could be back with the Dodgers sometime next month.
The
Miami Marlins
'
Jose Fernandez
is the latest bright, young pitcher who might be headed for the season-ending surgery pioneered by longtime Dodgers team physician Frank Jobe. Billingsley had his surgery 13 months ago and threw his second bullpen session before Tuesday night's game, mixing fastballs and changeups. He had to restart his throwing program after experiencing pain in his elbow two weeks ago.
An unprecedented number of pitchers have been diagnosed with torn elbow ligaments requiring Tommy John surgery since the start of spring training. They include Braves right-handers
Kris Medlen
,
Brandon Beachy
and
Cory Gearrin
; Diamondbacks ace
Patrick Corbin
; Athletics starters
Jarrod Parker
and
A.J. Griffin
; Rays All-Star
Matt Moore
; Yankees starter
Ivan Nova
; Padres starter
Josh Johnson
; Mets closer
Bobby Parnell
; Royals setup man
Luke Hochevar
; Tigers reliever
Bruce Rondon
; and top Pirates prospect Jameson Taillon.
Matt Harvey
and
Stephen Strasburg
are other All-Stars who have had the ligament-transplant operation, which can take 12 to 18 months for recovery.
"What we do is not natural," Billingsley said. "No one knows the answer. Guys' arms go out. What's Jose, 22? I was 28. You get it at a young age, in old age. Every guy's mechanics are different in such a way, it'd be so hard to pinpoint one, two, three things. You see guys where you're like, 'How does he do it without hurting his shoulder or elbow?' and they do it for years. There are guys who look like they have great mechanics and they can't stay healthy. It's just an unnatural motion."
Billingsley joked that the only solution might be to start throwing underhand.
"Hey, softball players can throw 12 innings in back-to-back days," he said.
Billingsley was diagnosed with tendinitis and received an injection of platelet-rich plasma and has now thrown two bullpen sessions. Assuming he feels good after he mixes in breaking balls, he figures to begin a rehab assignment and could be back sometime in June.
August, 19, 2013
8/19/13
9:53
AM PT
The funny thing about Wednesday's thrilling comeback -- in which
Andre Ethier
tied it in the ninth with a pinch-hit, two-run home run and
Yasiel Puig
and
Adrian Gonzalez
won it in the 12th with a couple of doubles -- is how far-from-extraordinary it felt.
You can tell that the Dodgers now expect to win every game, no matter how improbable the circumstances. When the stadium is nearly full that late in a game, you know the fans have caught on.
And beating
Matt Harvey
and
Cliff Lee
in one week qualifies as improbable all by itself.
But there was a twist this week. The Dodgers stayed hot, winning five of the six games they played, but they didn't gain any ground. The
Arizona Diamondbacks
showed some signs of trying to make this thing a race after all.
SCORING
Hanley Ramirez
was just easing his way back into competition after missing more than a week with a jammed shoulder, Puig (.200, .472 OPS) had a rough week and Gonzalez and
Carl Crawford
had one extra-base between them.
So, what happens? Which unlikely hero will emerge to somehow take up the slack. The names change, but the story seems to stay the same.
This time, it was
Juan Uribe
, who batted .500 and had a 1.352 OPS for the week. Ethier, of course, did more than his share just with that strange home run (pinch-hit home runs are rare and he never goes to the opposite field).
Oh yeah, and
Nick Punto
, had some nice moments early, though his playing time figures to shrink dramatically with Ramirez back and manager Don Mattingly likely to ride his everyday players for most of the pennant race.
Grade: B-
DEFENSE
The heart of this team became apparent in the past week if it wasn't before. It's about pitching, particularly the Dodgers' top three starters and their suddenly dominant bullpen.
Clayton Kershaw
,
Zack Greinke
and
Hyun-Jin Ryu
pitched 22 innings between them and allowed just 11 hits and one run.
At times, the Dodgers are surviving -- rather than thriving with -- the back of the rotation, with
Chris Capuano
a bit wobbly -- but
Ricky Nolasco
has generally held his own.
The dominance of the Dodgers' big three has eased the load on the bullpen, which is a key development, but when the relievers pitch, they continue to get the job done. L.A. relievers pitched 16 innings and only allowed one run.
Even reclamation project
Carlos Marmol
(two scoreless innings) and youngster
Chris Withrow
(ditto) have chipped in, which could make the activation of veteran
Brian Wilson
a somewhat difficult roster move.
Grade: A
DECISION-MAKING
Earlier this season, there seemed to be at least a tiny bit of friction pitting manager Don Mattingly and Hanley Ramirez on one side and the team's medical staff on the other. In Pittsburgh, Mattingly put his foot down and decided Ramirez was just going to play every day though the trainers recommended he spot him a day off here and there. After all, the shortstop had been begging to get back on the field for a few days.
The Dodgers' lineup flows better when Ramirez is batting cleanup and Puig is in the No. 2 hole, with rare left-right balance that can make it challenging to manage against the Dodgers.
It was otherwise a quiet week for Mattingly, who -- when everyone's healthy -- can just sit back and watch the engine purr. There will be some challenges in the next couple of weeks with Wilson coming back and
Matt Kemp
not too far behind.
At long last, we may get to see how the Dodgers manage the four-outfielder conundrum.
Grade: A-
CHEMISTRY QUIZ
We've decided to retire the "Grit-Meter." It just doesn't seem as relevant now that the Dodgers' talent has fully blossomed. They'll need to summon it when they get tested -- and it's hard to believe they won't between now and the playoffs -- but right now it doesn't seem like a central theme.
If you ask most players about teams that function well, they'll tell you they have fun together in the clubhouse. When it's quiet and uptight before games, it seems to carry over into the games.
The Dodgers are having fun, with Uribe and Punto, for some reason, the most frequent target of pranks and punch lines.
Brandon Belt
was right, of course. You can't buy team chemistry. But if you wait long enough, sometimes it falls in your lap free of charge.
Grade: A-
STATE OF CONTENTION
At this point, any week that goes by without the Dodgers losing ground is a huge gain. It's the Diamondbacks who need to force the action, but that's hard to do when the team ahead of you loses only one game.
The troubling part for Arizona is that 10 of the Dodgers' next 13 games are against the
Miami Marlins
,
Chicago Cubs
and
San Diego Padres
. Arizona has to get through four games with the better-than-solid
Cincinnati Reds
this week before they hit divisional play.
Of course, there are other races for lesser prizes. The Dodgers trail the
Atlanta Braves
by 3 1/2 games for home-field advantage throughout the NL playoffs. Atlanta's not showing any signs of giving it up, but if the Dodgers keep playing like this, they might just track them down anyway.
Grade: A-
August, 13, 2013
8/13/13
11:02
PM PT
LOS ANGELES -- Somebody asked
Los Angeles Dodgers
manager Don Mattingly after Tuesday night's 4-2 win over the
New York Mets
how tough it will be to take
Nick Punto
out of his lineup Wednesday.
"It's pretty easy, honestly," Mattingly said.
[+] Enlarge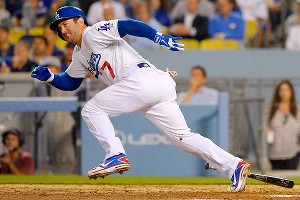 AP Photo/Mark J. TerrillNick Punto continued his torrid stretch filling in for injured Hanley Ramirez. On Tuesday, his two-run single was key in the Dodgers' seventh straight win.
Punto might be batting .458 in his last nine games -- including his big two-run double off
Matt Harvey
on Tuesday -- but he was just keeping the spot warm for
Hanley Ramirez
, who might have been the most dangerous hitter alive for about a month before he jammed his shoulder chasing a foul popup.
Those words, spoken about a different player, at a different time, could have furrowed some brows, maybe even stirred a bit of tension between the manager and a player. Punto's not that guy, and this is not that moment.
And Punto's used to the grief. A few days ago, he had to hear about teammate
Skip Schumaker
comparing him to actor Danny DeVito because of his squat build. Then, the Dodgers took it to another level when they arranged for an on-field meeting between DeVito and Punto before Monday's game.
After Punto's home run, the video board showed DeVito, who turned around and pointed to his No. 7 Punto jersey.
Punto and fellow veteran
Juan Uribe
seem to come in for the most grief around these guys. The Dodgers have been letting Uribe have it ever since
Evan Longoria
got him with the hidden-ball trick Saturday. Somebody with the Dodgers talked the kid who ran onto the field with Uribe before Tuesday's game into tagging him with his autographed ball.
"There are a lot of characters in this clubhouse," Punto said. "There's a lot of ribbing that goes on, all day long."
If the Dodgers were still losing the way they were back in April, May and June, "characters" might not have been the first word on the tip of everybody's tongues. Goofballs? Screw-ups? It's a lot easier to get away with all this slapstick stuff when you play .830 baseball for nearly two months.
No Dodgers team has ever stayed on a roll quite this long. The last team in baseball to be this hot for as long as 47 games was the 1951 New York Giants. Those Giants probably had a good time, too, even without the joys of Twitter.
August, 13, 2013
8/13/13
9:55
PM PT
LOS ANGELES -- The
Los Angeles Dodgers
are on one of those rolls in which nothing -- not even simple logic -- can slow them down.
With an injury-riddled lineup playing against one of the most intimidating pitchers in baseball, the Dodgers beat the
New York Mets
4-2 Tuesday night for their seventh straight win.
The numbers are becoming staggering. The Dodgers are undefeated in their past 16 series. They have won 39 of their past 47 games. They're the first team since the 1951 New York Giants to win at such a high percentage over a 47-game stretch.
And the
how
is becoming as interesting as the
what
.
There aren't many mismatches more glaring than
Matt Harvey
versus
Nick Punto
, the National League's second-most dominant starting pitcher against the 5-foot-9 career utility guy, who turns 36 in November.
The way the Dodgers are going, they win the unfavorable matchups as frequently as they win those in their favor.
The Dodgers weren't making much headway against Harvey, but he also wasn't dominating them by the time Punto came up with runners on in the fifth inning. Aside from the first inning, they were hitting balls hard, just to the wrong places. Harvey got double plays to escape trouble in the second, third and fourth innings.
The Dodgers finally made something stick in that fifth, after
A.J. Ellis
walked and
Juan Uribe
singled. Punto slapped a ball into the left-field corner, scoring Ellis easily and, after
Eric Young
Jr. had to retrieve it deep in the corner, Uribe lumbered home.
Punto has been filling in for slugging shortstop
Hanley Ramirez
(and batting .450 in his stead) for the past nine games, over which the Dodgers have gone 8-1. They also played Tuesday without
Andre Ethier
, who met with a doctor about his tight left calf.
Ellis, who ranks second on the Dodgers with 42 RBIs, later singled up the middle to drive in two more runs against Harvey.
It wouldn't have mattered if
Hyun-Jin Ryu
hadn't pitched as well as he did. Things started off slowly.
Juan Lagares
homered and
Daniel Murphy
lined a single to left. But Ryu got rolling after that. His only real challenge was a two-on, one-out jam in the fourth, but he got
Justin Turner
to pop up and
John Buck
to ground out to end it.
August, 13, 2013
8/13/13
5:41
PM PT
LOS ANGELES –
Andre Ethier
was scratched from Tuesday's lineup and sent to White Memorial Hospital for further tests on a tight left calf that has been bothering him since he was struck by a pitch 10 days ago in Chicago.
Ethier has struggled since the Chicago series, batting .241 in eight games. He was replaced in center field by
Skip Schumaker
.
"We wanted the doctor to look at it because whatever it is, it's been a while and, all of the sudden, it got worse," Dodgers manager Don Mattingly said.
The Dodgers got good news on shortstop
Hanley Ramirez
, who was available to pinch hit Tuesday and is expected to be in the lineup Wednesday, Mattingly said. Ramirez jammed his right shoulder going into the stands to make a catch on Aug. 4, also in Chicago.
Ramirez is batting .359 with a 1.050 OPS and 11 home runs, but the Dodgers have won seven of the eight games he has missed. Ramirez said Monday he was concerned the shoulder could bother him the rest of this season when he throws, but Mattingly said Dodgers trainers gave him a clean bill of health Tuesday.
"He has no issues at this point," Mattingly said. "Today's the day he's ready."
Here are lineups for Tuesday's game vs.
New York Mets
ace
Matt Harvey
:
New York
1.
Eric Young
LF
2.
Juan Lagares
CF
3.
Daniel Murphy
2B
4.
Marlon Byrd
RF
5.
Josh Satin
1B
6.
Justin Turner
3B
7.
John Buck
C
8.
Omar Quintanilla
SS
9.
Matt Harvey
RHP
Dodgers
1.
Carl Crawford
LF
2.
Mark Ellis
2B
3.
Adrian Gonzalez
1B
4.
Yasiel Puig
RF
5.
Skip Schumaker
CF
6.
A.J. Ellis
C
7.
Juan Uribe
3B
8.
Nick Punto
SS
9.
Hyun-Jin Ryu
LHP
August, 12, 2013
8/12/13
6:02
PM PT
LOS ANGELES --
Clayton Kershaw
has to be considered the front-runner for the National League Cy Young Award. When you sort through the numbers, it's not really that close.
Kershaw leads the National League in ERA (1.88), innings pitched and WAR. He is second only to
Matt Harvey
in WHIP (0.86 to 0.87) and strikeouts (178 to 174). Harvey pitches here Tuesday night for the
New York Mets
.
PODCAST
Dodgers ace Clayton Kershaw talks to Max & Marcellus about the love and confidence the team has in Don Mattingly, the race for the Cy Young and the improvements on the field.

Listen

The only category he's not dominating is wins. Kershaw has 11, ranking seventh in the NL. Of course, that is primarily a statement of paltry run support. In Kershaw's career, he is 49-0 when the Dodgers score him four runs or more.
Kershaw said the number he pays closest attention to is innings pitched, because it's an indication of how long a pitcher is keeping his team in a game.
"Win-loss record is so tough. I remember in 2011, I won 21 games and I felt like every time I went out there I had two or three runs early and it was just my year," Kershaw said in an
interview with Max and Marcellus
on 710 ESPNLA Monday. "Other times, you've got to battle for wins and that's just the way baseball goes. It's a team sport."
Do wins matter? Should they even be factored into discussions of the best pitcher in baseball?
Dodgers manager Don Mattingly thinks they have a role in the discussion, because pitchers who work deep into games tend to accumulate more decisions, wins and losses. Of course, that logic doesn't argue against Kershaw's cause.
* Mattingly said that shortstop
Hanley Ramirez
(jammed right shoulder) could return to the lineup as soon as Wednesday.
Matt Kemp
tested his sprained left ankle by running short sprints on the field. Kemp remains 10 days to two weeks away from returning.
"He needs to be a little more explosive and he's got to get to the point he's stopping and turning," Mattingly said. "It's going to be a little bit of time."
Here are lineups for Monday night's game:
New York
1.
Eric Young
LF
2.
Juan Lagares
CF
3.
Daniel Murphy
2B
4.
Marlon Byrd
RF
5.
Ike Davis
1B
6.
Wilmer Flores
3B
7.
John Buck
C
8.
Omar Quintanilla
SS
9.
Jenrry Mejia
RHP
Dodgers
1.
Carl Crawford
LF
2.
Mark Ellis
2B
3.
Adrian Gonzalez
1B
4.
Yasiel Puig
RF
5.
Andre Ethier
CF
6.
A.J. Ellis
C
7.
Juan Uribe
3B
8.
Nick Punto
SS
9.
Ricky Nolasco
RHP
April, 24, 2013
4/24/13
8:09
PM PT
The Dodgers looked as if they were figuring out creative ways to win, but a late-game meltdown cost them their second three-game winning streak of the season Wednesday night at Citi Field.
Matt Kemp
hit his first home run of 2013 -- an opposite-field wall scraper -- and
Mark Ellis
and
Jerry Hairston Jr
. made clutch defensive plays late in the game, but the New York Mets'
David Wright
singled off Dodgers closer
Brandon League
with two outs to drive in the tying run in the ninth.
In the 10th,
Jordany Valdespin
needed only a fly ball (against a two-man outfield), but he instead ended the game with a grand slam off
Josh Wall
and the Mets escaped with a 7-3 win.
Pitcher
Clayton Kershaw
, one of the team's best bunters, had pinch-hit in the 10th inning and successfully advanced catcher
A.J. Ellis
, but
Carl Crawford
struck out and
Skip Schumaker
ended the inning with a groundout.
Ted Lilly
, making his first start since last May, pitched five strong innings and the Dodgers had good enough at-bats against Mets phenom
Matt Harvey
to drive the hard-throwing right-hander out of the game after six innings. Harvey was bidding to become the 14th pitcher in the live-ball era to go at least seven innings and give up four or fewer hits in five straight starts.
Kemp's home run narrowly cleared the right-field wall and was originally ruled a triple after a security guard interfered with the ball just above the fence line and it bounced back into play. Umpires looked at the replay and awarded Kemp his first home run after beginning the season with 81 homerless plate appearances.
April, 23, 2013
4/23/13
11:17
AM PT
It would have been fun to see
Clayton Kershaw
and
Matt Harvey
pitch in the same game. In fact, it might have made for a perfect compare/contrast of the three best starters in the National League, since Harvey's last start -- a win -- came against
Stephen Strasburg
of the
Washington Nationals
.
You could pretty much take your pick of any of those three guys and build your franchise around him for the next 10 years.
The
New York Mets
have to contend with Kershaw on Tuesday night. The Dodgers have to deal with Matt Harvey on Wednesday night. Who has the tougher task? Probably anyone unlucky enough to be holding a bat.
I asked my friend Adam Rubin, who covers the Mets for ESPN New York, to give me a brief scouting report on Harvey:
Matt Harvey has taken his performance to another level after posting a 2.73 ERA in 10 starts last season, when he narrowly exceeded the innings-pitched limit and disqualified himself for NL Rookie of the Year consideration. Harvey has an explosive fastball that seems to take off as it approaches the plate. His average fastball velocity this season is 94.7 mph, trailing only Strasburg (95.6 mph) and Garrett Richards (94.9) in starts. Harvey typically leaves a little in reserve, and will flash a 98 mph fastball late in his outings when he needs a big out. Harvey also throws a slider, curveball and changeup.
His 102 strikeouts in his first 14 appearances are the third-most in Mets history, trailing only Dwight Gooden (107) and Nolan Ryan (103). ESPN's Curt Schilling recently said he would take Harvey over Strasburg. Harvey is considered a mentally tough bulldog.
"He wants to be the best that there is in the game," manager Terry Collins said about Harvey. "The last time I ever heard someone say that was [Barry] Bonds. So it was a pretty big statement, I thought. All he's done thus far is back it up."
I wonder if Kershaw might have a little something to say about that last statement. It's not as if Kershaw looks like a guy who's out there just to pick up paychecks and get in enough time to earn a pension.
In fact, Kershaw is just a year older than Harvey and, unlike the Mets phenom, he already has a Cy Young trophy lying around somewhere.
Mike Petriello did
a piece recently placing Kershaw in his proper historical context
and, suffice it to say, it's quite a context.
When Kershaw struck out San Diego first baseman Yonder Alonso with a letter-high fastball in the second inning Wednesday night, he became just the 16th pitcher in big league history to strike out 1,000 hitters before the end of his age-25 season. The list is a who's who of pitching royalty, including seven Hall of Famers -- Bert Blyleven, Don Drysdale, Bob Feller, Catfish Hunter, Walter Johnson, Christy Mathewson and Hal Newhouser -- one active pitcher well on his way (Felix Hernandez) and one derailed only by off-field issues (Dwight Gooden).
And there's this:
In the history of the game, dating to the 19th century, exactly four pitchers have thrown as many innings as Kershaw has (972 1/3) through their age-25 season and allowed fewer than seven hits per nine innings.
The other three guys on that list, including the "Big Train," Walter Johnson, all began their careers more than a century ago.
One would assume that Thursday's game will be the rubber match since the pitching matchups are so lopsided in the first two games. Then again, those kinds of locks often fall apart in baseball series. It's an unpredictable sport. Maybe the Mets'
Jonathon Niese
or the Dodgers'
Ted Lilly
will match zeroes with them or maybe Kershaw or Harvey will just have a bad night.
But, based on their résumés, it would be a bad bet to count on such a thing.