Dodgers Report:

Matt Treanor
September, 26, 2012
9/26/12
7:25
PM PT
It appears to be a little too little and a lot too late, but the
Los Angeles Dodgers
broke out of their hitting slump with an 8-2 road win over the
San Diego Padres
on Wednesday afternoon.
The Good:


Main man.
It's amazing how closely the Dodgers' fortunes seem to mirror those of
Matt Kemp
. At the very least, Wednesday was a reprieve from a brutal month for Kemp. Or perhaps it was more than that. Nobody else on this roster is capable of carrying the Dodgers like Kemp can, and maybe it was the start of a hot streak that can give this team at least a semblance of hope. Kemp drove in four runs and homered for just the third time this month. The only thing you wonder is whether he simply snapped out of it too late.
Hometown discount.
A bunch of the Dodgers had homecomings this week, including pitcher
Aaron Harang
, who grew up in San Diego and played for the Padres. If you're not named
Clayton Kershaw
(or maybe
Josh Beckett
), Don Mattingly probably isn't going to let you pitch very deep into a game these days. But Harang got the ball into the sixth inning and held the Padres to just four hits. His signing wasn't ballyhooed, but he has given the Dodgers a better-than-solid season even if his record doesn't suggest it.
Seized opportunity.
You wouldn't have expected the phrase "
Nick Punto
went 3-for-5" to apply to any games during a pennant race. For one thing, Punto has barely been playing -- unless the Dodgers need to get down a bunt late in the game -- and for another thing, he has had an awful season. It helps to get surprising contributions, and Punto's production Wednesday certainly falls into that category. Trying to spark some kind of action, Mattingly dropped him into the No. 2 spot in the order, and Punto rewarded the move by scoring four runs.
The Bad:
Nicks and cuts.
For a team playing in late September, the Dodgers don't have all that many players dealing with serious injuries. What they do have is a crowded trainers room, filled with players battling nagging injuries.
Mark Ellis
missed the game because he is ill.
Shane Victorino
has been dealing with a wrist issue and was a late scratch. Kemp has had knee and shoulder issues to go with hamstring problems from earlier this year. Kershaw has had the hip. They're playing, but you wonder how much of an issue it is.
Backup blues.
On Sept. 19, backup catcher
Matt Treanor
picked up two hits -- weak singles to right field -- in a rare start. That is the only game since July 26 during which Treanor has had even one hit. Does he not play because he doesn't hit, or does he not hit because he doesn't play? It's probably a little of both. But there's a reason
A.J. Ellis
was in an 0-for-30 slump earlier this month, and it probably involves fatigue. The Dodgers might need to upgrade at backup catcher next year.
Squandered chance.
Elian Herrera
does some things that could help the Dodgers. He runs well and plays multiple positions. But going 0-for-5 isn't going to earn you a lot of repeat playing time, and Wednesday qualifies as a missed chance for Herrera -- who got the start in place of Victorino in left field.
September, 19, 2012
9/19/12
8:17
PM PT
Matt Kemp
finally had his MVP moment.
The
Dodgers
blew a 6-0 lead in the eighth inning, but Kemp -- mired in the worst September slump of his career -- blasted a solo home run to dead center field leading off the ninth inning, and L.A. pulled off a desperation 7-6 win over the
Washington Nationals
in Game 2 of Wednesday's doubleheader in the nation's capital.
The Dodgers kept within two games of the
St. Louis Cardinals
for the last wild-card spot with 13 games left.
The Good:


Slump buster.
Entering Wednesday, Kemp was batting .122 with one home run and two RBIs in September. That's not exactly the production you're looking for from your most important hitter in your most important games. Kemp's home run came on a letters-high fastball on an 0-and-2 count, a good sign he's got his bat speed back. Given their newfound depth, the Dodgers don't really need Kemp to carry them anymore. But they need a lot more than they'd been getting.
Cruising (for a while).
Josh Beckett
was in the process of pitching his best game of 2012 when things got dicey in the eighth inning. Beckett had pitched seven shutout innings, but the Dodgers hardly had time to get a reliever up in the eighth as Beckett gave up a couple of bang-bang home runs, and suddenly, their lead was cut to 6-3. Despite the late flurry, it was a strong start for Beckett, who allowed five hits. Curiously, he struck out only two batters. But he took advantage of a big lead to keep the ball deep into the game. It was welcome news for a rotation suddenly depleted with injuries.
Some production.
The big four of Kemp,
Adrian Gonzalez
,
Hanley Ramirez
and
Andre Ethier
had six hits among them and finally drove the offense forward. The way the middle of this lineup had been going, that was a big improvement. Ramirez had a key broken-bat hit early, and all four guys did something to advance the Dodgers' cause, a break from a relentless slump for the team's best-paid hitters.
The Bad:
Big boot.
Earlier this season, Gonzalez jokingly referred to himself as a "defensive specialist." He had fielded his position brilliantly until Wednesday, when he booted a tricky two-hopper in that pivotal eighth inning, giving the Nationals an extra out they would make the most of. They scored three unearned runs -- the kind that can sink a team's season.
Specialist.
Don Mattingly is careful to put reliever
Randy Choate
in situations in which he can succeed. He rarely faces right-handed batters and often faces only one hitter in a game. When Mattingly does ask a little more of Choate, things rarely go well. Choate, acquired in the same trade that landed Ramirez, couldn't slow down the landslide Beckett started. Without recording an out, he allowed two hits and the Nationals suddenly had late life.
Spark lacking.
Shane Victorino
isn't exactly making himself a prime attraction in this fall's free-agent market. After going 1-for-7 on Wednesday, Victorino is batting .208 in September. His slump seemed to coincide with the big trade that included
Carl Crawford
, who figures to start in left field next year, leaving no room for Victorino. If this team could ever get its table setters going at the same time its power hitters produce, this slump could finally end.
August, 8, 2012
8/08/12
5:28
PM PT
LOS ANGELES -- Matt Treanor watched the women's beach volleyball final live from London on his laptop Wednesday afternoon in the trainers room of the Dodgers' clubhouse.

When he came out of the room, the first person he ran into was Matt Kemp.

"My eyes were still red from crying and Matt gives me a big hug and starts chanting, 'USA!, USA!,' " Treanor said.

Treanor's wife, Misty May-Treanor, teamed with Kerri Walsh Jennings to win her third Olympic gold medal, defeating another American team composed of April Ross and Jennifer Kessy.

Treanor said he was hoping his wife could join him in Miami, where the Dodgers begin a three-game series Friday. Because Treanor couldn't be with her in London, May-Treanor has been looking into the camera and giving a shout-out to Treanor and the Dodgers after every match. It has been a trying time for Treanor, keeping close tabs on his wife's progress from afar.

"I'm an emotional person," Treanor said. "I'm not afraid to cry or to snap a bat over my neck. I'm Irish-Italian. That doesn't help."

Treanor was starting at catcher Wednesday night. NBC is airing the beach volleyball match on tape delay in prime time.

"He wasn't playing until she won," manager Don Mattingly joked. "She had to play him into the lineup."

Here are the rest of the lineups:

Colorado
Eric Young Jr. LF
Josh Rutledge SS
Dexter Fowler CF
Wilin Rosario C
Tyler Colvin RF
Jordan Pacheco 3B
Matt McBride 1B
DJ LeMahieu 2B
Jeff Francis P

Dodgers
Shane Victorino LF
Mark Ellis 2B
Matt Kemp CF
Hanley Ramirez SS
Andre Ethier RF
Juan Rivera 1B
Jerry Hairston Jr. 3B
Treanor C
Chad Billingsley P
May, 5, 2012
5/05/12
5:41
PM PT
By
Christina Kahrl
| ESPNLosAngeles.com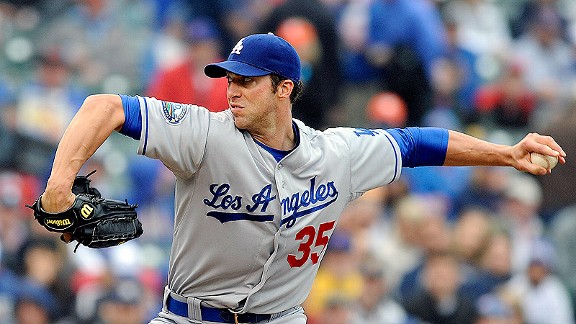 David Banks-US PRESSWIREChris Capuano impressed with his arm and his bat in a win over the Cubs on Saturday.
CHICAGO -- For somebody who might have been signed to be a rotation round-out,
Chris Capuano
is pitching a lot better than that for the Dodgers. In his sixth start of the season, Capuano spun his best game yet, rattling off his fourth straight quality start while extending a personal scoreless inning streak to 18 2/3 across three starts.
Understandably, Capuano's enjoying himself as a result. "It was a lot of fun out there. Me and Matt [catcher
Matt Treanor
] had a pretty good game plan, and for the most part we were making our pitches. With the wet weather at the start, I was having a little problem sliding around on the mound a little, but I eventually kind of figured it out and was able to make pitches."
Treanor's take after watching the other half of the battery mow down the Cubs was similarly enthusiastic. "I love catching him, man, I really do. Obviously, it's a little bit easier to say after a win, but it's a lot of fun when a guy goes out there and does that. It's just putting some fingers down and waiting for him to shake for the one he wanted, and then of everyone watching, I've got the best seat in the house."
His manager was equally generous in his praise, with an eye toward how Capuano's recent hot streak is making his job easier.
Don Mattingly
noted, "He's been solid every time out. He's been really good, but the last couple of times he's taken us deeper, which has been huge for us, it takes you to your back end (of the bullpen)."
Mattingly's regard for his rotation's third quality southpaw is enhanced by his former responsibilities as the hitting coach. "Cappy, we've liked him for a couple of years actually. He's a tough guy, and he was a tough guy for me when I was doing the hitting to scout, because he has so many weapons, he's got so many things he does with the ball, he gives you so many different looks, that he's tough to prepare for," Mattingly observed.
As a result, bringing him in as a free agent was something that Mattingly was totally down for: "We really liked a guy who knows what he's doing -- he's smart, he's athletic, he's got a lot of different weapons."
Reflecting on his first month as a Dodger and his streak, Capuano felt it reflected the benefits of deepening his arsenal this spring. "I added a breaking ball in spring training that I've got a pretty good feel for; a cut fastball, work in a good two-seamer. It's good, having a couple more weapons out there, having some more options to go to."
March, 4, 2012
3/04/12
12:09
PM PT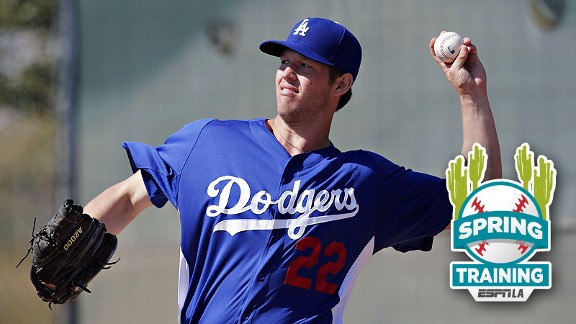 AP Photo/Jae C. Hong
Clayton Kershaw's
spring training debut this morning had all the feel of a tennis match, an intrasquad game on a farflung field at Camelback Ranch with most of the spectators looking on in something close to complete silence. The Dodgers' Cactus League schedule doesn't start until Monday, meaning that in order to be properly lined up for his Opening Day start April 5 in San Diego, Kershaw had to mostly face a group of minor leaguers who hadn't faced live pitching at all, much less batted against the reigning National League Cy Young Award winner.
The predictable result, then, was that Kershaw pitched two quick innings, striking out five of the seven batters he faced. He gave up one hit, a weak dribbler through the right side of the infield by shortstop prospect
Jake Lemmerman
.
Kershaw threw 25 pitches, 16 of them in the first and nine in the second. He said only one of them was the changeup he has been trying to perfect the past few years.
"It's difficult to get the same feeling (of an actual Cactus League game),'' Kershaw said. "But at the same time, it's probably a good transition from (throwing) live batting practice, so this is the next step. Once I get into a game, I'll be pretty prepared for it. This probably wasn't ideal, but I got my work in and faced hitters."
Kershaw's second start, and his official Cactus League debut, will come Friday in Surprise against the Texas Rangers. The Dodgers open Cactus League play on Monday against the Chicago White Sox, with
Chad Billingsley
scheduled to start.
Because there was no umpire, balls and strikes were called by
Matt Treanor
, the Dodgers' newly signed backup catcher who has caught several of Kershaw's bullpens this spring and was catching him for the first time in a game setting.
"I would rather pitch in a big league game, but this was just the way the schedule fell,'' Kershaw said. "Most of those guys hadn't ... even stood in against a pitcher yet, so you can't take too much from the results. It's more about how you feel, and I felt good."
February, 24, 2012
2/24/12
12:26
PM PT
That was the answer Dodgers pitching coach Rick Honeycutt got halfway through Clayton Kershaw's first bullpen session of the spring when he asked Kershaw how he was feeling, and that was the answer the beat reporters got when they asked Kershaw the same question after the session was over. Kershaw is a young man of few words when it comes to his health, but clearly, the back tightness that delayed his first pen by two days is no longer an issue, allowing pretty much everybody in the organization to breathe a huge sigh of relief.

Kershaw threw 30-some-odd pitches to Matt Treanor, the newly signed, veteran backup catcher who was catching him for the first time.

``It's always good to get to throw to (a new catcher) before you get into games,'' Kershaw said. ``Matt was great. He knows what he is doing, and he has been around a long time. I like the way he caught. He looks good back there.'

Kershaw is lockering next to Ted Lilly this spring. Lilly arrived in camp on Friday after missing the first few days to be with his wife and newborn daughter, and also threw his first pen immediately. He is sporting a black eye, the unfortunate result of being elbowed by his brother during a pickup basketball game. So that corner of the clubhouse is a bit of a convalescent zone, but at least Kershaw's problems seem to be behind him.