Dodgers Report:

Maury Wills
April, 4, 2012
4/04/12
6:28
PM PT
LOS ANGELES -- Juan Uribe had the T-shirts made as something of a silly homage to Maury Wills, whose attention to detail is as legendary as his speed.

The shirt is simple, really. Just a drawing of Wills' face with him pointing and saying, "You can do better."

It's what he always says, even when a player like Uribe puts down a good round of sacrifice bunts in practice. "That was good, but you can do better."

While it's kind of funny that Uribe is the one who designed the shirts for the club, it's also somewhat fitting. Because if the Dodgers are going to do anything this year, it's players like Uribe, James Loney and Andre Ethier who have to do better than they did in 2011.

Uribe hit just .204 in 77 games last year after signing a three-year, $21 million deal. He was bad, hurt and ineffective. And then he had surgery to repair a sports hernia and shut it down early.

This spring he has looked healthy, but still not completely happy at the plate. He finished the spring hitting just an OK .255.

"I feel good, but I'm realistic," Dodgers manager Don Mattingly said after the team's final spring training game on Wednesday, an 8-3 loss to the Angels.

"We're going to have to have a lot of guys kind of reach their watermark for us to be competitive. We saw what Matt [Kemp] was able to do last year and that wasn't good enough. So we have to have more than one or two guys have good years."

Still, there's a different feeling in the air as the Dodgers prepare to open the season this year. Mattingly has a year under his belt. Clayton Kershaw will take the mound Thursday against the San Diego Padres as the reigning Cy Young award winner, not just a future ace. Kemp could've and maybe should've been the MVP last season after bouncing back from an awful 2010. The ownership situation has been resolved at long last.


March, 28, 2012
3/28/12
6:07
PM PT


SCOTTSDALE, Ariz. -- Even after a triple and a double in four at-bats during Wednesday's Cactus League game, a 4-1 loss to the San Francisco Giants before 10,084 at Scottsdale Stadium, Los Angeles Dodgers first baseman James Loney was hitting a pedestrian .256 for the spring. Nevertheless, he didn't seem to feel that warranted any adjustments at the plate, as he has pretty much stuck with the same stance and the same mechanics despite the results.

And Dodgers manager Don Mattingly couldn't be happier about that.

"James has been on and off," Mattingly said. "But the one thing I have liked about James is how he has been fairly close to looking the same all the time. He hasn't been changing. He is adjusting some timing stuff, which is natural for spring training, but other than that, he has been pretty much the same."

The old Loney was constantly tinkering, sometimes using three or four different batting stances not only within a week or a month but within a game, driving Mattingly and whoever happened to be the Dodgers hitting coach at the time absolutely nuts. But during the second half of last year, Loney seemed to settle on one approach and stick with it, and the result was a .320 average and .380 on-base percentage after the All-Star break.

Looking back, Loney is at something of a loss to explain why he used to be such a tinkerer.

"I guess it's that classic job-interview answer, that maybe I'm too much of a perfectionist," he said. "You know you can't be perfect all the time, but sometimes you feel like you have done everything right and you still don't get the result you want."

The Dodgers got their first look at Jerry Hairston in the outfield, the utility man playing the entire game in left. Hairston's ability to play there likely will lead the Dodgers to carry only four other outfielders on their opening-day roster, especially in the wake of their having sent Jerry Sands to minor league camp on Tuesday.

Mattingly liked what he saw, and Hairston said he still feels totally natural in the outfield, where he has played 355 games in his career.

Mostly, though, Hairston, who is African-American, talked about the social significance of the impending purchase of the Dodgers by an ownership group fronted by Los Angeles Lakers legend Magic Johnson, who becomes the first African-American owner of a franchise in the history of Major League Baseball. The fact that Johnson is buying the team for which Jackie Robinson broke the game's color barrier in 1947 wasn't lost on Hairston.

"People saw Jackie Robinson on TV doing amazing things," Hairston said. "That raised up the black community so they said, `You know what, we can do amazing things.' And then Martin Luther King came through, and Rosa Parks came through, and the Reverend Jesse Jackson came through, because Jackie had been there first.

"I think Jackie Robinson would be extremely proud today."

One day after fouling a ball off his groin while trying to bunt during batting practice -- a development that left him lying on the ground in excruciating pain -- Dodgers third baseman Juan Uribe jumped right back into the box and worked on his bunting again on Wednesday.

"He did a little bunting today with Maury (Wills)," Mattingly said. "You have to get back on the horse, although getting on the horse wouldn't have been a good thing today."

The Dodgers (12-10-4) play the Chicago White Sox at Camelback Ranch on Thursday, with the Dodgers the designated home team. Aaron Harang will start.
March, 1, 2012
3/01/12
5:17
PM PT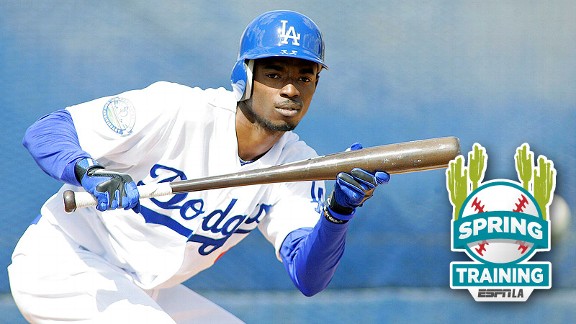 Jake Roth/US Presswire
You know
Dee Gordon
has come a long way since last spring training. A year ago, people were talking about his upside, wondering how far away he was from the majors, drooling over how exciting a player he was going to be when he got there. Now, even as they praise his ability, they also whisper about his shortcomings.
Not that he has that many.
That is what happens when a player goes from a highly touted prospect to a full-fledged big leaguer, a guy who comes to camp not to make a good impression on the coaching staff and the front office, but who arrives as the Dodgers' everyday shortstop and leadoff hitter.
Gordon spent the winter trying to get better at that everyday shortstop thing, traveling to Texas to work out with Dodgers bench coach
Trey Hillman
, staying home in Florida to work out with Hall of Famer-elect
Barry Larkin
and reporting to spring training almost two months early to work out with Dodgers minor league infield coordinator
Jody Reed
, all in an effort to develop a more cerebral approach to a position he previously played with an exciting flair but also with wild abandon.
"That was all about defense,'' Gordon said. "They talked to me a lot about certain things I need to see and watch out for instead of just relying on athleticism all the time.''
It's the leadoff hitter thing where Gordon still has room to improve. Or, more to the point, his on-base percentage has room to improve. The encouraging part, though, is that it already has improved, even though his overall OBP as a rookie was .325, marginal at best for a guy hitting leadoff.
But when Gordon came to the majors for the first time last year -- knowing it probably was going to be temporary because
Rafael Furcal
was on the disabled list but also admittedly trying too hard because he wanted to make it a tough decision to send him back down -- he posted a .250 OBP, drawing just two walks in 85 plate appearances and striking out 16 times.