Dodgers Report:

Michael Wacha
October, 21, 2013
Oct 21
9:41
AM PT
The Dodgers might have lost the National League Championship Series three batters into it. That might be overstating it, but it might not.
It's hard to know whether
Hanley Ramirez
, who was struck by a 95-mph
Joe Kelly
fastball in the ribs, was more costly to the Dodgers by his absence or his presence. Ramirez was in and out of the lineup and, when he played, batted a punchless .133. Obviously in pain, he wasn't the same player who spurred the Dodgers' offense from early June until that pitch.
Then again, as well as the
St. Louis Cardinals
pitched, perhaps they would have shut Ramirez down as they did so many of his teammates. It was a far cry from the NLDS, when the Dodgers pounded Atlanta pitching.
The series was closer than the four games-to-two result might have indicated. In fact, both teams batted an identical .211 (42-for-199). The difference was the Cardinals, particularly
Michael Wacha
and
Trevor Rosenthal
, were too much for the Dodgers to handle.
Might that have been different if Ramirez had been able to anchor the No. 3 spot in the lineup? No one will ever know.
SCORING
The Dodgers scored twice as many runs in four games against the Braves as they did in six games against the Cardinals. The tone for the series was set with the first two games, when
Clayton Kershaw
and
Zack Greinke
combined to allow two earned runs in their 14 combined innings and the Dodgers lost both games.
The Dodgers hit seven home runs against Atlanta, but didn't hit their first long ball of the NLCS until Game 4, a warm day in Los Angeles when balls were flying high and deep.
The struggles of the offense were democratic, with stars like
Andre Ethier
batting .150 and role players like
Skip Schumaker
and
Michael Young
combining to go 0-for-13. In fact, if there was one underrated aspect of the Dodgers' poor performance, it was a bench that provided virtually nothing.
There were a couple of highlights.
A.J. Ellis
(.316) continued his hot hitting from the previous series and
Adrian Gonzalez
(.700 slugging percentage) was as steadily productive as ever. But with Ramirez out, the Dodgers needed their other right-handed power hitter to produce and
Yasiel Puig
(.227, 10 strikeouts) was the most erratic player on the field.
Grade: D-
DEFENSE
Nobody should be too surprised that the Cardinals' offense finally sprang to life in Game 6. They did, after all, bat .330 with runners in scoring position during the regular season.
But everyone should be very surprised that the pitcher they woke up against was Clayton Kershaw. The Dodgers' ace pitched his worst game in at least three years, taking the blame for the Dodgers downfall. People have conjectured that the high innings total (259) finally took its toll at the end of the season, but Kershaw insisted he felt good. Nor did Kershaw blame his bad evening on having worked on three days' rest in the NLDS. Sometimes, good players have bad days. The Dodgers probably wouldn't have been playing that late in the season without Kershaw.
In a way, it's too bad, because it would have been interesting to see how
Hyun-Jin Ryu
handled the pressure of a Game 7. He had looked shaky in one postseason start and polished in another. The Cardinals had struggled against lefties most of the season, though Kershaw wouldn't have known it Friday. Subtract Kershaw's last outing and Dodgers pitchers had a 2.28 ERA in the series.
The Dodgers handled themselves well in the field until the final two games, when Puig's erratic play in the outfield finally began to cause some issues. He lost a ball in the sun for a double in Game 5, then jogged after it. He made two poor throws and overran a ball in Game 6.
Grade: C+

DECISION-MAKING
Don Mattingly cost the Dodgers Game 1.
That seems to be the narrative according to many Dodgers fans, unhappy that Mattingly pinch ran
Dee Gordon
for one of his few healthy power hitters, Adrian Gonzalez. But there are several leaps of logic there. What if Gordon had stolen second base? What if Michael Young, Gonzalez's replacement, hadn't hit into two double plays? How do we know Gonzalez wouldn't have done the same?
Other people will bicker with Mattingly going with
Ricky Nolasco
in Game 4 rather than handing the ball to Greinke on three days' rest. Again, there are arguments either way, but there were good reasons Mattingly elected to go the conservative route and, other than one bad sinker to
Matt Holliday
, Nolasco didn't pitch poorly.
Had the Dodgers scored a few more runs, nobody would be talking about Mattingly's strategic moves and the Dodgers might still be playing.
Grade: B
CHEMISTRY TEST
About an hour after Game 6 ended, general manager Ned Colletti talked about how much he liked so many of the Dodgers players, not just as talents but as people. This group was one that easily could have proved flammable, with big-money players coming from a lot of different teams and cultures, but it somehow worked.
One area that will need to be addressed going into 2014 is Puig's demeanor. Fans might not want to admit it because he was so fun to watch, but something will have to give. If he can't control his emotions on the field, whether it's in relationships with the umpires or getting over bad at-bats, he'll never be the player he could be. It's an issue that is better handled in the clubhouse than by the manager.
Grade: B
STATE OF CONTENTION
The Dodgers aren't going to play in their first World Series in 25 years, but with very few free agents and with owners who are clearly willing to continue adding, there seems little doubt the organization will field a competitive team in years to come.
Grade: B+
October, 12, 2013
Oct 12
3:47
PM PT
ST. LOUIS -- The spotlight found Los Angeles Dodgers manager Don Mattingly yet again.
With his team desperate for offense Saturday, Mattingly lifted ace
Clayton Kershaw
after just 72 pitches in favor of pinch hitter
Michael Young
in the seventh inning with a runner on first and two outs. It would have been a fairly routine move if it involved virtually any other pitcher on the planet.
[+] Enlarge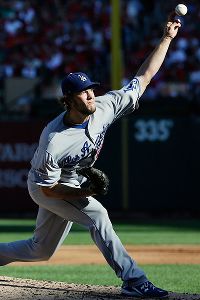 AP Photo/David J. PhillipClayton Kershaw was lifted for a pinch hitter after 72 pitches, having allowed just one unearned run.
It did, however, involve the man who has led the major leagues in ERA for three consecutive seasons.
This time the move worked out, with Dodgers relievers pitching two scoreless innings. But in the big picture, nothing has worked out well for the Dodgers yet. Young failed to produce again, and the Dodgers left St. Louis with another maddening loss, 1-0 in Game 2 of the National League Championship Series.
The Dodgers are down 0-2 in this series, with three straight games beginning at Dodger Stadium on Monday. It's not an insurmountable obstacle, but injuries -- the team's undoing in the early months this season -- are piling up. Both
Hanley Ramirez
and
Andre Ethier
were out of the Dodgers lineup with injuries. And, in the next two games, the Dodgers are sending struggling starting pitchers to the mound. The Cardinals have ace
Adam Wainwright
rested and ready for Game 3.
And the Dodgers' catalyst for much of the summer,
Yasiel Puig
, is 0-for-10 with six strikeouts in this series.
It was Young who in Game 1 hit into two double plays as the replacement for cleanup hitter
Adrian Gonzalez
, who had been lifted for a pinch runner, inciting an endless barrage of second-guessing of Mattingly.
The frustration for both teams' hitters continued. Then again, when the pitching is this good, should that come as any surprise?