Dodgers Report:

Michael Young
October, 24, 2013
Oct 24
1:12
PM PT
For a team with 11 impending free agents, the Los Angeles Dodgers have relatively easy decisions to make regarding each of them. None of their free agents will demand endless hours of the front office's time as the sides negotiate some mega-contract to keep a homegrown superstar from bolting.
Each of the Dodgers' free agents are, as they say, role players. The only two everyday players are
Mark Ellis
and
Juan Uribe
. Ellis has already been replaced by Cuban second baseman Alexander Guerrero, who signed earlier this week. The only core pitchers are a No. 4 starter,
Ricky Nolasco
, and an eighth-inning setup man,
Brian Wilson
, important but not irreplaceable players.
The Dodgers already have set the narrative for the remainder of their offseason. Dodgers general manager Ned Colletti and manager Don Mattingly (who looks as if he no longer will become a free agent) said it concisely. The Dodgers want to get younger and, as a result, more athletic and less injury-prone.
That should be the lens through which we see each of the following free-agent decisions. We'll rank the free agents in reverse order of relevance and predict whether they will be with the team next spring:
Jerry Hairston Jr.
He's one of the most likeable guys the Dodgers had last year and a good clubhouse guy, because he can roll with a joke and moves easily between various cultures. His versatility also proved important to the Dodgers at times in his two seasons in L.A. They could put him at any position besides pitcher and catcher and he could hold his own. There aren't many guys like that.
He'll be 38 next May, he has been bothered by serious injuries each of the past two seasons. He'll make a great broadcaster some day and he'll have to decide whether he's ready to embark on a new career now or try to latch on with a team on a minor league deal.
Prediction: walks
Edinson Volquez
This was a nice zero-risk move by the front office, scooping him up from the
San Diego Padres
after they released him. He gave them five starts -- some awful, some decent, some pretty good -- allowing the Dodgers to rest their main starting pitchers for the playoffs.
A few years ago, the Dodgers might have taken a flyer on Volquez to help fill out their No. 4 and 5 rotation spots. Not under these owners. They have far grander designs. If they acquire a pitcher, it probably will be a star-caliber one, not a guy who's questionable to even make the rotation. If he comes back, it would have to be on a minor league deal with the agreement that he will pitch in Triple-A until the Dodgers need him.
Prediction: walks
Chris Capuano
He handled it with class when the Dodgers left him off their NLCS roster even though he had given them three scoreless innings in the previous round. But like some of the other pitchers on this list, he just doesn't seem to fit the Dodgers' current mandate: to win at whatever cost. He might turn out to be a nice bottom-of-the-market signing for a team on a budget looking for a left-hander who can either start or be a reliever. Hard to see that team being the Dodgers.
Prediction: walks
October, 12, 2013
Oct 12
3:47
PM PT
ST. LOUIS -- The spotlight found Los Angeles Dodgers manager Don Mattingly yet again.
With his team desperate for offense Saturday, Mattingly lifted ace
Clayton Kershaw
after just 72 pitches in favor of pinch hitter
Michael Young
in the seventh inning with a runner on first and two outs. It would have been a fairly routine move if it involved virtually any other pitcher on the planet.
[+] Enlarge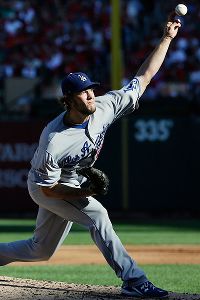 AP Photo/David J. PhillipClayton Kershaw was lifted for a pinch hitter after 72 pitches, having allowed just one unearned run.
It did, however, involve the man who has led the major leagues in ERA for three consecutive seasons.
This time the move worked out, with Dodgers relievers pitching two scoreless innings. But in the big picture, nothing has worked out well for the Dodgers yet. Young failed to produce again, and the Dodgers left St. Louis with another maddening loss, 1-0 in Game 2 of the National League Championship Series.
The Dodgers are down 0-2 in this series, with three straight games beginning at Dodger Stadium on Monday. It's not an insurmountable obstacle, but injuries -- the team's undoing in the early months this season -- are piling up. Both
Hanley Ramirez
and
Andre Ethier
were out of the Dodgers lineup with injuries. And, in the next two games, the Dodgers are sending struggling starting pitchers to the mound. The Cardinals have ace
Adam Wainwright
rested and ready for Game 3.
And the Dodgers' catalyst for much of the summer,
Yasiel Puig
, is 0-for-10 with six strikeouts in this series.
It was Young who in Game 1 hit into two double plays as the replacement for cleanup hitter
Adrian Gonzalez
, who had been lifted for a pinch runner, inciting an endless barrage of second-guessing of Mattingly.
The frustration for both teams' hitters continued. Then again, when the pitching is this good, should that come as any surprise?
October, 9, 2013
Oct 9
5:08
PM PT
Los Angeles Dodgers
infielder
Michael Young
joined the "Max & Marcellus Show" to talk about his role on this roster and said he's ready whenever his name is called. Young says the team loves to play for manager Don Mattingly.
Listen to the full interview
.

September, 22, 2013
Sep 22
4:55
PM PT
SAN DIEGO -- The
Los Angeles Dodgers
' front office is on a nice little roll.
After most people had given up on
Carlos Marmol
, the Dodgers acquired him in exchange for an overpaid reliever and have received better-than-solid relief from the former closer. The only thing
Edinson Volquez
led the league in was hits allowed when the Dodgers scooped him up, and he has given them three pretty good starts.
[+] Enlarge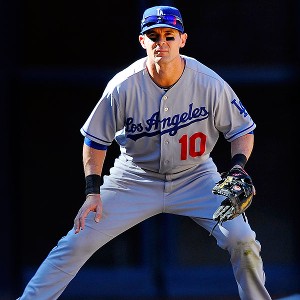 Christopher Hanewinckel/USA TODAY SportsMichael Young has adapted to his new role as a bench player and pinch hitter with the Dodgers.
Brian Wilson
went from health risk to the team's No. 2 right-handed reliever.
But perhaps the Dodgers' best in-season acquisition,
Michael Young
, may have been the least-popular move at the time. When the Dodgers traded lefty Rob Rasmussen to get Young from the
Philadelphia Phillies
on Aug. 31, it wasn't exactly universally lauded, particularly by the statistically minded. All he has done is bat .384 in a role he has never played and, on Sunday, come up with the only meaningful hit of the game in a 1-0 win over the
San Diego Padres
.
It's fair to say the Dodgers are happy with their return on investment thus far. Young could even play a key role in October, which was kind of the point of the trade, both for Young and the Dodgers.
"He's where he wants to be. He's in a good situation," Dodgers manager Don Mattingly said. "We've talked about it before. Guys get older and they like to play for something."
Young cracked a run-scoring double to right field Sunday, one of the Dodgers' only signs of life against the Padres' hard-throwing pitcher,
Andrew Cashner
.
It's fitting that Young got the start against Cashner, because he's likely to get a spot start or more in the playoffs against hard-throwing pitchers.
Juan Uribe
has resurrected his career this season, but with his big swing and tendency to step toward third base, he's often susceptible to pitchers who throw in the mid-90s and faster.
Young, who has a short stroke and an up-the-middle approach, tends to hit good fastballs. That could come in handy against any of the possible playoff matchups the Dodgers face. All the potential opponents have hard throwers.
The Dodgers signed Young largely to pinch hit, a somewhat puzzling move considering he had barely done it before this season. Of the 1,965 major league games he had played before Sunday, he had started 1,926 of them.
September, 22, 2013
Sep 22
3:57
PM PT
SAN DIEGO -- The
Los Angeles Dodgers
' bullpen looked more than ready for the postseason in a 1-0 win over the
San Diego Padres
at Petco Park on Sunday, keeping alive the team's hopes of opening the playoffs at Dodger Stadium.
Closer
Kenley Jansen
struck out the side in the ninth, the fourth scoreless inning of relief by Dodgers relievers.

The Dodgers are barely in the hunt for the best record in the National League any more, but there are lesser prizes worth pursuing. The
Atlanta Braves
won, giving them a 2½-game lead over the Dodgers, who have only six games remaining.
The Dodgers could still begin the playoffs at home if they can finish with a better record than any of the teams in the National League Central. Entering their night game, the
St. Louis Cardinals
had a 1½-game lead over the Dodgers in that race.
Between
Zack Greinke
and
Andrew Cashner
, two of the hottest pitchers in baseball, the teams showed barely a hint they were going to score as the afternoon wore on. Finally, the Dodgers broke the ice in the seventh inning.
With two outs,
Michael Young
cracked a deep fly ball to right field. It sailed over Will Venable's head, but
Adrian Gonzalez
wouldn't have been able to lumber all the way around from first if Venable hadn't mishandled the ball.
San Diego put together a rally in the next half of the inning off reliever
Chris Withrow
but couldn't score.
Logan Forsythe
took a 95-mph fastball for strike three and pinch hitter
Mark Kotsay
taped one back to Withrow to end the inning.
The Dodgers pulled Greinke after just five innings and 72 pitches despite the fact he was cruising through San Diego's far-from-intimidating lineup. The Padres got two runners on with nobody out in the third inning, but after Cashner's bunt moved them over, Greinke coaxed an infield pop-up from
Alexi Amarista
and a groundout from
Ronny Cedeno
.
Greinke gave up only two hits and struck out three in his five innings. It's likely he was pulled early because of the upcoming playoffs, but the Dodgers allowed ace
Clayton Kershaw
to throw 99 pitches over seven innings Saturday night.
September, 13, 2013
Sep 13
10:44
PM PT
By
Dan Arritt, Special to ESPNLosAngeles.com
LOS ANGELES -- Well, that sure didn't follow tradition.
Los Angeles Dodgers
left-hander
Clayton Kershaw
had just been staked to a two-run lead when he took the mound to start the seventh inning Friday night against the visiting
San Francisco Giants
, a team he had dominated in his young career.
Such a margin would normally be enough for the league's ERA leader to put a stamp on a victory -- or at least hand the lead over to the bullpen -- but instead Kershaw surrendered four straight base hits to the Giants, adding up to three runs in the eventual 4-2 victory by San Francisco at Dodger Stadium.
The Dodgers fell to 6-6 this month, as many losses as they experienced through all of August and one more than July.
Time for a closed door meeting? Hardly.
The Dodgers played without starting shortstop
Hanley Ramirez
, who was diagnosed with an irritated nerve in his back and won't return until next week, started the game without first baseman
Adrian Gonzalez
, who was given the night off until pinch hitting in the seventh inning, and saw center fielder
Andre Ethier
limp off the field after doubling with two out in the eighth.
That left
Nick Punto
starting at shortstop,
Michael Young
at first base and
Juan Uribe
batting cleanup for the first time in more than three years.
September, 4, 2013
Sep 4
9:16
PM PT
DENVER -- It's hard to know what the
Los Angeles Dodgers
learned about their newest pitcher Wednesday night.
On one hand,
Edinson Volquez
looked very similar to the pitcher who had a 6.01 ERA for the
San Diego Padres
before the Dodgers salvaged him from the scrap heap of August free agency. On the other hand, the Dodgers won't run into the
Colorado Rockies
in the playoffs.
Volquez made his first start as a Dodger and lasted just four innings in a 7-5 loss to the Rockies at Coors Field.
Even by the standards of this stadium, it was ugly. In the first two innings, Rockies batters collectively hit for the cycle.
Todd Helton
hit a majestic, soaring home run to right.
Josh Rutledge
tripled to center field, the ball short-hopping a wall that's 415 feet from home plate.
Troy Tulowitzki
pounded a double off the top of the left-field wall.
It's not often a pitcher performs as poorly against one opponent as Volquez has against Colorado this season. He actually lowered his season ERA versus Colorado, from 13.08 to 12.43, though his record fell to 0-5 in six starts.
The Dodgers didn't get much out of Wednesday's game, but they did see one of their best players,
Yasiel Puig
, get back on the field after sitting out a couple of games because of a sore knee. Puig pinch hit in the eighth inning and struck out against
Manny Corpas
.
Most of the Dodgers' main players watched most of it from afar.
In spring training, teams are supposed to field lineups with at least four regulars. The Dodgers might have run afoul of MLB with the squad they trotted out Wednesday evening.
Hanley Ramirez
,
A.J. Ellis
and
Juan Uribe
were the only regulars starting, with the rest of the usual starters getting a night off.
Manager Don Mattingly fielded a similar lineup and the Dodgers won on Tuesday, but this one didn't generate much action.
Jorge De La Rosa
had the Dodgers off balance and, when they got things going, something unraveled it.
Scott Van Slyke
hit into a double play with the bases loaded in the sixth.
Another new guy,
Carlos Marmol
, also didn't help his chances of sticking with the Dodgers when they align their playoff bullpen. Marmol gave up three hits and three runs in the seventh inning. It was a spring training-like inning. A ball from the outfield caromed off the mound for an error. Marmol committed a balk to let in a run. In his previous 10 appearances, Marmol had been unscored upon.
On the bright side,
Michael Young
has looked like a nice pickup, albeit in just two games. Young had three hits, including two RBIs, and is 4-for-9 since coming to the Dodgers in a trade with the
Philadelphia Phillies
.
September, 3, 2013
Sep 3
4:22
PM PT
DENVER – Tuesday might be remembered as the day the Dodgers eased their foot off the gas pedal.
Yasiel Puig
told the Dodgers he could play Tuesday, one day after tweaking a sore right knee, but he was held out of the lineup anyway for caution's sake and might also miss Wednesday's game.
Hanley Ramirez
got the day off, too, as did
A.J. Ellis
and
Juan Uribe
.
Wednesday,
Andre Ethier
,
Carl Crawford
and perhaps
Adrian Gonzalez
will get days off, manager Don Mattingly indicated.
Edinson Volquez
will make a spot start (despite an 8.39 career ERA at Coors Field) to give the team's pitchers extra rest.
It's not that the Dodgers aren't interested in catching the
Atlanta Braves
for the best record in the National League and home-field advantage throughout the playoffs. It's just that they view getting their players rested and healthy for the postseason as the bigger imperative.
The fact that they're able to begin the process nearly a month from the start of the playoffs could be a huge edge. The Dodgers went into Tuesday's game with a 12 ½ game lead over the
Arizona Diamondbacks
, their magic number to clinch the West just 14 games.
"If there was a game separating us or we were a game back, I think we'd do it differently, but you have to use common sense," Mattingly said. "But still, when I write that lineup today, I expect to win."
Here are the rest of the lineups for Tuesday's game vs. the
Colorado Rockies
:
Los Angeles
1. Carl Crawford LF
2.
Nick Punto
SS
3. Adrian Gonzalez 1B
4.
Michael Young
3B
5. Andre Ethier CF
6.
Mark Ellis
2B
7.
Skip Schumaker
RF
8.
Tim Federowicz
C
9.
Ricky Nolasco
RHP
Rockies
1.
Dexter Fowler
CF
2.
DJ LeMahieu
2B
3.
Troy Tulowitzki
SS
4.
Michael Cuddyer
RF
5.
Wilin Rosario
C
6.
Todd Helton
1B
7.
Nolan Arenado
3B
8.
Charlie Blackmon
LF
9.
Jhoulys Chacin
RHP
September, 2, 2013
Sep 2
12:51
PM PT
DENVER – Somebody asked
Michael Young
, who grew up 20 miles from Dodger Stadium, who his favorite player was as a kid. Quickly, Young answered "Don Mattingly."
It still didn't get Young in the lineup Monday.
"We'll see what he says once the season's over," Mattingly joked. "Sometimes, guys like you until they get to play for you, then they might not like you so much."
Young flew from Philadelphia, where he hastily packed up his apartment, and met the team in Colorado before Monday's game. There is a good chance he will make his first start Tuesday, because third baseman
Juan Uribe
is 0-for-15 in his career against Colorado's starter,
Jhoulys Chacin
.
Young, 36, said he told Philadelphia general manager Ruben Amaro months ago that he would OK a trade to the Dodgers, not because it was the team he grew up rooting for, but because he wanted another chance at a World Series ring. He lost twice in the World Series when he was with Texas. Young has a full no-trade clause.
"I think it's pretty self-explanatory," Young said. "This is a hell of a team."
Getting used to a part-time role could be something of an adjustment for Young, who has been one of the game's most consistent everyday players in this generation. From 2002 to 2011, he played in at least 155 games every season but one.
"My role is winning player for the Dodgers," Young said. "That's my role. You could probably ask every guy in this locker room and they'd all probably want to get five at-bats a game. We wall want to play at a very high level, but the second the lineup goes up, it's winning time."
He'll spell Uribe at third and, occasionally,
Adrian Gonzalez
at first, but the Dodgers don't envision using him at either of the up-the-middle infield positions at this stage of his career. Young doesn't tend to score well in advanced statistical measures of his defense, but Mattingly said he'll keep an open mind.
"The times I've gotten to see him, I didn't notice anything," Mattingly said. "It's like, early on, they told me Andre [Ethier] didn't play good defense and I think he's been good."
Here are lineups for Monday's game in Colorado:
Los Angeles
1.
Carl Crawford
LF
2.
Yasiel Puig
RF
3. Adrian Gonzalez 1B
4.
Hanley Ramirez
SS
5.
Andre Ethier
CF
6.
Mark Ellis
2B
7.
A.J. Ellis
C
8. Juan Uribe 3B
9.
Clayton Kershaw
LHP
Rockies
1.
Josh Rutledge
SS
2.
DJ LeMahieu
2B
3.
Michael Cuddyer
RF
4.
Wilin Rosario
C
5.
Nolan Arenado
3B
6.
Charlie Culberson
LF
7.
Jordan Pacheco
1B
8.
Charlie Blackmon
CF
9.
Chad Bettis
RHP
September, 2, 2013
Sep 2
7:59
AM PT
DENVER – The Dodgers were essentially overpowered by the pitcher they were facing, a towering right-hander named
Andrew Cashner
, who was pumping 98, 99 and even 100-mph fastballs past their hitters as late as the seventh inning.
Not a lot you can do in a situation like that, just hold on and hope you're in striking distance when he gets tired.
Thanks to
Chris Capuano
, the Dodgers were. And thanks to
Zack Greinke
, they were the next day, too, winning essentially the same game -- by the same 2-1 score.
If anyone doubted the Dodgers' pitching was taking over a few weeks ago, nobody doubts it now. The Dodgers had the best pitching in the majors in August. In fact, three of their starters,
Clayton Kershaw
, Greinke and
Ricky Nolasco
, had ERAs in the top five in the National League.
The last Dodger team to pitch that well in a month did so in April of 1981, a World Series year.
Things are trending up, in other words. To have suggested the Dodgers would win 100 games in April, May, June or even July would have been moronic. To suggest it now seems like a pretty good reading of the winds. The Dodgers need to go 19-7 to win 100. Amazing.
SCORING
Yasiel Puig
continues to be impossible to ignore.
Bench him and it only seems to stoke his desire. After his first disciplinary benching, he hit the decisive home run. After his second, last Wednesday, he came back to go 4-for-5 with two stolen bases in the next game.
Puig was cold, but now he's not any more. Because he's such a free swinger and has such great strength and hand-eye coordination, his streaks don't follow normal trends. It reminds me of former AL MVP
Vladimir Guerrero
. An advance scout said he never put Guerrero in the "cold" category, because the minute he did, Guerrero would hit two home runs and go 3-for-5 and the scout looked bad.
Puig has multi-hit games in five of his last eight games. He is batting .596, best in the majors, when he swings at the first pitch. That raises the question: So why not bounce a slider or throw a fastball above the neck on every first pitch? Because he's adjusting. Remember when he never walked? Now he has a .409 on-base percentage.
Other than Puig's contributions, one big night from
Adrian Gonzalez
and some clutch hits from
Mark Ellis
, it was a ho-hum week for the Dodgers' offense. The Dodgers averaged 4.1 runs per game, but nine of those came in one game against San Diego, much of it at the expense of one reliever,
Anthony Bass
.
But give the Dodgers credit. They score according to the game, somehow finding ways to scrape runs across to support their pitchers, at least pitchers not named Clayton Kershaw.
Grade: B-
DEFENSE
Kenley Jansen
isn't getting enough publicity. If he keeps this trend up for another 17 or 18 years, other teams are going to give him a farewell tour like they did for
Mariano Rivera
. Rivera is the only comparison for Jansen that is apt at the moment, even if it is essentially absurd.
Confining the discussion to 2013, is there a more unhittable closer in baseball? Jansen gives teams no hope of late-inning heroics. He has nailed his last 17 save chances and, over that time, had a 1.03 ERA with 41 strikeouts (in 17 games). For his career, batters are hitting .155 against him.
It's only Sept. 2, but Greinke's first season has exceeded even the expectations raised by his then-record, $147 million contract. He is pitching at his 2009 level, though through slightly different means. Greinke's ERA has gone done in three consecutive seasons, so the Dodgers can feel good about getting him in the middle of his prime.
Once again, Kershaw was the only Dodgers pitcher to take a loss and he's not just a virtual lock to win the Cy Young, but he's getting talked up for the league MVP trophy. Go figure. The Dodgers need to start making life a little easier on their ace, so he doesn't have to throw a shutout to get a win.
Hanley Ramirez
is showing signs of reverting to the way he played shortstop last year, reacting slowly to ground balls and getting his footwork tied up, sometimes sailing his throws. The Dodgers should, and probably will, make Ramirez's defense a point of emphasis in the final month.
Grade: A-
DECISION-MAKING
Should we just trust Ned Colletti and Don Mattingly and assume that Michael Young's leadership skills and still-useable bat will make up for the fact he is going to take playing time away from another player who puts up at least comparable offensive numbers and plays better defense?
How is Young an upgrade, particularly since he costs the Dodgers $1 million and a young pitcher who might one day be a useful big-league arm?
It seems the Dodgers' early-season trauma -- a seemingly endless string of injuries -- has pushed them into a cautious footing as they begin to eye a post-season run. They've begun to hoard depth. Young, like
Carlos Marmol
,
Brian Wilson
and
Edinson Volquez
, is viewed as a more-capable injury replacement than any of the players the Dodgers have at Triple-A.
So there's that.
It will be interesting to see how the veterans blend into the fabric of the team over the next month, as the Dodgers make evaluations for their 25-man playoff roster.
Grade: B-
CHEMISTRY TEST
The Dodgers clubhouse has become a frat house. Wilson and
Juan Uribe
, longtime teammates, yell at each other across the room, usually on the topic of each others' wardrobes. There's no telling what dugout shenanigans Uribe, Puig and Ramirez will get into.
They seem to have the ability to snap into business mode at about 7 p.m., so nobody's really too worried about the joking around. It has been interesting to see how quickly Wilson has gotten comfortable, considering all the years he pitched for the team the Dodgers like least.
Young, like Uribe, Wilson,
Nick Punto
and
Skip Schumaker
, is another World Series veteran, one more reason the Dodgers thought he would be a useful addition. That's their desired destination, after all, so why not invite in players who know what it's like to get there?
Grade: A-
STATE OF CONTENTION
It's getting close.
In fact, the Dodgers have put themselves in position where, even if something goes terribly wrong in this final month, they should back into the playoffs.
Their magic number is 16 with 26 games left. There is a very good chance the Dodgers will clinch some time during a four-game series at Arizona that starts Sept. 16. To have the division in hand so early would allow the Dodgers to align their pitching perfectly for October.
Remember when the 2005
Chicago White Sox
were able to rest their starting pitchers and they all came out throwing 95 mph and up, just strong-armed their way to the World Series title? Well, the Dodgers could set up a similar scenario, only with much more accomplished pitchers.
Grade: A-
September, 1, 2013
Sep 1
12:56
PM PT
By
Dan Arritt, Special to ESPNLosAngeles.com
LOS ANGELES -- Dodgers reliever
Brian Wilson
entered the clubhouse Sunday morning, looking like he just left a Grateful Dead concert. He wore a purple knit cap atop his jet-black hair, with a few loosely fastened dreadlocks flowing out the sides.
Juan Uribe
and
Hanley Ramirez
burst out in laughter as Wilson strutted across the room, dropping a few barbs along the way. Wilson didn't let those remarks sink in long before shooting back at Uribe, reminding him of the purple slacks he wore to Saturday's game.
The
Los Angeles Dodgers
seem to sport a new look on a daily basis, and lately, that's included a few new faces. Wilson made his Dodgers debut last week, giving the bullpen another veteran arm with World Series experience, as well as some personality to an already quirky locker room.
On Saturday night it was
Michael Young
who joined the fold. The veteran infielder was acquired from the
Philadelphia Phillies
in exchange for a minor league pitcher, giving the Dodgers another player with World Series experience, a batting title, a Gold Glove and seven All-Star appearances -- one of which led to the MVP award in the 2006 game.
There were a few furrowed brows when Young's trade was announced, however.
After all, the Dodgers went 23-6 in August and have been satisfied with the play of Uribe at third base, the position Young has mainly played the past few seasons. The same can be said for second base, where
Mark Ellis
has been solid when healthy.
Nick Punto
has also done a stellar job occupying a utility role among the infielders.
The person responsible for integrating another new player into the mix, manager Don Mattingly, didn't seem too concerned with that task prior to Sunday's series finale against the visiting
San Diego Padres
.
"We're not trying to bring Michael in here to knock Adrian [Gonzalez] off first base," Mattingly said. "Michael's here to add to our club, to give us added depth, give us a guy that can do a lot of things."
Mattingly said he spoke with Young after the trade and "just wanted to make sure this wasn't something that turned him upside down."
"We're not getting a young kid in the prime of his career, and I say that with all due respect," Mattingly said. "This guy has had a career that he has done a lot of things, but he's at a point also in his career where you understand where you're at. We're going to treat him with respect, make sure I'm honest with him about everything and just see where it goes."
August, 31, 2013
Aug 31
10:38
PM PT
LOS ANGELES -- The minute he walked out of the Dodgers' interview room, where he discussed the trade for veteran infielder
Michael Young
on Saturday night, general manager Ned Colletti reached Young on his cellphone.
Colletti said Young understood he won't be walking into the kind of role he had in Philadelphia, where he has had more than 500 plate appearances, or that he had in Texas, where he was the face of the franchise.
Colletti said Young was willing to accept a lesser role for a third crack at a World Series title.
[+] Enlarge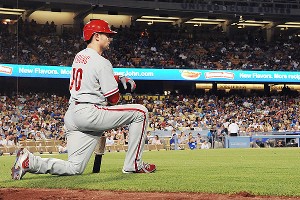 Lisa Blumenfeld/Getty ImagesMichael Young's trade to the Dodgers brings L.A. another veteran presence with playoff experience and leadership skills in the clubhouse.
"He could have vetoed the whole thing," Colletti said.
The Dodgers aren't interested in a move that could risk changing their direction. When you're coming off the best calendar month (23-6) in Los Angeles franchise history, when you have made up 20 games in the standings in less than 10 weeks, radical change really doesn't jump out as a good idea.
For a team that almost never loses, the Dodgers have been pretty busy making changes. They've added relievers
Brian Wilson
and
Carlos Marmol
, and starting pitcher
Edinson Volquez
. Now they add Young despite the fact that Young's .722 OPS is identical to that of their starting third baseman,
Juan Uribe
, and that Young isn't nearly the defender Uribe is.
It wasn't Colletti's intention to upset the apple cart, just to add a little more sustenance to the Dodgers' moveable feast. It's about depth. It's about competition. It's about experience.
"I kept it in the back of my mind for a while, because I didn't want to disrupt what we have going on here," Colletti said. "I think the room is great."
Of course, you could argue, then why do it?