Dodgers Report:

Mike MacDougal
May, 11, 2012
5/11/12
11:15
PM PT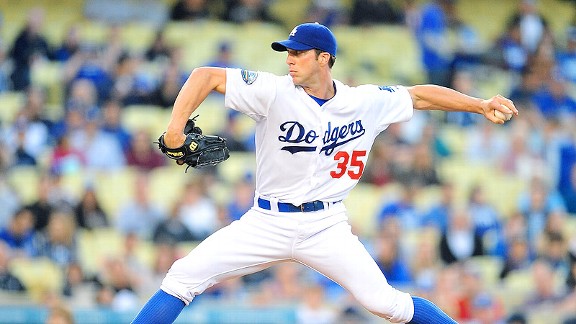 Gary A. Vasquez/US PresswireChris Capuano improved his record to 5-0 and shaved his ERA to 2.06 after winning Friday.
LOS ANGELES -- This wasn't supposed to happen.
The Los Angeles Dodgers didn't sign
Chris Capuano
to be their ace. They already had one of those. They didn't sign the veteran lefty to that two-year, $10 million contract last winter, really, to be anything other than their fifth starter, a reclamation project who was just finding his footing again following Tommy John surgery almost exactly four years ago.
And yet, here Capuano was on Friday night, pitching the still-surging Dodgers to a 7-3 victory over the Colorado Rockies before 35,591 at Dodger Stadium, running his record to 5-0 and shaving his ERA to 2.06 -- less than half the career mark of 4.39 he brought into the season, his first with the Dodgers.
Who would have predicted last winter that the Dodgers would be 21-11 and leading the National League West by six games? And who would have predicted that Capuano and
Ted Lilly
would be the anchors of the starting rotation, the two of them a combined 9-0?
It isn't that
Clayton Kershaw
hasn't looked the part of the reigning National League Cy Young Award winner. It's just that Capuano and Lilly have been even better. Capuano, to hear him tell it, is better than he ever has been.
"I feel great,'' he said. "Physically, I'm as good as I ever have been. It's great to just worry about making pitches and not have to worry about anything physical.''
Capuano, 33, has never been an overpowering pitcher, relying instead on guile and deception. To that end, the Tommy John surgery hasn't changed him much. Since then, though, he has added a couple more pitches to what already was an extensive repertoire, and an impressive one according to some longtime observers.
"I always liked this guy,'' said Dodgers manager
Don Mattingly
, a longtime hitting coach before taking over the club last year. "He is a tough guy to (advance) scout. He has so many different pitches, and he is tough to prepare for because you never know what you're going to get. He has been great for us.''
May, 3, 2012
5/03/12
5:07
PM PT
The Dodgers reinstated reliever Ronald Belisario from the Restricted List on Thursday after the right-hander finished serving a 25-game suspension for failing to comply with baseball's drug policy.

Belisario will be eligible to pitch when the Dodgers begin a three-game series against the Chicago Cubs on Friday at Wrigley Field.

In February, Belisario, who is from Venezuela, admitted he had tested positive for cocaine and that had prevented him from obtaining the neccessary paperwork for a visa to enter the United States, and also forced him to sit out all of last season.

To open a roster spot for Belisario, the Dodgers also announced they had desinated right-hander Mike MacDougal for assignment.

Belisario previously said he does not have a problem with any drugs and that his positive cocaine test was the result of "a one-time thing."

During his 25-game suspension, Belisario, 29, made four appearances for Triple-A Albuqueque and Single-A Rancho Cucamonga.

Belisario was a key member of the Dodgers' bullpen as a rookie in 2009, posting a 2.04 ERA in 69 appearances, before that figure ballooned to 5.04 in 59 games in 2010.

MacDougal, 35, posted a 7.94 ERA in seven appearances this season.
April, 19, 2012
4/19/12
8:09
PM PT
After dropping two of three to the Milwaukee Brewers in their first series of the season against a club that is reasonably expected to contend, the Los Angeles Dodgers return to the allegedly soft portion of their early season schedule Friday when they kick off a three-game series with the Houston Astros at Minute Maid Park.

The Dodgers will send veteran lefty Ted Lilly (1-0, 0.00) to the mound in the series opener for just his second start since beginning the season on the 15-day disabled list. Lilly pitched seven stellar innings, allowing only an unearned run and two hits, against the San Diego Padres on Saturday night after being activated earlier that day, and he likely would have been allowed to go longer if relievers Mike MacDougal and Jamey Wright hadn't needed work.

Lilly will be followed in the Dodgers rotation by reigning National League Cy Young Award winner Clayton Kershaw on Saturday night and Chad Billingsley on Sunday before the Dodgers return home for a six-game stand against the Atlanta Braves and Washington Nationals.

The Dodgers have won 10 of their first 13 games this season, largely on the strength of the middle of their lineup, where center fielder Matt Kemp -- who won the NL Player of the Week award each of the first two weeks of this season -- continues to sizzle. After going 4-for-7 with a double and his seventh home run of the season in Milwaukee, Kemp will take an eight-game hitting streak into Houston.

The Dodgers are without third baseman Juan Uribe for now, as he has a mildly inflamed left wrist and is listed as day to day, but he conceivably could return by the weekend.
April, 12, 2012
4/12/12
10:05
PM PT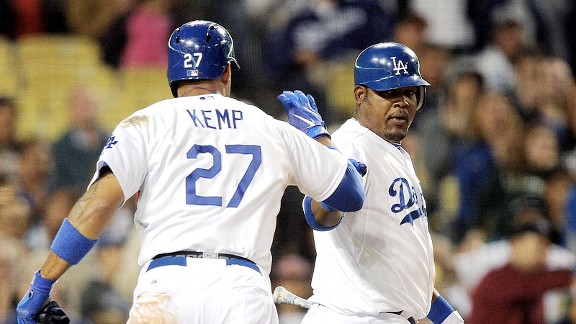 Harry How/Getty ImagesMatt Kemp rounds the bases as he scores one of the Dodgers' three first-inning runs Thursday.
LOS ANGELES -- The Los Angeles Dodgers scored three runs in the first inning, then held on for a 3-2 victory over the Pittsburgh Pirates before 28,328 on Thursday night at Dodger Stadium, giving them a three-game sweep of the Pirates and their first 6-1 start to a season since 1981, a year that ended with a World Series title.
The Dodgers' bullpen came up huge after starter
Chris Capuano
was lifted with one out in the sixth,
Mike MacDougal
,
Scott Elbert
,
Josh Lindblom
,
Matt Guerrier
and
Javy Guerra
combining to blank the Pirates on two hits over the final 3 2/3. Guerra picked up his fifth save with a perfect ninth inning.
The Good


Goose egg cracked.
James Loney
won't go the whole season without a hit. That became official with two outs in the bottom of the first inning, when the slumping first baseman broke out of his 0-for-16 skid with a hard, opposite-field single through the left side, bringing home
Matt Kemp
from second to give the Dodgers a 2-0 lead. Alas, Loney went hitless the rest of the night and now is 1-for-20, an average of .050.
Getting it done.
Elbert, the lone lefty in the Dodgers' bullpen and a guy who struggled with his command in his first two appearances, came on to face left-handed pinch hitter
Garrett Jones
with the bases loaded, two outs and the Dodgers nursing a one-run lead in the sixth. The Pirates countered with righty-hitting
Matt Hague
, but Elbert needed just two pitches to get Hague to fly out to center and end the threat. Elbert had allowed two of his three previous inherited runners this season to score.
Well-timed cutdown.
For the first time this season, a Dodgers catcher threw out a runner attempting to steal, and it came at a critical point in the game. With Pirates speedster
Andrew McCutchen
trying to get into scoring position with two outs in the seventh, Dodgers catcher
A.J. Ellis
fired a bullet to second baseman
Mark Ellis
to nail McCutchen and end the inning, preserving the one-run lead. A.J. Ellis has now cut down one of two runners who have tried to steal on him this season.
The Bad
Too much air.
Dee Gordon
, whose game relies heavily on speed and thus relies heavily on hitting the ball on the ground, made fly ball outs in each of his first three plate appearances, including with two on and two out in the fourth immediately after Capuano worked Pirates starter
Jeff Karstens
for a walk. Gordon, who is hitting a disappointing .200 with an even-more-disappointing .273 on-base percentage, has to be able to take advantage of his speed at the top of the order, but he has no chance of doing that when he hits high, catchable fly balls.
Running on empty.
For the second start in a row, lefty Capuano was dominating through the early innings, then ran out of gas well before he reached 100 pitches. This time, he began to run into trouble in the fifth, when he gave up a solo homer to
Michael McKenry
and then hit a batter. Once he gave up back-to-back hits to start the sixth and a sac fly that shaved the Dodgers' lead to one run, manager
Don Mattingly
had seen enough. Capuano was gone after 81 pitches, five fewer than he threw in 4 2/3 innings Saturday night in San Diego. On a positive note, Capuano's ERA went from a ghastly 7.71 to a just-sort-of-not-very-good 5.40.
No-shows (again).
For the second night in a row, the Dodgers played in front of a bunch of empty seats, with an official attendance of 28,328. Total paid attendance for the past two nights has been 58,057. Total paid attendance for Tuesday's home opener was 56,000.
April, 5, 2012
4/05/12
7:19
PM PT


SAN DIEGO -- Despite losing Clayton Kershaw to a stomach flu after the reigning National League Cy Young Award winner gamely battled through three shutout innings, the Los Angeles Dodgers bullpen was just good enough hold the San Diego Padres at bay in a 5-3, season-opening victory for the Dodgers before a sellout crowd of 42,941 at Petco Park.

The Dodgers went ahead to stay on a pair of bases-loaded walks in the fourth inning by James Loney and A.J. Ellis, then put the game to bed on Matt Kemp's two-run homer in the top of the eighth. Javy Guerra, who as a rookie saved 21 games for the Dodgers last season, notched his first one of 2012 by pitching the ninth inning.

Kershaw's early departure forced the Dodgers to go deep into their bullpen in their first game of the season, as he was followed by a parade of five relievers. But manager Don Mattingly didn't call on long reliever Jamey Wright, meaning the Dodgers probably are OK for Friday night's game without calling up additional bullpen help from the minors.

The good

Beast mode. Any concerns about Kemp's high strikeout rate in spring training quickly dissipated as the Dodgers center fielder went 2-for-4 with two runs scored, three RBIs and his first home run of the season, a two-run shot off Padres reliever Brad Brach in the eighth inning that landed atop the out-of-town scoreboard in right-center.

Glove Swag. Dee Gordon might have been robbed of his first triple of the year by a tough official scorer, who ruled three-base error on a ball that ticked off the glove of Padres center fielder Cameron Maybin. But nothing could take away the defensive play Gordon made to end the fourth inning, a diving stop behind the bag and on the edge of the outfield grass. Gordon got to his feet quickly and fired a bullet to first, taking what would have been a clean single to center away from Yonder Alonso.


March, 8, 2012
3/08/12
5:22
PM PT


Eight years ago, before hip surgery wiped out almost his entire 2010 season, before he spent the 2011 season with the Yomiuri Giants and before he accepted a minor league contract from the Dodgers this winter that didn't include the ever-popular escape clause at the end of spring training if he doesn't make the team, Josh Fields was a first-round draft pick of the Chicago White Sox after starring for three seasons at Oklahoma State University in his hometown of Stillwater.

It's tempting to apply the word "bust'' to a guy who traveled such a path, especially one with a .234 career batting average in parts of five big league seasons. But based on whatever judgments you can make through three Cactus League games, Fields hasn't looked the part of a wasted draft pick.

After driving a hard single up the middle off Pedro Figueroa in his only at-bat Thursday at Camelback Ranch, Fields was 4 for 5 with two doubles so far this spring. Even if he keeps it up, it isn't likely to earn him a spot on the big league club to begin the season -- there doesn't appear to be room for another corner infielder, and the 40-man roster is full anyway. But he could be a good guy to have in the organization, ready to come to the majors at a moment's notice if somebody gets hurt.

This is, after all, a player who hit 23 home runs in 100 games for the White Sox in 2007. And the Dodgers don't exactly have a power-studded lineup.

And Fields is, by all indications, all in, despite the fact he knows he probably is headed to Triple-A Albuquerque for at least the start of the season.

"I'm a Dodger,'' he said. "I had an offer to go back to Japan, but I chose not to. My focus is here. This is where I want to be. I just want to stay healthy and show them what I can do. But I know I'm going to have to hit my way back to the big leagues.''

Fields at least is in comfortable surroundings. He spent his last big league season of 2010 with the Kansas City Royals, whose manager at the time, Trey Hillman, is now the Dodgers' bench coach and remains a strong supporter of Fields.

Even if it's too early to make definitive judgments, it isn't too early to make observations and take mental notes. And Dodgers manager Don Mattingly already has taken a couple regarding Fields.


February, 24, 2012
2/24/12
10:10
AM PT
Both had been battling minor back issues that kept them from throwing bullpens either of the first two days of camp, but both are scheduled to do so today. Crisis averted, apparently.
February, 23, 2012
2/23/12
2:11
PM PT
Mike MacDougal hasn't thrown a bullpen session yet during spring training because he felt something in his lower back while taking ground balls during fielding drills Wednesday.

The decision was made by the medical staff to hold him back for precautionary reasons, but the situation isn't thought to be serious. MacDougal participated in all other drills on Thursday morning, including taking more ground balls.
February, 21, 2012
2/21/12
1:34
PM PT
We knew before today that Blake Hawksworth had surgery on Jan. 12 to remove scar tissue and a bone spur from his right elbow. What we didn't know, until we met with manager Don Mattingly this morning, was that Hawksworth had a second procedure about 10 days later to clear up an infection resulting from the first procedure. This has put him about two weeks behind schedule, meaning that when he is ready to begin throwing, he won't have enough time to get ready for the season.

That means he will begin the season on the 15-day disabled list, which in turn means that a bullpen that didn't appear to have an opening now has one -- although it likely would be a temporary opening, because Hawksworth is out of minor league options and thus virtually guaranteed a spot when he is ready to go.