Dodgers Report:

Mike Scioscia
August, 5, 2014
Aug 5
10:12
PM PT
LOS ANGELES --
Mike Trout
got the better of
Clayton Kershaw
in the two Southern California superstars' first regular-season head-to-head meeting, going 2-for-3. But Kershaw got the last laugh: He straightened out a rough outing and his
Los Angeles Dodgers
beat Trout's
Los Angeles Angels
5-4 in front of more than 53,000 fans at Dodger Stadium on Tuesday night.
Kershaw didn't pick up his 14th win, because
Brian Wilson
gave up an
Albert Pujols
home run the eighth inning. But the Dodgers won it in the bottom of the ninth when pinch hitter
Andre Ethier
slapped a ground ball to
David Freese
and
Juan Uribe
dislodged the ball from
Chris Iannetta
's mitt to score the winning run.
That evened the Freeway Series at one game each and gave the Dodgers a 2½-game lead over the second-place
San Francisco Giants
in the NL West.
How it happened:
Kershaw was susceptible early and the Angels scored three runs on him in the first three innings, but his command showed up in the fourth and after that he was as dominant as usual. Trout had an infield single and a double off Kershaw, but Kershaw also struck him out on three pitches in the fifth. Six of Kershaw's seven strikeouts came in the fourth through seventh innings.
Matt Kemp
manufactured the go-ahead run in the sixth inning, reaching on an error, stealing second and going to third when Iannetta's throw trickled into center field. Kemp scored on
Scott Van Slyke
's sacrifice fly.
Hits:
Uribe has a knack for the momentum-changing home run. He doesn't go deep often, but when he does, it usually means something. After a poor performance the night before, the Dodgers were in an early 2-0 hole when Uribe stepped to the plate in the second inning. He caught a hanging curveball and hit a towering drive well into the bleachers in left-center field to give the Dodgers a 3-2 lead. Uribe, 35, looks like a nice re-sign by Dodgers general manager Ned Colletti despite his advancing years. He's still playing good defense and batting .299. The home run was his first since July 8.
Misses:
Adrian Gonzalez
, who slumped through May and June, had a solid July, managing to drive in 21 runs despite hitting only two home runs. He batted .293. The Dodgers' No. 3 hitter has had a sluggish start to August, going 1-for-13. Dodgers manager Don Mattingly likes Gonzalez in the 3-hole because it gives him nearly ideal left-right balance in the top half of the lineup, but Gonzalez has performed more like a No. 5-type hitter most of this season. He continues to drive in runs, but he's getting on base at a low rate (.325).
Stat of the game:
Since 1900, only two pitchers have ever completed a season with a better strikeout-to-walk ratio than the 10.00 mark that Kershaw had coming into the game: Brett Saberhagen (11.00) in 1994 and
Cliff Lee
(10.28) in 2010. Kershaw walked two batters and his ratio fell to 9.23, which is still well ahead of Sandy Koufax's best mark, 5.38 from 1965, the best for a Dodger until this season.
Up next:
The four-game home-and-home series moves to Anaheim, with
Dan Haren
(8-9, 4.76 ERA) going for the Dodgers and
Matt Shoemaker
(9-3, 4.09) pitching for the Angels.
August, 4, 2014
Aug 4
10:05
AM PT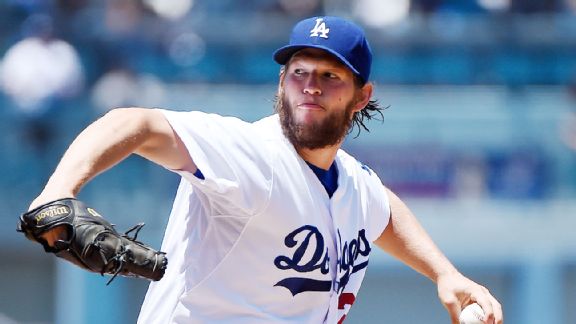 Lisa Blumenfeld/Getty ImagesClayton Kershaw, 7-0 with a 0.68 ERA since mid-June, will be tested by the Angels lineup.
LOS ANGELES -- Two spring trainings ago, Hall of Fame manager Tommy Lasorda had a premonition that 2013 could be the year of the long-anticipated postseason Freeway Series, pitting his beloved former team, the
Los Angeles Dodgers
, against the
Los Angeles Angels
of Anaheim, managed down the road by one of his former players, Mike Scioscia.
"It could happen very easily," Lasorda said.
It turned out to be far from easy.
The 2013 Angels allowed a bushel of pitching talent to walk out the door then went and spent the money saved on slugger
Josh Hamilton
. They had a shaky rotation and a worse bullpen. With injuries, especially to
Albert Pujols
, and Hamilton's underperformance, it turned into a rough season in Orange County. The Angels lost 84 games and finished in third place. There were calls, wisely ignored, to fire Scioscia and general manager Jerry Dipoto.
The Dodgers, too, had their share of struggles despite early World Series predictions. By June, pundits were calling for manager Don Mattingly to go. He didn't, and the Dodgers went on a historic 42-8 run en route to the National League Championship Series, where they were knocked out in six games by the
St. Louis Cardinals
.
Ah, but 2014. Maybe this is the year the I-5 freeway becomes the traffic-clogged conduit for the Fall Classic? The signs are as promising as ever.
The Dodgers have the best record in the National League. The Angels have the second-best record in Major League Baseball and have been hounding the steps of the first-place Oakland Athletics for weeks. When the Dodgers and Angels meet this week for two games at Dodger Stadium and two games at Angel Stadium, it will be a crucial set for both teams. It will also be a display of many of baseball's most exciting talents -- including Pujols,
Mike Trout
, the Dodgers' Cy Young-winning pitchers
Clayton Kershaw
and
Zack Greinke
, and mercurial outfielder
Yasiel Puig
.
Dipoto has been busy since the winter meetings, fixing the Angels pitching. Hamilton has been productive when healthy. Pujols is steadily providing power. The best player in baseball, Trout, might actually be improving, scary as that must sound to the rest of the teams.
[+] Enlarge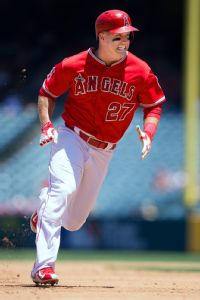 Dominic DiSaia for ESPNMike Trout is the best player in a fearsome Angels lineup.
Mattingly loves to watch young hitters over time, and he has seen enough of Trout to know where that career is headed.
"You see a guy who comes up and you hear all the hype. You don't really listen at that point, but then you kind of see him make quick adjustments," Mattingly said. "Early on, you could get him with the slider, you could get him to chase, you could do a lot of things, but he closed those holes real quickly. Then next time you see him, you can't go there any more or he's laying off. He's just jumped quickly, right? That's tells you right away that he's going to be really good."
Greinke, whom Dipoto acquired at the steep cost of shortstop
Jean Segura
and prospects three trade deadlines ago, has kept tabs on the Angels since he left to sign with the Dodgers. He will face them tonight knowing full well how challenging their deep lineup is to pitch against.
He wasn't surprised that the Angels struggled last season after he,
Dan Haren
-- now a Dodger -- and
Ervin Santana
left, especially when the injuries started piling up.
"This year, I'm pretty sure Hamilton's been as good as everyone expected him to be and getting
Garrett Richards
to take that big step are kind of the two main things it seems like from the outside," Greinke said. "
Kole Calhoun
is pretty darn good too, but I don't know how many people saw that coming. They really haven't had anything bad happen to them this year, where last year they had several bad things happen."
Greinke signed a six-year, $147 million deal with the Dodgers in December 2012. Given the way he talks about those two months with the Angels, you wonder if he might consider signing there should he opt out of his contract after the 2015 season, which he may do depending on market conditions.
A native of Florida, Greinke said he enjoyed living in Orange County briefly.
"It's got to be the best part of L.A., that area," he said. "It's really nice over there, at least for my personality type, I guess. The city over there is as great as it gets, the team was good, the stadium and fans were great too. That part of town is the No. 1 thing they have going for them. It's easier to get to the beach."
Scioscia always seems to enjoy making a return to Dodger Stadium, where he was part of two World Series teams before winning one as a manager in Anaheim in 2002. For one thing, it cuts his grueling 73-mile commute nearly in half. He lives in the western reaches of Los Angeles County.
Of course, both teams would probably prefer that their regional rival were a little less competitive. The Angels are pushing hard, one game behind the A's. The Dodgers are trying to fix some issues at the back of their rotation and just lost two of three to the last-place
Chicago Cubs
. They are 2½ games up on the
San Francisco Giants
. A four-game sweep would be a major, though far-from-fatal, blow to either team's World Series hopes.
With Trout, 22, leading them in all the major offensive categories, the Angels are second in the majors in runs and fourth in slugging. It will be a far tougher task than Dodgers pitchers have been facing, but then again there's nothing wrong with starting a series with Greinke and Kershaw, as the Dodgers will do Monday and Tuesday night at home. Since his June 18 no-hitter, Kershaw is 7-0 with a 0.68 ERA.
"I always look at it like pitching stops hitting, and no matter how good teams are, it depends who's pitching," Mattingly said. "It changes things."
Mattingly is aware of the challenges the Angels bring, but even when they were struggling, he never took these series lightly for one major reason: Scioscia.
"Mike's teams are always prepared, and you know they're going to play smart," Mattingly said. "They usually play fast. I know he's gotten away from that a little bit, but they usually play fast and they put pressure on you, so they let you know where you're at."
That's a pretty good way of summarizing these next two miniseries. By the end of them, each team should know where it's at.
May, 27, 2013
5/27/13
8:50
PM PT
LOS ANGELES -- The
Los Angeles Dodgers
showed plenty of fight Monday night.
The Dodgers clawed their way out of a 6-1 hole by steadily chipping away against lefty
C.J. Wilson
and the
Los Angeles Angels
' unpredictable bullpen. It was the Dodgers' biggest rally of the season and led to an 8-7 win at Dodger Stadium that snapped the Angels' eight-game winning streak.
The big inning was the fifth, when the Dodgers scored four times to tie it.
Mark Ellis
had a clutch two-run double and
Adrian Gonzalez
and
Scott Van Slyke
had RBI hits.
Jerry Hairston Jr
., in his first day back after missing three weeks with a strained groin, singled to drive in Gonzalez in the seventh to give the Dodgers the decisive run. Gonzalez is among the hottest hitters in baseball. He scored four times -- including huffing and puffing all the way from first on Van Slyke's double off the left-field wall -- and has nine hits in his past 11 at-bats.
The game began at 5:10 p.m., when the Dodgers normally would be taking batting practice. It looked a lot like their body clocks never caught up.
Matt Kemp
got back on
Albert Pujols
' deep line drive, but it clanged off his glove for a charitably-ruled double.
Ramon Hernandez
allowed a passed ball, then appeared to forget to throw to first base and, by the time he did, he rushed it and threw high to
Adrian Gonzalez
.
The ball bounced off Gonzalez's glove, too. That started the Dodgers off in a 2-0 hole, which grew deeper as
Zack Greinke
struggled for a second straight start, both against teams he played for last season. Greinke allowed six runs on 10 hits and couldn't get an out in the fifth inning.
The Dodgers these days are largely playing around Kemp, who looks lost in the batter's box and gets roundly booed every night now. Kemp struck out four more times and has struck out in 13 of his past 23 plate appearances.
The teams combined to hit 11 doubles, a new Dodger Stadium record.
May, 26, 2013
5/26/13
6:55
PM PT
LOS ANGELES -- The
Los Angeles Dodgers
couldn't help but notice a few parallels with the team that plays approximately 30 miles down the freeway from them.
Massive expectations after an offseason splash, two franchises trying to plug the hole on declining attendance from three straight seasons out of the postseason. A slow start, mounting injuries, a manager rumored to be on the hot seat. You could go on.
[+] Enlarge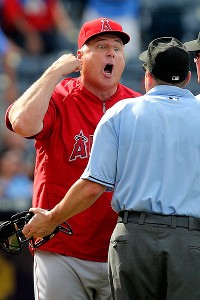 Ed Zurga/Getty ImagesMike Scioscia won the 2002 World Series with the Angels and has made the playoffs six times, but even he is not immune to job security rumors.
The Dodgers hope they soon have one more thing in common with the
Los Angeles Angels
. While the Dodgers have shown only glimpses of getting their disappointing season moving ahead, the Angels are in full-scale recovery mode, having won eight straight games.
"You always knew they had a talented club, and they were going to put it together," Dodgers manager Don Mattingly said. "I wish they would have just waited a little longer."
Southern California's two expensive, sub-.500 teams meet this week in a new home-and-home format that features two games at Dodger Stadium Monday and Tuesday, followed by a couple of games at Angel Stadium. It will be a chance for the Angels to stay on a roll and for the Dodgers to finally get on one. The energy in those games is always elevated.
"We're not done yet," Angels catcher
Hank Conger
told reporters this weekend in Kansas City. "We've got things rolling, but we need to continue this momentum in order to be where we want to be down the road."
The parallels eventually peter out, of course. While Angels manager Mike Scioscia was rumored to be on the hot seat, few people doubt that Mattingly actually is. In just his third season as manager, Mattingly realizes it. The Angels had high expectations, but not as high as the Dodgers, who are spending a National League record $217 million on salaries, $75 million more than the Angels.
Mattingly said he considered the rumors about Scioscia's shaky hold on his job to be "absurd." Scioscia is in his 14th season in Anaheim. He won the 2002 World Series and made the playoffs six times.
"Playing against his teams from the AL, I always hated it," Mattingly said. "They're tough to play against. They're a little different now, not quite as speed-oriented, but they're well managed and prepared."
Angels owner Arte Moreno gave Scioscia a sturdier vote of confidence 10 days ago than Dodgers president Stan Kasten gave Mattingly Friday. Moreno told FoxSports.com that the chances of an in-season managerial change for his team are, "right now, zero," and that was before his team caught fire.
Meanwhile, Kasten said he was not thinking of pulling the plug on Mattingly any time soon but reserved the right to do so on fairly short notice.
"I expect this to work, but if it doesn't, I guess there maybe will be a day where we have to look at a different solution," Kasten said.
Mattingly is in the final year of his contract, and the Dodgers have declined to pick up his 2014 option, saying they'll wait until November to make that call. Scioscia is halfway through a 10-year deal that reportedly pays him about $5 million per year. It would be a far more financially painful move for Moreno than for the Dodgers.
National writers have speculated that the Dodgers could cut ties with Mattingly and try to work out a deal with Moreno to get Scioscia, a Dodgers catcher from 1980 to 1992. That speculation probably isn't going to entirely disappear, particularly after Kasten brought up Scioscia as an example of how the length of a manager's deal won't quash rumors about his job security.
"Down the road from here, there's a pretty damn good manager -- one of the best, maybe, ever -- who also won a world championship and, until the last week or so, I've been reading his death watch," Kasten said. "And he's got five years left on his contract."
The Angels are 23-27 and in third place in the AL West. The Dodgers are 20-28 and in last place in the NL West. Both teams, though, are on the mend. The Dodgers now have a formidable top of the rotation with
Zack Greinke
back after he fractured his left collarbone in a brawl with San Diego's
Carlos Quentin
in his second start. All-Star shortstop
Hanley Ramirez
could start a rehab assignment this week and will likely join the Dodgers next weekend.
Angels ace
Jered Weaver
is expected to return from a fractured left elbow and pitch Wednesday or Thursday against the Dodgers.
It just might be 'go' time for both teams, but for the next four days, somebody's going to have to be the launching pad.
April, 22, 2013
4/22/13
12:48
PM PT
There have been better weeks to be a Dodger fan. The team lost all but one game last week, has seen its starting pitchers go down one after the next and has generally looked anemic when at bat. The cloud of a record payroll isn't making expectations any easier.

If you need a reminder that hope is far from lost, you can pick up Josh Suchon's new book, "Miracle Men: Hershiser, Gibson and the Improbable 1988 Dodgers," which is trickling into stores now. It shows how teams can endure an endless string of adversity and still reach, and win, the World Series. Most people didn't think that team was very good going into the season and most people didn't think it stood a chance going into the World Series against the Oakland A's.

Suchon, a radio co-host of postgame Dodger Talk from 2008 to 2011, is now the play-by-play voice of the Albuquerqe Isotopes, the Dodgers' Triple-A affiliate. He's also a former newspaper reporter and longtime friend. He and I worked together at the Oakland Tribune for about 10 years.

I caught up with Suchon by phone to talk about the book:

Q. So, you grew up three BART stops from the Oakland Coliseum and worshipped the A's. How did you bring yourself to write this book and how did it come about?

A. I had the idea during the 2009 playoffs when I was flying on the Dodgers charter flights. I was reading Joe Posnanski's book about the 1975 Cincinnati Red, which I loved. I wanted to write a book about a team that won the World Series. My first thought was to do the '81 Dodgers, but there were already a number of books on that team. I assumed there had been a half-dozen books on the '88 team, too, but to my surprise, nothing had really been written. It was a perfect opportunity.

Q. Did you find it bittersweet or therapeutic?

A. I was hoping it would be therapeutic. Writing the off-season chapter, the spring training chapter, all the Orel Hershiser chapters, the NLCS chapter, those were all really fun. But there were times writing the World Series chapters when the 39-year-old Josh turned into the 15-year-old Josh and I got angry. I watched all five games again and, a few times, it was very distressing the way they A's didn't play the way they had all year. I'm over it. I really am.

Q. Who was the first person you interviewed and how did you piece a 25-year-old narrative back together?

A. The first person was [ex-GM] Fred Claire. Without his help and his candid way, the book wouldn't have been as good as it is. It was pure luck I happened to talk to Fred first, but because I did it helped me ask better questions later and bring stories alive. My favorite interviews were probably Steve Sax and Tim Belcher. They had great memories, great stories and were very enthusiastic. I talked to probably two-thirds of the players from that team, plus broadcasters Vin Scully and Jaime Jarrin. The key guys, like Orel and Kirk Gibson, Mike Scioscia and Mike Marshall, were all very helpful.

Q. One of the things that struck me was how honest the players were to the newspaper reporters back then. Just during spring training, you detail several team feuds and you cite newspaper clippings in which players publicly blast each other or management. How different was that world from the media world we live in now?

A. That was one of the bigger surprises. In some ways, it was a wakeup call about how baseball gets reported now. Because ESPN wasn't in 24-hour news cycle, there wasn't the dot-com presence, obviously things were still very much driven by newspapers. The quotes were fantastic. Guys ripped each other on the record every day, it seemed like. Maybe it's because they didn't have the Internet, so people didn't see every quote and they didn't get in trouble for it. They didn't have their guards up as much.

Q. Did writing this book shed any light on why the Dodgers haven't been back to the World Series since?

A. I tried not to delve into that, because I wanted the focus on '88. Going into that year, they were struggling. They had had back-to-back losing seasons, attendance was down, the Lakers had taken over as the most important team in town. They had lost their way, which is why nobody expected much in 1988. Most of the media predicted they'd be in third or fourth place. Everything came together just right for them. They needed contributions from everyone on the roster. Obviously, Hershiser and Gibson saw most of the headlines, but a lot of guys did great things and had career years. They kind of went against the Dodger Way and signed free agents. Fred Claire got ripped for his trades, but those trades and the farm system were what got them through.

Q. We all have a conception of Orel Hershiser as "the Bulldog," many people remember the scoreless-innings streak and hear him a lot broadcasting games nowadays. He writes the foreword for your book. Give us some insights we might not have.

A. Going back to Posnanski's book, what struck me most when I read it is how much better I appreciated Pete Rose afterward. He showed just how intense he was as a player and how much he hated losing. I wanted people to really understand Orel Hershiser. He was not drafted very highly, he was mostly a middle reliever in the minor leagues. Because he was tall and skinny and wore glasses and was a Christian, a lot of people had doubts about whether he had the toughness to be a big-game pitcher. I think that drove him more than he admits to this day. Also, I don't think people appreciate the 59-inning scoreless streak enough. It was overshadowed by the Olympics, by the start of the NFL season, with two teams in L.A. and USC and UCLA both having top 10 football teams. Four of the six starts were on the road.

Plus, it was mathematically impossible. He went into the last game of the season needing 10 scoreless innings, which meant not only did he have to throw a shutout, but the other guy did as well. It was Andy Hawkins of all people. Sure enough, it happened. Every Dodger hitter I interviewed for the book, I asked, "Were you trying to score?" They all said, "Yeah." Just an unbelievable accomplishment.

Q. How much time did you spend researching Game 1 and all the intricacies of Gibson's home run off Dennis Eckersley?

A. That was the challenge, because it's the game everyone remembers and I wanted to bring it to life without boring people who already know the details. I have a page or two about the 3-and-2 backdoor slider, which has been talked about for years and years, but what is rarely mentioned is how often Eckersley went to that pitch against left-handed batters. Tim Leary showed me the scouting report from that game and I saw where it said he was going to throw that against lefties. But he only got to 3-and-2 to left-handed batters that year eight times. Four of them were in May, so the Dodgers based this entire scouting report on four pitches in the last four months of the season. Talk about a small sample size. Dennis always said it was a stupid pitch. [Catcher] Ron Hassey said no way, it was his best pitch to a lefty.

One of the best stories is from Vin Scully, who told me it was the only time in his life after a game that he couldn't sit down, he couldn't get in his car and go home. He had all this energy in his body. He was pacing around the O'Malleys' suite. To hear Vin Scully say something like that is remarkable. He's the picture of calm and he couldn't sit down.

Q. What else stands out about that post-season?

A. I've always thought bulletin board material was overrated. If you need that to motivate you, you probably won't win the series. But there was a ton of that stuff in those series and the players still talk about it. David Cone had ghost written a story in one of the New York tabloids and said a bunch of stuff about Jay Howell. Before the World Series, Don Baylor said the A's wanted to play the Mets, because they were the best team in the National League and they wanted a challenge. That had an impact. Guys read the paper. Tommy Lasorda used that stuff to fire up the team.

Oh, and Hershiser wasn't the original World Series MVP. They told someone else he was the MVP and he was walking to the stage to do an interview, when they told him they'd made a mistake. People have to buy the book to find out who it is.

Q. Nice tease. Any other cool tidbits?

A. The reactions I got about the Pedro Guerrero-for-John Tudor trade in August were interesting in how mixed they were, even to this day. Some guys said they were sorry to see Pedro go, but when John Tudor walked in the door, it gave them a lot of confidence. Other guys said they still don't know why they made that trade.

Q. How do the Isotopes look so far?

A. Well, the Dodgers have already taken our three best pitchers, our Opening Day starter [Steven Fife] and our two best relievers, Shawn Tolleson and Josh Wall. We had Tim Federowicz and then the Dodgers took him back four days later. On behalf of the Isotopes, I'd love it if the Dodgers could stay healthy the rest of the year.


January, 24, 2013
1/24/13
4:11
PM PT
Who knows, maybe this is the season it finally happens. The Dodgers, having spared no expense, will field a balanced, dangerous team and feel like they are positioned for a World Series run. The Angels, who jacked up their already formidable power with the surprise acquisition of
Josh Hamilton
, have similar aims.
If there really is to be a Freeway Series in 2013, a lot of things have to go right for both teams. But the team that made -- and makes -- the best personnel decisions likely will go further into October.
Let's break down the key areas of both rosters to try to decipher which team is better constructed to play longer into 2013.
Starting rotation
This is the part of the discussion in which Dodgers fans get to gloat and Angels fans have to just sit there and marinate. You could argue -- in fact, you don't really even have to -- that the Dodgers have better pitchers in all five spots.
We know this because one of the Angels starters,
Joe Blanton
, couldn't have cracked the Dodgers' seven deep. We also know this because one of the Dodgers' starters,
Zack Greinke
, almost helped the Angels make the playoffs.
Jered Weaver
is perfectly ace-like. About 25 teams would put him at the top of their rotation. He has finished in the top five in Cy Young voting three years running and even got a couple of MVP votes last year -- always a cool accomplishment for a pitcher. He won 20 games, had a sub-3.00 ERA for the second season in a row and usually gives you more than 200 innings. And we won't even hold the .250 and .241 BABIPs from the past two seasons against him. Weaver is a fly ball pitcher and he relies on mishits to pitch deep into games. He gets strikeouts when he needs them, which is quite often, actually.
The only reason he doesn't get the edge is that
Clayton Kershaw
might be the best pitcher in baseball. We don't need SABR to tell us that. It's not that scientific. For the past two seasons he led baseball in ERA and was in the top three in WAR for pitchers. If he's not the most dominant pitcher in baseball, he's in the team photo and it's a small team (probably Kershaw,
Stephen Strasburg
,
Felix Hernandez
and
Justin Verlander
).
So, the Dodgers get an edge in the No. 1 department, though it's a fairly slight edge because of Weaver's competitiveness and consistency. "Slight" isn't the right word for the rest of the Dodgers' edge in starting pitching.
Greinke has never come close to touching his 2009 Cy Young season, but neither has just about any other active pitcher. Greinke flirted with a sub-2.00 ERA, led the league in ERA+ and WHIP. Nobody could square him up. He gave up 0.4 home runs per nine innings. He was mediocre the following season, probably in part because of a personal crisis, but has gone 31-11 with a 3.63 ERA the past two years. Is he worth $147 million? Is any pitcher? He's as good a No. 2 starter as there is out there.
August, 2, 2012
8/02/12
11:49
AM PT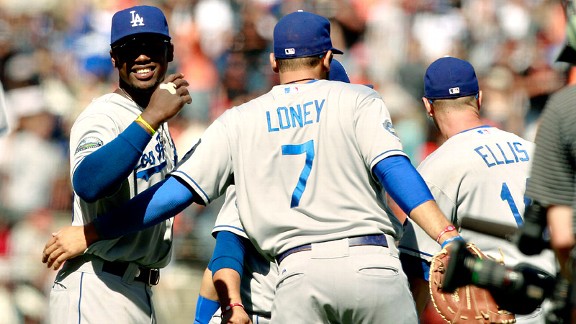 Cary Edmondson/US Presswire
When the Dodgers acquired
Hanley Ramirez
from the Florida Marlins on July 25, they had a precedent to believe the 28-year-old former batting champion would play hard and blend into the fabric of the team.
Four years earlier, another brash slugger with a history of personality clashes arrived in Los Angeles and turned around his image (for the time being), while changing the course of the franchise. That, of course, would be
Manny Ramirez
, who batted .396 with 17 home runs and 53 RBIs in just 53 games in 2008.
There are other precedents that aren't as encouraging, one of them within 30 miles of Dodger Stadium. When the Angels signed
Jose Guillen
before the 2004 season, they assured their fans that the steady leadership of
Mike Scioscia
and a change of scenery were all Guillen needed to overcome a history of clashes with authority figures.
Within eight months, Guillen had publicly pouted after Scioscia benched him (at the suggestion of owner Arte Moreno) for blowing off an on-field photo day with fans. Within weeks, Scioscia and Guillen had a blowup in the clubhouse that led to Guillen being suspended for the remainder of the regular season and the playoffs then shipped off to the Washington Nationals the next winter.
In other words, this Ramirez thing could go either way. If he remains happy and focused, he could be the extra middle-of-the-order bat that puts the Dodgers in the playoffs. But many baseball people wonder what will happen if the Dodgers fall into a long losing streak or if Ramirez becomes unhappy with the way manager
Don Mattingly
is handling him.
Things couldn't have gone better to ease Ramirez into a new scene. The Dodgers swept an emotional series in San Francisco, with Ramirez hitting a game-winning home run in one of the games. When he got back to Los Angeles, he said it was refreshing to be in a winning environment. The Miami Marlins had sky-high expectations moving into a new stadium this season but have underperformed.
"They are winning, you know, and that's the thing that I like. Everybody's happy," Ramirez said. "When you walk into a situation where everybody's laughing and getting along, I'm happy to be part of that."
In eight games, Ramirez is batting .226 with a home run and eight RBIs. Eventually, he will probably move back to his preferred position, shortstop. He played a few innings there Wednesday after a double switch.
So far, so good. But what happens when things turn south -- as they inevitably do for at least small stretches of a baseball season?
The Dodgers can't possibly know that. They were desperate enough to add offense that they felt they had to take a shot on Ramirez. Teams don't typically trade away high-performing hitters on long-term contracts who are model citizens.
"There's only so much background checking you can do," general manager
Ned Colletti
said. "Sometimes, you give people an opportunity, you give them a chance. I've had a couple good conversations with him. He seems genuinely happy to be here and glad to have a fresh start.
"I usually make my determinations about people based on how they respect the game in front of me and in front of Donny and how they interact with people, so we'll start clean because you have no idea what the dynamics were before."