Dodgers Report:

Milwaukee Brewers
July, 26, 2013
7/26/13
2:03
PM PT
LOS ANGELES – Take it for what it's worth five days before the trade deadline, but Dodgers general manager Ned Colletti didn't sound like a man about to swing a major trade.
Speaking of the market for players, particularly pitchers,
Colletti told Mason and Ireland on 710 ESPN Friday
, "It's the thinnest I can remember."
The Dodgers continue to search for a reliever – and, if more starters become available they'll likely explore that pool, too -- but Colletti indicated any such acquisition probably wouldn't be earth-shattering. The Dodgers made several major splashes last season both before and after the deadline.
"It's not like there are three or four guys out there that really catch your attention to where you think, 'If we add this guy it's going to have a domino effect on our whole bullpen,'" Colletti said. "That guy's really not out there at the moment."
The Dodgers have scouted the Milwaukee Brewers, who traded their closer, Francisco Rodriguez, to the Baltimore Orioles but could also deal John Axford or Mike Gonzalez. The Chicago Cubs clearly are open for business and are said to be shopping relievers, including Kevin Gregg, a pitcher the Dodgers released in April. The Chicago White Sox, Houston Astros and Miami Marlins clearly would be sellers.
And then there's a reliever who wouldn't cost the Dodgers any young talent. They were one of several teams to scout ex-San Francisco Giants closer Brian Wilson's throwing session Thursday at UCLA, Colletti confirmed. According to reports, Wilson's fastball reached the low-90s, a good indication he might be healthy enough to pitch again.
Wilson, 15 months removed from reconstructive elbow surgery, has scheduled one more throwing session and the Dodgers will be there. Colletti called Wilson "intriguing."
"He's somebody that has a great track record and has been on the mound for the final out of a World Series, so there are a lot of things to like," Colletti said.
May, 22, 2013
5/22/13
10:14
AM PT
The days of patience, it seems, are over.
In pregame comments made to reporters at Miller Park in Milwaukee, Dodgers manager Don Mattingly made it clear changes -- pretty big ones -- could be coming. He hinted the team has kicked around the idea of recalling top outfield prospects Yasiel Puig or Joc Pederson to provide a spark for his reeling team.
He benched Andre Ethier against a right-handed pitcher, saying it was about fielding his most-competitive team.
But easily his most dramatic comments concerned the mental makeup of his team, which it is increasingly clear is a concern for the third-year manager. Mattingly apparently was asked to compare the qualities of last year's team, which was 30-14 at this point with a band of other teams' castoffs (and a torrid start by Matt Kemp) and this year's team, which is 18-26 despite entering the season with a league-record payroll.
"There has to be a mixture of competitiveness," Mattingly said. "It's not 'Let's put an All-Star team together and the All-Star team wins.' It's finding that balance of a team that has a little bit of grit and will fight you and also having talent to go with it."
If you've watched this team over these frustrating first seven weeks, you probably find yourself agreeing with Mattingly, even if you think he's the wrong man for the job. The Dodgers aren't batting .222 with runners in scoring position and .139 with the bases loaded because they've forgotten how to hit or because they're not trying. They're struggling, at least from my perspective, because they have a flawed roster and they're
not handling the pressure
.
Teams in the Dodgers' position have to explore all reversible options before they begin to ponder permanent ones. Once you fire a manager or other team leader or trade one of your core guys, there's no going back on that decision. But, really, what kind of options are available? To use Puig -- who, by all accounts, is too raw for this level -- or Pederson -- who hasn't proven he could handle it -- as a short-term spark and maybe more is a fine notion. But where do you play them?
Unless the Dodgers are thinking of practically giving Ethier away (and guys slugging .405 with $79 million left on their contract aren't exactly in furious demand), it seems they're stuck with who they have. They're stuck with who they are.
That leads to the next question: If Mattingly feels this way about his team, is there any other way to solve that problem aside from a divorce? The Dodgers aren't going to be able to swap any of their players for a tough guy like Kirk Gibson at this point (he's too busy managing a team that's seven games ahead of them), but they could change one manager.
It might not be a rational move, but it might be the only move left to them right now.
One gets the impression Mattingly's comments today were just the first rumblings of some major shifts to come.
May, 21, 2013
5/21/13
9:10
PM PT
Manager Don Mattingly's biggest fear coming into this season was that weighty expectations would prove an unbearable burden. That worry seems to be coming to life, and he might be the one who gets caught under the pile.
Night after night, it looks as if the
Los Angeles Dodgers
are standing around waiting to lose. Virtually each night, a bad at-bat or a wayward pitch in the clutch seems to send them slinking back to the clubhouse, sluggishly hauling their bats and gloves.
Now, after Tuesday night's 5-2 loss to the
Milwaukee Brewers
, they have Wednesday's day game to try to salvage a series against a team that was reeling when it got to town. It's conceivable that Mattingly's job hangs in the balance. It has been widely speculated the Dodgers will make a change of managers Thursday before opening a short homestand.
The Dodgers are 1-4 on this trip, 4-13 in their past 17 games and deeply stuck in last place in the NL West.
Even if the Dodgers owners have no intention of firing Mattingly, does he really want to sit there night after night and watch this?
The Dodgers batted five times with the bases loaded and somehow managed to squeeze one run out of it. This team reduces rallies to background noise. They left 10 runners on base in just the first five innings.
As usual, the Dodgers had excruciating at-bats in clutch situations, going 3-for-14 with runners in scoring position. Nobody had a rougher night than
Matt Kemp
, who showed a glimpse of breaking out of his two-month slump with a deep home run Monday but regressed the next night.
Kemp came up with the bases loaded and one out in the third inning. Two outs later, they were still loaded. Kemp couldn't check his swing on a slow curveball well outside and low for the third strike, and Andre Ethier followed with a strikeout of his own. Later, Kemp bounced out softly to strand two more runners to end the fourth.
Zack Greinke
came into the game with an almost-unbelievable 15-0 regular-season record at Miller Park, but he wasn't sharp in his second start since coming off the disabled list. Greinke, making his first start there since the Brewers traded him to the Angels last July, struggled to put hitters away and was gone in the fifth inning. He gave up nine hits and struck out just one batter, the big blow
Carlos Gomez
's bases-loaded double.
May, 20, 2013
5/20/13
8:25
PM PT
Clayton Kershaw
is a manager's best friend, but Don Mattingly is probably not picky these days. He'd gladly welcome
Matt Kemp
and
Andre Ethier
into the party.
[+] Enlarge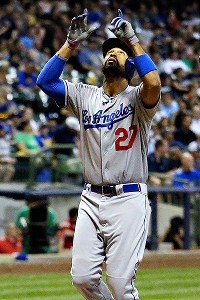 AP Photo/Morry GashMatt Kemp, along with Clayton Kershaw and Andre Ethier, silenced the critics for at least one day as the Dodgers beat the Brewers.
There was a swirl of stories about Mattingly's job status even before first pitch Monday night in Milwaukee. There were stories about Mattingly's feelings on the matter, stories about general manager Ned Colletti's feelings on the matter, and the usual array of defenses and indictments of the manager from various columnists.
For at least one day, Kershaw, Kemp and Ethier made them all shut up in the
Los Angeles Dodgers
' 3-1 win over the
Milwaukee Brewers
at Miller Park.
Kershaw (5-2) gave Mattingly a respite from having to bring his wobbling bullpen into a tight game by pitching all nine innings, holding the Brewers to just three hits and striking out five.
The newer wrinkle, though, was some power from two bats the Dodgers have been waiting and waiting on. Kemp hit his second home run of the season -- a sinking missile into the left-field stands -- that broke his homerless streak of 80 at-bats, and Ethier also went deep and drove in the other two runs.
The Dodgers were coming off a painful sweep in Atlanta, one in which the team's relievers coughed up late leads in all three games. That dreary weekend had ramped up speculation about Mattingly's job, with one national columnist suggesting he could be fired Thursday when the Dodgers return for seven games in Southern California.
It's days like that when it's nice to see Kershaw warming up.
Pitching on an extra day of rest after his career-high 132-pitch win over the
Washington Nationals
, Kershaw dominated again. Not only was the bullpen struggling, but it was tired -- and, as usual, those things are related. Kershaw gave the Dodgers' relievers a night to rest their arms and clear their heads.
With all the negative storylines, pressure could have built if the Dodgers hadn't jumped ahead early. They scored in the second inning. After a Kemp walk, Ethier sent a line drive over the head of
Norichika Aoki
, who twisted in circles trying to track it down, giving Ethier an RBI triple.
It wasn't a breakout performance for the Dodgers' offense, which ranked 28th in home runs coming in, but it was at least a suggestion that two of their most important pieces might break out of this months-long slump. Who knows, maybe it will be just in time.
May, 13, 2013
5/13/13
1:37
PM PT
LOS ANGELES -- The Dodgers are riding a humble two-game winning streak, but does it have more to do with their improved play or the fact they were playing the bad and injured
Miami Marlins
? You could make an argument for either side, but it's really not worth the effort. Just wait a few days and see.
The Dodgers face nothing but contenders (depending how you feel about the
Milwaukee Brewers
) between now and Memorial Day. The
Washington Nationals
, with their dominant pitching and phenom right fielder, have come back from an early hole in the NL East and now trail the
Atlanta Braves
by just a game. The Dodgers have to face a hot pitcher, Jordan Zimmerman, tonight.
Then they travel to Atlanta and Milwaukee before coming home to play the No. 1 team in ESPN's latest Power Rankings, the
St. Louis Cardinals
.
The disturbing truth is that the Dodgers have managed to get off to a lousy start despite playing a soft early schedule. Their strength of schedule is 23rd in the majors and their RPI, according to ESPN, is 25th in the majors.
There is, however, hope. The Dodgers could find out today whether
Zack Greinke
will be back to pitch Wednesday.
Mark Ellis
isn't far behind.
Hanley Ramirez
could return in a few weeks. It's hold-the-fort time, once again, with the barbarians are at the gate.
April, 28, 2013
4/28/13
4:33
PM PT
LOS ANGELES --
Clayton Kershaw
called himself "awful," and said, "the team won in spite of me," the last time he pitched.
Three starts into spring training and three weeks before Opening Day, he was seething with frustration after the
San Diego Padres
got some hits and scored some runs off him, saying, "I'm definitely looking to have a good start one of these days."
So, while Kershaw's two-game "slump" might have been the high point of some pitchers' major league careers -- he got through the fifth inning and held the opponent to three runs or fewer both times -- you can assume Kershaw wasn't basking in his awesomeness coming into Sunday.
"Every time he struggles, he's going to be particularly focused that next outing," Dodgers manager Don Mattingly said.
The
Milwaukee Brewers
happened to stumble into Kershaw after two mediocre outings and they found his focus laser-like. Kershaw struck out 12 Brewers Sunday, hitters flailing at an assortment of mid-90s fastballs, breaking balls and changeups. It was a more complete arsenal than Kershaw had shown in recent weeks. He adjusts his approach to the team he is facing -- in this case, a lineup stacked with right-handed batters -- and is thus more likely to be on top of his fastball.
"It's good to see Kershaw back to himself,"
Carl Crawford
said.
Kershaw, who picked up his first win since April 6, left Dodger Stadium shortly after Sunday's start without speaking to reporters. A team spokesman said he had a personal matter to attend to. His numbers did a good job speaking for him. Since the Dodgers moved to Los Angeles 55 years ago, according to ESPN Stats & Info, only six pitchers have struck out 12 batters without allowing a run or walking anybody in a start. The man Kershaw is relentlessly compared to, Sandy Koufax, did it four times. Nobody else has done it twice.
The next time Kershaw describes himself as "awful," pity the team he's about to face.
April, 28, 2013
4/28/13
3:31
PM PT
LOS ANGELES -- The
Los Angeles Dodgers
continue to wait for their best player to emerge from a month-long slump, but their best starting pitcher looks like he's back.
Clayton Kershaw
struck out 12
Milwaukee Brewers
in eight innings Sunday in a 2-0 Dodgers win. It was Kershaw's first win since April 6.
Matt Kemp
, meanwhile, came off a nice road trip to go 2-for-9 in this three-game series while misplaying at least two balls in center field. Kemp, who is batting .261 with one home run after 88 at-bats, seems to be hitting a lot of slow rollers to shortstop.
Kershaw (3-2) was coming off two mediocre starts, but he was nearly as dazzling Sunday as he was on Opening Day. Sunday was the fifth time he has struck out as many as 12 batters, the first since June 9 of last year.
Kershaw had failed to get out of the sixth inning against the
San Diego Padres
and
New York Mets
in his two previous starts. The Brewers had action in the first two innings, but after that, they couldn't touch Kershaw.
Jonathan Lucroy
hit into an inning-ending double play to wipe out a two-on threat in the first inning, and
Jean Segura
led off the second with sinking liner that was misplayed into a double by Kemp.
Kershaw retired the next 18 batters before
Carlos Gomez
lined a double to left-center field leading off the eighth. Kemp seemed to get a late read on the ball, which short-hopped the wall. Kershaw helped erase that threat by snaring
Martin Maldonado
's sharp grounder and getting Gomez in a rundown.
The Dodgers didn't do much against Milwaukee starter
Kyle Lohse
, but
Carl Crawford
continued to put on a show at Dodger Stadium. The speedy leadoff hitter hit two home runs. Crawford is batting .391 in home games.
April, 27, 2013
4/27/13
9:30
PM PT
LOS ANGELES -- The
Los Angeles Dodgers
got a nice pick-me-up for a depleted rotation when Matt Magill pitched into the seventh inning in his major league debut Saturday night.
But the feel-good story had an unhappy ending: Reliever
Matt Guerrier
allowed a pair of home runs in a 6-4 loss to the
Milwaukee Brewers
.
Magill had arrived at the Dodger Stadium clubhouse for the first time in his 23 years at about 3 p.m., having traveled the day before from Round Rock, Texas, where the Dodgers' Triple-A affiliate was playing.
Magill was an emergency replacement for pitcher
Stephen Fife
, who was scratched from Saturday's start and put on the 15-day disabled list with shoulder bursitis.
Magill got into a jam in the third inning -- his own wide throw to second fueling a two-run Brewers' inning -- but he was otherwise in command, striking out seven batters while allowing just four hits. The outing could be a one-and-done situation for Magill, as the Dodgers won't need a fifth starter again, due to days off, before veteran
Chris Capuano
is ready to come off the DL.
Still, it will give the Dodgers some added confidence in their pitching depth. They have used nine starters in 23 games due to a long string of injuries.
Guerrier hung a breaking ball to
Carlos Gomez
and
Martin Maldonado
hit a fastball. Both two-run home runs traveled deep into the night, clearing the left-field fence.
Manager Don Mattingly had pulled Magill with two outs and nobody on in the seventh inning in favor of lefty
Paco Rodriguez
, who allowed an infield hit to
Norichika Aoki
. Three Guerrier pitches later and the Dodgers were trailing.
The Dodgers brought the winning run to the plate, and got the tying run to second, in the ninth after a walk and a
Yuniesky Betancourt
error. But shortstop
Alex Gonzalez
made a spinning, off-balance throw to get
A.J. Ellis
for the final out.
April, 27, 2013
4/27/13
4:59
PM PT
The Dodgers will play with only four position players on the bench Saturday night with second baseman Mark Ellis unavailable due to a strained right quadriceps. They will decide Sunday whether to put Ellis on the 15-day disabled list, manager Don Mattingly said.

Ellis left Friday's game in the fifth inning. Skip Schumaker, a converted outfielder, will get the first chance at replacing Ellis at second base.

"I feel like it's good news, because it's not like one of those where he walks in today and we've got to put him on the list," Mattingly said. "It's really good today and we'll see what it looks like tomorrow and make a better decision."

Matt Magill will make his first major-league start Saturday night, but could have a short stay in Los Angeles. The Dodgers won't need a fifth starter in the next rotation turn and, by the time they do, Chris Capuano will be eligible to come off the DL. Capuano threw a simulated game Saturday and will make a rehab start for Triple-A Albuquerque Wednesday.

Here are lineups for Saturday:
Milwaukee
1. Norichika Aoki RF
2. Jean Segura SS
3. Ryan Braun LF
4. Yuniesky Betancourt 3B
5. Rickie Weeks 2B
6. Carlos Gomez CF
7. Martin Maldonado C
8. Alex Gonzalez 1B
9. Wily Peralta RHP

Dodgers
1. Carl Crawford LF
2. A.J. Ellis C
3. Adrian Gonzalez 1B
4. Matt Kemp CF
5. Andre Ethier RF
6. Skip Schumaker 2B
7. Luis Cruz SS
8. Juan Uribe 3B
9. Matt Magill RHP
April, 26, 2013
4/26/13
11:27
PM PT
LOS ANGELES -- You can't judge a player's value by one good month. You can't say the
Los Angeles Dodgers
got the better of their trade last August with the
Boston Red Sox
, because Boston is 16-7 and in first place in the AL East, while the Dodgers have just pulled back to .500.
But for all the flak the Dodgers have taken for their lack of pop from a record payroll, you also can't pin any of the blame so far on that trade. Maybe it was the rare transaction that works out well for both teams, the Red Sox getting a much-needed reboot and the Dodgers buying a new $250 million engine for their sputtering offense.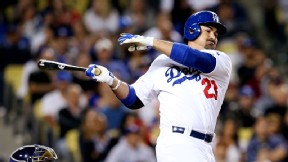 Stephen Dunn/Getty ImagesAdrian Gonzalez drove in three runs on Friday and has a team-high 17 for the Dodgers so far.
So far, it certainly looks that way.
Carl Crawford
and
Adrian Gonzalez
have looked rejuvenated with a change of scenery. Crawford got back to swinging a dynamic bat in the leadoff spot Friday and Gonzalez continued to drive everybody in during the Dodgers' 7-5 win over the
Milwaukee Brewers
on Friday night at Dodger Stadium.
The Dodgers had the 29th-ranked offense coming into Friday. Imagine where they'd be without these two. Crawford has scored 18 runs. The next-closest Dodger,
Mark Ellis
, has scored 10 and might be done scoring for a while, as he left Friday's game with what looked like a pretty nasty strained quadriceps.
Gonzalez has driven in 17 runs. The next-closest Dodger,
Matt Kemp
, has pushed across 10.
"I've seen both those guys play enough to where that's what I'm accustomed to them doing,"
Josh Beckett
said. "Carl Crawford hands down is one of the toughest guys I ever competed against, and I've told you guys that. I think he's just getting back to the things he does well."
The other two guys from that trade, Beckett and
Nick Punto
, are also adding some value. Beckett has pitched well at times, though he's five starts into his 2013 season and he has yet to win a game. Punto is hitting .346 and has played skillful defense wherever the Dodgers have played him. If Ellis goes on the disabled list, Punto could be in for a larger share of playing time.
Friday, Crawford and Gonzalez brought an AL East kind of look to Dodger Stadium. The Dodgers applied relentless offensive pressure for one of the few times this season.
Crawford crushed a couple of balls on the Dodgers' last homestand, but they both died at the warning track in the cool, damp, breezy conditions that prevail at Dodger Stadium at night. He finally got one over the fence here with his fifth-inning home run to center field.
"I heard how the ball really doesn't travel here too much at night, but golly, I hit a couple of those balls hard and thought they had a chance," Crawford said. "It was nice to see one get out tonight."
April, 26, 2013
4/26/13
10:28
PM PT
LOS ANGELES -- For one of the few times this season, the
Los Angeles Dodgers
' hitters picked up the rest of the team.
The fielding got a little loose late in the game and
Josh Beckett
started wobbling as he pitched into the middle innings. Closer
Brandon League
barely got through another ninth inning with a lead intact. But Dodgers hitters applied relentless pressure throughout a 7-5 win over the
Milwaukee Brewers
on Friday night at Dodger Stadium.
The Dodgers entered Friday with the 29th highest-scoring offense out of 30 major-league teams.
The joy of the win was dented by what appeared to be a significant injury to starting second baseman
Mark Ellis
, who pulled up while straining his right quadriceps running to first in the fifth inning. Ellis is batting .342 and is one of the steadiest second basemen in baseball, so losing him would be a bigger blow than it might at first seem.
Adrian Gonzalez
and
Carl Crawford
, the keystones of an August trade with the
Boston Red Sox
, have been the driving forces for most of the Dodgers' offense and that didn't change Friday. Gonzalez drove in three runs, and Crawford two. Crawford had a third-inning home run to center field and Gonzalez cranked a two-run double off the glove of
Carlos Gomez
in the seventh.
Beckett looked crisp in the early innings but ran into trouble in the fourth and fifth. He needed 97 pitches to get one out in the sixth inning and allowed home runs to
Ryan Braun
and
Yuniesky Betancourt
.
The Dodgers' defense started sputtering a few innings later.
Matt Kemp
overran a line-drive RBI single by
Norichika Aoki
in the seventh inning, allowing Aoki to take two extra bases. Then,
Jerry Hairston Jr
. made two errors while playing third base in the eighth. League committed the Dodgers' fourth error in three innings by throwing one away on
Jean Segura
's hit off League's leg in the ninth. None of the errors led directly to runs.
April, 26, 2013
4/26/13
5:34
PM PT
LOS ANGELES -- Remember when
Luis Cruz
was an inspirational story, a guy three other organizations had given up on, who finally got a foothold in the major leagues and clung to it stubbornly?
Seems like a while ago.
After Cruz went 0-for-6 the day the Dodgers were swept in a doubleheader in Baltimore, he hasn't started a game since. Instead, he has been working with hitting coach
Mark McGwire
on removing a loop from his swing that has resulted in plenty of strikeouts and pop-ups, but very few hits. Cruz hit .297 with 20 doubles in 78 games for the Dodgers last season.
So far, Cruz has just four hits in 46 at-bats (.087) and they are all singles. Now that
Hanley Ramirez
's return is on the horizon, the Dodgers' only position of offensive concern is third base. Dodgers third basemen are collectively batting .135 with one extra-base hit. That is easily the lowest production by any team's third basemen.
If Cruz weren't out of options, he probably would be in Triple-A Albuquerque by now.
"I've got to earn my spot again, just like my whole career," Cruz said.
Juan Uribe
got a second straight start at third base Friday. Uribe has had a strange first few weeks. Always a free swinger, he has walked eight times already and hit two home runs, but he is batting just .190.
"Cruzer will get his chances again," manager Don Mattingly said. "This is a time for him to step back and get his swing back together. We're going to need him, so we'll get him back in the mix."
Here are lineups for Friday's game against the
Milwaukee Brewers
:
Milwaukee
1. Norichika Aoiki RF
2.
Jean Segura
SS
3.
Ryan Braun
LF
4.
Jonathan Lucroy
C
5.
Rickie Weeks
2B
6.
Carlos Gomez
CF
7.
Yuniesky Betancourt
3B
8.
Alex Gonzalez
1B
9.
Hiram Burgos
RHP
Dodgers
1.
Carl Crawford
LF
2.
Mark Ellis
2B
3.
Adrian Gonzalez
1B
4.
Matt Kemp
CF
5.
Andre Ethier
RF
6.
A.J. Ellis
C
7. Juan Uribe 3B
8.
Justin Sellers
SS
9.
Josh Beckett
RHP
April, 16, 2012
4/16/12
11:42
AM PT


Is this 9-1 start by the Dodgers for real? We could be about to find out.

The Dodgers will begin a three-game series in Milwaukee on Tuesday night. The Brewers are one very roundish, slugging first baseman shy of the National League Central-winning team they were last year, but thanks to an overturned positive performance-enhancing drug test suspension, they are still pretty good -- and certainly better than either the San Diego Padres or Pittsburgh Pirates, those NL bottom feeders against whom this gaudy, early season Dodgers record was fashioned.

The Dodgers will face three starting pitchers with ERAs of at least 5.91 in this series, but don't be misled by that. This early in a season, when mathematics tend to be skewed, a single bad outing can inflate a pitcher's ERA, and those starters are Yovani Gallardo, Zack Greinke and Randy Wolf, so they know what they're doing.

In other words, this is the first major test for these Dodgers. By lunchtime Thursday, when the matinee series finale will be over, we should have a much clearer picture of what the rest of the summer will be like.

Still, when you start a season by winning nine of your first 10 games, it means something. And it might mean something more come September.

"It's nice to get off to a good start,'' Dodgers manager Don Mattingly said. "Obviously, it's 10 games. We have 152 left. There is a long way to go. We're going to hit rough patches, and you never know when they're going to come. That is why it's always good to get out of the blocks with a good start.''