March, 29, 2014
3/29/14
9:09
AM PT
Magic Johnson said a lot of things at the press conference in May of 2012 when he and his partners with Guggenheim Baseball Management were introduced as the new owners of the
Los Angeles Dodgers
.
The one thing anyone remembers is that he lowered the cost of parking from $15 to $10.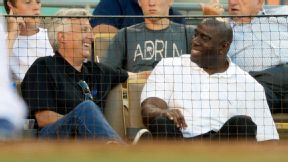 AP Photo/Mark J. TerrillThe promise of a new Dodgers regional sports network was always part of the owners' plans.
It was a symbolic gesture to the fans who'd felt taken advantage of and used by previous owner Frank McCourt. An immediate, here's some money back in your pocket for all the ugliness of the previous few years that the new owners had nothing to do with, but still needed to start cleaning up.
A little olive branch to get fans back in Dodger Stadium, so the work of regaining their trust and loyalty could begin immediately.
Then came the trade and quarter-billion dollars of additional salary for
Adrian Gonzalez
,
Josh Beckett
,
Carl Crawford
and
Nick Punto
, the $147 million deal for
Zack Greinke
and the $215 million contract for
Clayton Kershaw
. Along the way they dropped $150 million to improve Dodger Stadium, too. All told, another billion invested in the team on top of the $2.15 billion they paid to buy the team.
So everyone knew the reckoning was coming at some point, right? The new owners were going to have to make their money back somehow.
The promise of a new regional sports network was always part of the setup. The Dodgers new owners never tried to hide that.