Dodgers Report:

no-hitter
June, 19, 2014
6/19/14
2:31
AM PT
By
ESPN Stats & Information
AP Photo/Chris CarlsonClayton Kershaw no-hit the Rockies and logged a career-high 15 strikeouts on Wednesday.
Los Angeles Dodgers
pitcher
Clayton Kershaw
threw the 284th no-hitter in Major League Baseball history on Wednesday. Stats & Info gives you the top 10 facts on his remarkable effort.
1.
Kershaw recorded a career-high 15 strikeouts, 14 of which came on breaking balls. The 14 strikeouts on breaking balls are the most in a single start since pitch types were begun to be tracked, in 2009.
2.
According to Elias Sports Bureau research, Kershaw's 15 strikeouts are tied for the third-most strikeouts in a no-hitter in MLB history. The only pitcher in MLB history with more strikeouts in a no-hitter is Nolan Ryan, who did it twice (17 in 1973 with the Angels and 16 in 1991 with the Rangers). Kershaw tied Warren Spahn for most strikeouts in a no-hitter by a left-handed pitcher. Spahn did it in 1960.
3.
Kershaw is the third reigning Cy Young Award winner to throw a no-hitter, and the second to do so in a Dodgers uniform. Sandy Koufax did it for the Dodgers in 1964 and Bob Gibson did so for the Cardinals in 1971.
4.
Kershaw's teammate
Josh Beckett
threw a no-hitter on May 25. The last time a team threw the first two no-hitters of a season was when Cubs pitchers Burt Hooton and Milt Pappas did it in 1972. Before Kershaw and Beckett, the last Dodgers to throw no-hitters in the same season were Carl Erskine and Sal Maglie in 1956.
5.
Kershaw's no-hitter came 24 days after Beckett's no-hitter. Per Elias research, that is the shortest span between no hitters by a team since Johnny Vander Meer of the Reds did it in consecutive starts in 1938, on June 11 and June 15.
6.
The Dodgers now have 22 no-hitters in their history, most of any MLB team. No other team has more than 18.
7.
The most recent Dodgers left-handed pitcher to throw a no-hitter was Fernando Valenzuela in 1990. Kershaw is the fifth Dodgers lefty to toss a no-hitter.
8.
As for the
Colorado Rockies
, they were no-hit for the third time in their franchise's history. The most recent was by a Dodger (
Hideo Nomo
in 1998) and the other was by a lefty (
Al Leiter
for the Marlins in 1996).
9.
Kershaw's only blemish came from a
Hanley Ramirez
error in the seventh inning. Elias tells us that the last pitcher to throw a non-perfect no-hitter without any walks was
Jonathan Sanchez
in 2009. An eighth-inning error did in Sanchez during his perfect-game bid.
10.
A legitimate case could be made for Kershaw's pitching performance on Wednesday as the best individual pitching performance all-time. Kershaw's Game Score was 102. Over the past 100 years, that's the second-highest Game Score in a nine-inning game. Only Kerry Wood's 20 strikeout game in 1998 was higher (105), but Wood allowed a hit in that game.
Furthermore, Elias research confirms that Kershaw is the first player ever in the history of MLB with 15 strikeouts without allowing either a hit or walk.
June, 19, 2014
6/19/14
2:07
AM PT
At one point in the middle innings of Wednesday's game, as
Clayton Kershaw
was chewing up Rockies batters like a puppy with a piece of rawhide, a writer tweeted out a Dodgers scouting report of Kershaw from his days at Highland Park High School in Dallas.
Scouts grade on a 20-to-80 scale, evaluating each pitch on its current level and future potential, with 50 considered major league average. The Dodgers scout graded Kershaw's present curveball at 45, but with the potential to get up to ... 55.
The Dodgers drafted him anyway.
****
There's something majestic about watching Kershaw pitch. Is that the right word? Maybe. I don't know. I love the way he peers over the top of his black A2000 glove, an intense but relaxed focus. He's listed at 6-foot-3 but he always seems taller, maybe because of the way he raises his arms over his head in that unique windup with the pause at the apex of his delivery and then that little jerk as he begins to push forward. Certainly, his delivery serves a couple purposes: It creates balance and repetition, but it also serves to hide the ball from the batter in some fashion. Kershaw's repertoire is top-notch, of course, with a fastball he commands to all four quadrants of the plate, a nasty slider and then the curveball, old Public Enemy No. 1, the unhittable weapon. But the deception in his delivery is part of the reason he's the best pitcher in baseball.
I turned the game on in the fifth inning. Kershaw had his scraggly mountain-man beard going. He also had his stuff going. The Rockies lead the National League in hitting, but they don't lead the National League in hitting on the road. I didn't see one hard hit ball off him, although
Josh Rutledge
had a foul ball earlier in the game that was inches from going fair. By the end of the sixth inning, it seemed obvious: He's going to get the perfect game. Eighteen up, 18 down and the Rockies had zero chance. Fastball, fastball, Public Enemy No. 1. Good night, good luck and sit down. It's ridiculous to predict a perfect game, even when it's two-thirds complete, but that's how dominating Kershaw looked.
Of course, he didn't get the perfect game. In the top of the seventh,
Corey Dickerson
led off with a chopper toward short that
Hanley Ramirez
charged, fielded cleanly and then shanked the throw to first; an obvious error. With one out,
Troy Tulowitzki
hit a bouncer down the third-base line on which
Miguel Rojas
made a terrific play to gun down Tulo for the defensive play of the night.
The final seven outs were pretty easy.
Wilin Rosario
struck out looking on a curveball,
Drew Stubbs
swung through a curve, Rutledge swung and missed on another curve (although he somehow fouled off an 0-2 slider),
Kyle Parker
hit a cue ball right to
Adrian Gonzalez
at first. In the ninth, the crowd roaring and the camera flashing to Kershaw's wife, Ellen, between pitches,
DJ LeMaheiu
swung at a first-pitch fastball and grounded out, Gonzalez to Kershaw.
Charlie Culberson
also swung at the first pitch and hit a routine fly ball to right. Dickerson was the final batter. Kershaw blew a 94 mph fastball by him. Dickerson foul tipped a 95 mph heater. Somehow, Dickerson fouled off a curveball. You knew the curve was coming again. Dickerson had to have known it was coming. Over the past three seasons, Kershaw had recorded 169 strikeouts and walked one batter with the curve while allowing a .103 average. Here comes the Kershaw curveball, the best pitch in the game.
A.J. Ellis
called for a slider. Beautiful.
Good night, good luck and no-hitter.
****
"It was just so much fun, I can't explain it," Kershaw said in his postgame interview.
"As far as individual games go, I'll remember this the rest of my life," he added as teammates dumped Gatorade him, blew soap bubbles and did a little Irish jig.
It's a game we can all remember. It was one of the greatest games ever pitched.
His final line: 9 IP, 0 H, 0 R, 0 BB, 15 SO, 107 pitches.
His final Game Score: 102. Here's the list of Game Scores of 100 or higher in a nine-inning game:
Kerry Wood
, Cubs, 1998: 105 (1 H, 0 R, 0 BB, 20 SO)
Clayton Kershaw, Dodgers, 2014: 102
Matt Cain
, Giants: 2012: 101 (0 H, 0 R, 0 BB, 14 SO)
Nolan Ryan, Rangers, 1991: 101 (0 H, 0 R, 2 BB, 16 SO)
Sandy Koufax, Dodgers, 1965: 101 (0 H, 0 R, 0 BB, 14 SO)
Brandon Morrow
, Blue Jays, 2010: 100 (1 H, 0 R, 2 BB, 17 SO)
Randy Johnson
, D-backs, 2004: 100 (0 H, 0 R, 0 BB, 13 SO)
Curt Schilling
, D-backs, 2002: 100 (1 H, 0 R, 2 BB, 17 SO)
Nolan Ryan, Angels, 1973: 100 (0 H, 0 R, 4 BB, 17 SO)
Nolan Ryan, Angels, 1972: 100 (1 H, 0 R, 1 BB, 16 SO)
Warren Spahn, Braves, 1960: 100 (0 H, 0 R, 2 BB, 15 SO)
Cain, Koufax and Johnson threw perfect games. The Game Score method doesn't subtract points for the error, only for walks, hits and runs allowed. By this measure, you can argue that Kershaw just threw the second-most dominant game in baseball history. You can debate, factor in the opponent, the prevalence of strikeouts in today's game. Still. No hits, no walks, 15 K's, only 107 pitches. Koufax threw 113 pitches in his perfect game. Cain threw 125. Johnson threw 117.
There have been others to lose perfect games due to a single error.
Jonathan Sanchez
of the Giants lost his in 2009 when
Juan Uribe
made an error in the eighth inning.
Terry Mulholland
of the Phillies lost his in 1990 on a seventh-inning error by
Charlie Hayes
, although he then induced a double play to still end up facing the minimum 27 batters. Jerry Reuss, Dick Bosman, Bill McCahan and Walter Johnson also lost perfect games due to an error.
So maybe the record books won't list this game as one of the 23 perfect games in major league history.
We'll have to settle for simply maybe the best ever.
June, 19, 2014
6/19/14
12:18
AM PT
LOS ANGELES --
Corey Dickerson
took a late, awkward hack and topped the ball into the dirt just in front of the plate. It took a second, softer hop 15 feet past the pitcher's mound and about five feet from the infield grass.
Shortstop
Hanley Ramirez
seemed to be in good fielding position as he charged the ball, taking it in stride. But he yanked the throw and the ball skipped past first baseman
Adrian Gonzalez
's diving grasp.
It seemed like a fairly routine error, but at such a far-from-routine moment. It was the only thing that wasn't perfect about Wednesday night.
That seventh-inning misplay, which resulted in Dickerson reaching second, was the only blemish on what would have been a perfect game for
Clayton Kershaw
against the
Colorado Rockies
. It would have been the first perfecto by a Dodger since Sandy Koufax's famous 1965 gem. This one might have been better. Kershaw struck out 15 batters, one more than Koufax.
Kershaw, ever the loyal teammate, shrugged when Ramirez walked past him after the play as if to say,
What could you do?
And Kershaw found Ramirez later to confirm that it was a difficult play.
"Under normal circumstances, that's pretty close to a hit," Kershaw said. "Dickerson's pretty fast and Hanley did all he could. He made a good play and just the throw was a little wide. Nothing he could do with that. It was a tough play."
Of course, as tends to happen around this team, much of the Dodgers fans' ire will be shifted from the players, in this case Ramirez, to the manager, Don Mattingly. It has become fairly routine for Mattingly to replace Ramirez for defensive purposes late in games; indeed,
Carlos Triunfel
came in to play shortstop in the eighth, an inning too late.
Why, oh why, didn't Mattingly bring in Triunfel, who has a reputation for glove wizardry, in the seventh inning instead of the eighth? It was, after all, an 8-0 Dodgers lead with Kershaw on the mound. Seemed pretty safe, right?
Rail all you will, but realize this: The Dodgers' plan all along has been to pull Ramirez for the final two innings. Since they started replacing him in early June, his replacement always has arrived in the eighth, not the seventh. For a while, the backup was
Miguel Rojas
, but he has been forced into everyday duties at third while
Justin Turner
recovers from a strained calf.
Mattingly's worry, as always, would be that something might go haywire -- and he had a shorthanded bullpen Wednesday. In that case, he would be without one of his best hitters when he could use Ramirez.
"If I don't think I would do it in a playoff game, why am I going to do it tonight?" Mattingly said.
The error was a resonant moment, in a way. Ramirez's defense -- certainly not his bat -- has been one of the Dodgers' biggest worries all season, just as Kershaw's mastery has been their most bankable asset.
To his credit, Ramirez showed accountability after the game. Without hesitation, he called the play an error.
"I mean, yeah, definitely, in that situation you don't want anything that might be a hit to be a hit," Ramirez said. "You want to see a pitcher do that, because it's something you don't see every day.
"It's not good when you go pitch like him and have got a perfect game going, but I did my best."
June, 18, 2014
6/18/14
10:12
PM PT
LOS ANGELES -–
Clayton Kershaw
is probably No. 1 on the list of pitchers about whom you would say, "It's only a matter of time before he throws a no-hitter."
You can't say that anymore.
Kershaw became the second major league pitcher -– and the second Dodger –- to no-hit a team this season with a masterpiece against the
Colorado Rockies
at Dodger Stadium on Wednesday night. A
Hanley Ramirez
throwing error to lead off the seventh inning cost Kershaw the perfect game, which would have been the first by a Dodgers pitcher since Sandy Koufax's in 1965.
After striking out
Corey Dickerson
to end the game, Kershaw dropped his glove and thrust his hands straight in the air as his teammates sprinted in from all corners, chucking their gloves all over the field. Kershaw wrapped catcher
A.J. Ellis
, his best friend on the team, in a bear hug near the mound.
"I'm so amazed.
[Josh] Beckett
told me he was going to teach me how to do that, so I've got Josh to thank," Kershaw said. "We just kept scoring so many runs, I just didn't want to screw that up."
Kershaw's curveball was so devastating, he was striking Rockies out routinely with it in the latter innings. His 15 strikeouts were a career high.
Beckett no-hit the Philadelphia Phillies on May 25, so the Dodgers have the only two no-hitters in the majors so far this season.
How it happened:
It's amazing Kershaw could stay in rhythm with how long he had to sit on the bench in the middle innings.
Jorge De La Rosa
is a slow worker to begin with and the Dodgers worked five walks off him. They scored five times with two outs in the third, the big blow being
Miguel Rojas'
double off the left-field wall. It felt as though every Kershaw inning lasted five minutes and every Colorado inning lasted 45.
Kershaw even made the last out of the third, grounding to shortstop, but jogged back to the dugout and came right back out and buzzed through the top three hitters in Colorado's lineup.
Hits:
No matter what he does or says, Kershaw will be compared to Koufax for the rest of his life. Every season that goes by those comparisons seem more apt. They might one day seem unflattering, hard as that is to believe. Since 1920, Kershaw has the lowest career ERA (2.62) among pitchers with 1,000 or more innings and 100 or more starts. Koufax (2.76) is third on that list.
Misses:
Oh boy. What a feeling that had to be for Ramirez when he charged a little dribbler hit by Dickerson -– a speedy runner -– and made a bad throw to
Adrian Gonzalez
. The throwing error broke up Kershaw's perfect game leading off the seventh inning. Ramirez has had his share of defensive struggles, but things have been better lately for the Dodgers' defense. Kershaw seemed to say something encouraging to Ramirez as they passed each other as Ramirez went back to his position. Dodgers manager Don Mattingly brought in a defensive replacement,
Carlos Triunfel
, but it was one inning too late.
Stat of the game:
Kershaw eclipsed his season high for strikeouts, finally getting past the magic number of nine. He had struck out exactly nine batters in seven of his 11 starts coming into the game, if you include minor league rehab outings.
Up next:
The Dodgers have their first day off since June 5. They start a three-game series in San Diego on Friday night.
May, 30, 2014
5/30/14
6:00
AM PT
LOS ANGELES -- What can the
Los Angeles Dodgers
expect from
Josh Beckett
on Friday in his first start since pitching the first no-hitter of the 2014 season? On Monday, the day after throwing a career-high 128 pitches against the Philadelphia Phillies, Beckett, 34, said he felt about how he usually does after a start.
[+] Enlarge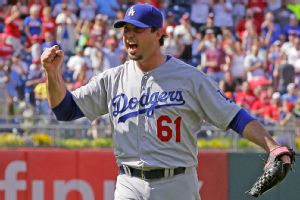 Hunter Martin/Getty ImagesJosh Beckett did not want an extra day of rest after pitching his no-hitter in Philadelphia on Sunday. He will face the Pirates on Friday.
"Like I got hit by a truck," he said.
The Dodgers could have inserted
Paul Maholm
into the rotation or called someone up from the minor leagues to give Beckett an extra day of rest, but after checking in with him throughout the week, they decided to bring him back on the usual four days of rest.
Beckett even threw a between-starts bullpen session, something he doesn't always do.
"I expect him to be pretty much Josh at this point," Dodgers manager Don Mattingly said.
But isn't it reasonable to expect some kind of hangover? The higher pitch count of a no-hitter combined with the heightened media scrutiny in its aftermath can make the next start tough sledding. Beckett declined a lot of media requests this week, doing a group interview in the dugout Monday and granting a few TV interviews, but making very few national appearances.
"Obviously, if he has a hiccup in his next start or two starts from now, we're going to say, 'Well, it's probably coming from that no-hitter.' We're not going to know that," Mattingly said. "He could just have a bad day somewhere in there. I don't expect it because he's been pitching pretty good pretty much every time out.
"If he doesn't, I'm sure we'll talk about it."
Beckett (3-1, 2.43 ERA) hasn't faced the Pittsburgh Pirates since 2004, when he was 24 and a member of the Florida Marlins. He's 1-1 with a 1.54 ERA against them in two starts.
The past five pitchers 34 years or older to throw no-hitters had so-so results in their next starts, averaging a 4.06 ERA. Four of those five pitchers (Dennis Martinez in 1991;
Randy Johnson
in 2004;
David Wells
in 1998; and
David Cone
in 1999) pitched perfect games.
When Nolan Ryan threw his final no-hitter, in 1991, he was 44. He gave up only two hits (and two runs) over six innings in his next start. The worst bounce-back start came from Cone, who lasted only four innings, giving up six hits and six runs.
May, 25, 2014
5/25/14
3:54
PM PT
Every time
Josh Beckett
has had success this season -- and Sunday's no-hitter in Philadelphia was hardly his first positive stride in what's been a remarkable two months for the veteran -- I think back to a conversation Feb. 19 in a quiet corner of the
Los Angeles Dodgers
' spring training clubhouse.
Nobody was really paying much attention to Beckett back then.
He was an aging, rehabbing pitcher who had been, frankly, pretty awful the last time anyone had seen him on a major league mound, back in the early months of 2013. The team had insured itself heavily in case things didn't work out. It had signed
Paul Maholm
the day pitchers and catchers reported, giving the Dodgers five starters even without Beckett, largely because Beckett was such an iffy proposition.
And that wasn't just the Dodgers' view. It was Beckett's, too.
The previous July, a surgeon had removed a small rib near Beckett's right shoulder, alleviating a condition known as thoracic outlet syndrome, the same ailment that ended
Chris Carpenter
's career. In April and May of that year, Beckett had pitched despite numbness in his fingers, a result of the rib impinging a nerve.
So, back on that February afternoon, after an encouraging early bullpen session, Beckett was still waiting for bad things to happen.
"I don't think you can help but to expect it to come back," he said. "Basically, I've got to keep riding it out, ride it until it's not good anymore."