Dodgers Report:

Nolan Ryan
June, 1, 2012
6/01/12
12:16
AM PT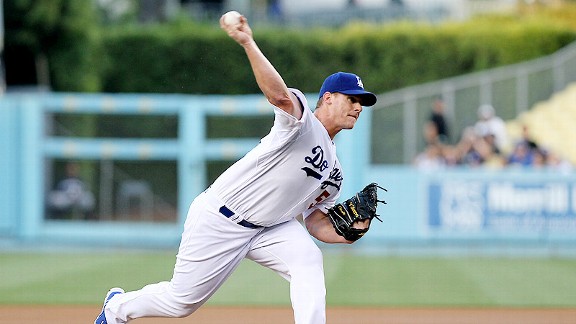 Stephen Dunn/Getty ImagesChad Billingsley has been in the majors six seasons now, and many are still waiting for him to turn a corner.
LOS ANGELES --
Chad Billingsley
is challenging to cover. Challenging because he is a good guy, a classy guy, a fan- and media-friendly guy. The type of guy even a veteran, cynical beat reporter tends to root for because that reporter wants so badly to write that Billingsley had a good game, that he pitched well, maybe even that he dominated the way we all thought he would one day do with regularity all those years ago as he was climbing through the Los Angeles Dodgers minor league system and we were all salivating at the thought of what it was going to be like when he got here.
Sadly, though, following the Dodgers' fourth consecutive loss to the Milwaukee Brewers on Thursday night, this time 6-2 before 26,773 at Dodger Stadium, I am once again at a loss for the right words to use. I want to be diplomatic. I want to be tactful. I want to be delicate. But I also want to be credible, and so, I say this:
This is the same thing we have been watching for six years now. It hasn't changed, and it probably isn't going to. If Billingsley were a No. 5 starter, that would probably be OK. But he isn't a No. 5 starter. He is a No. 2 starter, a former first-round draft pick, a guy with a three-year, $35 million contract that runs through 2014.
And he is average. Maybe even a little above average. He has, after all, reached double-digit wins in all five of his full seasons in the majors. He entered this season with a very respectable career ERA of 3.68. He was an All-Star just three years ago, at a point when it appeared he finally was blossoming into the reliable, consistent pitcher he always was supposed to be. Even now, he has a career won-lost record 72-56. That is a .563 winning percentage.
Nolan Ryan
's was .526.
Billingsley wasn't horrible against the Brewers. He almost never is, and certainly no more often than even the best starting pitchers, none of whom are immune to the occasional stinker of a start and all of whom are entitled to be forgiven for it when it happens. But in six May starts, Billingsley (2-4) went 0-3 with a 5.52 ERA, gave up 42 hits and 18 walks in 31 innings and averaged 18.7 pitches per inning.
"I had two starts, a few starts ago, where I didn't really have a feel and couldn't get into a good rhythm," Billingsley said. "But the past few starts, I have felt like I had a good rhythm and a good fastball. I just have to keep going, just have to keep grinding away."
No, Billingsley wasn't horrible against the Brewers. But he wasn't especially good, either, giving up four earned runs, all in the second and third, and six hits, striking out eight batters over six rather pedestrian innings. And on a night when the Dodgers' offense was dealing once again with the loss of
Matt Kemp
, hitting into double plays with alarming regularity and leaving runners on base galore, Billingsley, once again, wasn't good enough.
"He hung in there and kept battling, and he kind of kept us in the game," Dodgers manager
Don Mattingly
said. "It's not like it was bad or anything. But it wasn't dominating. He just hung in there enough."