Dodgers Report:

Onelki Garcia
November, 20, 2014
11/20/14
5:25
PM PT
LOS ANGELES -- The
Los Angeles Dodgers
lost left-handed pitcher
Onelki Garcia
through a waiver claim by the
Chicago White Sox
on Thursday.
Garcia, 25, was one of the Dodgers' top pitching prospects entering last season, but he didn't pitch at the major-league level as he recovered from elbow and knee surgeries the previous winter. The Cuban exile pitched one rocky minor-league rehab game for Class A Rancho Cucamonga in August and didn't pitch again the rest of the season.
Thursday is the deadline to set 40-man rosters to protect players from the Dec. 11 Rule 5 draft. The Dodgers put pitchers
Zach Lee
and
Chris Reed
, and outfielder
Scott Schebler
on the 40-man roster.
February, 15, 2014
2/15/14
9:19
AM PT
GLENDALE, Ariz. -- On one side of the
Los Angeles Dodgers
' spring training clubhouse, three players spent part of a recent afternoon sitting and talking in animated, fast-paced Spanish.
Pitcher
Onelki Garcia
, second baseman
Alex Guerrero
and outfielder
Yasiel Puig
all knew each other before they defected from their native Cuba and they've been reunited across the continent in far more plush surroundings.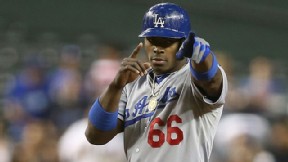 Christian Petersen/Getty ImagesYasiel Puig has made a name for himself with the Dodgers and more Cuban players could do the same.
Their lockers are lined up side by side, probably no accident. Next to Puig's space, there is an empty locker, one where the Dodgers might, once they finalize the contract, situate shortstop Erisbel Arruebarruena, another Cuban defector. It has helped ease the transition for one of the Dodgers' newest players.
"I feel more comfortable with these guys," Guerrero said. "Obviously, I know them and they're from my country and I don't know any other players. Little by little, I'm getting to know everyone else."
The small conclave of Cuban players could represent an important part of the Dodgers' present and future. But if the Dodgers are viewed as an increasingly comfortable destination for Cuban defectors, it's nothing more than a coincidence: At the very moment they began their aggressive spending campaign under new ownership, a trickle of Cuban players leaving the island became a reliable stream.
Unlike players from the Dominican Republic, who are subject to international spending caps, or Puerto Rico, who are subject to the draft, Cubans who have played long enough in their country's highest league are considered major league free agents, allowing teams who write the biggest checks to land them.
"There's nothing specific about Cubans that we are pursuing. We are pursuing whatever opportunity presents itself," Dodgers president Stan Kasten said. "Recently, there have been opportunities which are Cuban. If some other country releases a flood of major league-ready players, we'll be interested."
The Dodgers have looked for every loophole to add talent even as Major League Baseball has made more and more efforts to rein in spending. They signed
Hyun-Jin Ryu
out of the Korean national baseball league. They made a push for
Masahiro Tanaka
from Japan.
"We'll consider whatever possibilities wherever they're from," Kasten said. "Now, the fact is we have become a place that appears to be a good fit for Cubans. That doesn't bother me a bit if people think that. I kind of like that."
Under the new collective bargaining agreement, teams that spend more than $2.9 million on foreign prospects are subject to fairly severe penalties, including a 100 percent tax if they exceed it by 15 percent or more. Players who are at least 23 and have played five years in a recognized professional league are exempt from such limits. Arruebarruena, Puig and Guerrero all fit those criteria. Garcia did not. The Dodgers drafted him in 2012.
The rules, in a way, have played right into the Dodgers' hands, because the players they have signed have proven capable of stepping in quickly and contributing at the major league level. The team expects Guerrero to be its everyday second baseman at some point this season. Arruebarruena figures to start at Triple-A, but could push for playing time quickly.
Puig and Arruebarruena were teammates for Cienfuegos in the Cuban Serie Nacional. Guerrero and Arruebarruena were together in camp for the Cuban national team twice.
Guerrero's scouting report on Arruebarruena: "He has excellent hands, he's fast and has a good arm. What he lacks a little bit is the swing, but I think he'll come here and put on some weight and get stronger. He's an excellent shortstop."
Before he came to the United States, Guerrero said he had never heard of the Dodgers. That might seem hard to believe considering Cuba is less than 100 miles from the tip of Florida, but it's a reflection of how tightly controlled information remains there, particularly for baseball players suspected of trying to defect. He had seen only glimpses of major league games from pirated DVDs people smuggled into the country.
"In Cuba, there's no information. In Cuba, there's no Internet. In Cuba, you can't see big league games, they don't permit it," Guerrero said. "I didn't know anything of the big leagues."
September, 11, 2013
9/11/13
3:35
PM PT
LOS ANGELES -- The Dodgers selected the contract of one of their top pitching prospects, left-hander Onelki Garcia, on Wednesday, perhaps looking to see if he can give them another post-season option for their bullpen.
But, for now, Garcia's role will be to give the Dodgers another lefty who can ease the workload on
Paco Rodriguez
and
J.P. Howell
, manager Don Mattingly said.
"Hopefully, he takes a little pressure off those guys' usage and it gives him a little experience," Mattingly said. "He was coming at the end. Our guys, our scouts, were talking about him."
Garcia, 24, is a hard thrower who went 2-4 with a 2.90 ERA in 35 games combined with Double-A Chattanooga and Triple-A Albuquerque this season. A native of Guantanamo, Cuba, the Dodgers took him in the third round of the 2012 draft and signed him for $382,000.
Opposing hitters batted .209 off Garcia and lefties hit .149 with 30 strikeouts.
The Dodgers put
Shawn Tolleson
on the 60-day disabled list to make room on the 40-man roster for Garcia.
Here are lineups for Wednesday night, with the Dodgers looking to trim their magic number to clinch the NL West to just four:
Arizona
1.
A.J. Pollock
CF
2.
Willie Bloomquist
LF
3.
Paul Goldschmidt
1B
4.
Martin Prado
3B
5.
Aaron Hill
2B
6.
Gerardo Parra
RF
7.
Chris Owings
SS
8. Tuffy Gosewish C
9.
Patrick Corbin
LHP
Dodgers
1.
Yasiel Puig
RF
2.
Nick Punto
2B
3.
Hanley Ramirez
SS
4.
Adrian Gonzalez
1B
5.
Michael Young
3B
6.
Scott Van Slyke
LF
7.
A.J. Ellis
C
8.
Skip Schumaker
CF
9.
Hyun-Jin Ryu
LHP