Dodgers Report:

Opening Day
March, 22, 2014
Mar 22
4:50
AM PT
SYDNEY -- The
Los Angeles Dodgers
may have journeyed to Australia a bit grudgingly, but when they got here they made the most of it.
The players seemed to have a good time exploring Sydney's beaches and tourist spots all week and, when it turned into a business trip, they buttoned up. The Dodgers beat the
Arizona Diamondbacks
3-1 on Saturday night at the historic Sydney Cricket Ground.


The game took place in the middle of the night in the United States, but the Dodgers may have made a few new fans Down Under. A sellout crowd gave the Dodgers a standing ovation after it was over, though it was Arizona's home game. It gives new meaning to the term "road win," Sydney being about 7,500 miles from Los Angeles.
Clayton Kershaw
, making his first regular-season start since signing a record contract, looked like the old Kershaw, pitching 6 2/3 strong innings.
Scott Van Slyke
powered an offense that otherwise looked a bit sluggish. The Dodgers' bullpen, which was supposed to be a strength after a winter of spending, looked like one, with
Chris Perez
,
Brian Wilson
and
Kenley Jansen
stifling Arizona in the last three innings.
Van Slyke wouldn't have even been starting if
Carl Crawford
hadn't stayed behind in Arizona awaiting the birth of a child. Van Slyke hit two deep drives. One looked like a sure home run that stayed in the park. The other looked like a fly ball out, but it left the yard. The wind, which whipped up after a pregame thundershower caused a delay to the start of the game, seemed to play a major part in both extra-base hits.
Van Slyke hit a towering, deep drive to left field in the second inning. Arizona left fielder
Mark Trumbo
tried climbing the wall to take away a home run, but a howling wind knocked the ball down and blew it 10 feet -- and off the wall -- from where Trumbo was set up. In the fourth, Van Slyke hit a slicing drive to right field that wrapped around the foul pole, 328 feet from home plate.
Kershaw threw 102 pitches, about 10 more than Mattingly had said he would, and held Arizona to a run on five hits. He struck out seven. The outing was a departure from a rocky spring for Kershaw, but hardly surprising. He had a rough spring last season and pitched a shutout on Opening Day.
March, 22, 2014
Mar 22
1:16
AM PT
SYDNEY -- Vin Scully was behind the microphone for the start of his 59th season Saturday night, but on Opening Day the majority of Los Angeles households couldn't hear the Hall of Fame broadcaster or watch the Los Angeles Dodgers play in Australia.

Time Warner Cable is the only major provider in Southern California that is carrying SportsNet LA, the new 24-hour Dodgers' channel. Time Warner has only 32 percent of the Los Angeles market. MLB Network, which broadcast the Dodgers' two Australian games to the rest of the United States, is blacked out in the Los Angeles market.

"I have faith that the parties will work this out," Commissioner Bud Selig at a news conference in Australia before the Dodgers took on the Arizona Diamondbacks. "That's all I can say. We always like things to be as smooth as possible, but there are always times in life when things don't work out exactly right. But I have faith the parties will work it out and I know the parties want to work things out."

Dodgers president Stan Kasten said he didn't know when the dispute between the channel and providers will end, but he said he was sure more providers will carry the channel before too long.

"I'm disappointed it hasn't been done already, but I'm confident it will get done," Kasten said.

In Houston, the majority of households have been unable to watch the Astros for more than a year because of a dispute between the team and cable providers. Then again, the Astros lost 111 games last year. Kasten said the Dodgers are offering a more valuable product to consumers.

"I think what we've done on our end is something very different than what Houston did, so I feel very comfortable with that: the quality of our team, the value of the product we're putting out there -- 24 hours of Dodger content," Kasten said.

The Astros have been negotiating for more than a year to get their games carried on providers other than Comcast, which is available in about 40 percent of the market.
March, 20, 2014
Mar 20
8:53
PM PT
SYDNEY -- So, this is where it begins.
It might be happening 7,500 miles from Los Angeles and televised at 1 a.m. on the West Coast. It might be taking place in a cricket stadium in front of fans who are a little hazy on the rules of the game. But it's still Opening Day, and the
Dodgers
were beginning to get the familiar butterflies in anticipation of their Saturday opener against the
Arizona Diamondbacks
.
The teams have been in Sydney since Tuesday.
"I don't think it has anything to do with where it's at. You just know that it counts, it's part of what we're starting up," manager Don Mattingly said at his team's final workout before Opening Day. "I think guys will have the same feeling [Saturday] as they would have anywhere else."
The Arizona Diamondbacks have one more exhibition game left, against Team Australia, before the teams meet in baseball's Opening Series Sydney this weekend.
Mattingly announced his Opening Day lineup, which includes
Yasiel Puig
at leadoff and
Justin Turner
at second base.
The Dodgers are facing left-hander
Wade Miley
on Saturday.
Dee Gordon
likely will start Sunday's game at second against right-hander
Trevor Cahill
.
Here is the rest of the Dodgers' Opening Day lineup:
Yasiel Puig, RF
Justin Turner, 2B
Hanley Ramirez
, SS
Adrian Gonzalez
, 1B
Scott Van Slyke
, LF
Juan Uribe
, 3B
Andre Ethier
, CF
A.J. Ellis
, C
Clayton Kershaw
, LHP
March, 18, 2014
Mar 18
1:06
PM PT
SYDNEY --
Hanley Ramirez
was coming off the field following the Dodgers' first batting practice session at Sydney Cricket Ground when someone asked him how the ball carries.
"Awesome," he said, with a big smile.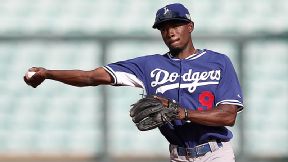 AP Photo/Rick RycroftDee Gordon predicts there will be a lot of home runs hit at Sydney Cricket Ground.
A first look at the field for Opening Day suggests the Dodgers and
Arizona Diamondbacks
could play some high-scoring games here Saturday and Sunday even though they're sending four of their best pitchers to the mound.
It's not just the dimensions, which are fairly standard. With a lot of foul ground, field designers were hesitant to make it too much of a pitcher's park, so they pinched the outfield corners in to 328 feet down the line, with the power alleys at 370 feet and straight center field at 400.
But you never know how a field will play until they start playing on it. The weather here is warm with a bit of ocean humidity and gentle sea breezes that seemed to waft balls over the fence in batting practice. Even balls not struck squarely were carrying a long way. Temperature at first pitch Sunday afternoon figures to be about 84 degrees.
Dee Gordon
came off the field and said, "There are going to be a lot of homers hit here."
That might be only half the headache for pitchers and defenders.
Chone Figgins
compared the outfield playing surface to Oakland's following a Raiders game, after the temporary seats have been removed, killing the grass beneath it.
The part of the field that is used as a cricket pitch here is hard, so line drives in between outfielders figure to scoot past them to the walls. That could lead to yet more extra-base hits. The infield also was hard, which could lead to more hits overall.
"It seems fast," Dodgers manager Don Mattingly said. "It's carrying today. I don't know if it's the wind or not, but it's good for offense, for sure."
February, 16, 2014
Feb 16
11:45
AM PT
GLENDALE, Ariz. -- On
Clayton Kershaw
's final pitch Sunday morning, he snared a low line drive off the bat of one of the
Dodgers
' minor league hitters.
"That was good. If I didn't catch it, it probably would have hit me right in the shin," Kershaw said.
That sentiment kind of sums up why the Dodgers have yet to announce Kershaw as their Opening Day starter. Starting the season more than a week earlier than other teams in Australia, the Dodgers are, in fact, getting their top four starters ready to pitch in Australia. The likeliest candidates for the two Australian games, of course, are Kershaw and
Zack Greinke
, but one small setback could bump either one's first start to some time in April.
Thus, they're keeping their options open.
"I'll pitch whenever they tell me to," Kershaw said. "I don't care when or where."
Kershaw's first action against live hitters was uneventful. He threw 25 pitches, one of which was a changeup, his project pitch again this spring. He otherwise mixed fastballs, sliders and curveballs -- a typical repertoire -- and said afterward, "Everything still works, so that's good."
Dodgers manager Don Mattingly talked earlier in the day about monitoring Kershaw's workload coming off a 259-inning season in which his young ace was on the mound later than ever before in his career: on Oct. 18, Game 6 of the National League Championship Series. Kershaw said he understands the sentiment but didn't feel tired in the playoffs.
"I've never been a big fan of monitoring innings. I feel like throwing 100 pitches in nine innings is a lot different than throwing 100 pitches in five innings," Kershaw said. "Stressful innings is kind of what you've got to monitor, and I understand that."
February, 16, 2014
Feb 16
9:07
AM PT
GLENDALE, Ariz. -- In a sense,
Clayton Kershaw
's 2014 season will begin Sunday morning, on a back field at the
Dodgers
' spring training camp with a handful of fans in attendance.
Kershaw, along with young pitchers Ross Stripling and
Seth Rosin
, was scheduled to throw live batting practice to Dodgers hitters, his first time throwing to hitters since Game 6 of the National League Championship Series. Presuming Kershaw gets through the spring without any physical setbacks, he figures to start the Dodgers' opener in Australia on March 22.
Because the Dodgers have a week off when they return to the United States and open dates on March 31 and April 3, they could use Kershaw three times in their first six games. Dodgers manager Don Mattingly said that won't happen.
"We're very mindful of Clayton and the number of innings he pitched last year and the short winter," Mattingly said. "We're not going to baby him, but we're going to pay attention to how many innings."
Kershaw, 25, who signed a record-breaking, seven-year, $215 million contract last month, pitched 259 innings last season. That eclipsed his previous career high by more than 15.
Kershaw's worst outing of the season came in that final playoff game, when he allowed seven
St. Louis Cardinals
runs on 10 hits over four innings. Previous to that, Kershaw had been dominant in the playoffs after winning his second Cy Young award in three seasons.
"You'd see it three or four times last year where it's just not clean. He's having to fight the whole game," Mattingly said. "Those wear on guys. There are other games where you throw nine innings, but it's 10, 11 pitches an inning and it seems like he's just out there playing catch."
The Dodgers have not announced an Opening Day starter yet.
April, 1, 2013
4/01/13
11:59
AM PT
Nobody was more ready for Opening Day to get here than Dodgers shortstop
Justin Sellers
, who said he had a sleepless night Sunday not because he was nervous, but because he was so excited.
"I'm ready to do this," Sellers said.
The Dodgers optioned Sellers to minor-league camp the morning of March 19. That evening in San Francisco,
Hanley Ramirez
dove for a ground ball in the World Baseball Classic and tore a ligament in his right thumb.
That set in motion an unlikely change of direction for Sellers' career, from fading prospect to everyday major-league player, at least as long as it lasts. Ramirez is expected to miss about two months and the Dodgers are giving Sellers, 27, the first chance to stabilize the left side of the infield.
The Dodgers had a change of heart about what to do in Ramirez's absence. First, they thought of sliding
Luis Cruz
over from third base, but they met and decided Sellers gave them better defense to support their pitching. They didn't think
Dee Gordon
was polished enough to fill the same role.
If Sellers can field well and produce just enough with his bat, he figures to be the primary shortstop until he's not.
"We always looked at Sells as kind of the safety valve at short because we knew he could catch it," manager Don Mattingly said. "Offensively, Sells has not shown at this point that he's going to be a great offensive player. We just need to him to have a good approach and compete at the plate."
Here are lineups for the Dodgers' game against the defending champion
San Francisco Giants
:
Giants
Angel Pagan
CF
Marco Scutaro
2B
Pablo Sandoval
3B
Buster Posey
C
Hunter Pence
RF
Brandon Belt
1B
Andres Torres
LF
Brandon Crawford
SS
Matt Cain
RHP
Dodgers
Carl Crawford
LF
Mark Ellis
2B
Matt Kemp
CF
Adrian Gonzalez
1B
Andre Ethier
RF
Luis Cruz 3B
A.J. Ellis
C
Justin Sellers SS
Clayton Kershaw
LHP