Dodgers Report:

ownership
February, 20, 2012
2/20/12
3:48
PM PT
This post won't be well received. That much, I feel safe in predicting.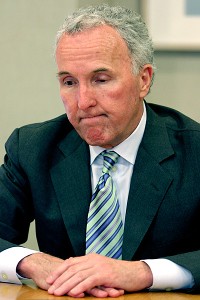 AP Photo/Mary Altaffer
Frank McCourt hasn't left the Dodgers' cupboard bare on his way out. Quite the contrary.
But here's the deal: I want to say a few nice words about
Frank McCourt
.
I know, I know. I have piled on as much as anybody over the past couple of years. And no, there is nothing, absolutely nothing, that can save McCourt's legacy as owner of the Dodgers at this point. No amount of spin, from inside or outside the McCourt camp, can change the fact that the past eight years will be remembered as one of the darkest periods in the franchise's otherwise proud history, the four playoff appearances notwithstanding.
But the widely held assumption going into the winter -- including the assumption here -- was that the cupboard would be left totally bare, that McCourt would gut the team in preparation for the sale, leaving it in such bare-bones shape that it might take the new owner a couple of years to build it back to a competitive level.
Well, that hasn't happened.
The Dodgers signed nine free agents this winter to a total of $45.35 million worth of contracts. And yes, all but $18.85 million of that won't be paid out until 2013, long after McCourt is gone, but general manager
Ned Colletti
was able to fill the holes he had to fill. The Dodgers also avoided going to any arbitration hearings by signing their five eligible players to a total of $198.325 million in contracts -- including that monstrous eight-year, $160 million deal given to
Matt Kemp
-- although admittedly, only $35.175 million of that will be paid out this year.
February, 20, 2012
2/20/12
2:11
PM PT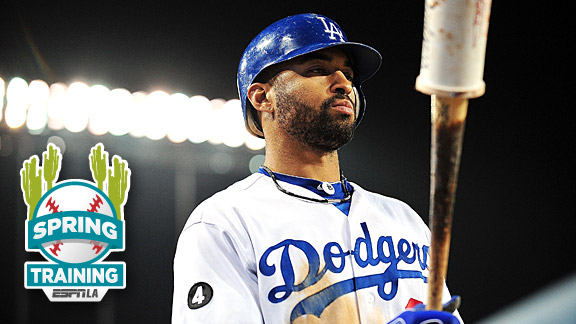 Gary A. Vasquez/US Presswire
My intention when I sat down was to write one a typical spring-training preview, with the five questions. But then, I quickly realized that in this most unusual of springs for the Dodgers, there simply aren't five questions.
Fact is, in all my years of covering Major League Baseball, I can't recall a spring training that began with a team's Opening Day roster as close to being set as the Dodgers' is this spring -- that is, until the inevitable spring-training injury occurs, and I also can't remember a spring that didn't feature at least one of those.
Because the Dodgers are in bankruptcy and up for sale, and because the player payroll is being slashed to $90 million as a result, and because general manager
Ned Colletti
had so many holes to fill, Colletti filled as many of them as he could as quickly as he could, essentially rendering the team set before the holidays. Oh, there was one opening in the bullpen, but that was siphoned off a couple of weeks ago when Colletti added a late free-agent signing in veteran
Todd Coffey
.
But the usual five questions can be reduced in the case of the 2012 Dodgers to one question: Who will get the final roster spot?
Simple logic would suggest it will be an outfielder, with second-year big leaguer
Jerry Sands
the clear favorite. But there are a lot of factors that could lead to Sands beginning the season in the minors, and there also are a few factors that could lead to that final spot going to an additional infielder, most likely second-year big leaguer
Justin Sellers
.