Dodgers Report:

Peter O'Malley
February, 23, 2012
2/23/12
8:12
PM PT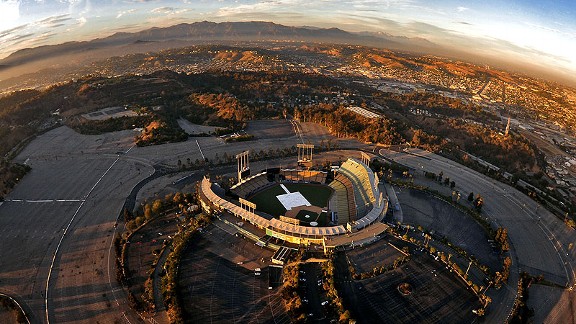 Paul Spinelli/MLB Photos via Getty Images
For the past six months we have all been rather naive in assuming the biggest potential problem with sale of the Los Angeles Dodgers is the fact that owner
Frank McCourt
has the power to make the final decision on whom he sells the franchise to.
That the worst-case scenario was McCourt essentially blowing off a good candidate like
Peter O'Malley
because the former owner has harshly criticized him in the past.
Or that he might sell the team to some cold, calculating financial whiz who is more interested in the team's future media rights and developing the land surrounding Dodger Stadium than adding a hitter to help protect
Matt Kemp
in the lineup.
Rick Caruso
and
Joe Torre
just reminded everyone of how dangerous it is to underestimate McCourt's avarice.
Thursday afternoon we learned
the billionaire land developer and the former Dodgers manager pulled out of the bidding for the Dodgers
because of McCourt's refusal to include the parking lots around Dodger Stadium in the sale of the team.
In a letter to Major League Baseball executive vice president
Rob Manfred
obtained by the Los Angeles Times, Caruso explains that "since the outset we felt that operationally it would be impossible to effectively manage baseball operations having the parking lots that surround the stadium under separate ownership. We believed that during the bid process that we would have the opportunity to buy the lots.
"It has now been made clear to us by Mr. McCourt that the lots are not and will not be for sale."
The tone of the letter is polite and professional. It even concludes with a "thank you for your time and consideration."
The message is loud though. And it is directed at Major League Baseball as much as it is directed at Dodgers fans.
There might not be a clean break from McCourt after all.