Dodgers Report:

Philadelphia Phillies
August, 31, 2013
8/31/13
10:38
PM PT
LOS ANGELES -- The minute he walked out of the Dodgers' interview room, where he discussed the trade for veteran infielder
Michael Young
on Saturday night, general manager Ned Colletti reached Young on his cellphone.
Colletti said Young understood he won't be walking into the kind of role he had in Philadelphia, where he has had more than 500 plate appearances, or that he had in Texas, where he was the face of the franchise.
Colletti said Young was willing to accept a lesser role for a third crack at a World Series title.
[+] Enlarge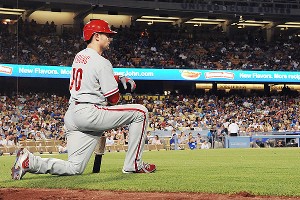 Lisa Blumenfeld/Getty ImagesMichael Young's trade to the Dodgers brings L.A. another veteran presence with playoff experience and leadership skills in the clubhouse.
"He could have vetoed the whole thing," Colletti said.
The Dodgers aren't interested in a move that could risk changing their direction. When you're coming off the best calendar month (23-6) in Los Angeles franchise history, when you have made up 20 games in the standings in less than 10 weeks, radical change really doesn't jump out as a good idea.
For a team that almost never loses, the Dodgers have been pretty busy making changes. They've added relievers
Brian Wilson
and
Carlos Marmol
, and starting pitcher
Edinson Volquez
. Now they add Young despite the fact that Young's .722 OPS is identical to that of their starting third baseman,
Juan Uribe
, and that Young isn't nearly the defender Uribe is.
It wasn't Colletti's intention to upset the apple cart, just to add a little more sustenance to the Dodgers' moveable feast. It's about depth. It's about competition. It's about experience.
"I kept it in the back of my mind for a while, because I didn't want to disrupt what we have going on here," Colletti said. "I think the room is great."
Of course, you could argue, then why do it?
August, 16, 2013
8/16/13
8:19
PM PT
The Dodgers win at home. They win on the road.
They beat Cy Young winners, up-and-coming aces and back-of-the-rotation starters. They beat National League teams and American League teams, contenders and teams playing out the string.
They beat veteran managers and guys making their debuts (in this case, Ryne Sandberg managing his first game in place of fired Charlie Manuel).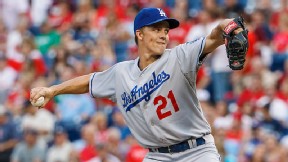 AP Photo/Christopher SzagolaZack Greinke gave up only three hits in beating the Phillies, and is looking like one of the best No. 2 starters around.
They just keep winning, at a ridiculous rate. After Friday's 4-0 win over the
Philadelphia Phillies
-- spearheaded by
Zack Greinke
and
Hanley Ramirez
and at the expense of
Cliff Lee
-- at Citizens Bank Park, they have gone 24-3 since the All-Star break, 41-8 since June 22 and have won nine straight games. Pick a sample size. They're all impressive.
Since 1900, only one other team -- the 1944 St. Louis Cardinals -- has played this well for this long. The Dodgers have been the best team in baseball for nearly one-third of the season. Unless the Dodgers have a dramatic change of course, their October trajectory is looking surer and surer. They gained a game from the
Arizona Diamondbacks
and now lead the NL West by a commanding 8½ games.
Greinke hasn't reached the heights of
Clayton Kershaw
, but he's looking like one of the best No. 2 starters in baseball. He gave up only three hits in a game that suggested his stuff was far from dominant -- he walked four batters and had only three strikeouts. Greinke is 8-1 since June 16.
No matter how many times his season is disrupted, Ramirez just keeps on putting up monster numbers. Manager Don Mattingly has marveled at Ramirez's ability to return from a lengthy layoff and still hit major league pitching with such authority.
Of course, there's major league pitching and then there's Lee. Ramirez has consistently gotten the better of the Phillies' ace. His two-run home run in the fourth inning made him 8-for-15 with three home runs against Lee.
As good as the Dodgers' pitching has been, it could get even better with the addition of veteran reliever
Brian Wilson
, who threw a simulated game in Philadelphia and could come off the disabled list as soon as Sunday. It certainly will get more colorful.
Wilson plans to wear No. 00. That will be a Dodgers first.
"Every other number was taken," Wilson told reporters.
June, 28, 2013
6/28/13
10:40
PM PT
LOS ANGELES -- If you've found yourself underwhelmed by the names being bandied about in the early days of baseball's trading season, if
Matt Garza
and
Ricky Nolasco
and
Joe Saunders
don't get you fired up, consider Friday night instructive.
Pitching hasn't been the
Los Angeles Dodgers
' downfall this season, but it could be.
The Dodgers went into Friday with the eighth-best ERA in baseball, their starters with the fifth-best ERA. Those ranks are perhaps a bit disappointing given what they thought they had, but far from the reason they're stuck in last place.
What has doomed them, of course, aside from the injury-a-day plan, are underperforming hitters.
Matt Kemp
hasn't been Matt Kemp,
Andre Ethier
hasn't been Andre Ethier and
Carl Crawford
,
Hanley Ramirez
and
Yasiel Puig
haven't been around enough.
But that doesn't figure to continue and neither, perhaps, does the good pitching. If you looked at the Dodgers' Nos. 2 through 6 hitters Friday night, you'd see the potential for one of the deepest, most dangerous lineups in baseball. It has begun to poke through in recent games.
Puig is sparking it, of course, but Kemp and Ethier have looked revitalized, Ramirez looks lethal and
Adrian Gonzalez
just keeps on trucking.
The Dodgers rank 27th in the majors in runs scored on June 28, but if they can keep their guys on the field (OK, use your imagination), they won't be ranked 27th on Aug. 28.
On the other hand, if
Chris Capuano
and
Stephen Fife
(or
Ted Lilly
) are in their rotation and
Matt Magill
is the backup plan, things could get a little dicey. If they have to rely on
Brandon League
,
Peter Moylan
or
Matt Guerrier
in tight games, they could get dicier.
Capuano can be forgiven for an occasional clunker like Friday night's, in which he couldn't get out of the fourth inning and gave up seven runs and 10 hits. He had pitched well in his past two starts and five of his past six. Fife has been perfectly serviceable as a No. 5 starter. But the Dodgers' depth has been tested all year and their Triple-A options are not good.
The Dodgers, if they are in contention, will look to add one starter and one reliever between now and the July 31 trade deadline. Assuming the selling teams really are open for business, there's no time like the present.
June, 28, 2013
6/28/13
10:23
PM PT
LOS ANGELES -- If momentum is only as good as the next day's starting pitcher,
Chris Capuano
pretty much blew up a week of good vibes in about 10 minutes Friday.
The first three batters reached base safely. Rockets were flying low for a while, finding holes, then they started flying a little higher and going a little deeper. The Dodgers were in a 6-0 hole by the time many fans had settled into their seats in the second inning and they wound up losing 16-1 to the
Philadelphia Phillies
.
It was the worst Dodgers home loss since 1947, three years before Vin Scully walked into the Brooklyn Dodgers' broadcast booth for the first time. It was their worst loss anywhere since 2001.
Remarkably, most of the 48,828 fans stuck around inning by miserable inning, but then again they were shooting off fireworks afterward and it came with the price of admission, so why not?
Friday's meltdown definitively ended the Dodgers' six-game winning streak and denied them a chance to get as close to the division lead, five games, as they have been since May 4.
Oh well. It happens, right? Pitchers have bad days and Capuano had done the Dodgers a big favor by pitching well on three days' rest last weekend in San Diego. The more troubling pattern was more bad relief, with the fringes of the Dodgers' bullpen entering the game and doing little to staunch the flow of Phillies offense.
The Dodgers, facing a highly hittable pitcher,
John Lannan
, looked flat after that. But if you knew within 30 minutes of the start of your workday that your efforts would have no impact on the result, you might not be all that excited either.
If nothing else,
Yasiel Puig
continued to entertain. He hit another opposite-field drive off the right-field wall, then flipped his bat as if he thought it would go out. He dove for a ball he had no chance of catching, but got to his feet so fast it hardly mattered. He made some massive throws from right field.
Plus, utility guy
Skip Schumaker
pitched again. That's always fun. He still has a 0.00 ERA in two outings. In fact, he was the only Dodgers pitcher who didn't give up a run Friday.
And that, folks, was your Dodgers highlight show for tonight.
June, 28, 2013
6/28/13
5:55
PM PT
LOS ANGELES -- It's not as if no one could see this one coming.
Luis Cruz
's roster spot was getting more and more tenuous as the Dodgers got healthier and healthier. On Friday, he finally lost it. The Dodgers designated the popular infielder for assignment to make room for
Scott Van Slyke
to come off the disabled list.
Cruz was out of options, so he must now clear waivers and accept the assignment to Triple-A Albuquerque to remain in the Dodgers' organization.
In 2012, Cruz, a native of Mexico nicknamed "Cochito," was among the Dodgers' most pleasant surprises, taking advantage of injuries to seize the third-base job. He batted .297 with 20 doubles in 78 games.
It was a different story this season. Cruz began the season in a deep batting slump and never emerged. He was batting .127 with just three extra-base hits in 45 games.
"I'd like to see him in the big leagues more than anywhere," Dodgers manager Don Mattingly said. "If he doesn't end up in the big leagues, then you hope he'll end up in Albuquerque where he has a chance to get some swings and then you never know what happens at that point. He could get a chance to come back again and play."
Cruz was not in the clubhouse during the period in which the media is allowed.
Here are lineups for Friday's game, with the Dodgers trying for a seventh straight win:
Philadelphia
1.
Michael Young
3B
2.
Chase Utley
2B
3.
Jimmy Rollins
SS
4.
Domonic Brown
LF
5.
Delmon Young
RF
6.
John Mayberry Jr
. 1B
7.
Ben Revere
CF
8.
Carlos Ruiz
C
9.
John Lannan
LHP
Dodgers
1.
Mark Ellis
2B
2.
Yasiel Puig
RF
3.
Adrian Gonzalez
1B
4.
Hanley Ramirez
SS
5.
Matt Kemp
CF
6.
Andre Ethier
LF
7.
Jerry Hairston Jr
. 3B
8.
Tim Federowicz
C
9.
Chris Capuano
LHP
June, 27, 2013
6/27/13
10:04
PM PT
LOS ANGELES -- On any given night, you can come to the ballpark with a reasonable expectation you'll see something on the field you've never seen. If
Yasiel Puig
is playing, you can practically count on it.
The
Los Angeles Dodgers
' phenom slammed full-speed into an outfield wall and, 15 minutes later, had a freakish seventh-inning single to drive in the tying and go-ahead runs in a 6-4 win over the
Philadelphia Phillies
on Thursday night at Dodger Stadium. It was the Dodgers' sixth straight win.
Facing reliever
Justin De Fratus
with the bases loaded and two outs, Puig fell into an 0-and-2 hole and De Fratus made another good pitch, a slider several inches outside and low to try to strike him out. Puig not only made contact, he somehow pulled it through the hole into left field to drive in
A.J. Ellis
and
Juan Uribe
with the pivotal runs.
Puig rarely slows down, not when a throw from the outfield has him beat by 20 feet and not when he is about to run full-sprint into a highly immovable object. He collided hard with a sign that said, "Pacific Rim," on the right-field wall chasing down
Chase Utley
's line-drive home run in the seventh inning.
If you recall, that's virtually the same place
Bryce Harper
hit on May 13, causing a knee injury that still hasn't healed. Puig, like Harper, stayed in the game. The Dodgers can only hope Puig doesn't eventually prove to be injured. Harper played for nearly two weeks before the
Washington Nationals
had to put him on the 15-day disabled list.
The Dodgers looked as if they might knock rookie
Jonathan Pettibone
out of the game in the first inning, after they bunched three straight hits to take a 3-0 lead. But
Delmon Young
made a nice running catch to take a double away from
A.J. Ellis
.
After
Nick Punto
's leadoff hit in the second, Pettibone got 15 straight outs.
Matt Kemp
and
Andre Ethier
each had RBI doubles in the three-run first and Kemp had two eighth-inning stolen bases to help the Dodgers add a key insurance run.
Zack Greinke
wasn't particularly sharp. He had to pitch around trouble all evening, allowing 12 hits through seven innings.
June, 27, 2013
6/27/13
5:36
PM PT
LOS ANGELES --
Andre Ethier
is in his eighth major-league season. Two years ago, he won a Gold Glove.
Yet Ethier has taken it in stride when the Dodgers switched his position twice in a month. Ethier moved to center field after
Matt Kemp
injured his hamstring at the end of May and now he is being moved to left field to get
Yasiel Puig
's strong right arm back where it belongs, in right field.
"I just want to be in the lineup. I'll get in where I fit in," Ethier said.
The previous two games, Ethier had played right and Puig moved to left, but that was just to give Ethier time to adjust, manager Don Mattingly said. Until
Carl Crawford
comes back, probably in a couple of weeks, Ethier will be the Dodgers' left fielder. He played there in 2006 and 2007 when the Dodgers still had
J.D. Drew
.
"I think Dre's showing us true versatility," Mattingly said.
That could come in handy when Crawford returns, because Ethier figures to play all over the outfield as the fourth guy, coming off the bench.
It pained him to do so, but Mattingly wrote out his lineup card without his hottest hitter in it.
Hanley Ramirez
is batting .485 during his nine-game hitting streak, but he's not playing tonight after playing nine games in eight days shortly after coming off the disabled list because of a strained hamstring.
It's a precautionary day off and Ramirez is available for late-inning duty.
Here are the lineups for Thursday's game, with the Dodgers trying to win their sixth straight:
Philadelphia
1.
Ben Revere
CF
2.
Chase Utley
2B
3.
Jimmy Rollins
SS
4.
Ryan Howard
1B
5.
Domonic Brown
LF
6.
Delmon Young
RF
7.
Kevin Frandsen
3B
8.
Humberto Quintero
C
9.
Jonathan Pettibone
RHP
Dodgers
1.
Skip Schumaker
2B
2. Yasiel Puig RF
3.
Adrian Gonzalez
1B
4. Matt Kemp CF
5. Andre Ethier LF
6.
A.J. Ellis
C
7.
Juan Uribe
3B
8.
Nick Punto
SS
9.
Zack Greinke
RHP
January, 31, 2013
1/31/13
11:59
AM PT
At some point, when the laughing and clinking of glasses ends, somebody's going to bring a bill to the table.
Sam Miller of Baseball Prospectus
tweeted this: The Dodgers have $80 million in payroll committed for the 2018 season. The other 14 teams in the National League have commitments that total $118 million.
It won't be long before a bunch of Dodgers players will be earning their best salaries for some of their worst seasons. Should Dodgers fans be worried about this?
Dan Szymborski, who works for ESPN.com and Baseball Think Factory, thinks Dodgers fans should be
afraid, very afraid
. You have to be an Insider to read Szymborski's piece, but if you're not, you get the gist based on the far-from-ambiguous headline of, "Disaster Looms for Dodgers."
During the 2018 season, Adrian Gonzalez and Andre Ethier both will turn 36. Matt Kemp will turn 34. Zack Greinke will turn 35 that October. If the Dodgers pick up Ethier's 2018 option, he'll make $17.5 million. Together, those four aging players will earn $84.5 million.
Will it drag the Dodgers down or will the TV deal -- which will mean about $280 million in media rights every year -- be a capable buffer against the double whammy: aging players and ballooning contracts? Even if it's not, should Dodgers fans just enjoy it now and let the Dodgers' payroll manager figure it out? Like John Maynard Keynes said: In the long run, we are all dead.
Here's what Symborski thinks:
As modern free-agent dynasties have showed us, once you commit a team into full-scale win-now mode, it's very hard to get cheaper as you go along. The Phillies are a good example of this phenomenon. They got a tremendous bang for the buck from pre-free-agency salaries paid to Chase Utley, Ryan Howard, Jimmy Rollins, Shane Victorino, Jayson Werth and Cole Hamels. This allowed them some financial flexibility to pay top dollar for stars such as Cliff Lee and Roy Halladay. With some of those previous bargains no longer paying dividends, either because they're expensive (oh, that Howard deal!) or they're playing for other teams, the Phillies now have less room to make major free-agent signings.

Even the Yankees have far less flexibility than they used to as a result of this tendency of dynasties to get prohibitively more expensive as their players age. The fun parts of the A-Rod and Mark Teixeira contracts are likely in the rearview mirror, and with the team's stated desire not to pay luxury tax, it has spent money mostly on retaining the players it could rather than play in the Greinke or Josh Hamilton sweepstakes, as past Yankees teams might have done.
You could even take it a step beyond that depressing thought. Both the Yankees and Phillies won a bunch of playoff and World Series games after flooding the market with dollars -- thus the dynasty tag -- while the Dodgers haven't done anything yet on the field. There's no Winter World Series trophy.
Two factors could determine whether this Dodgers' strategy works in the long run. First, will the ownership group stay committed to spending as the years go by and the cost of doing business rises further? It's fairly common for a new owner, excited to be in the club, to throw a bunch of money around. Remember Tom Hicks' record-setting A-Rod contract? Remember Arte Moreno's first winter, when he signed four of the top free agents on the market?
As time moves along, are the Dodgers owners going to look to streamline their business to make it more profitable? The principal owners, Guggenheim Partners, state on their Web site that their "singular mission" is to "serve as superior stewards of capital and trusted advisors to our partners and clients." They have more than $170 billion under their supervision.
The obligation of Mark Walter and his partners is to maximize the wealth of their investors, not to maximize the happiness of Dodgers fans. To keep the money flowing out of fans' bank accounts and into their business, the Dodgers at some point are going to have to win --
that
word again.
At some point, they're also going to have to do the bulk of their building from the ground floor. The Dodgers aren't going to swing a $260 million trade and sign $200 million worth of pitching every year (we think). Quietly, they've also begun pumping more modest dollars into international signings, scouting and player development. Think about the great Dodgers teams from the 1960s through 1980s. The players came up, step by step, through an organization that schooled them in the team's philosophies.
Not only does developing your own players give you a coherent, controllable message, it builds the foundation, with free agency and trades the finishing touches. If you've got three promising rookies every winter, you don't need to be in the middle of every free-agent rumor.
The stakes, then, are high for 2013. They're high for 2014, etc. As each of the next few seasons comes and goes, the Dodgers will hear a ticking sound coming from a very expensive clock.
September, 28, 2012
9/28/12
3:29
PM PT
The
Los Angeles Dodgers
said Friday they have sent infielder Stefan Jarrin to the
Philadelphia Phillies
as the player to be named later in the
Shane Victorino
trade.
Jarrin is the son of Dodgers Spanish-language broadcaster Jorge Jarrin and the grandson of Hall of Fame broadcaster Jaime Jarrin. Stefan Jarrin, 22, batted .209 with three home runs and nine RBIs in 26 games for the rookie league Arizona League Dodgers.
The Dodgers acquired Victorino on July 31.
August, 9, 2012
8/09/12
12:39
PM PT
Shane Victorino is the kind of guy you want on your team, not just because he can jolt the top of your lineup to life, but because, frankly, it's so much less annoying that way.

When the Dodgers traded for Victorino, manager Don Mattingly admitted the player had always gotten under his skin. Of course, players who help usher you out of the playoffs, as Victorino did when he batted .368 with two home runs in the 2009 NLCS for the Philadelphia Phillies, will do that.

It's not just what he does, though, it's how he does it. Physicists in the last century discovered that matter is only energy frozen for the time being, and Victorino blurs the line between the two. Watching him can be exhausting. Listening to him can be exasperating.

"He's an aggressive player," said Dodgers coach Davey Lopes, who was in Philadelphia for four seasons with Victorino. "High energy means he's on the go all the time, whether it's talking, whether it's playing defense, whether it's on the basepaths."

Victorino freely admits he's an "irritant," and he's made a pretty good living at it, so why should he apologize?

"I want to win. I don't care if I'm your best friend or not," Victorino said. "Sometimes in this era, the way the game's played is more relaxed. If you still play the old-school way, running the bases hard, hustling, taking extra bases, grinding out at-bats, you kind of stand out. I have always said I will never change that. I was taught as a kid to play that way."

About a year ago, Victorino started talking about his attention deficit hyperactivity disorder, something he was diagnosed with as a kid. He has become a national spokesman for a movement encouraging people diagnosed with ADHD as kids to get reassessed as adults. He said he is unable to discuss the campaign right now due to FDA regulations.

A book by Alan Maimon called "Shane Victorino: The Flyin' Hawaiian," details some of the behavioral problems, the clashes with coaches and teammates, and the classroom struggles that led Victorino's parents to seek treatment for their son.

Stoke that personality by having an athletic brother who was 4 1/2 years older and you get a pretty good formula for a baseball catalyst. It helps to have above-average speed, but Victorino isn't just active, he's hypercompetitive. The Dodgers badly needed a guy with those traits because their last leadoff hitter, Dee Gordon, wasn't getting on base before he got hurt. Left field had been a quagmire for four months.

The theory is that Victorino can create the spark for the explosion that comes when the bigger guys in the middle of the order come to the plate. He got off to a surprisingly sluggish start after the trade, but in the Dodgers' past three games, he was on base eight times. He woke up the Dodgers' offense, scoring three runs Wednesday.

Growing up in Maui, Victorino said he was "that little rascal running around," when his brother Michael and his friends were playing sports. Twenty years later, he's bugging fellow millionaires in front of 45,000 people a night.

If he does some notable things and the Dodgers reach the playoffs, the fans will forgive all those irritating moments when Victorino was wearing a Phillies uniform.

"Teams have their superstar guys and then they have their guys you don't want to see up in a big situation," Dodgers second baseman Mark Ellis said. "He's that guy. You know it's going to be a tough at-bat, you know he's not going to try to do too much.

"It might bother some guys, him being so chippy, but he's good. He doesn't care if it offends anybody."