Dodgers Report:

Price of Contention
February, 15, 2013
2/15/13
10:45
AM PT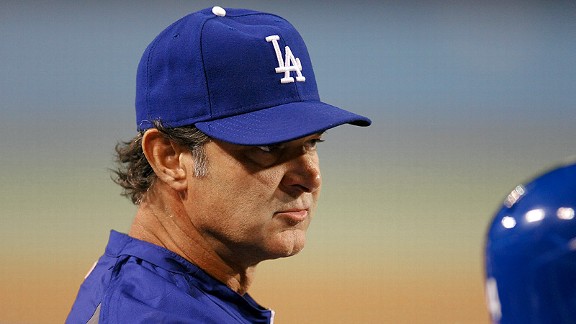 Cal Sport Media/AP Images
The Dodgers declined to pick up a one-year option on manager Don Mattingly this offseason.
The Dodgers' new owners have spent more than $600 million in acquiring players since they bought the team less than one year ago. They will enter the 2013 season with the highest payroll (more than $220 million) in baseball history.
Now the only question is if they can they turn money into wins.
We'll take a look at some of the issues facing the Dodgers as they enter a season filled with promise but, as always, fraught with peril. What are the costs -- and what are the opportunities -- inherent in such a high-stakes gamble?
Next up: Is third-year manager Don Mattingly the man to lead this team far into October?

The Dodgers gave $42 million to a Cuban defector, Yasiel Puig, they had scarcely had a chance to scout. They put about $100 million into a stadium they won't even commit to staying in over the long term. They paid $62 million to sign a pitcher, Hyun-Jin Ryu, that their general manager, Ned Colletti, had never seen in person.
To cap it all off, they signed (at the time) the most expensive right-handed pitcher in baseball history, Zack Greinke.
But while all this was going on, they declined to pick up a one-year option on manager Don Mattingly, probably for less than $2 million. No matter what the club says or how gracefully Mattingly accepts it, that is a telling omission.
Exactly what it tells us isn't quite as crystalline. Does it mean Dodgers owners or president Stan Kasten -- I don't think it's Colletti -- aren't sold on Mattingly's style? Do they think he's too laid-back to manage a team with massively paid players up and down the roster, that he won't be forceful enough to stand up to all the egos?
Does it mean they want to retain a lever -- Mattingly's job status -- should this experiment in hyperconsumption prove misguided? Or, is it, despite all appearances, simply a matter of time before they lock up his services?
Until the Dodgers exercise Mattingly's 2014 option, the players will know their popular manager is in limbo. Might that add to the already sizable pressure on their shoulders?
Whatever fans think of Mattingly's style, it's hard to imagine he's not well-liked inside his clubhouse. Players have to respect his resume. He was a fringe Hall of Fame-caliber player, a .307 lifetime hitter and team captain. He seems relatively easy to play for. He rarely criticizes players in the media, probably because he played under George Steinbrenner, who seemed to relish it.