Dodgers Report:

Prince Fielder
April, 28, 2012
4/28/12
11:12
PM PT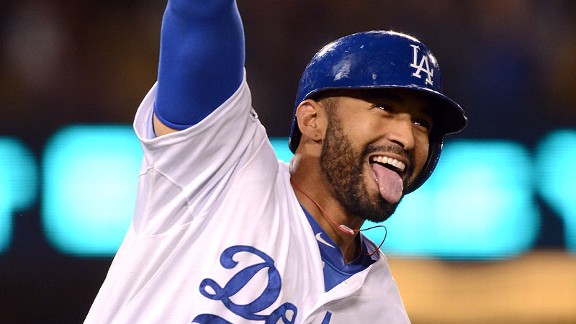 Harry How/Getty ImagesMatt Kemp hit his 11th home run of the month to set a Dodgers record for April.
LOS ANGELES -- On an evening when we got our first glimpse at a player who in some circles already has been anointed as one of the great players of his generation, we also got a reminder, and a not-so-subtle one at that.
Will
Bryce Harper
-- who turned in a double, a sacrifice fly and a laser of a throw from left field to home plate in his major league debut for the Washington Nationals on Saturday -- be a superstar? Perhaps. Probably. Most likely. But is
Matt Kemp
not only already a superstar but the pre-eminent player in the game today? Once again, we got a little more evidence that the answer is a definitive yes.
Capping off a game that for him personally had been rather forgettable to that point -- a double-play grounder, a couple of strikeouts -- the Los Angeles Dodgers center fielder slammed a fastball from Nationals reliever
Tom Gorzelanny
far beyond the wall in straightaway center, giving the Dodgers a stirring, 4-3 10-inning victory before a sellout crowd of 54,242.
It was Kemp's seventh career walk-off hit, fifth career walk-off jack and 11th home run this season, setting a franchise record for April.
And then, as he did a quick, postgame television interview that was piped into the ballpark public address system, Kemp was asked who the woman was in the front row whom he had high-fived on his way back to the dugout after triumphantly circling the bases.
"That's my mama," Kemp shouted. "That's my girl right over there."
Yes, it was that kind of evening at the old yard, and yes, Kemp is becoming that type of ballplayer/superstar/celebrity/transcendent figure in a city that celebrates celebrities and transcendent figures like no other. Really, when he stepped to the plate to begin the bottom of the 10th, the Dodgers having already come back from the dead an inning earlier and dependable veteran
Jamey Wright
having mowed down the Nationals in quick order in the top half, did you expect any other result?
Kemp can tell us he did. But why should we believe him? Why should we believe he was thinking about anything else, when none of us was thinking about anything else?
"I was just trying to hit the ball hard," he said. "Sometimes when you're out there trying to hit home runs, it doesn't come out the way you want it to. I was just trying to let the ball get deep. He threw me two changeups [for strikes] the first two pitches. I fought back [to 1-2], and I wanted to hit the ball hard."
March, 30, 2012
3/30/12
6:12
PM PT


GLENDALE, Ariz. -- For the second spring training in a row, there were tense moments in a Cactus League game between the Los Angeles Dodgers and Milwaukee Brewers on Friday, this time the result of three batters being hit by pitches and another getting brushed back before the plate umpire warned both benches in the sixth inning.

Nothing much happened after that, though, and the Brewers went on to pound a Dodgers split squad 9-4 before 5,714 at Camelback Ranch. The Dodgers won their other game, 6-3 over the Chicago Cubs before 10,102 at HoHoKam Park in Mesa.

The whole thing began when Jerry Hairston, the Dodgers' first batter of the game, was plunked by Brewers reliever Francisco Rodriguez, who actually started the game but pitched only one inning on an afternoon when the Brewers went with all relievers. Dodgers pitcher Chris Capuano then hit Brewers right fielder Norichika Aoki with a pitch in the second, and Dodgers first baseman Juan Rivera later was hit by the Brewers' Marco Estrada leading off the bottom of the fifth.

When Brewers left fielder Ryan Braun, the reigning National League Most Valuable Player and the target of boos throughout the six innings he played because of his offseason positive test for performance-enhancing drugs -- he appealed the test and had his suspension overturned on a technicality -- came to the plate with two outs and none on in the sixth, he had to back away from an inside pitch from Capuano, at which point plate umpire Mike Lusky issued the warning.

Afterward, Dodgers manager Don Mattingly declined to say much on the matter.

"Nothing happened," Mattingly said. "Nobody came out. It was OK. It was fine. It's spring training. Guys are getting tired."

Last year, in a Dodgers-Brewers game at Maryvale Baseball Park, a Dodgers non-roster reliever named Roman Colon had words with Brewers infielder Casey McGehee on the way off the field between innings. This prompted Brewers first baseman Prince Fielder to come running out of the Brewers dugout in anticipation of a possible brawl, but order was quickly restored without anything close to a real incident.

*****

The game highlight was Andre Ethier, who continued to sizzle, going 2-for-4 with a two-run double and a two-run homer. He is now hitting .400 this spring, with 15 of his 18 hits having gone for extra bases. Oh, and Matt Kemp went 1-for-3 with a walk and scored twice, but didn't strike out, cutting his strikeouts from one every 2.6 plate appearances to one every 2.8 PAs. ... The highlight of the other game was a two-run triple by Dee Gordon off veteran reliever Manuel Corpas, breaking a 1-1 tie in the seventh inning. It was Gordon's third triple of the spring, and he is hitting .382.


February, 20, 2012
2/20/12
3:48
PM PT
This post won't be well received. That much, I feel safe in predicting.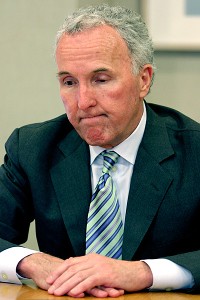 AP Photo/Mary Altaffer
Frank McCourt hasn't left the Dodgers' cupboard bare on his way out. Quite the contrary.
But here's the deal: I want to say a few nice words about
Frank McCourt
.
I know, I know. I have piled on as much as anybody over the past couple of years. And no, there is nothing, absolutely nothing, that can save McCourt's legacy as owner of the Dodgers at this point. No amount of spin, from inside or outside the McCourt camp, can change the fact that the past eight years will be remembered as one of the darkest periods in the franchise's otherwise proud history, the four playoff appearances notwithstanding.
But the widely held assumption going into the winter -- including the assumption here -- was that the cupboard would be left totally bare, that McCourt would gut the team in preparation for the sale, leaving it in such bare-bones shape that it might take the new owner a couple of years to build it back to a competitive level.
Well, that hasn't happened.
The Dodgers signed nine free agents this winter to a total of $45.35 million worth of contracts. And yes, all but $18.85 million of that won't be paid out until 2013, long after McCourt is gone, but general manager
Ned Colletti
was able to fill the holes he had to fill. The Dodgers also avoided going to any arbitration hearings by signing their five eligible players to a total of $198.325 million in contracts -- including that monstrous eight-year, $160 million deal given to
Matt Kemp
-- although admittedly, only $35.175 million of that will be paid out this year.