Dodgers Report:

Randy Choate
December, 5, 2012
12/05/12
2:09
PM PT
NASHVILLE, Tenn. -- One person who has worked with Zack Greinke in the past offered the opinion that he would, in the end, prefer to pitch for the Angels rather than Dodgers.
Greinke got comfortable in his two months in Anaheim and has the kind of personality that is somewhat adverse to change, the person opined. Returning to a place he knows might help ease what can be crushing pressure on a player after they sign a long-term deal. Reports suggest Greinke could sign a record contract.
Of course, few people other than Greinke and his agent seem to have much inside information. Most people here assume the Dodgers will offer Greinke the richest deal in the end and, thus, end up with him. The Dodgers appear to be in wait-and-see mode. They reportedly met with his agent again on Wednesday, but it's unclear if they have made an offer. The Dodgers first met with Greinke, in Los Angeles, last week. Manager Don Mattingly flew in from Indiana to spend time with Greinke.
Meanwhile, waiting may have cost the Dodgers a chance at another player.
Left-handed reliever Randy Choate has agreed to sign with the St. Louis Cardinals, a source told ESPN.
Choate was part of the trade that brought Hanley Ramirez to the Dodgers last season and they had been talking to him this winter about a contract extension.
November, 29, 2012
11/29/12
12:04
PM PT
Shortly after the Dodgers signed Brandon League to a three-year, $22.5 million contract last month, they declared League to be their closer entering 2013.

But how long will that last? League, a nine-year veteran, has been a closer for all of one full season. Plus, he has one little problem that makes you worry about him in the ninth inning: lefties. Last season, left-handed batters hit .292 against League (righties hit .208), continuing a career-long trend.

To be fair, League does one thing exceptionally well: keep the ball in play. He has allowed 33 home runs in his entire career, having faced more than 1,700 batters.

Regardless of whether League, Kenley Jansen or somebody else winds up as the Dodgers' closer, the team appears to be in pretty good shape in the bullpen.They've talked about trying to re-sign Randy Choate as the traditional, one-batter lefty specialist, and they hope Scott Elbert can be effective coming off elbow surgery. Paco Rodriguez looked like somebody ready to step into a major-league job and hold it, though he was just a few months from college when he arrived last August.

This is considered a deep market for relievers, so it seems fairly likely the Dodgers will sign at least one more veteran relief pitcher. Thanks in part to their deal with League, top-end relief pitchers are hauling in hefty three-year deals (Jonathan Broxton's $21 million deal with Cincinnati is the latest example). But there are also bargains to be had, such as the Angels' incentive-laden one-year deal with Ryan Madsen on Tuesday. Many of the second-tier relievers figure to sign after the big names, such as Rafael Soriano, move and that's where the Dodgers could find solutions.

We learned Tuesday that the Dodgers have yet to make an offer on any free agent starters and it's quite possible their biggest acquisition might come via trade (James Shields has been their No. 1 target all along). If they're able to trade for a starter, they could turn their attention to Korean lefty Ryu Hyun-jin, who -- at 25 -- is at least as important to their long-range plans as he is to 2013. Then, they could probably sign another reliever at a reasonable cost, easing the pressure to pile up innings on the starters and giving Don Mattingly plenty of late-inning matchup possibilities.

Nowadays, you can never have enough relief pitching, so the search never really ends.








August, 1, 2012
8/01/12
4:26
PM PT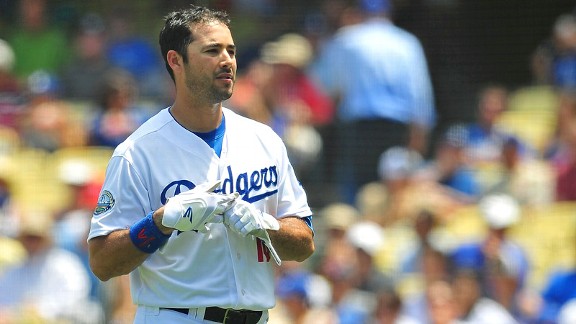 Gary A. Vasquez/US PresswireAndre Ethier went 0-for-4 Wednesday as the Dodgers lost to the D-backs, 4-0, and were swept.
LOS ANGELES --
Matt Kemp
said the Los Angeles Dodgers "needed this as a wakeup call," after the Arizona Diamondbacks finished a sweep with Wednesday's 4-0 win at Dodger Stadium.
That's funny, because manager
Don Mattingly
had set the alarm for three days earlier. Did somebody accidentally hit snooze?
The minute the Dodgers completed their sweep of the San Francisco Giants up north over the weekend, Mattingly started worrying about Monday, about a hot team coming to town and about his team losing its edge coming off an emotional high.
"This series scared me from the very beginning," Mattingly said.
He had seen it too many times before. He saw it as a player after his New York Yankees would leave Boston after doing good things. In this case, his worst suspicions made him a prophet.
The Dodgers outscored San Francisco 19-3. Arizona outscored the Dodgers 19-4. So, does that mean Arizona would have beaten San Francisco 38-7? OK, probably not, but it means that the Dodgers have a lot to learn about grinding their way through a difficult schedule if they're going to be postseason contenders.
Mattingly figured it was time to offer that reminder, so he gathered his guys together for a brief closed-door team meeting after the game. The series put a bit of a damper on the family-day festivities that followed on the field, though the toddlers didn't seem to mind as they shot off balloons and frolicked in the bouncy house.
It might be a good time for a little relaxation. The Dodgers have an open date Thursday, which is probably well-timed since they haven't had one since July 19 and need to shake off the vibes of one of their worst series of 2012.
August, 1, 2012
8/01/12
3:17
PM PT
LOS ANGELES -- The Dodgers have an Arizona problem.
Fresh off an emotional sweep of the San Francisco Giants up north, the Dodgers came home and played three of their flattest games of the season. After Wednesday's 4-0 loss to the Arizona Diamondbacks, the Dodgers have lost their last six games to Arizona and lead the Diamondbacks by just 1 1/2 games for second place in the NL West.
The Dodgers managed just 15 hits in the three games and gave up six Arizona home runs. Yeah, not a good midweek series.
The Good:


Working back.
Getting
Javy Guerra
healthy and productive again could give the Dodgers a formidable bullpen. Since he came back after knee surgery, Guerra has pitched well in lower-stress situations. If he keeps going like this, the tension level might rise, which would be good for his career. Guerra, the Dodgers' former closer, got off to a shaky start when he hit
Paul Goldschmidt
-- who homered Monday and Tuesday -- with a pitch, but Guerra got out of trouble in the fifth and then cruised through the sixth and seventh. He has pitched scoreless relief in 20 of his last 24 appearances.
Beginnings. Hanley Ramirez
has more value to the Dodgers if he can play shortstop, particularly while
Dee Gordon
is still walking around with his arm in a cast. Ramirez made his debut there, sliding over from third during a fifth-inning double switch. Ramirez began an inning-ending double play and looked fairly smooth. Perhaps he will feel comfortable enough to make it his permanent home before long.
Counterpoint. Patrick Corbin
is a good argument against doing what the Dodgers just did, emptying out a chunk of their minor league talent to make a run at a 2012 title. The Angels didn't feel like Corbin was one of their core prospects either when they traded him for
Dan Haren
in 2010. Corbin, 22, has now made six starts for Arizona, four of them quality. He held the Dodgers to two hits over six innings, striking out five, Wednesday afternoon. Oh, and the Diamondbacks also got
Tyler Skaggs
in that Haren deal. He's only 20 and has a 2.08 ERA at Triple-A Reno.
The Bad:
Bench. Don Mattingly
doesn't exactly have the most fearsome weapons at his disposal when he's trying to claw his way back in a close game. His first two guys off the bench were
Juan Uribe
, batting .196 at the time, and
Tony Gwynn Jr.
, hitting .235. GM
Ned Colletti
did well to fill some gaping needs with four strong trades at the deadline, but you have to wonder whether there might be a waiver deal Colletti could swing this month to add a little much-needed depth to the offense.
Low Fife.
You get a sense what kind of confidence a manager has in his pitcher by how he lets him work his way out of jams. As soon as a baserunner got on against
Stephen Fife
in the fifth inning, Mattingly came out of the dugout and asked for the ball. Fife has helped the Dodgers bridge a gap until
Ted Lilly
comes off the disabled list, but you get the sense the Dodgers want to limit his exposure as much as possible.
Fife pitched around a mess of trouble all afternoon, with multiple baserunners in the second, third and fourth innings.
New guys.
It hasn't been a good introduction to L.A. for a few of the Dodgers' newest players. Lefty
Randy Choate
had been cruising all season, but he gave up a long home run to Arizona's powerful catcher,
Miguel Montero
, that sort of turned out the lights on the Dodgers' chances.
Brandon League
, also recently acquired in a trade, gave up a single to Goldschmidt, the first batter he faced, and Goldschmidt scored on the Montero home run.
Shane Victorino
, in his Dodgers debut, went 0-for-4 with a strikeout.