Dodgers Report:

Ryan Vogelsong
July, 26, 2014
Jul 26
8:59
PM PT
SAN FRANCISCO -- The
Los Angeles Dodgers
seem to be rising to the occasion FOR their most highly anticipated series.
They beat the
San Francisco Giants
5-0 Saturday night behind another shutdown outing from
Clayton Kershaw
to recapture first place in the NL West. After losing seven of the first 10 games the teams played, they have outscored San Francisco 13-1 in the first two games of this series. Kershaw was virtually untouchable in pitching his fourth complete game and second shutout of the season.
How it happened:
The Giants were able to put the ball in play against Kershaw -- he had a relatively modest strikeout total of seven -- but it was generally feeble contact, and he never looked threatened or even particularly bothered. Meanwhile, the Dodgers buried
Ryan Vogelsong
in a flurry of small blows. They bunched three straight singles to score a run in the fifth and rallyied for two in the fifth aided by
Dan Uggla
's throwing error.
Hits:
The Dodgers would take their chances behind Kershaw against any team, the 1927 Yankees included. But it doesn't hurt matters that he matches up brilliantly against their biggest rival. In his career, Kershaw is 12-6 with a 1.41 ERA against San Francisco. Then again, these days other teams just look like speed bumps in Kershaw's path to another Cy Young. Starting with his June 18 near-perfect no-hitter, he's 6-0 with a 0.63 ERA.
Misses:
It has been a nagging worry all season, and now that
Hanley Ramirez
is healthy again, it has returned. Ramirez misplayed a backhand chance hit by
Joaquin Arias
in the sixth inning for his first error since the no-hitter. Then again, Ramirez had played only 12 errorless game in the interim. If nothing else, the Dodgers are going to need to keep
Miguel Rojas
around as a late-game defensive replacement. He came in to play shortstop late once again.
Stat of the game:
In 11 appearances at AT&T Park, Kershaw has given up one home run. It was hit by
Melky Cabrera
in 2012. Kershaw's ERA at this stadium is 0.69.
Up next:
The Dodgers go for the sweep Sunday behind
Hyun-Jin Ryu
(11-5, 3.39 ERA) in a game televised by ESPN at 5:07 p.m. The Dodgers will face newly acquired right-hander
Jake Peavy
(1-9, 4.72 ERA). The game will not be blacked out in Southern California.
April, 17, 2014
Apr 17
11:59
AM PT
SAN FRANCISCO –
Hanley Ramirez
was not in Thursday's lineup. The swelling in his left hand where he was hit by a
Ryan Vogelsong
fastball had subsided after frequent icing, but not sufficiently for Ramirez to grip a bat pain-free.
That doesn't mean Ramirez will miss this weekend's series with the
Arizona Diamondbacks
, however.
"I'm not going to try. I'm going to be in there," Ramirez said Thursday morning. "I'm going to be in there tomorrow."
The issue of protecting Ramirez arose in Don Mattingly's pregame discussion with reporters. Ramirez was hit in the ribs by
St. Louis Cardinals
pitcher
Joe Kelly
in the first inning of Game 1 of the National League Championship last season, rendering him largely ineffective the rest of the series.
At the time, Ramirez said he did not think Kelly was throwing at him on purpose. He also didn't think Vogelsong was intentionally targeting him.
"I get protection. Everyone in here has got my back," Ramirez said. "Everyone knows it wasn't on purpose."
Mattingly wouldn't elaborate on the team's feelings about Vogelsong's pitch much other than to say, "We'll protect our guys. It's the same thing with us. If we need to pitch a guy inside and it happens to hit a guy, that's just part of the game. We'll be trying to pitch inside like they would do."
April, 16, 2014
Apr 16
11:44
PM PT
SAN FRANCISCO --
Hanley Ramirez
was not a happy man.
Since a
Joe Kelly
pitch collided with one of his ribs and rendered him a decoy in the playoffs last season, Ramirez has had one overarching goal: stay on the field and lead the Dodgers to the World Series. For about 15 minutes Wednesday night, it was all going up in flames.
[+] Enlarge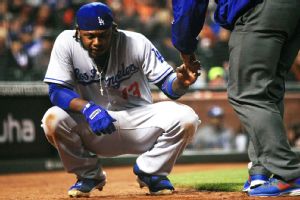 Lance Iversen/USA TODAY SportsHanley Ramirez was mad after getting hit in the hand Wednesday, but luckily for him his X-rays were negative.
A
Ryan Vogelsong
sinker didn't sink. It tailed violently in and up, slamming off Ramirez's left hand. Within seconds, the powerful shortstop grabbed his pine tar-smeared batting helmet and slammed it into the turf. There were 42,773 people at AT&T Park and nobody could take their eyes off the big man having a temper tantrum. Few of them knew the reason.
"Everyone knows what I went through last year," Ramirez said after the
Los Angeles Dodgers
' 2-1 loss to the
San Francisco Giants
. "To get hit in the hand ... the hand is a spot where it's easy to get any damage. I was wondering."
Thanks to the wonders of in-stadium X-ray machines, he didn't have to wonder long. The X-rays proved negative, no further tests are planned and, the next time Ramirez can swing a bat without too much pain, he'll be back in the lineup. It probably won't be Thursday, but could be Friday or Saturday, maybe Sunday or Monday.
However long he's out, it appears it will be a survivable amount of games. From all angles Wednesday night, it was looking as if the Dodgers had sidestepped the one injury that could send their season spinning downward.
In case you haven't noticed, they've managed to buck up pretty well without the best pitcher on the planet,
Clayton Kershaw
, who made one start for them in Australia before heading to the disabled list because of strained muscles in his upper back. The Dodgers are two games above .500 without Kershaw.
With Ramirez, they're one of the most dangerous teams in baseball. Without him, they've been feeble. Since the start of 2013, the Dodgers are 60-32 when Ramirez plays and 39-46 when he doesn't. Granted, his longest stay on the disabled list coincided with
Zack Greinke
's, but still ...
Even that doesn't communicate his importance properly. The Dodgers had better shortstop depth last season than they do this season. Had Ramirez gone down for a long while, the Dodgers would have been pondering the pros and cons of a
Justin Turner
vs.
Dee Gordon
vs.
Carlos Triunfel
shortstop situation. Yeah, that thin.
Ramirez actually argued fairly passionately with trainer Stan Conte to stay in the game, but Conte's a little more assertive than most trainers and there was no way the Dodgers were going to leave Ramirez in the game in the seventh inning.
"At that point, he's mad and he's going to want to try to stay in there and steal a base or something," manager Don Mattingly said. "We just can't do that."
Mattingly saw it. Everybody credited
Yasiel Puig
for turning around the team's fortunes last season, but Ramirez's production was even more crucial in that stretch. So, now, Mattingly can show up Thursday morning and harbor at least a glimmer of hope his best hitter can try to help the team avoid a three-game sweep here. But even if he learns it's going to be a week or more before Ramirez plays, he'll know it could have been a whole lot worse.
April, 16, 2014
Apr 16
10:08
PM PT
SAN FRANCISCO -- The Los Angeles Dodgers lost another maddening, one-run game at AT&T Park on Wednesday night, but it was nothing like the pain they could be feeling if their best hitter is out for an extended period of time once again.
Hanley Ramirez
was hit in the left hand by a 90-mph
Ryan Vogelsong
pitch and appeared to be in considerable pain before he was removed from the game. Initial X-rays proved negative, though Ramirez probably will undergo further tests.
The Dodgers' fortunes rose and fell on Ramirez's health last season, with the team riding his hot bat to its historic 42-8 June-to-August run that thrust them back in the playoff picture after a dismal start.
How it happened:
It was another tight, hard-fought game between the two rivals until Vogelsong's pitch tailed in hard on Ramirez, who was diving in and unable to get out of the way. Ramirez slammed his batting helmet to the ground and left the field with trainer Stan Conte.
Not long after that, San Francisco scored the go-ahead run on Pablo Sandoval's two-out RBI single in the seventh.
Hits:
Paul Maholm
had been put in a difficult spot since the first day of spring training.
He wasn't sure if he'd be starting or relieving and, once the season began, got sporadic work. But paired with Josh Beckett's work the night before, he gave the Dodgers a little more reason to feel OK about the back of the rotation. Maholm pitched six strong innings, holding the Giants to one run and five hits.
Misses:
Matt Kemp
's game has been erratic since he came off the disabled list. He has had some big games, but he also has had some embarrassing moments. He had a couple in about a 15-minute span in the first two innings. Kemp called off
Carl Crawford
and caught
Hunter Pence
's drive to left-center, but then he dropped it for a two-base error. The next inning, Kemp was picked off first base, a call upheld after a video review.
Stat of the game:
The Dodgers came into the game leading the majors with 20 stolen bases and had been caught only four times, but they botched a hit-and-run in the third inning and
Juan Uribe
was out by five feet, denting their early running success.
Up next:
Two of the best left-handed pitchers in the National League take the mound for a 12:45 p.m. game at AT&T Park, the series finale.
Hyun-Jin Ryu
(2-1, 2.57 ERA) has been outstanding in three of his four starts and
Madison Bumgarner
(2-0, 3.31 ERA) is San Francisco's clear-cut ace
May, 8, 2012
5/08/12
11:12
PM PT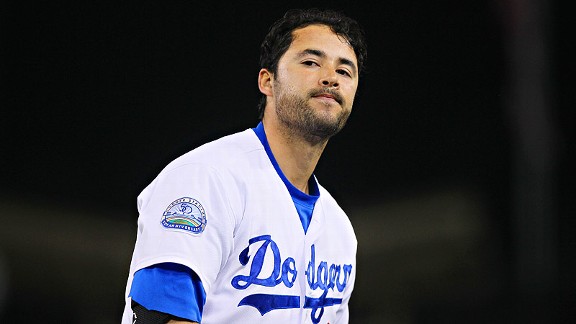 Stephen Dunn/Getty ImagesAndre Ethier hit into two rally-killing double plays Tuesday in a loss to the Giants.
LOS ANGELES -- Los Angeles Dodgers manager
Don Mattingly
put on the sacrifice bunt at two critical, late-inning junctures Tuesday night. In doing so, it is entirely possible that he sacrificed a ballgame.
The result, either directly or indirectly, was a 2-1 loss to the San Francisco Giants before 32,799 at Dodger Stadium.
This is what happened in the seventh inning, with the Dodgers trailing by a run:
Juan Rivera
and
James Loney
began the inning with consecutive singles, putting runners on first and second with nobody out, and then
Juan Uribe
was given a bunt sign. Uribe made contact, but the ball basically went straight down off his bat and landed about a foot in front of the plate, where Giants catcher
Buster Posey
was able to pick it up in plenty of time to not only get a force at third, but also for third baseman
Joaquin Arias
to complete the double play with a rifle to first to nail the slow-footed Uribe.
A.J. Ellis
then popped up to end the inning, stranding the tying run at second.
This is what happened in the eighth inning, with the Dodgers trailing by a run:
Bobby Abreu
began the inning by working
Ryan Vogelsong
, the Giants righty who had kept the Dodgers in check all evening, for a seven-pitch walk.
Dee Gordon
followed with a beautiful bunt single, a ball that died in the grass between the pitcher's mound and the first-base line, about 60 feet up the line, leaving Vogelsong no chance to get the fleet Gordon at first. Again, runners on first and second, nobody out.
And again, Mattingly ordered the sac bunt, this time with
Mark Ellis
at the plate -- and quite possibly the best offensive player in baseball,
Matt Kemp
, on deck.
The always fundamentally sound Ellis got the bunt down, of course, moving both runners into scoring position but also leaving first base open so that the Giants all-too-predictably walked Kemp intentionally to face
Andre Ethier
. Now, Ethier is a dangerous hitter, but he already had grounded into a rally-killing double play in the third inning, and he was just about to do it again.