Dodgers Report:

Sandy Koufax
February, 19, 2014
Feb 19
1:48
PM PT
GLENDALE, Ariz. –
Dan Haren
and
Josh Beckett
had just finished throwing their first live batting practice sessions of the spring Wednesday morning. They were sprawled out on the grass near the first-base line watching the next pitcher have his turn.
"I said, 'Did you ever dream you'd be watching a guy with a beard like
Brian Wilson
pitch with Sandy Koufax standing 10 feet from you?' " Beckett said. "Dan Haren's like, 'Yeah, it seems like there should be a unicorn somewhere.' "
It's been that kind of spring so far for the two veteran pitchers, both working their way back from low points in their careers. Beckett, penciled in as the No. 5 starter, is coming off shoulder surgery. Haren, who signed a $10 million contract to be the No. 4 starter, is coming off the worst season of his career.
Wednesday was an important hurdle for Beckett, who looked perfectly healthy, and another step in the right direction for Haren, who dominated the few hitters he faced.
Beckett, who had a small bone removed between his right shoulder and neck to relieve nerve irritation known as thoracic outlet syndrome, said he continues to worry that the numbness he had been experiencing in his fingers before the surgery will return. It hasn't so far. In fact, he feels the surgery has allowed him to throw from a higher arm angle, getting more downward thrust on his pitches.
He threw 20-something fastballs and changeups with good command and apparently good enough velocity.
"I don't think you can help but expect it to come back," Beckett said. "Basically, I've just got to keep riding it out, ride it until it's not good any more. Mentally, I think this was a big hurdle for me today, bigger than most people think."
Haren said he is working on the crispness of his pitches this spring and on making any mistakes low rather than up. He dramatically improved his season numbers after the All-Star break last season largely by cutting down on his home runs.
Haren, who has opted out of the spring table tennis tournament because he's not fond of public appearances, has soaked up having his locker between those of
Clayton Kershaw
and
Zack Greinke
.
"Zack's a good person to bounce ideas off about pitching and preparing. I've talked to Clayton quite a bit, but I've just mostly been impressed with how he works really hard, both in the weight room and running," Haren said. "For being 25 or whatever he is, he definitely has leadership qualities."
October, 8, 2013
10/08/13
12:25
AM PT
LOS ANGELES -- As
Juan Uribe
was being showered with champagne and beer in the
Los Angeles Dodgers
' clubhouse and ushered into the press conference room after the game,
Carl Crawford
was tucked away safely behind a plastic curtain near his locker.
Crawford needed a moment to himself and sat down, while his 9-year-old son, Justin, danced to music blasting in the background.
[+] Enlarge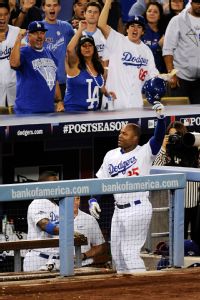 Robert Hanashiro/USA TODAY Sports
"I was happy I got the first home run," Carl Crawford said after Monday's heroics. "But the second home run? I couldn't believe it. To hit two home runs in the postseason is definitely big. I was really amazed."
While Sandy Koufax congratulated
Clayton Kershaw
on his game, and a dozen Dodgers and owner Mark Walter hugged Uribe, Crawford quietly smiled as he watched his son boogie before giving him a hug.
Before Uribe became the Game 4 hero for his game-winning home run that closed out the
Atlanta Braves
, Crawford was the only player keeping the Dodgers in the game.
Crawford hit a solo home run in each of his first two at-bats, including the first team at-bat, which was just the second leadoff homer in Dodgers postseason history.
It was the ninth multiple-homer game by a Dodger in the postseason, and Crawford was just the seventh Dodger player to accomplish the feat.
"I knew it was going to be a close game with tough pitching, so I wanted to be aggressive," Crawford said. "I was happy I got the first home run. But the second home run? I couldn't believe it. To hit two home runs in the postseason is definitely big. I was really amazed."
Braves starter
Freddy Garcia
only allowed the two runs from Crawford while giving up just eight hits in six innings.
"No one else could get to Freddy tonight other than him,"
Andre Ethier
said of Crawford. "He came up big there and got us on the board quick with two runs. Carl really kept us in the game while Freddy was shutting us down."
As Crawford looked on while his team celebrated in the clubhouse, he smiled while thinking back to where he was last year.
Crawford underwent Tommy John surgery last year, which ended his season before he was traded from the
Boston Red Sox
to the Dodgers. He had signed a 7-year, $142 million contract with Boston after the 2010 season, coming over from the
Tampa Bay Rays
. It was a signing that was quickly panned as a bust and resulted in two of the most miserable years of Crawford's life.
"The change of scenery for me was great," Crawford said. "I felt like myself again. I love it here in L.A. and I'm happy they brought me over here."
When Dodgers general manager Ned Colletti was considering a blockbuster trade with the Red Sox last year that would bring Crawford,
Adrian Gonzalez
,
Josh Beckett
and
Nick Punto
to Los Angeles, Crawford was a big part of the deal despite the fact he was not going to play last season while recovering from surgery.
"Carl Crawford has been tremendous," Colletti said. "To see what he's done in this series is great. I'm happy for him, because the crowd loves him and he's turned it up big time with big hits. Two years ago when he was a free agent, he was one of the most sought-after free agents in a long time. He's got power and speed and can play good defense, and to see him feel good about himself again is great."
Crawford wasn't supposed to begin the season with the Dodgers after recovering from surgery, but he made his debut as the starting left fielder and leadoff hitter on Opening Day. He had hoped to stay off the disabled list but missed a month with a hamstring injury.
Crawford, however, was a key player in the Dodgers' historic summer run. He played in 116 games and hit .283 with six home runs, 31 RBI and 15 stolen bases.
"Coming back, for me, I just wanted to get a full year," Crawford said. "I was on the DL, but I felt I was able to do something. And hopefully l'll be healthier and even better next year."
Don Mattingly grinned as he walked past Crawford after the game in the clubhouse. "The look on his face was great when he hit those home runs," the Dodgers' manager said.
Crawford was happy to be happy.
"Just to be able to smile again feels good," he said. "I feel like I hadn't done it two years. Just to be able to smile again and feel good again is great. Hopefully I'll be smiling some more."
April, 1, 2013
4/01/13
1:30
PM PT
A lot of the hoopla before Monday's game was loud rather than interesting. The Blue Man Group performed. The Dodgers took advantage of a new sound system to pump music so loud it made your ear drums throb.

But just before Clayton Kershaw's first pitch, the Dodgers staged the perfect moment.

Minority owner Magic Johnson was all set to throw out the ceremonial first pitch to Orel Hershiser when manager Don Mattingly strolled out of the dugout. Mattingly got to the mound, chatted with Magic and raised his left hand.

Out came a tall gentleman with white hair wearing a vintage jersey with the No. 32 on it. Vin Scully told the crowd what was going on. Mattingly was going to the lefty, Sandy Koufax.
February, 25, 2013
2/25/13
1:55
PM PT
The Dodgers were in the midst of a pretty sleepy early-spring game with the Chicago Cubs Monday afternoon, but one moment -- to start the bottom of the third inning -- was a nice payoff for fans watching the telecast of the early innings.

Vin Scully, launching his 64th season as the voice of the Dodgers, had this to say about Sandy Koufax, who has rejoined the team as a special assistant after a lengthy hiatus:

"If the Dodgers need any inspiration at all, all they have to do is look to one of the coaches. Sitting, now standing, in the dugout, wearing sunglasses in the glare, Sandy Koufax, who normally will start a game in the dugout, eventually work his way back out to the bullpen.

"Credentials? Boy are they glistening. A Hall of Famer, four no-hitters, including a perfect game, three Cy Young awards, two-time World Series MVP, an earned-run average of 2.70 over all the years. Without a doubt, one of the all-time great pitchers the game has ever had and his name is still magical. Sandy Koufax. One of the nicest men you'll ever want to meet as well."
February, 14, 2013
2/14/13
11:09
AM PT
The 1965 Dodgers reached and won the World Series riding the arms of two pitchers, Sandy Koufax and Don Drysdale. Thirty-six years later, the Arizona Diamondbacks pulled off a similar feat with Randy Johnson and Curt Schilling.

If things go according to plan, the Dodgers will produce more offense than either of those teams, but it's amazing what can be accomplished with just two ace pitchers.

It's even more amazing when one of them is right-handed and the other is left-handed. It helps when both of them, like Clayton Kershaw and Zack Greinke, have power arms.

You see a similar dynamic with hitters. Think Miguel Cabrera-Prince Fielder or Manny Ramirez-David Ortiz. The Angels are trying to pull it off with Albert Pujols and Josh Hamilton. A combination of opposite-handed power hitters are tougher to match up against and can power a team deep into October.

In pitching, it means opposing managers won't have a set lineup during series. They will pull some of their left-handed hitters when Kershaw is pitching. The next night, those hitters will be back in the lineup, cold, trying to hit Greinke's 94-mph fastball or slow curveball. Not an easy task.

It is, of course, premature to equate Kershaw and Greinke with two tandems that included three future Hall of Famers and one, Schilling, with a pretty good chance of becoming one. But you can see what the Dodgers were going for when they made Greinke the richest right-handed pitcher of all time. It's not just the individual talents, but the effect they have on the other.

Greinke said last month at FanFest that he's only had one season, 2009, when he was the clearcut No. 1 starter, so he's comfortable sliding into a secondary role. The Dodgers' top three starters figure to be Kershaw, Greinke and either Josh Beckett or Chad Billingsley.

"I guess everywhere I've been people always think someone's better," Greinke said.

And, by the way, Greinke's not yet ready to proclaim the Dodgers' staff the best in the National League. He pays close attention to the rest of baseball and he singled out the Washington Nationals, Philadelphia Phillies and San Francisco Giants as threats to the Dodgers for top rotation.

"When I first got in the majors, I don't remember there being even one team with that good a pitching staff," Greinke said. "Now, there are three just in the National League."
February, 12, 2013
2/12/13
1:40
PM PT
Clayton Kershaw told reporters in Arizona Tuesday that the team has yet to open talks about a long-term contract extension and that he doesn't think he'll let the discussion drag into the season.

This is a big deal strictly because of the uniqueness of Kershaw. While long-term contracts for starting pitchers rarely pan out, and while this could prove to be the mother of all contracts, Kershaw belongs in a different category. He has yet to turn 25, he already has one Cy Young and would have had another if not for R.A. Dickey's feel-good 2012. There's no telling how good he could be.

And he's not just a star pitcher. He's a homegrown pitcher and a franchise icon. What if he really does turn out to be as good as Sandy Koufax and the Dodgers let him do all that for somebody else? The Dodgers made the mistake of letting soon-to-be Hall of Famer Pedro Martinez leave once. Letting Kershaw go would potentially prove even more embarrassing in the long run.

And yet, why all the fuss in February of 2013? Aside from the fact the Dodgers have been spending money like they have the keys to Fort Knox, what's the hurry? The TV money will be here for a quarter of a century. Kershaw will make $11 million this season. Next season, he will be arbitration eligible. He doesn't become a free agent, potentially, until November of 2014.

That means the Dodgers are operating under the deadline of the next 20 months to hammer something out. It didn't take Hannibal that long to cross the Alps. It probably won't take that long to agree to Kershaw's no-trade demand, come up with some language to protect the Dodgers in case of injury, obtain some insurance and agree to make him the richest pitcher in the history of baseball.

Come to think of it, they'd better get started.
November, 14, 2012
11/14/12
5:53
PM PT
If you're going to lose out on a prestigious award, you might as well lose it to the feel-good story of the year.
The Baseball Writers Association of America awarded
R.A. Dickey
the 2012 Cy Young award Wednesday, making Dickey the first knuckleballer ever to win it.
Was he a better pitcher than
Clayton Kershaw
, who was bidding for back-to-back Cy Youngs? Probably not. But it wasn't the biggest robbery in the history of the trophy.
The absurdity of the vote was the breadth of Dickey's victory. Dickey garnered 27 of the 32 first-place votes. That's hardly indicative of his edge over the other finalists, especially Kershaw, who received just two first-place votes. Ridiculously, two of the 32 voters left Kershaw entirely off their ballot.
Kershaw led the National League in ERA (2.53) and WHIP (1.02) and finished second (by one) to Dickey in strikeouts (229). Many of Dickey's edges were the result of accumulation, while Kershaw's were the result of how dominating he was start to start.
Kershaw had the best WAR (wins above replacement) among NL pitchers, according to Baseball-Reference.com.
If the 30 major league GMs were asked who they'd rather have in their rotation for next season, 30 of them would probably say Kershaw over Dickey ... but that's not the same as saying he should have won the 2012 award.
Unlike the other two finalists for the award, Kershaw hasn't reached the age when most pitchers are at their prime. He doesn't turn 25 until March.
Gio Gonzalez
is 27. Dickey is 38.
If the
Los Angeles Dodgers
lock him up to a long-term deal, which seems like only a matter of time, who knows how many of these things he could win.
You can blame the voters for the result and justly so, but you also have to point the finger at Kershaw's teammates. Due to low run support and some relief missteps, Kershaw won just 14 games. If he had won 20, I'm guessing he would have been thanking the voters live, via satellite, in his acceptance speech.
Had he taken the Cy Young, Kershaw would have done so with the lowest win total since
Felix Hernandez
won it with 13 in 2010. It would have been the lowest total for an NL Cy Young winner since
Eric Gagne
had two wins (and 55 saves) in 2003.
The only shame of the matter is that it deprives Kershaw of something to brag about over the man to whom he's constantly compared. Sandy Koufax didn't go back-to-back in the Cy Young until 1966, when he was three years older than Kershaw is now.
In those days, they only awarded one trophy for both leagues. Koufax was hurt for part of 1965 and the Angels' Dean Chance broke up what might have been four straight Cy Youngs for Koufax.
Take heart, Clayton: There's always next year (and the year after that).
September, 4, 2012
9/04/12
9:40
PM PT
LOS ANGELES -- When
Clayton Kershaw
struck out pinch hitter
Jesus Guzman
in the seventh inning, he nudged his way into a pretty tight circle.
It gave Kershaw 200 strikeouts this year, making him only the fifth L.A. Dodger to do it three seasons in a row. The others: Sandy Koufax (1961-66), Don Drysdale (1962-65),
Hideo Nomo
(1995-97) and Fernando Valenzuela (1984-86).
Tuesday also was Kershaw's 22nd quality start, good for second in the National League.
June, 22, 2012
6/22/12
7:45
AM PT
By
Dan Braunstein | ESPN Stats & Information
In his start Friday against the White Sox,
Clayton Kershaw
allowed five runs in six innings, including two home runs. It was the second time this season Kershaw's allowed multiple home runs in a game, already matching a career high.
Kershaw's first home run came on an 0-2 pitch to
Adam Dunn
in the first inning. It was the second home run Kershaw has allowed this season on an 0-2 count; he had allowed only one such home run in his career entering 2012. Dunn now has four career home runs against Kershaw in only 13 at-bats. No other player has more than two home runs against Kershaw.
Kershaw, who's already allowed 10 home runs in 15 starts, hadn't allowed more than seven home runs in his first 15 starts of any season of his career. One reason for the increase in home runs might be the relative lack of effectiveness of his slider.
A season ago, Kershaw's slider ranked among the best pitches in baseball. His 138 strikeouts with the pitch led the majors, and he allowed just three home runs with it. Opponents hit .121 against it.
This year, Kershaw's slider, while still an above-average offering, has not been quite as dominant as it was a year ago. He's already allowed five home runs with his slider, and he's averaging almost a strikeout and a half less per start with it, compared to a year ago. At least some of the difference in effectiveness can be explained by how he's using the pitch; he's using his slider this year more often before two strikes than last year and less often with two strikes, when he's looking to put hitters away.
Thursday's start against Oakland is a good example of this. Despite throwing 25 sliders, Kershaw did not strike out an Athletics hitter with the pitch. It was Kershaw's second start in the last two season in which he did not strike out a hitter with his slider; the other was last season against St. Louis, a start in which Kershaw threw the pitch just four times.
Against the Athletics, 21 percent of Kershaw's pitches before two strikes were sliders. When he got to two strikes, 24 percent of his pitches were sliders. For the season, those numbers are at 18 percent and 40 percent, respectively. Although that may seem like a wide margin, consider last year. In 2011, a season in which he led the league in slider strikeouts, 13 percent of Kershaw's pre-two-strike offerings and 46 percent of his two-strike pitches were sliders.
Even without his slider being quite as dominant as it was last year or as much of a strikeout pitch as it was last year, Kershaw has still been very effective. Thursday against Oakland, he struck out five hitters with his fastball, the second time in his last three starts in which he's done that. He didn't do it once in 2011. With or without his best slider, Kershaw will continue to rank among the league's top starters, but a return to last year's slider is key to bringing him back to last year's dominance.
Thanks to Baseball-Reference, here are some other notes looking back on the past week for the Dodgers.
OFFENSE DOESN'T TRAVEL TO OAKLAND
The Dodgers were shut out on two hits in the first game of their three-game series before mustering only one run on three hits in each of the next two games. It's the first time in the Live Ball Era that the Dodgers were held to three hits or fewer in three consecutive games. They're the first team since the 1978 Rangers to be held to no more than one run and no more than three hits in three straight games.
ETHIER COOLS OFF
Andre Ethier
was 4 for 21 (.190) on the week, which actually raised his June batting average to .171 from .163 entering last Friday. Of particular note are Ethier's struggles against lefties. In 34 at-bats against southpaws this month, Ethier has four hits, no home runs, and 15 strikeouts. He's swung and missed exactly twice as often as he's put the ball in play against lefties in June (38 to 19).
Ethier faced White Sox lefty
Jose Quintana
three times Sunday, striking out swinging in each at-bat. Ethier swung and missed eight times in the game, all against Quintana, the first time in the last four seasons he'd missed on that many swings in a game. It was the first time in almost two years that the same pitcher struck Ethier out three times in a game;
CC Sabathia
did it on June 25, 2010.
LOSING CONTROL
Aaron Harang
walked a career-high eight hitters Tuesday night, most by any pitcher since
Ian Kennedy
walked nine on June 26, 2010. The day before that, Kennedy's then-teammate
Edwin Jackson
walked eight in his no-hitter against the Rays. Jackson was also the last Dodger to walk eight, doing so on Sept. 27, 2003. Jackson allowed two hits and no runs in that start.
Harang threw 105 pitches over 3 2/3 innings. Going back to 2000, as far as pitch count numbers are complete, Harang is the first Dodgers pitcher to throw 100 pitches in an outing of less than four innings. No Dodger had walked eight hitters in a start of less than five innings since Sandy Koufax in 1955 in his first career start. Koufax walked eight over 4 2/3.
As a team, the Dodgers walked 10 hitters Tuesday, the second time this season they've walked at least that many (they walked 10 Padres on April 7). The Dodgers joined the Blue Jays and Rockies as the only teams to walk 10 hitters in a game twice. LA hadn't done it since 2006, when they did it three times.
March, 2, 2012
3/02/12
11:54
AM PT
In nine years of covering Dodgers baseball, I can't remember the great but elusive Sandy Koufax ever granting an on-the-record interview . . . until today, when he held court briefly with a handful of reporters in the clubhouse. As tends to happen with men of few words, we all sort of hung on his every word.

On the subject of the pitcher who is so often compared to him, Cy Young Award-winning lefty Clayton Kershaw:

"It's a lot of fun to watch him, and he is such a great kid you just want to root for him.''

On the impending sale of the club:

"It's sad. You hate to see it going through this kind of change. Change is inevitable, but this isn't really the way you want it to happen.''

For the record, he still looks great for his age (75). When I introduced myself and shook his hand, to hear him repeat my name back to me was a thrill even for a jaded old ballwriter. When you do what I do for a living, it is rare to be in awe of anyone. I mean, I have friends who are in the Hall of Fame. But there is something about being in the presence of Sandy that is truly awe-inspiring. It's a moment I'll never forget.