Dodgers Report:

Scott Elbert
June, 5, 2013
Jun 5
8:06
PM PT
LOS ANGELES --
Los Angeles Dodgers
reliever
Scott Elbert
, who has been on the disabled list all season because of an elbow injury, will undergo season-ending Tommy John surgery, the team announced Wednesday.
Elbert is expected to be out 12 to 16 months.
Dr. Neal ElAttrache, who will perform the surgery next week, diagnosed Elbert with a complete tear of the ulnar collateral ligament in his left elbow after reviewing results of an MRI exam.
Elbert underwent elbow surgeries in September and January, prompting the Dodgers to sign lefty reliever
J.P. Howell
to a one-year, $2.85 million contract last off-season. Elbert, 27, is a former first-round draft pick, who went 1-1 with a 2.20 ERA over 43 games last year before going on the DL at the end of August.
November, 29, 2012
11/29/12
12:04
PM PT
Shortly after the Dodgers signed Brandon League to a three-year, $22.5 million contract last month, they declared League to be their closer entering 2013.

But how long will that last? League, a nine-year veteran, has been a closer for all of one full season. Plus, he has one little problem that makes you worry about him in the ninth inning: lefties. Last season, left-handed batters hit .292 against League (righties hit .208), continuing a career-long trend.

To be fair, League does one thing exceptionally well: keep the ball in play. He has allowed 33 home runs in his entire career, having faced more than 1,700 batters.

Regardless of whether League, Kenley Jansen or somebody else winds up as the Dodgers' closer, the team appears to be in pretty good shape in the bullpen.They've talked about trying to re-sign Randy Choate as the traditional, one-batter lefty specialist, and they hope Scott Elbert can be effective coming off elbow surgery. Paco Rodriguez looked like somebody ready to step into a major-league job and hold it, though he was just a few months from college when he arrived last August.

This is considered a deep market for relievers, so it seems fairly likely the Dodgers will sign at least one more veteran relief pitcher. Thanks in part to their deal with League, top-end relief pitchers are hauling in hefty three-year deals (Jonathan Broxton's $21 million deal with Cincinnati is the latest example). But there are also bargains to be had, such as the Angels' incentive-laden one-year deal with Ryan Madsen on Tuesday. Many of the second-tier relievers figure to sign after the big names, such as Rafael Soriano, move and that's where the Dodgers could find solutions.

We learned Tuesday that the Dodgers have yet to make an offer on any free agent starters and it's quite possible their biggest acquisition might come via trade (James Shields has been their No. 1 target all along). If they're able to trade for a starter, they could turn their attention to Korean lefty Ryu Hyun-jin, who -- at 25 -- is at least as important to their long-range plans as he is to 2013. Then, they could probably sign another reliever at a reasonable cost, easing the pressure to pile up innings on the starters and giving Don Mattingly plenty of late-inning matchup possibilities.

Nowadays, you can never have enough relief pitching, so the search never really ends.








July, 3, 2012
7/03/12
10:35
PM PT
LOS ANGELES -- You'll have to pardon the Dodgers if they had one eye on their game Cincinnati Reds at Dodger Stadium on Tuesday night and the other eye on a Class-A game going on about 40 miles east.
That would be Rancho Cucamonga, where All-Star centerfielder
Matt Kemp
was making his first rehabilitation start with a hamstring injury that has kept him out since the end of May.
For the first time in a while, the view in both places was a good one. The Dodgers beat the Reds 3-1 behind another solid outing from lefty
Chris Capuano
and some timely hitting by
Elian Herrera
(2-for-2, 1 run) and recent call-up
Luis Cruz
(1-for-3, RBI, 2B).
Kemp made it through his game unscathed as well, going 2-for-3 with a walk, a run scored and a strikeout. If all goes well the rest of the week, Kemp is scheduled to return to the Dodgers' lineup on July 13, the first day after the All-Star break. And with the way the Dodgers offense has been struggling without him, it can't come soon enough.
The Good:


Snub this.
Capuano (9-3) took a no decision in his first game since being snubbed by NL All-Star manager
Tony LaRussa
, but he still proved a point. Capuano struck out six, walked three and gave up one earned run in six solid innings, matched against fellow All-Star snub
Johnny Cueto
(3 ER, 7 H, 7 IP).
Shut the door.
The Dodgers received bad news before the game about right-hander
Todd Coffey
, who could be lost for the season because of an elbow injury, but the rest of the bullpen picked it up in his stead, shutting the door on the Reds over the final three innings to preserve the win.
Josh Lindblom, Scott Elbert, Ronald Belisario
and
Kenley Jansen
combined to allow just two runners.
Loney loosening up?
It's just three games, and we've seen little flashes of this before, but
James Loney
has quietly gone 4-for-10 over his last three games, including a sharp single in the seventh that started a two-run rally.
The Bad:
Coffey grounded.
The Dodgers received terrible news before the game about right-hander Coffey, who suffered a significant elbow injury in Monday's loss and was put on the disabled list. If you missed his trademark sprints in from the bullpen, you might have to catch them on YouTube for a while.
Ethier too.
The Dodgers received even more bad news when rightfielder
Andre Ethier
felt a twinge in his side during a pregame batting session and will probably be out through the All-Star break now, as the Dodgers continue to take a conservative stance and try to get all their regulars healthy for the second half of the year.
Squeezed out?
Tony Gwynn Jr.
failed to get a squeeze bunt down in the seventh inning and went hitless in three at-bats, making him hitless in his last three games. It wasn't exactly Gwynn's fault though as the pitch came in high and tight. And it didn't turn out badly for the Dodgers, either. The ball got past catcher
Ryan Hanigan
and Cruz raced home to score.
June, 30, 2012
6/30/12
7:22
PM PT
LOS ANGELES -- Photo Day at Dodger Stadium may have forced the scuffling Dodgers to smile for the cameras and put on a happy face before the game, but the good cheer didn't last long as the club dropped its seventh straight, losing to the Mets 5-0.
It was another ugly game for the Dodgers, filled with anemic offense, poor starting pitching and some shaky defense.
The Mets big blow came in the sixth as
Ike Davis
blasted a three-run shot off Dodgers starter
Nathan Eovaldi
to stake the Mets to a 5-0 lead. It was Davis' 11th homer of the season.
The Dodgers managed just three hits off Mets starter
Johan Santana
and were shut out for the fifth time in their last six games.
In the end, the Dodgers lost at least seven straight games for the first time since August 2008 when they lost eight in a row between Aug. 22-29. After that losing streak, the Dodgers won 12 of their next 13 games.
The Good:


The bullpen.
After Eovaldi was chased with one out in the top of the sixth inning,
Scott Elbert
,
Todd Coffey
and
Josh Lindblom
kept the Mets quiet, allowing just two hits and one walk over the final 3 2/3rds innings.
Ellis, Kemp nearing returns.
Kind of telling when some of the most positive news of the day comes from the training room where second baseman
Mark Ellis
and center fielder
Matt Kemp
are nearing returns from the disabled list. Ellis (leg) played for the Single-A Rancho Cucamonga Quakes on Saturday on a rehab assignment and is expected back toward the middle to end of next week. Kemp said he hoped
to return to the lineup July 13
, after the All-Star break. Kemp said on Fox's broadcast of the game that he would DH for Rancho Cucamonga on Tuesday.
The future?
First-round draft pick
Corey Seager
signed Friday night and toured Dodger Stadium on Saturday. Seager is the second
Scott Boras
client to sign with the Dodgers in the last two years, following Stanford pitcher
Chris Reed
, the Dodgers first-round pick in 2011.
The Bad:
Oh-no, Eo!
After getting ripped for 10 hits and eight runs in his last outing against the Giants, Eovaldi (0-5) was shaky again against the Mets, losing for the third consecutive outing. He yielded seven hits and five earned runs and couldn't make it out of the sixth inning, further taxing the Dodgers' bullpen. Incidentally, Eovaldi has received the lowest run support of any major league pitcher with a minimum of five starts. The Dodgers have averaged just 0.66 runs in his seven starts.
The future?
The Dodgers were reportedly close on a deal for Houston first baseman
Carlos Lee
, but Lee doesn't seem all that keen on coming over yet. He'd need to waive his no-trade clause to complete the deal and hasn't been inclined to do so. In other words, there's no help on the way just yet.
Offense, offensive again.
The Dodgers were shut out for the fifth time in their last six games and managed just three hits. No amount of changing things up before the game could change things. Manager
Don Mattingly
joked that he wore his socks higher, didn't shave and parked head-in to the Dodgers' parking lot to help change the mojo. But when things are going badly, it takes a lot more than longer whiskers and higher socks to change things. "I keep banging that drum, and I'm going to keep banging it," Mattingly said after the game. "We have to keep getting ready to play and knowing that we're going to come out the other side. I think that's what good teams do. You get beat up like everybody else. It's not an easy thing that we're going through, but that's where we're at. We don't want to lose seven in a row, we don't want to get shutout, but we're not going anywhere."
May, 31, 2012
5/31/12
10:42
PM PT
LOS ANGELES --
Chad Billingsley
was roughed up just enough in the second and third innings to leave the Los Angeles Dodgers' depleted and possibly demoralized offense without much of a chance to catch up, and the Milwaukee Brewers completed an unlikely, four-game sweep of the Dodgers, handing them a 6-2 defeat Thursday night at Dodger Stadium.
That concluded the season series between the two clubs, with the Brewers taking six of seven games from the Dodgers.
Billingsley's latest nightmare began and ended with
Aramis Ramirez
, the Brewers' power-hitting third baseman, who worked him for a leadoff walk in the second to begin a two-run rally in which four of the first five batters reached safely. Then, with one out and a man on second in the third, Ramirez took Billingsley deep, giving the Brewers a three-run lead.
Billingsley (2-4) fell to 0-3 with a 5.52 ERA in six May starts. For the month, he gave up 42 hits and 18 walks in 31 innings, posted a strikeout-to-walk ratio of less than 2:1 and threw a total of 479 pitches, an average of 18.7 per inning.
The Dodgers (32-19), meanwhile, saw their lead in the National League West shrink by 2 1/2 games during the four-game sweep. The second-place San Francisco Giants now sit just five games behind as the Dodgers embark on a harrowing, 10-game trip to Colorado, Philadelphia and Seattle beginning Friday night against the Rockies.
The Dodgers grounded into eight double plays during the four-game series, including three in the finale.
The good


Peaking early.
Billingsley retired the Brewers in order in the top of the first. This is mentioned here because Billingsley is a good guy, and so anyone who chronicles him on a regular basis has to feel the need to say something positive about him, and that is about the only positive thing that came out of this one. That, and the fact he retired them in order again in the fourth. So if you took away the other four innings, when he was getting hammered for four runs on six hits, two walks and two hit batsmen, it was actually a pretty good performance by Billingsley.
Hot hitting.
Oh, there was one other positive for Billingsley. He went 2-for-2 at the plate, with a pair of seeing-eye singles, the first just past the glove of a diving
Rickie Weeks
at second to drive in the Dodgers' first run, the second a shot off the glove of Brewers pitcher
Zack Greinke
that wound up in fair territory.
Surging.
In that quiet, almost-unnoticed way of a middle reliever, Dodgers lefty
Scott Elbert
has retired 10 consecutive batters over his past four appearances, with five strikeouts. Three of those strikeouts came in the seventh inning, when Elbert mowed down
Carlos Gomez
,
Corey Hart
and Ramirez before getting
Taylor Green
to pop up to shallow center to begin the eighth, at which point Elbert gave way to
Todd Coffey
.
The bad
Double trouble.
Following a leadoff single by
A.J. Ellis
in the fifth,
Bobby Abreu
grounded into a double play, marking the sixth time in this four-game series the Dodgers had done so. Following a leadoff walk to
Elian Herrera
and another single by Ellis to begin the seventh, Abreu grounded into another double play, marking the seventh time in the series the Dodgers had done so.
Missed chances.
The Dodgers had Greinke on the ropes repeatedly, but never were quite able to break through. They stranded eight runners during his six innings, in the first four innings, leaving the bases loaded in the second and a runner in scoring position in the first, third and sixth. Against Greinke, the Dodgers went 1-for-7 with runners in scoring position, which is why they managed just one run despite nine hits against him.
If it weren't for bad luck ... .
Immediately after getting hit on the left biceps in his first major league plate appearance,
Alex Castellanos
picked up his first major league stolen base. No, not really. By the time Castellanos slid safely into second, plate umpire
Tony Randazzo
already had called
Scott Van Slyke
out for interfering with the throw to second because Van Slyke, who was at the plate, failed to get out of the way of catcher
Martin Maldonado
. Castellanos had to go back to first and subsequently was forced at second on a first-pitch grounder by
Dee Gordon
.
May, 4, 2012
5/04/12
3:00
PM PT
By
Christina Kahrl
| ESPNLosAngeles.com
CHICAGO -- From a foggy day in Wrigley, the news was more bad than good in a one-run loss (lowering the Dodgers' league-leading record in one-run games to 9-4), but let's focus on the positive first.
The good:
After seeing the Cubs put an infield shift on him in every at-bat and in every situation,
Matt Kemp
did some damage is fourth time up in the eighth inning, Matt Kemp hammered a triple to right field. But it's important to keep in mind that he didn't beat the defense to do that, he beat the pitcher he was facing (
Kerry Wood
). The infield was shifted -- not the outfield. Kemp's hard-hit sailing fly ball made it into the ivy, and Ellis scored easily from second. He then scored on Andre Ethier's sac fly to center, pulling the Dodgers within a run.
Super-sub Jerry Hairston Jr. provided at least three more reasons to keep him in the lineup more often than not. His first time up, Hairston popped his first home run of the season into Wrigley's left-field bleachers, he laced an opposite-field single in his second at-bat, and in his third, his triple into the right-field corner plated the Dodgers' second run. Nevertheless, if Don Mattingly's pre-game comments are any kind of guide,
Juan Uribe
won't have to worry about being Pipp'd just yet -- his injury aside, Uribe is still the Dodgers' regular third baseman.
And in something of a reach for something positive to say, let's note A.J. Ellis' seventh-inning throw to gun down Campana was the seventh baserunner kill notched on his watch behind the dish, against just nine successful steals at that point. (Later in the inning, Castro stole third, but drew no throw -- what, you thought the home scorer was going to call defensive indifference on one of his own guys?) On attempted steals of second, Ellis has thrown out six of 14 would-be thieves. His overall caught-stealing rate of 41 percent ranks fourth among regular receivers in the National League.
April, 29, 2012
4/29/12
6:15
PM PT
LOS ANGELES -- A few hours after telling the media for the umpteenth time that he doesn't plan to take the closer's job away from Javy Guerra and give it to Kenley Jansen, Mattingly called on Jansen to finish off Sunday's 2-0 victory over Washington.

"Really, it was a simple thing, (Jansen was) the freshest arm,'' Mattingly said. "Javy threw (22) pitches last night, less than 24 hours ago, so Kenley was the freshest.''

Guerra pitched once over the previous three days after taking a line drive to the face Wednesday night.

But after Jansen walked the first batter and went to a 2-0 count on the second one, prompting a visit from pitching coach Rick Honeycutt, Mattingly got both Guerra and lefty Scott Elbert up in the 'pen.

"(Jansen) was going to walk the house,'' Mattingly said. "Six straight balls.''

After Honeycutt's visit, though, Jansen calmed down and finished off the Nationals for his second save, although he did issue another walk with two outs.

"He basically was just trying to slow me down and get me to keep attacking the zone,'' Jansen said. "It was just one of those days when I couldn't find the zone early, but I battled through it.''

Guerra, meanwhile, said he felt much better after a one-on-one meeting in the morning with Mattingly. Mattingly told the media before the game that he was concerned on Saturday night that he didn't see Guerra's usual "swag,'' an assessment Guerra didn't dismiss.

"Honestly, if that is the way he feels I look out there, then I would like to know that from my manager right away,'' Guerra said. "I want to be the same way I was before, so maybe I need to be a little more cocky. It's a long season. It wasn't the line drive. That kind of thing will never affect me. It was more just trying to overdo what I need to do and trying to do too much out there.'' ...

As expected, the Dodgers optioned right-hander Nathan Eovaldi back to Double-A Chattanooga after the game. Eovaldi was recalled on Friday and sent to the bullpen, but he never appeared in a game. There was no corresponding roster move, but the team plans to activate reliever Todd Coffey from the 15-day disabled list before Monday night's game in Colorado.
April, 12, 2012
4/12/12
10:05
PM PT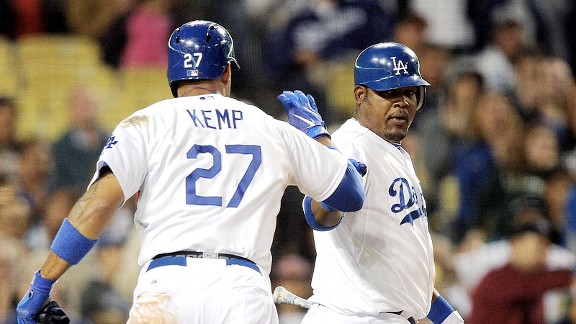 Harry How/Getty ImagesMatt Kemp rounds the bases as he scores one of the Dodgers' three first-inning runs Thursday.
LOS ANGELES -- The Los Angeles Dodgers scored three runs in the first inning, then held on for a 3-2 victory over the Pittsburgh Pirates before 28,328 on Thursday night at Dodger Stadium, giving them a three-game sweep of the Pirates and their first 6-1 start to a season since 1981, a year that ended with a World Series title.
The Dodgers' bullpen came up huge after starter
Chris Capuano
was lifted with one out in the sixth,
Mike MacDougal
,
Scott Elbert
,
Josh Lindblom
,
Matt Guerrier
and
Javy Guerra
combining to blank the Pirates on two hits over the final 3 2/3. Guerra picked up his fifth save with a perfect ninth inning.
The Good


Goose egg cracked.
James Loney
won't go the whole season without a hit. That became official with two outs in the bottom of the first inning, when the slumping first baseman broke out of his 0-for-16 skid with a hard, opposite-field single through the left side, bringing home
Matt Kemp
from second to give the Dodgers a 2-0 lead. Alas, Loney went hitless the rest of the night and now is 1-for-20, an average of .050.
Getting it done.
Elbert, the lone lefty in the Dodgers' bullpen and a guy who struggled with his command in his first two appearances, came on to face left-handed pinch hitter
Garrett Jones
with the bases loaded, two outs and the Dodgers nursing a one-run lead in the sixth. The Pirates countered with righty-hitting
Matt Hague
, but Elbert needed just two pitches to get Hague to fly out to center and end the threat. Elbert had allowed two of his three previous inherited runners this season to score.
Well-timed cutdown.
For the first time this season, a Dodgers catcher threw out a runner attempting to steal, and it came at a critical point in the game. With Pirates speedster
Andrew McCutchen
trying to get into scoring position with two outs in the seventh, Dodgers catcher
A.J. Ellis
fired a bullet to second baseman
Mark Ellis
to nail McCutchen and end the inning, preserving the one-run lead. A.J. Ellis has now cut down one of two runners who have tried to steal on him this season.
The Bad
Too much air.
Dee Gordon
, whose game relies heavily on speed and thus relies heavily on hitting the ball on the ground, made fly ball outs in each of his first three plate appearances, including with two on and two out in the fourth immediately after Capuano worked Pirates starter
Jeff Karstens
for a walk. Gordon, who is hitting a disappointing .200 with an even-more-disappointing .273 on-base percentage, has to be able to take advantage of his speed at the top of the order, but he has no chance of doing that when he hits high, catchable fly balls.
Running on empty.
For the second start in a row, lefty Capuano was dominating through the early innings, then ran out of gas well before he reached 100 pitches. This time, he began to run into trouble in the fifth, when he gave up a solo homer to
Michael McKenry
and then hit a batter. Once he gave up back-to-back hits to start the sixth and a sac fly that shaved the Dodgers' lead to one run, manager
Don Mattingly
had seen enough. Capuano was gone after 81 pitches, five fewer than he threw in 4 2/3 innings Saturday night in San Diego. On a positive note, Capuano's ERA went from a ghastly 7.71 to a just-sort-of-not-very-good 5.40.
No-shows (again).
For the second night in a row, the Dodgers played in front of a bunch of empty seats, with an official attendance of 28,328. Total paid attendance for the past two nights has been 58,057. Total paid attendance for Tuesday's home opener was 56,000.
April, 7, 2012
4/07/12
9:46
PM PT
By
Sarah Trotto
| ESPNLosAngeles.com
SAN DIEGO -- The Dodgers have a chance to sweep their opening series of the season Sunday afternoon against the Padres.
They reached this point by winning a long, ugly game Saturday night.
Dee Gordon
drove in the winning run on a two-out single in the 11th inning in the 6-5 victory over the Padres on Saturday at Petco Park.


A.J. Ellis
scored after he led off the inning with a single and advanced on a sacrifice bunt. Closer
Javy Guerra
earned the save, striking out one and walking one in the bottom of the 11th.
The Dodgers had squandered a 5-0 lead, as the Padres tied the score with five runs in the fifth inning. The Padres drew three consecutive walks with the bases loaded in the inning.
Dodgers starting pitcher
Chris Capuano
threw four scoreless innings before running into trouble in the fifth innings. He was charged with four runs in 4 2/3 innings. He struck out four but walked five.
The Dodgers scored all five of their runs in the first four innings against right-hander
Dustin Moseley
.
Juan Uribe
and
Juan Rivera
had the day off from the starting lineup but came in off the bench. Manager
Don Mattingly
said he wanted to rest them and have them in the lineup Sunday in the series finale against left-hander
Clayton Richard
.
Adam Kennedy
started at third base in place of Uribe, and
Tony Gwynn Jr
. started in left field in place of Rivera.
The Good
More from the leadoff spot.
After he went 1-for-10 in the first two games, Gordon was 3-for-4 with a double, two walks and three stolen bases Saturday. The three stolen bases tied a career high. He led off with a single and stole his first base of the season in the first inning. He advanced to third on a groundout and scored on
Matt Kemp's
sacrifice fly. In the third inning, Gordon drew a walk, stole second and scored on Kemp's single.
The usual suspects.
Kemp extended his hitting streak to 15 games (dating to last season) with an RBI single in the third inning. Gordon and
Mark Ellis
both drew two-out walks before Kemp singled for a 2-0 lead.
Andre Ethier
then hit a two-run double for a 4-0 lead.
Kemp also had a double in the seventh.
Some power.
A.J. Ellis hit his first home run of the season, a solo shot off Moseley for a 5-0 lead in the fourth inning. It was the third home run of Ellis' major-league career. He hit two home runs in 31 games with the Dodgers last season.
The Bad
Meltdown in the fifth inning.
The Padres scored five runs in the fifth inning to tie the game with five walks, a wild pitch and two hits. Capuano issued a walk with the bases loaded for the first run, and
Jamey Wright
issued two walks with the bases loaded for two more runs. Then
Scott Elbert's
wild pitch allowed a fourth run to score. After hitting
Yonder Alonso
, Elbert gave up an RBI single to
Orlando Hudson
that tied the score 5-5 before the inning ended when
Nick Hundley
was thrown out trying to score.
Another short start.
Capuano lasted just 4 2/3 innings. Walks were a big factor -- he issued five. The Dodgers used seven relievers, weighing heavily on the bullpen for the second time this series. Opening Day starter
Clayton Kershaw
also threw a short outing Thursday, when illness limited him to three innings. On Friday,
Chad Billingsley
saved the bullpen by throwing 8 1/3 innings.
Wright not right.
Wright replaced Capuano in the fifth inning and threw eight pitches -- and none of them were for strikes. He issued two walks with the bases loaded, allowing two runs to score before Elbert replaced him. Saturday was Wright's second appearance of the season after he pitched a scoreless 2/3 of an inning Friday.
March, 26, 2012
3/26/12
9:18
PM PT
GLENDALE, Ariz. -- Jamey Wright, the veteran right-hander who was trying to make an Opening Day roster as a non-roster invitee to spring training for the seventh consecutive year, appears to have succeeded in that endeavor, securing the final spot in the Dodgers bullpen to begin the season.

Wright said after Monday's Cactus League game, a 4-3 win over the Chicago White Sox, that general manager Ned Colletti had informed him in the morning that his contract would be purchased and that the move would become official once the paperwork was complete.

Meanwhile, another veteran reliever trying to make the club, left-hander Jon Grabow, exercised the out clause in his minor league contract and became a free agent after being told he wouldn't make the Opening Day roster.

"They informed my agent that I wouldn't be making the club and they wouldn't be putting me on the roster by (Friday),'' said Grabow, who made six appearances this spring and allowed no runs on four hits over six innings while striking out seven and walking one. "At that time, they went ahead and gave me my release. I'll just go from there and see if I can jump on with another team. This is all new to me, so we'll see what happens.''

Wright, 37, is a former first-round draft pick of the Colorado Rockies who has found his niche as a full-time reliever, to which he converted in 2007 after years of struggling as a starter, a role in which he went 69-101 with a 5.13 ERA. As a reliever, his career ERA (4.11) is more than a run better.

After posting a 3.16 ERA in 60 appearances for the Seattle Mariners last year -- including no runs allowed in his final 10 games -- Wright figured there would be a major league offer when he entered free agency in the fall, but once again, none ever came.

"It gets more stressful every year,'' he said of having to make a club every spring. "It's a lot of hard work. I have to come in and get ready to go and get ready for the season, all while trying to make a team too. That is kind of how I approached it.''

Barring an injury, Grabow's decision means the Dodgers will begin the season with only one left-hander, Scott Elbert, in their bullpen.

A 40-man roster spot will have to be cleared for Wright. That likely means reliever Blake Hawksworth, whose second elbow surgery just before the start of camp to clean out an infection resulting from the first one earlier in the winter is the reason there was a bullpen opening to begin with, will be placed on the 60-day disabled list. Hawksworth isn't expected to be sidelined that long, but he has had no spring training so he still will need to work his way back into regular-season pitching shape before he can be activated, meaning he probably won't be back until mid to late May anyway.
March, 26, 2012
3/26/12
6:04
PM PT
GLENDALE, Ariz. -- Jerry Sands had failed to get a hit in nine consecutive at-bats, striking out in three of them, before he finally yanked a sharp single through the left side of the infield to bring a pinch runner from minor league camp named Elian Herrera all the way home from second in the bottom of the ninth inning of Monday's Cactus League game, giving the Los Angeles Dodgers a 4-3 victory over the Chicago White Sox before 5,816 at Camelback Ranch.

It was a nice moment for Sands, who has plodded his way this spring to a .158 average and a strikeout every 3.6 plate appearances while driving in just two runs, including this walkoff against former Dodgers left-hander Eric Stults. But the harsh reality is that it probably wasn't enough to save Sands' spot on the Opening Day roster, a spot that seemed all but a cinch at the start of camp.

"It's been a rough camp for Jerry,'' Dodgers manager Don Mattingly said. "And obviously, Jerry knows it.''

There also were two other factors working against Sands:

-- First, infielder Justin Sellers, who figured to be his only challenger to the final spot on the roster, is hitting .357 with a .455 on-base percentage and is better suited to be a backup shortstop than either of the team's other utility infielders, Adam Kennedy and Jerry Hairston.

-- Second, Andre Ethier -- who drove an opposite-field, RBI double off White Sox left-hander John Danks in the fifth inning and now is hitting .412 for the spring -- finally is showing an ability to hit lefties with authority, possibly negating the need to have a right-handed power hitter like Sands to play in place of Ethier against left-handed pitchers.

So the likely destination for the highly promising Sands, at least to begin the season, is Triple-A Albuquerque, where he will play and get four at-bats every night.


February, 21, 2012
2/21/12
1:34
PM PT
We knew before today that Blake Hawksworth had surgery on Jan. 12 to remove scar tissue and a bone spur from his right elbow. What we didn't know, until we met with manager Don Mattingly this morning, was that Hawksworth had a second procedure about 10 days later to clear up an infection resulting from the first procedure. This has put him about two weeks behind schedule, meaning that when he is ready to begin throwing, he won't have enough time to get ready for the season.

That means he will begin the season on the 15-day disabled list, which in turn means that a bullpen that didn't appear to have an opening now has one -- although it likely would be a temporary opening, because Hawksworth is out of minor league options and thus virtually guaranteed a spot when he is ready to go.