Dodgers Report:

Stock Watch
September, 11, 2014
9/11/14
6:00
AM PT
RISING
Clayton Kershaw, LHP:
He's been in the "rising" category so long, you wonder if he's still confined by the earth's atmosphere. Is he? This season is turning historical, on par with
Pedro Martinez
in 2000 and comparable to Sandy Koufax in 1964 and Bob Gibson in 1968. Kershaw has three more starts in the regular season (unless the Dodgers are forced to play a one-game playoff or a wild-card game), and if he keeps right on trucking, they probably won't have to. He hasn't lost a decision since Aug. 16 and, before that, May 28.
Adrian Gonzalez, 1B:
Don Mattingly said in late August that he would find out which of his players thrives in pressure situations and those answers are beginning to emerge. Gonzalez had a long slump in May and June or he would be in the middle of the National League MVP discussion. He has been the one consistent power source in the middle of the Dodgers' order and his knack for coming up with hits in clutch situations has stood alone much of the season. He's a walking argument for why RBIs do, in fact, matter in a team context.
Matt Kemp, RF:
For the rest of his career, that tremendous 2011 season will follow him around. It's hard to measure up to something like that, but Kemp has shown signs of approaching that form lately, minus the 40-stolen base potential. Earlier this week, he sliced a ball into the right field stands. When the Dodgers see opposite-field power like that from Kemp, they know his swing is working the way it was designed.
FALLING
Roberto Hernandez, RHP:
The question a couple of weeks ago was whether he will pitch well enough to withstand a late charge by
Dan Haren
and make the Dodgers' postseason rotation. Now, it's more about whether he's a better option as the team's No. 5 starter for these final few weeks of the regular season. He followed up a 4 1/3-inning start with a three-inning start. It wasn't his fault
Hanley Ramirez
made a couple of errors that led to three unearned runs -- Hernandez relies heavily on his defense as a sinkerball pitcher -- but it was his fault that he gave up all those hits after the first error, including a line-drive double by the pitcher.
Yasiel Puig, CF:
The worry with Puig isn't so much that he'll lose confidence. It's whether he'll lose interest. He is batting .189 in his last 28 games and hasn't homered since July 31. On Tuesday, he barely bothered to go through pregame practice with his teammates, spending most of batting practice chatting with friends in the seats near the dugout. The Dodgers have tried to motivate Puig by showing him there's confidence for his spot, starting
Joc Pederson
a couple of times in center field, but it doesn't seem as if that stick has worked.
Hanley Ramirez, SS:
The Dodgers have lived with his poor defense for more than two seasons now. If anything, they've tried to protect themselves from it by using glove man
Miguel Rojas
for the final two innings of close games. Ramirez still might be the best-hitting shortstop in baseball, which is why the Dodgers are willing to endure his mistakes in the field. At times, that's not easy. Ramirez made three errors in the span of six innings between Monday and Tuesday's games, helping usher in five unearned runs. As he ages, his lack of range and iffy footwork become bigger problems, but the Dodgers only have to endure them for another month or so. If they do keep him beyond this year, it won't be to play shortstop.
September, 4, 2014
9/04/14
11:19
AM PT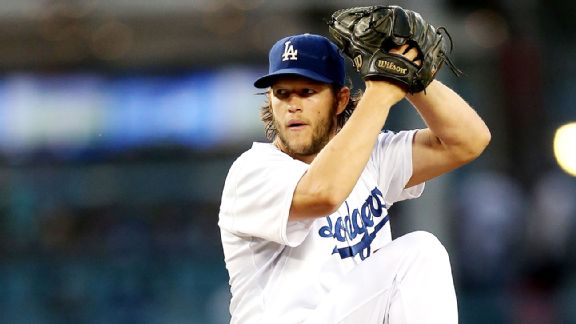 Stephen Dunn/Getty ImagesThe Dodgers are 15 games over .500 this season in games Clayton Kershaw starts.
RISING
Clayton Kershaw
, LHP: The Dodgers are 15 games over .500 when he pitches and one game over .500 when he doesn't. Sounds like an elegant argument for the MVP award, doesn't it? The way things are going, the Dodgers almost have to win each of his starts to sew up the division. Kershaw held the
Washington Nationals
to a run on three hits over eight innings and that was the only win of what could prove to be a playoff series preview. Every Kershaw start will be gripping theater in this final month. Next up is Monday vs. San Diego, and then two of the next three are against the second-place
San Francisco Giants
. If he wins three or four more starts this month, there will be a groundswell of support to get him the MVP and the Dodgers will probably be in the playoffs. They go hand in hand, of course.
Pedro Baez, RHP:
If the Dodgers go with experience in sorting out bullpen roles, they will continue to use Baez in low-pressure, middle-of-the-game situations. That could prove a fatal mistake, because they have no reliable eighth-inning options with experience aside from lefty
J.P. Howell
. It would be unwise to use
Kenley Jansen
repeatedly to get four-out saves, particularly if he is pitching frequently in September.
Brian Wilson
inspires scant confidence with his high-wire innings and
Brandon League
has proven unusable in clutch situations. So, the Dodgers might be forced to try Baez in the eighth. Why not? He throws 98 mph and he has blown away some of the best hitters in baseball lately. In two outings over the last week, Baez worked 3 1/3 scoreless innings, struck out four and allowed just one base runner. If they go with a Baez-Jansen combination, it would be a converted third baseman getting the ball to a converted catcher, a 5-2 putout of sorts.
Justin Turner, INF:
Since
Juan Uribe
came back, the Dodgers' hottest hitter has returned to the bench. That's not necessarily a bad thing since Uribe has had some big hits already and played his usual unorthodox but reliable defense. The one game Turner started, he showed the lack of playing time hasn't cooled him off. He had one of two huge hits on an otherwise frustrating day Wednesday, smashing a two-run home run that looked like it would be the game-winner until Jansen blew the save. As long as he keeps swinging this well, it's going to be Don Mattingly's job to find ways to get him on the field.
FALLING
Dee Gordon, 2B:
Overall, his emergence as a productive everyday player has been a big positive for the Dodgers this season and his base running has been fun to watch, but he doesn't profile as a leadoff hitter over the course of his career. Gordon hasn't walked in nearly three weeks and when he's struggling to get hits he becomes a non-factor in the lineup. He batted .115 over the past week and was thrown out in his only stolen-base attempt (after he hopped up after sliding in safely and was tagged out). The six strikeouts are also a bit of a concern.
Yasiel Puig, RF:
The lack of power -- one extra-base hit in the past three weeks -- is what has really hurt the Dodgers' offense, but it's a product of him abandoning the approach that made him such a force in May. He has struck out twice as many times as he has walked over those three weeks, a good indication his patience is wearing thin. That's a good description of Mattingly's patience as well, as he has benched Puig three times in the past two weeks during this protracted slump. He had a couple of singles Wednesday and walked the day before, so maybe those are small signs that he is about to have a productive month. The Dodgers could sorely use one from him.
Brandon League, RHP:
He has a 2.95 ERA, so that means he's having a good year, right? That only shows how deceptive ERA can be in assessing a reliever's value. League has nearly as many walks (25) as strikeouts (31) this season, which makes him dangerously dependent on luck to survive his innings unscathed. His WHIP (1.527) is nearly as unsightly as it was last year, his worst season since 2007, when he had a 6.17 ERA. He also hasn't done his teammates any favors: For the second year in a row, League is allowing half his inherited runners to score. It's pretty clear that he's only an option in blowouts and when the Dodgers are losing.
August, 28, 2014
8/28/14
6:00
AM PT
RISING
Clayton Kershaw, LHP:
Just give him the MVP already! Kershaw's week was pretty much reminiscent of each of his other weeks. He dominated two opponents and got the Dodgers two games closer to winning the NL West. Seems like what an MVP does, right? Kershaw held the
San Diego Padres
to a run on three hits Thursday, then held the
Arizona Diamondbacks
to one unearned run on six hits Wednesday. Combined, he pitched 16 innings with 20 strikeouts.
Kenley Jansen, RHP:
It's a pretty good thing when a Dodgers starter can go eight innings, because that means Don Mattingly can just hand the ball to Jansen, who tends to strike out everybody he faces lately. Since June 21, Jansen has struck out 38 batters while walking only four. It's no wonder Jansen has saved 18 of his past 19 chances. Wednesday night in Arizona, he picked up his 100th career save. It looks like he's going to have a good career pitching the ninth inning, and the Dodgers will ride their homegrown closer as far as he can take them.
Matt Kemp, RF:
It's not just the numbers, though those have been good enough. Kemp is batting .295 and has hit eight of his 16 home runs since the All-Star break. What's more encouraging is that the Dodgers think he is moving better, a good sign that he's emerging from a long period of decline caused by injuries. After playing pretty awful center and left field, he seems to have found a home in right, and the Dodgers' defense is better for it.
FALLING
Yasiel Puig, CF:
On Wednesday, Mattingly said the team is concerned that Puig sometimes loses focus in center field. Maybe that's because he's in a miserable funk at the plate and thinking too much about it? Puig's season has swung like a pendulum month to month. He batted .398 in May and .248 in June. He led the majors in slugging in July and has two extra-base hits all of August. The Dodgers are fairly functional offensively right now, but they're largely doing it without their first-half MVP.
Kevin Correia, RHP:
He had a nice first start after the Dodgers acquired him from the
Minnesota Twins
, leading to hope that he simply needed to be in a winning environment to thrive. Since then, he has been even worse than his 4.94 Twins ERA suggested, giving the Dodgers just eight innings combined in his past two starts. He has also given up 15 hits and nine earned runs in those starts. Now, it looks like he's headed for the bullpen, and it's unclear how much value he can bring as a long man.
Hanley Ramirez, SS:
Since coming back from the disabled list, he's 1-for-12 with five strikeouts. The Dodgers have to put him back in the lineup because his bat is such an upgrade over Miguel Rojas', but Dodgers pitchers might soon be missing Rojas' glove, especially if Ramirez doesn't start hitting.
August, 21, 2014
8/21/14
6:00
AM PT
RISING
Carl Crawford, LF:
Dodgers manager Don Mattingly takes a heavy dose of criticism, even from many Dodgers fans. I wonder how many of them will give him credit for sticking with Crawford even when he was batting .240 not that long ago? Crawford has rewarded that patience by batting .485 with five multi-hit games since Aug. 10. His emergence, of course, means Andre Ethier's role gets even further diminished, but it's the point of the season when you just go with your best nine.
Justin Turner, INF:
The Dodgers' bench is better than it has been in years and Turner is the primary reason why. He has stepped in twice for injured
Juan Uribe
and, while not quite living up to Uribe's defensive abilities, has actually hit better than they could have expected from their regular third baseman. According to Baseball Reference WAR, Turner (2.7) is second to
Yasiel Puig
(4.1) among Dodgers position players. That tells you all you need to know.
Yasiel Puig, CF:
Other than Crawford, Puig has been the only real sign of offensive life on this homestand, but the Dodgers knew he could hit. They weren't so sure how well he would play center field. So far, he has not seriously injured any of the team's corner outfielders, he has made some great catches up against the wall and he has discouraged other teams from taking extra bases with his arm. He looks like a more complete player, mostly because center field allows him to show off the full range of his game.
FALLING
Zack Greinke, RHP:
The Dodgers pushed his scheduled start back two days to give him extra rest for his sore right elbow. Greinke admitted he probably won't feel 100 percent the rest of the season. That, clearly, is a bit worrisome considering the Dodgers' primary World Series hopes ride on the arms of their two Cy Young winners, Greinke and
Clayton Kershaw
. The best-case scenario is Greinke can pitch with some pain and
Hyun-Jin Ryu
returns from the DL in fairly short order. The worst-case scenario is too dire to even bring up at this point.
Dee Gordon, 2B:
A good series and a bad series are literally a matter of inches for the Dodgers' leadoff hitter. It's all about infield hits. Lately, he has been getting thrown out by a hair frequently at first base and his offensive numbers have suffered for it. Gordon is just 2-for-16 on the homestand and hitless in his past 12 at-bats. He's a .196 career hitter against the
San Diego Padres
. What's that old line about you can't steal first?
Miguel Rojas, SS:
The Dodgers love his glove, but he just couldn't hit enough to hold onto the shortstop gig while
Hanley Ramirez
was out. In an 0-for-9 slump, Rojas was replaced by
Erisbel Arruebarrena
, who very well could be the Dodgers' Opening Day shortstop next season. Rojas looks like a nice candidate to hold a bench role the rest of this season and going into next, so at least he has established himself to that degree.
August, 14, 2014
8/14/14
11:26
AM PT
RISING
Carl Crawford, LF:
Some Dodgers fans were tweeting their displeasure with Don Mattingly for starting Crawford over
Andre Ethier
in left field. There aren't as many of those tweets lately. Crawford has been the Dodgers' hottest hitter, going 13-for-29 on the road trip to Anaheim, Milwaukee and Atlanta. He's streaky as a rule and this season the swings have been exaggerated, but mostly the Dodgers need to keep him healthy because they've had a good thing going in the outfield lately.
Kenley Jansen, RHP:
The big Curacaoan is helping restore order to the late part of games once again.
A.J. Ellis
called Jansen's fastball "invisible," because of its late movement, and hitters certainly don't appear to be seeing it well lately. Jansen's 33 saves are fourth most in the NL and he has blown just 10.8 percent of his save chances. In his last 19 games, he has allowed just one run and held opponents to a .136 average while striking out 28.
Dan Haren, RHP:
Give the crafty veteran some credit for working hard to find the right adjustments. Previous to last Wednesday's start in Anaheim, Haren had gone 0-4 with a 10.03 ERA in the previous five starts. After the Dodgers landed two veteran pitchers,
Roberto Hernandez
and
Kevin Correia
, his spot in the rotation seemed in jeopardy. Mattingly said removing him from the rotation was never discussed, but Haren admits he felt the pressure. Now, there's far less talk of that as he built on a dominant outing in Anaheim with a good one in Atlanta. He looks more confident and the team feels more confident in him. His goal is six more good starts and a deep run in the playoffs.
FALLING
Yasiel Puig, RF:
It's looking more and more like the Dodgers -- who have the best record in the National League -- have no clear-cut MVP candidate.
Clayton Kershaw
deserves some support, but it's rare for a starting pitcher to win the honor -- Bob Gibson was the last to do it in the NL, in 1968. And Puig has tailed off. He struck out four times in Atlanta Wednesday night and has gone 4-for-29 on this road trip. A good final month-and-a-half could put Puig squarely back in the MVP discussion, as Pittsburgh's
Andrew McCutchen
is on the disabled list.
Zack Greinke, RHP:
It's not as if he has been awful, and the Dodgers insist he is healthy, but he is 0-2 with a 4.85 ERA in his last two starts with three home runs allowed. Greinke spent some time in Atlanta working with pitching coach Rick Honeycutt on his slider grip, which could explain his recent struggles. The Dodgers look a lot more formidable when Greinke and Kershaw are in top form, so how they manage these final weeks with those two -- and how they perform -- could determine how far they go in the playoffs.
August, 7, 2014
8/07/14
12:32
PM PT
RISING
Matt Kemp, RF:
Where did all this power come from? Kemp hit eight home runs in his first 98 games and he has hit six in his last nine games. Since the All-Star break, Kemp is batting .344 with a 1.097 OPS. It's a good thing the Dodgers didn't trade him. With
Adrian Gonzalez
slumping and
Hanley Ramirez
only sporadically productive, his hot hitting has given the Dodgers what little middle-of-the-order production they've been getting, which isn't much.
Dan Haren, RHP:
Don't count the big right-hander out just yet. Fans and media were clamoring for the Dodgers to yank him from the rotation and with perfectly justifiable logic. Haren had a 10.03 ERA over five starts, but he made some adjustments and dominated his old team, the Angels, Wednesday night. Haren needs to be practically perfect to succeed with his 87-mph fastball these days, but the minor tweaks – pausing in his delivery and mixing in more curveballs – look like promising starting points for a second-half revival. He did it last season.
Kenley Jansen, RHP:
It looks like the ninth inning is in good hands. Opponents are batting .138 and Jansen has 11 strikeouts and just one walk since the All-Star break. His saves are scary at times, but his stuff is so overpowering he almost always gets the job done. On Wednesday, he had the tying run at second with nobody out and blew
Mike Trout
away with a 96-mph fastball right down the middle before mowing down
Albert Pujols
and
Josh Hamilton
, too.
FALLING
Adrian Gonzalez, 1B:
For a guy whose production is among the steadiest in baseball year to year, Gonzalez has been wildly streaky this season. It looked like he was turning his season around in July, but August has been grim. He's 1-for-17 with one walk this month. If he doesn't turn it around soon, Mattingly might want to consider using Kemp in the No. 3 spot in the lineup and shifting Gonzalez back to fifth.
Josh Beckett, RHP:
The Dodgers landed veteran starter
Roberto Hernandez
from the
Philadelphia Phillies
in a
waiver trade
Thursday and, after Haren's performance Wednesday, it looks like Beckett's spot might be the one Hernandez eventually takes. Beckett clearly isn't the same since he has been pitching with an injury to his left hip. He is 1-2 with a 6.55 ERA in his last five games. Every time he pitches, it taxes the Dodgers' bullpen for days. He's averaging less than 4 2/3 innings in those starts.
Hanley Ramirez, SS:
Unless his value has fallen so far that he would return on a one-year deal, it would be absurd for the Dodgers to re-sign him at this point. His defense at shortstop has reverted to sub-par and the Dodgers have slick-fielding options in-house now. Plus, on the horizon is one of their best prospects, Corey Seager, who is batting .339 since arriving at Double-A Chattanooga. Oh, and Ramirez, who is finally healthy, is batting .194 since July 29. He's not exactly helping his cause in free agency.
July, 10, 2014
7/10/14
6:00
AM PT
RISING
Clayton Kershaw, LHP:
On June 13, the
Arizona Diamondbacks
'
Aaron Hill
doubled to left field to drive in
Chris Owings
and cut the
Los Angeles Dodgers
' lead to 2-1 in the third inning. It didn't seem all that remarkable at the time, but in retrospect, that was the last time anyone had a meaningful hit off Kershaw. His next game was a near-perfect no-hitter (with 15 strikeouts) against the
Colorado Rockies
and, entering Thursday night's game against the
San Diego Padres
, Kershaw is riding a 36-inning scoreless streak, the longest by a Dodger since Orel Hershiser set the major league record of 59 in 1988. How good has Kershaw been over those 36 innings? Put it this way: He has 45 strikeouts and five walks.
Dee Gordon, 2B:
In an era when many veteran players look for every excuse not to attend the All-Star Game, Gordon couldn't be more thrilled to have received the invitation. In fact, he told reporters he felt like crying when manager Don Mattingly told him. You've got to love that, and you've got to love the fact that Gordon got himself into the game with a late push that was all his doing -- not a campaign by the PR staff. He is batting .367 in July.
St. Louis Cardinals
manager Mike Matheny, who will manage the NL team, will be glad he has Gordon if the game is close late, because if Gordon gets on base -- or is used as a pinch runner -- he could decide the outcome by stealing a base or two and scoring a key run.
Yasiel Puig, RF:
Another Dodgers All-Star, Puig is showing signs of pulling himself out of the desperate power outage he endured in June. Perhaps he was just trying too hard to make it to Minneapolis? He seems to have settled down, to be chasing fewer pitches out of the strike zone and to be making better contact. After going all of June without a home run, Puig is batting .272 with four doubles, a triple and a home run in eight games in July. Most likely he will be the only Gillette Home Run Derby participant who has one home run in his past month-and-a-half, but he will be hitting batting practice, after all.
FALLING
The veteran starters:
Josh Beckett
, 34, resurrected his career in the first half and, just a couple of weeks ago, looked like an All-Star lock.
Dan Haren
, 33, had kept the Dodgers in every game he started until things started getting a little wobbly a couple of weeks ago. Now, the Dodgers don't know what they can expect from either one of them in the second half, sending general manager Ned Colletti scurrying to drum up trade talks for starting pitchers. Beckett is on the 15-day disabled list because of a left hip impingement and Haren has a 5.40 ERA in his past seven starts.
Matt Kemp, LF:
Carl Crawford
is soon to return from the disabled list -- maybe Thursday -- and Kemp, once again, will have to compete for playing time. His at-bats have been all over the map lately. He was 0-for-16 going into the final Colorado game, then went 7-for-9 in the next two games, but came back down to earth Wednesday in Detroit with some unproductive at-bats. Overall, he's batting .242 in his past eight games and Mattingly figures to feel some pressure to get Crawford into games. Both players are confined to left field for now, so it's pretty obvious Kemp will be the odd man out from time to time. The Dodgers, after all, aren't going to pay Crawford $21 million and never play him, will they?
Hanley's health:
Is he ready to go, or isn't he?
Hanley Ramirez
has gotten more than three plate appearances in a game only four times since June 23 -- a span of three weeks -- and two of those were as the designated hitter in Detroit. He has generally hit well enough to support his playing time, but are the Dodgers better off just putting him on the disabled list, letting his shoulder and calf heal and trying to get by with
Miguel Rojas
' limited offense for a while -- say, through the All-Star break? It seems like a relevant question, particularly since Rojas is a major upgrade defensively.
June, 19, 2014
6/19/14
6:00
AM PT
RISING
Clayton Kershaw
, LHP: Do we really need to elaborate much here? He pitched the 22nd no-hitter in Dodgers history Wednesday against the
Colorado Rockies
, the second this season by a Dodger. He was better than that, though. Only Hanley Ramirez's throwing error spoiled what would have been the first Dodgers perfect game since Sandy Koufax's in 1965. Asked if he thought Koufax, who lives in Florida, would have been up to watch it, Kershaw thought about it and said, "Probably not. It's pretty late out there."
Matt Kemp
, LF: If you were to isolate one reason why the Dodgers finally had a winning homestand, you'd land on the former cornerstone of the franchise. The Dodgers had seen hints of this coming for a little while, but this felt more like 2011 than anything he had done over the past two seasons. Kemp had 13 hits in 27 at-bats with two home runs and eight RBIs. With production like that in the No. 5 spot in the order, the Dodgers lineup became deeper and more dangerous. Who knows where Kemp's L.A. career is headed, but this gave a glimpse that maybe it can have a happy ending.
Patience:
Don Mattingly and
Mark McGwire
embodied it as hitters and they have preached it as hitting coaches. They want the Dodgers to be willing to take their walks and hand the baton to the next guy when it comes to driving in runs. The emphasis is working lately. The Dodgers rank second in the NL in walks and third in on-base percentage. The most amazing part is who is leading the charge:
Yasiel Puig
already has nearly equaled his walk total from last year. He is three short of that total, 36, but in 38 fewer games.
J.P. Howell
, LHP: The Dodgers have started employing the hashtag #AllStar every time he pitches, which might be a bit ambitious. He's got only the slimmest of chances of pitching in Minneapolis next month, but that doesn't mean he hasn't been as valuable as anyone in the Dodgers bullpen. The Dodgers love his attitude. He's willing to take the ball every day, he competes and he doesn't give in to hitters. He also has a 0.69 ERA since May 6, which helps them like him even more.
FALLING
Eighth-inning certainty:
The Dodgers thought they had removed much of the uncertainty that comes with bullpens by stocking theirs with former closers. But they haven't found that lockdown eighth-inning guy to get the ball to
Kenley Jansen
and they're nearly to the All-Star break.
Brian Wilson
has been better, having allowed just one run in his past 14 appearances, but he hardly seems automatic. They don't seem to want to give the ball exclusively to Howell,
Brandon League
seems to struggle in close games and
Chris Perez
has been maddeningly inconsistent.
Paul Maholm
, LHP: If the Dodgers are looking to improve their bullpen at the trade deadline, Perez and Maholm could be in danger of losing roster spots. Maholm pitches only about once a week and, if the Dodgers should find themselves needing a spot starter, they might be better off with one of their Triple-A arms such as Zach Lee or
Red Patterson
.
May, 8, 2014
5/08/14
10:15
AM PT
RISING
Carl Crawford, LF:
All it took was one swing, or at least that's how it looks. Crawford was in the worst slump of his career -- 4-for-45 -- before his pinch-hit, game-winning home run in Miami on Saturday. Now, he's rolling, going 10 for his past 17 to boost his average all the way from .185 to .255 in just four starts. The way things were going, Crawford might have found his position slipping in the
Dodgers
' four-outfielder logjam, but now, he's put the pressure on
Andre Ethier
to stay in the rotation.
Yasiel Puig, RF:
Pitchers couldn't get Puig out, but an outfield wall in Miami finally did the trick. Puig slammed into it futilely trying to prevent the winning run from scoring Sunday, and it cost him two games as the Dodgers monitored him for signs of a concussion. It didn't seem to matter, as Puig lined an RBI single in his first game back. He's 13 for his past 30 (.433), and, as long as he's this hot, he'll stay in the lineup, health permitting.
Brandon League, RHP:
He might be the least-popular Dodger, with boos raining down every time he jogs out of the bullpen door, but at some point, the fans' perception needs to catch up with what's happening on the field. League, though he has mostly pitched in low-leverage situations, has become one of the most bankable commodities in relief. He hasn't allowed an earned run in his past 13 innings, posting a 0.77 WHIP and holding opposing hitters to a .190 average.
FALLING
Adrian Gonzalez, 1B:
He has been the steadiest producer in the lineup and one of the most powerful hitters in the National League so far, but manager Don Mattingly detected a little fatigue when he gave him the day off Tuesday. The numbers detected some, too, as Gonzalez was zero for his past 15 before that game. Maybe it helped -- he came up with an RBI single off
Stephen Strasburg
in his first at-bat Wednesday.
Brian Wilson, RHP:
The Beard, who was such a huge part of the Dodgers' bullpen late last season, is showing no signs of earning back his setup role. Interestingly, that means the Dodgers could be stuck with him next season, as he holds an $8 million player option. Since April 24, Wilson has thrown just five innings and has a 14.40 ERA. Opponents are batting .318 against him with a .591 slugging percentage. Most worrisome, they have a 33 percent line-drive rate against Wilson, who isn't fooling anybody.
Dee Gordon, 2B vs. lefties:
Gordon has been the biggest pleasant surprise of the season. He leads the majors with 20 stolen bases, is getting on base as the leadoff hitter and has been one of the Dodgers' only reliable infielders. One problem: extreme splits. He is batting .192 against left-handed pitching. The fact
Alex Guerrero
is batting .328 at Triple-A Albuquerque makes you wonder if the Dodgers might some day revive a notion from spring training: A Gordon-Guerrero platoon at second.