Dodgers Report:

Sydney Cricket Ground
March, 22, 2014
Mar 22
4:47
PM PT
SYDNEY --
Hyun-Jin Ryu
's older brother and a good friend flew to Australia to watch him pitch against the
Arizona Diamondbacks
on Sunday and his parents will be watching back home in Korea, where the game starts at 11 a.m.
Ryu said he enjoyed Australia. He saw a koala, avoided eating kangaroo. He slept well. Sydney even has a Koreatown.
Who knows, perhaps one day the Ryu family will be able to watch a game in an even more familiar setting. Major League Baseball has had discussions with South Korea about one day playing a season-opening series there. The Dodgers, with the biggest Korean baseball star in the world, would be a logical choice to make the trip.
"Opening a season in Korea is a fantastic idea," Ryu said through an interpreter. "I will make it my personal wish to do that."
In another sense, familiarity is Ryu's biggest challenge this season. Teams tended to have greater success against Ryu the second and third times they faced him and only one team is more familiar with Ryu than the Diamondbacks. The Diamondbacks have had more plate appearances against Ryu than any other team aside from the Giants. They're batting .300 with a .739 OPS against him. He's 1-2 with a 4.65 ERA in five games against Arizona.
Ryu admitted to being a little anxious before Sunday's start at the Sydney Cricket Ground and said he usually isn't nervous before starts. Then again, he wasn't acknowledging any edge for the Diamondbacks because they've seen him so frequently.
"As much as they've seen me, I've seen them equally," Ryu said. "I think it's a two-way street."
March, 18, 2014
Mar 18
1:06
PM PT
SYDNEY --
Hanley Ramirez
was coming off the field following the Dodgers' first batting practice session at Sydney Cricket Ground when someone asked him how the ball carries.
"Awesome," he said, with a big smile.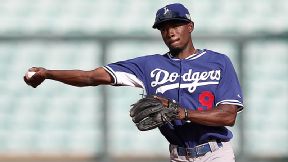 AP Photo/Rick RycroftDee Gordon predicts there will be a lot of home runs hit at Sydney Cricket Ground.
A first look at the field for Opening Day suggests the Dodgers and
Arizona Diamondbacks
could play some high-scoring games here Saturday and Sunday even though they're sending four of their best pitchers to the mound.
It's not just the dimensions, which are fairly standard. With a lot of foul ground, field designers were hesitant to make it too much of a pitcher's park, so they pinched the outfield corners in to 328 feet down the line, with the power alleys at 370 feet and straight center field at 400.
But you never know how a field will play until they start playing on it. The weather here is warm with a bit of ocean humidity and gentle sea breezes that seemed to waft balls over the fence in batting practice. Even balls not struck squarely were carrying a long way. Temperature at first pitch Sunday afternoon figures to be about 84 degrees.
Dee Gordon
came off the field and said, "There are going to be a lot of homers hit here."
That might be only half the headache for pitchers and defenders.
Chone Figgins
compared the outfield playing surface to Oakland's following a Raiders game, after the temporary seats have been removed, killing the grass beneath it.
The part of the field that is used as a cricket pitch here is hard, so line drives in between outfielders figure to scoot past them to the walls. That could lead to yet more extra-base hits. The infield also was hard, which could lead to more hits overall.
"It seems fast," Dodgers manager Don Mattingly said. "It's carrying today. I don't know if it's the wind or not, but it's good for offense, for sure."
March, 17, 2014
Mar 17
11:09
PM PT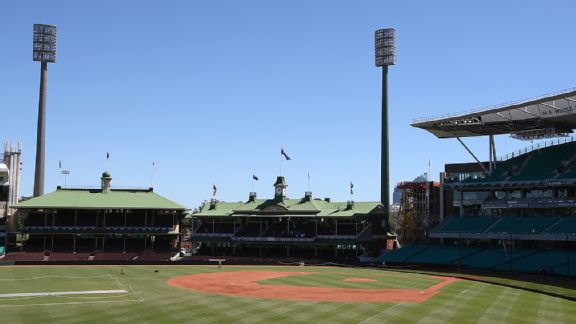 AP Photo/Rick RycroftSydney Cricket Ground, where the Dodgers open the season, is "sacred" to Australian sports fans.
SYDNEY -- They've got the bunting up in time for Opening Day as usual. The red-white-and-blue cloth, in this case, is decked out along the railings of a building that was almost 50 years old the day Wrigley Field opened its gates.
"This is sacred ground," says Scott Egelton, the director of the Sydney Cricket Ground.
It might be sacred, but some of it is now foul ground -- and there's a lot of it. Major League Baseball, for the next week, is taking over the most historic sporting venue in Australia.
British troops played cricket at this spot in the 1850s. What's known today as the Sydney Cricket Ground opened its doors in the 1880s, and two of the original buildings are still standing. They're wood with pale green pillars.
One of them is the Members Pavilion and next to it is the Ladies Pavilion, where, until the 1970s, women were segregated from their husbands. Some people have chosen to have their ashes scattered on the pitch, and their names are commemorated on little silver plaques that line a white picket fence.
Major League Baseball sent Murray Cook here weeks ago. His expertise is carving out baseball fields out of non-baseball playing lands. He has built baseball fields in Beijing, Frankfurt, Germany, and here in Sydney for the 2000 Olympics. He and his crew got the field in working order using the materials on hand, though they had to import a few hundred tons of clay from Southern California to make a proper infield.
The field looks like most any other major league field. The foul ground is more generous than most -- though not quite as expansive as it is in Oakland -- and, to avoid making it such a pitchers' park, Cook pinched the corners. You only have to hit it 328 feet down the lines for a home run.
The builders had to build dugouts where there were none. They are smaller than most. The steps were so steep, Arizona coach Mark Grace muttered, "Good Lord, don't they know how un-athletic we ballplayers are?" as he struggled to make his way down them at Tuesday's workout.
"Yeah, I like it. It looks like a pitchers' park, a lot of foul ground," said Arizona pitcher
Wade Miley
, who will throw the first pitch of the first major league game to be played here.
Miley wasn't even planning to be in Australia. He would have stayed behind when the Diamondbacks embarked on the 15-hour flight to Sydney, instead pitching in minor-league spring-training games, but the Diamondbacks' young ace,
Patrick Corbin
, injured his elbow. The team told Miley he would pitch Game 1 on Saturday night. He packed up hastily.
"I'm the first pitcher of the 2014 baseball season. That's special," Miley said.
Major League Baseball official John Blundell was here in January and took in a couple of games played by the local cricket team, the Sydney Sixers.
"I knew nothing, just like they're going to know nothing about our game," Blundell said.
Soon, they might know a little bit more. About 80,000 fans will get to see some of the best players in the world -- pitchers such as
Clayton Kershaw
and sluggers such as
Paul Goldschmidt
-- but the legends this place reveres compete in a different arena. Above center field, a sign reads, "Victor Trumper Stand." Trumper scored 214 points against South Africa in 1910-11. Above right field, a sign reads, "Clive Churchill Stand." Churchill was a fullback, one of the greatest Australian rugby players of all time.
And then there's Stephen "Yabba" Gascoigne. He's the fan who heckled the English cricket team so mercilessly, he became an icon. They built a bronze statue of him. If you look closely while the Dodgers and Diamondbacks play, you might be able to make it out. He's in the second row sitting in left-center field, his hands cupping his mouth, a bottle nearby.