Dodgers Report:

Tampa Bay Rays
November, 18, 2013
11/18/13
11:53
AM PT
For a team picked by many to win the World Series next year, the Dodgers aren't exactly the complete package just yet. At the top of their priority list for offseason upgrades is completing a starting rotation that only has three bankable pitchers at the moment.
Granted, "bankable," might be an understatement for a trio that includes two Cy Young winners (including a two-time winner) and a Rookie of the Year contender. But beyond
Clayton Kershaw
,
Zack Greinke
and
Hyun-Jin Ryu
, the Dodgers have nothing but questions.
Back in September, five months removed from reconstructive elbow surgery,
Chad Billingsley
was feeling great. He was hoping to be throwing off a mound some time early in 2014 and competing by spring training. Maybe it will happen, but most pitchers need a little more time than that to return from Tommy John surgery. The Dodgers can't write Billingsley's name into their plans until they see him pitching again, pain-free. It could be May or June before that happens.
Josh Beckett is even more of a mystery, primarily because he's four years older than Billingsley and more than 1,900 innings into his major league career. Beckett had a rib removed in July to ease the discomfort stemming from thoracic outlet syndrome. He was hoping to be ready in February or March, but again, much is still unknown.
The Dodgers don't seem confident in their internal options at the moment. That's not surprising since journeyman
Matt Palmer
led their Triple-A team in innings,
Matt Magill
struggled badly in his last two major-league starts,
Stephen Fife
got hurt and most of the team's top pitching prospects were in Class-A ball last year.
So, of all the Dodgers' needs, adding rotation depth will be at the top of their priority list going into next month's winter meetings and, probably, beyond. Let's explore some options:
Masahiro Tanaka:
We've
already discussed this possibility
, so we'll keep this fairly concise. It speaks volumes about the simultaneous rise in free-agent prices and decline in free-agent talent that teams are seriously considering making a run at the best pitcher in Japan given the costs involved. MLB and the Japanese league are still working out details of the new posting system, but it's widely believed Tanaka's team will get more than the previous record of $52 million and that the total cost of signing Tanaka could approach $150 million. He's coming off a magical season and only 25 years old, but just a year ago, that was the going rate for a Cy Young-caliber pitcher who had already proven himself in the majors, eg., Zack Greinke.
On the plus side, the Dodgers wouldn't have to surrender a draft pick to sign Tanaka, he would fit perfectly into their push to get younger, he'd help them own the Pacific Rim in terms of marketing and the posting fee wouldn't count against the luxury tax. Oh, and he was 24-0 last year, so there's that. Some people have taken to comparing the Dodgers to the
New York Yankees
. We'll find out, because the Yankees might be their primary rivals for Tanaka.
Chances: Strong
David Price
: Imagine a rotation with the two best left-handed starters in baseball sandwiched around Greinke. At that point, who cares who the fifth starter is? You or I could probably do it and the Dodgers could still win 95 games. He just turned 28, has a lifetime 3.16 ERA and averages 199 strikeouts per year. He'd probably thrive even more pitching in the National League. If the Dodgers could acquire him and then agree to a multi-year extension, he could also give them some insurance in case, somehow, they couldn't reach a long-term deal with Kershaw. On the other hand, Tampa Bay hasn't thrived in the toughest division in baseball for all these years because it makes bad decisions. The Rays are going to want a quality return of young talent to part with Price and, even if the Dodgers had all those pieces to trade, it would drain an already-thin system.
Chances: Slim
Ricky Nolasco
: He struggled in September and gave up a punishing home run to
Matt Holliday
in the playoffs, but when the Dodgers acquired him in June, he was the perfect addition to their rotation. He added quality depth. Could he be the answer in the long term? He's from Southern California and said he wanted to remain a Dodger. Keeping Nolasco just might prove too pricey for the return. There were reports out of last week's general manager meetings that Nolasco already had a four-year deal in hand, with the
Minnesota Twins
apparently in serious pursuit. Is he worth $60 million or more? It's an overheated market for pitching and Nolasco seems like the embodiment of that.
Chances: Slim
Hiroki Kuroda
: He gets older, but the results stay the same. In six seasons in the major leagues, four of them with the Dodgers, Kuroda has never had an ERA higher than 3.76. The past two seasons, he has given the New York Yankees 421 innings and posted a 3.31 ERA. He could probably be signed on a one-year deal. Perfect, right? No, because he rejected the Yankees' $14.1 million qualifying offer, which means two things. He wants to be paid more than that if he's going to stay in the U.S. and he would cost the Dodgers a valuable draft pick, which would run counter to their rebuild-the-system push. Plus, he'll be 39 next year.
Chances: Slim
Other free agents:
Ervin Santana
and
Matt Garza
have their appeals, but not at the price tags they're likely to command.
Bartolo Colon
might be available on a reasonable one-year deal and wouldn't cost the Dodgers a draft pick, but he turns 41 next May. With the exception of Tanaka, it's an exceptionally flawed market for free agent starting pitchers and it seems like the Dodgers are more than aware of that. Much as they'd like to improve their rotation, they might be better served to sit this one out.
Chances: Slim
Other trade candidates:
There have been reports that both the
Seattle Mariners
and
Texas Rangers
have engaged the Dodgers in trade talks lately involving one of the Dodgers' spare outfielders. If the Dodgers are willing to move
Matt Kemp
,
Carl Crawford
or
Andre Ethier
, and it certainly appears they are, they might be able to land a starter that way. If Texas isn't willing to part with
Elvis Andrus
, for example, what if the Dodgers could land
Ian Kinsler
and
Alexi Ogando
in some kind of multi-player transaction? Texas has a deep system, so the Dodgers might be able to land a Triple-A arm that would be ready to help them at some point this season. And, of course,
if the Dodgers are willing to field offers
for
Yasiel Puig
, there's no telling the kind of talent they could get in return, including the most coveted treasure of all, a quality starting pitcher or two.
Chances: Strong
October, 25, 2013
10/25/13
10:29
AM PT
The Dodgers have already declared their primary imperative for this winter. General manager Ned Colletti set the course Monday when he wasn't trying to tap dance around his manager telling everyone how dissatisfied he was with his contract.
"We could use a little younger group," Colletti said.
The Dodgers were sort of moving in that direction even before the National League Championship Series, where they lost to a
St. Louis Cardinals
team that has 18 homegrown players, the most on a World Series roster in the wild-card era. During that series, you could practically see light bulbs popping on over the heads of Colletti and president Stan Kasten.
Already, the Dodgers have shaved 10 years off their collective age. They signed Cuban second baseman Alexander Guerrero, 26, which means the likely departure of
Mark Ellis
, 36. And, in the long run, they've put the pieces in place to generate talent internally. They're spending freely in international markets, have bulked up the scouting staff and invested in their academy in the Dominican Republic.
But how do you get younger fast? Let's explore some possibilities for the Dodgers this offseason as they try to shed some years and still field a team that can compete for a World Series right away:
1. Trade for David Price
The second-best left-handed starting pitcher in baseball just turned 28 and he's about to be awarded an eight-figure contract by an arbitrator. The
Tampa Bay Rays
, who play in an awful domed stadium to tiny crowds, don't pay a lot of people that kind of money, so it's widely assumed they'll be open to trading their 2012 Cy Young winner this winter.
Could the Dodgers line up as a good trade partner or, failing that, just give Price a carload of cash in 2016? It's awfully fun to think about a starting pitching rotation that goes
Clayton Kershaw
-
Zack Greinke
-David Price-
Hyun-Jin Ryu
-anybody on earth. And, though this will probably get me publicly pilloried, they would have an immediate alternative if they can't lock up Kershaw to the mega-deal they've discussed and he somehow reaches free agency.
But to land a player as good as Price from an organization as savvy as the Rays, it probably would take the Dodgers' top two prospects and then some. They'll have competition from at least a dozen teams. So, should they part with, say, Corey Seager and Zach Lee, are they, in fact, diminishing the future for the present? That certainly isn't the idea.
2. Trade for Elvis Andrus
As good as
Hanley Ramirez
is, he really isn't a shortstop any longer. You can live with his defensive shortcomings at third base a lot more easily than you can at shortstop. Because he was injured so frequently last season, his defensive issues weren't as evident as they might have been if he had stayed healthy.
Andrus, 25, is a superb defender, a patient hitter and an impact base runner. The Dodgers would lose a little pop by essentially swapping Andrus for
Juan Uribe
in their lineup, but they think they've added some in the Guerrero-Ellis exchange.
Would the Rangers, who just signed him to an eight-year, $120 million extension, consider moving him? Would the Dodgers take on that kind of money for a guy who hit .271 last year and has, essentially, no pop? Considering they plan on building around good pitching, it's never a bad idea to have a defensive whiz at shortstop.
3. Let the free agents walk
We won't belabor the point here because
we posted on this topic yesterday
, but the Dodgers' 11 free agents are largely a group of 30-something role players. Perhaps it makes sense to hold onto
Nick Punto
or
Skip Schumaker
for utility purposes and lefty
J.P. Howell
should be retained, but otherwise the Dodgers should probably look elsewhere if they really are intent on getting younger.
Tim Federowicz
proved last year that you can trust young players in backup roles, at a fraction of the cost.
4. Trade Andre Ethier
Let's face it.
Carl Crawford
and
Matt Kemp
, both of whom are massively paid and frequently injured, are untradeable, unless the Dodgers swallow huge chunks of their lengthy contracts. Unless they're more worried about Yasiel Puig's maturity issues than they're letting on, they're not going to part with a hugely talented 22-year old.
That means, the four-outfielder conundrum could finally become reality next April. Ethier, 31, has four years and $71.5 million left on his deal, which is a little easier to move. Even if Kemp, coming off two surgeries, is unable to play next year, the Dodgers will have Joc Pederson standing by at Triple-A. Pederson had an .838 OPS at Double-A Chattanooga and, at the time, some people thought he would be called up rather than Puig. Maybe the Dodgers could get a power arm for their bullpen in exchange for Ethier. Those seem to come in handy in October.
Ethier has been the subject of trade rumors for more than a year now. It might be time to turn the rumors into reality. ESPN's Jim Bowden wrote that the
New York Yankees
,
Texas Rangers
and
Seattle Mariners
all could show some interest in Ethier.
5. Fast-track the prospects
That was one of the things Colletti mentioned about the Cardinals. They have been willing to move their young players quickly and to take a leap of faith and use them in key roles in the major leagues. If you trust the player, it makes sense.
Michael Wacha
was at Texas A&M in 2012.
Trevor Rosenthal
was in community college in 2009.
Joe Kelly
and
Seth Maness
both pitched in college in 2011.
Lance Lynn
was at Mississippi in 2010. The pattern, of course, is that they are college guys and the Dodgers have gotten behind that trend in a big way, loading up on college arms last June.
The Dodgers don't have that kind of elite talent in their system, but they're working on it. Chris Anderson, Tom Windle, Chris Reed and Ross Stripling are all well-regarded prospects who were drafted off college teams in recent seasons. Lee was a high-school draft pick, but he's had enough minor-league seasoning to be a factor next year.
You would think that, out of that group, there must be at least one or two pitchers capable of filling a rotation spot or meaningful bullpen role for the Dodgers. The Dodgers had a good experience with
Paco Rodriguez
, who was the first player from the 2012 draft to reach the major leagues.
There's no more fulfilling way to get younger than to trust your own guys.
August, 12, 2013
8/12/13
10:32
AM PT
Who needs
Hanley Ramirez
when you have
Nick Punto
and
Skip Schumaker
, right?
OK, so consider that a rhetorical question.
Yet the fact the Dodgers managed to go 6-1 last week with the man who carried them for large stretches of July out with a shoulder injury, tells us something. It tells us the Dodgers are on the kind of roll that can only be produced collectively. It's not about
Yasiel Puig
. Or Ramirez. Or
Clayton Kershaw
.
It's about everybody.
Punto and Schumaker combined to bat .533 with eight RBIs last week. In other words, they gave them the production they would have expected from a player like Ramirez, who has the Dodgers' third-highest WAR (3.7) despite missing 59 games with injuries this season.
The Dodgers won't say this publicly, of course, but the fact they're showing so much patience getting Ramirez back on the field probably has something to do with the fact they're increasingly confident of making the playoffs. They're more likely to play deep into October if Ramirez is playing at 95 percent health than at 70 percent.
SCORING
Don Mattingly has only seen Kershaw frustrated by his low run support (third-worst in the majors) one time this year. He couldn't recall the exact game, but it was some time in April or May.
"He didn't say anything and he might say it really wasn't, but it just seemed like he was having a bad day," Mattingly said.
It happens to a pitcher on somebody's staff every year. Mattingly remembers that Ron Guidry was always the guy who got low run support when he pitched for the
New York Yankees
. The fact it's Kershaw isn't sitting well with the Dodgers.
"We need to change it, that's for sure," Mattingly said.
And, just like that, the Dodgers did -- or, at least, started to. They jumped on the
Tampa Bay Rays
for eight runs in Sunday's sweep-capping victory, allowing Kershaw -- for just the second time this year -- to coast.
The Dodgers are more about pitching than hitting, but unless Kershaw is on the mound, they do a more-than-adequate job of supporting their pitchers.
Hyun-Jin Ryu
and
Zack Greinke
have both gotten plenty of support.
The Dodgers scored 42 runs in seven games, though 13 of those were in one game in St. Louis, after
Carl Crawford
lined a ball off Shelby Miller's right elbow, knocking him out of the game after two pitches.
Adrian Gonzalez
had a solid week, but nobody had more moments than Punto and Schumaker, who commute to Dodger Stadium from Orange County on a daily basis.
Grade: B-
DEFENSE
Dodgers starters lead the major leagues in ERA. No surprise there, considering they have two Cy Young winners and their No. 5 starter,
Chris Capuano
, is good enough to have pitched nine seasons in the major leagues.
But what has allowed Dodgers pitching to take off has been one of the hottest bullpens in the majors.
Paco Rodriguez
and
Kenley Jansen
have been impossible to score against and the other Dodgers relievers are handling their roles.
The improvement in relief could be key for the Dodgers' chances in October. The bullpen all season has stood out as the area of most serious concern.
From the sixth inning of Wednesday's game in St. Louis, the Dodgers' bullpen pitched nothing but shutout innings. Going into Sunday, opponents were batting .100 off the relievers in that span.
From July 23 to Thursday, Jensen retired 27 straight batters. Were he a starter -- and had he done it in one night -- he would have had a perfect game. Rodriguez got a rare two-inning save in St. Louis.
J.P. Howell
got some big outs. Even
Brandon League
looks like he's rebuilding his delivery. Carlos Marmol isn't a lost cause.
The Dodgers will be considered October threats because of their starting pitching, but their relievers could make them the complete package.
The Dodgers played awful defense early in Friday's game and somehow came back to win it, rallying for seven runs in the final three innings.
Dee Gordon
continues to be a work in progress (putting it kindly) when he plays shortstop. If you're a fretful type and root for the Dodgers, fielding will be your only major worry these days.
Grade: A-
DECISION-MAKING
One of the more puzzling Don Mattingly decisions was to use Ramirez as a pinch hitter Friday night with the Dodgers trailing 6-1 and with Schumaker on second. Ramirez looked bad striking out to end the inning, but more important, it set back his clock should the Dodgers elect to put him on the disabled list.
Now, any move would be retroactive only to Friday.
You have to also give Mattingly some of the credit for how well the bullpen performed. He put them in the right spots to succeed. In fact, it seems Mattingly's feel for his bullpen and its roles is one of the more positive evolving story lines.
Brian Wilson
made the Dodgers' decision to sign him look smart, at least so far. In all three of his minor-league rehabhttp://proxy.espn.go.com/blogadmin/los-angelesdodger-report/wp-admin/upload.php outings, he has pitched perfect innings.
Grade: B+
GRIT-METER
Punto and Schumaker were prominent, so the grit-meter was a bit higher than usual. Those guys must argue about who's more scrappy on their 45-mile commute. But let's face it, when you're this hot, grit's kind of a secondary concern. They'd rather have them hit.
STATE OF CONTENTION
While not completely falling out of things, the Diamondbacks haven't kept pace, allowing the Dodgers to add two more games of distance between themselves and the second-place team. It also doesn't help that outfielder
Cody Ross
, one of Arizona's hottest hitters, had to be carted off the field and taken to a hospital after dislocating his hip in Sunday's game.
The rest of the division has faded into a blob of irrelevance.
Barring a strange change of direction, the Dodgers soon will be jockeying for home-field advantage in the playoffs, rather than scrambling to get there. And, we're teetering on giving them an 'A,' but ...
Grade: A-
August, 11, 2013
8/11/13
4:17
PM PT
LOS ANGELES --
Hanley Ramirez
continues to feel pain in his right shoulder when he makes throws from shortstop and when he fully extends his arms while swinging a bat.
Thus, the
Los Angeles Dodgers
continue to be cautious with their .359-hitting shortstop. Manager Don Mattingly told him he wants him to be 100 percent healthy before he returns to the lineup. The disabled list remains a possibility. Ramirez jammed his shoulder falling into the stands to make a catch one week ago at Wrigley Field.
"I just worry if the pain keeps repeating every time I throw a ball or something," Ramirez said. "If I have to play like that the rest of the year, I'm going to play."
Mattingly used Ramirez as a pinch hitter in the seventh inning of Friday's game, meaning any disabled-list stint could be retroactive only to that date. Ramirez might be available as a pinch hitter in the next few days, but it sounds as if he is several days away from returning to the field.
The Dodgers have gone 5-1 while Ramirez has been out and they've built a 6½ game lead in the National League West, factors that have allowed them to take their time with their three-time All-Star.
Here are lineups for Sunday night's game with the
Tampa Bay Rays
, with L.A. going for a sweep:
Tampa Bay
1.
Sean Rodriguez
1B
2.
Wil Myers
CF
3.
Evan Longoria
3B
4.
Ben Zobrist
RF
5.
Yunel Escobar
SS
6.
Ryan Roberts
2B
7.
Jose Lobaton
C
8.
Jeremy Hellickson
RHP
9.
Jason Bourgeois
LF
Dodgers
1.
Carl Crawford
LF
2.
Mark Ellis
2B
3.
Adrian Gonzalez
1B
4.
Yasiel Puig
RF
5.
Andre Ethier
CF
6.
A.J. Ellis
C
7.
Juan Uribe
3B
8.
Dee Gordon
SS
9.
Clayton Kershaw
LHP
August, 10, 2013
8/10/13
5:27
PM PT
LOS ANGELES --
Yasiel Puig
has been the fuse.
Hanley Ramirez
has been the dynamite.
But this entire
Los Angeles Dodgers
explosion never would have happened -- or might have simply been too late -- if not for the steady demolition work
Adrian Gonzalez
has been doing all season, to virtually no fanfare.
[+] Enlarge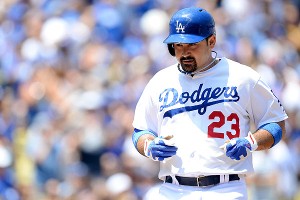 Harry How/Getty ImagesAdrian Gonzalez leads the Dodgers in hits, home runs and RBIs, but perhaps more important, he leads in games played, too.
If you're a Puig fan (and what Dodgers supporter isn't these days?), at least understand where manager Don Mattingly is coming from when he says Gonzalez -- not Puig, Ramirez or
Clayton Kershaw
-- has been the Dodgers' MVP this season.
People in the right-field bleachers were chanting, "Puig! Puig! Puig!" after he made a nice running catch at the wall during Saturday's 5-0 win over the
Tampa Bay Rays
, the Dodgers' 36th win in the past 44 games. Maybe somebody should start a Gonzalez chant one of these days. What, too many syllables?
"I try to talk about it enough to let people know," Mattingly said. "He and
Mark Ellis
are kind of bread and butter, right? They're there for the most part all the time, they do their thing and you don't really notice them because they're not real flashy, but it's kind of been all year long.
"He's that guy you don't really have to worry about."
Gonzalez leads the Dodgers in hits, home runs and RBIs (by a mile). Maybe more crucial than all of those: He leads them in games played. In a season in which other superstar talents have exited and entered the Dodgers' lineup via revolving doors, he stays put. Gonzalez has missed just four of the Dodgers' 116 games.
At times, it seems the culture of baseball encourages stoicism. Gonzalez is one of those guys. He has never been on the disabled list.
"My whole career, I've played through injuries, through nicks and knacks," he said. "That's what I try to do is be out there every day and help the team win."
On Saturday, Gonzalez launched a low-flying missile over the right-field wall for his 16th home run.
Nick Punto
was on base, so it gave him his 72nd RBI. The next-closest Dodger in that category,
Andre Ethier
, has 41.
August, 10, 2013
8/10/13
12:29
PM PT
The
Los Angeles Dodgers
got crucial hits from half the guys in their lineup during Friday night's improbable late-inning comeback, but the two people manager Don Mattingly spoke most glowingly about after the game were relievers
J.P. Howell
and
Brandon League
.
They stopped the damage the
Tampa Bay Rays
had done off starter
Chris Capuano
. Howell's outing was particularly impressive. He came into a first-and-third one-out situation and kept Tampa Bay from building its lead to 7-0 or more.
It wasn't as easy as it looked. Howell wasn't comfortable at first pitching to players he had befriended in his six years of pitching for the Rays.
"I didn't like it at all at first," Howell said. "It's easy to pitch when you hate the other team. I've always had that with Kansas City because I just didn't like them at first and they were the team that drafted me and gave up on me. But this was a situation where I learned a lot about myself. I was able to get through without overdoing it."
TV cameras caught Rays third baseman
Evan Longoria
and Howell going back and forth during the game. Howell said it was about his hairdo, with Longoria accusing him of having gone "Hollywood."
For years, Howell teased Longoria, who is from Downey, about being a prototypical SoCal guy. Howell is from Sacramento.
Mattingly considered League's two scoreless innings to be critical to the game and to rebuilding League's confidence. He began the season as the Dodgers' closer, but now often is used in mop-up duty. L.A. doesn't want to give up on a pitcher with such effective stuff and such a hefty contract remaining.
"He gave up a couple home runs in St. Louis, and you don't want him to get out of the roll he'd been on the previous five or six outings," Mattingly said. "It looked like he got back on that roll."
Here are lineups for Saturday's game:
Rays
1.
Ben Zobrist
2B
2.
Matt Joyce
RF
3.
Evan Longoria
3B
4.
Wil Myers
CF
5.
James Loney
1B
6.
Yunel Escobar
SS
7.
Kelly Johnson
LF
8.
Jose Molina
C
9.
Roberto Hernandez
RHP
Dodgers
1.
Carl Crawford
LF
2.
Nick Punto
SS
3.
Adrian Gonzalez
1B
4.
Yasiel Puig
RF
5.
Andre Ethier
CF
6.
Juan Uribe
3B
7.
Skip Schumaker
2B
8.
A.J. Ellis
C
9.
Zack Greinke
RHP
August, 10, 2013
8/10/13
11:45
AM PT
Before AL Cy Young winner
David Price
made his first start at Dodger Stadium on Friday night, he and the
Los Angeles Dodgers
had been going back and forth on Twitter for more than a month.
It started when Price suggested in a July tweet that they trade
Yasiel Puig
to Tampa Bay for sunflower seeds, a fresh rosin bag and an energy bar.
The Dodgers somehow managed to decline that offer, but they did invite Price to bring his French bulldog, Astro, who once had his own bobblehead day, to Dodger Stadium for the Rays' first-ever visit this weekend.
Price couldn't get Astro on the Rays' charter flight, so the pitcher came solo. But, when he walked into the visiting clubhouse Friday afternoon, he was greeted with a basket full of chew toys, a foam finger, a Frisbee, dog biscuits and a Hello Kitty bobblehead with Dodgers logos -- all for Astro -- delivered to his locker.
In return, the Dodgers' social media coordinator, Josh Tucker, asked only one favor: Take a little off your fastball Friday night.
"I wouldn't do that for my mom … or my 1-year-old niece," Price replied.
And he didn't. The Dodgers were overmatched by his mid-90s fastballs and off-speed stuff, but they got his pitch count up and then rallied to beat Tampa's relievers in the final two innings.
Oh well, perhaps Price will remember that gesture of kindness to Astro in November 2014. That's when he projects to reach free agency.
August, 9, 2013
8/09/13
11:56
PM PT
LOS ANGELES -- In May, when the
Los Angeles Dodgers
fell behind by a run or two in the fourth inning, it felt as if their path was being blocked by a sleepy Brachiosaurus. They weren't going anywhere.
Now, when they fall behind 6-0 in the seventh inning, against one of the hottest pitchers in baseball and one of the best teams, with the fatigue seeping deep into their bones, it feels as if a ladybug has settled on the path in front of them.
[+] Enlarge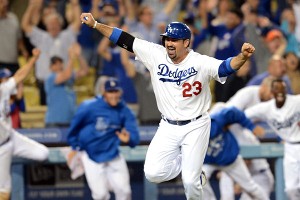 Jayne Kamin-Oncea/USA TODAY SportsAdrian Gonzalez scores the winning run in the ninth to complete the Dodgers' dramatic comeback from a 6-0 deficit on Friday night.
They either step on it or it gets out of the way.
The Dodgers did the nearly impossible Friday -- according to one of those probability programs, their chances to win were less than 1 percent in the eighth inning -- but it never felt all that improbable. They rallied for all seven of their runs in the final three innings for a 7-6 defeat of the
Tampa Bay Rays
, scoring four times off closer
Fernando Rodney
.
When the Dodgers were at their low point, losing in lifeless, low-scoring games early in the season, manager Don Mattingly said he wanted to be the kind of team that never considered itself out of a game. By now, we can probably safely say they've become that team.
Even when they're operating on a few hours of sleep after spending the previous week in the Central time zone, and then flying half the night. Even when their fielding in the early innings feels as if it needs a laugh track.
The Dodgers sleepwalked until they realized they might actually lose Friday night. When you see a team start to take on that kind of identity, able to will itself to wins, you can see the makings of a special season.
"Everybody knows we got in late. We know we got in late and came off a road trip, but even with that, these guys still came out to play," Mattingly said. "We feel like we can win every day."
And they're proving it, day after day, week after week, soon to be month after month.
The Dodgers are 18-3 since the All-Star break, 35-8 since June 21, and pretty much immune to their opponent. They looked sleepy and uninterested while sweeping four games from the hapless
Chicago Cubs
. They kept right on going, winning four of the next five against powerhouse teams, the
St. Louis Cardinals
and the Rays.
You always wonder when a team's fortunes will change. They invariably do in baseball, at some point, right?
But the end wouldn't appear to be imminent. The Dodgers have
Zack Greinke
and
Clayton Kershaw
pitching in these next two games. After that, they welcome a lousy
New York Mets
team to Dodger Stadium.
Even if none of that were true, the Dodgers would still go into each of those games feeling as if they would win. They'll keep thinking that way until the evidence suggests otherwise.
August, 9, 2013
8/09/13
5:49
PM PT
LOS ANGELES -- You could run through a lot of names for National League Rookie of the Year before you landed on
Paco Rodriguez
, but the Dodgers have leaned heavily on their young reliever.
Rodriguez, who was the first player from the 2012 draft to reach the major leagues last season, has emerged as the team's primary setup man. When closer
Kenley Jansen
was given the day off Monday in St. Louis, Dodgers manager Don Mattingly turned to Rodriguez for the save.
He got it, by pitching two innings and not allowing a base runner.
Rodriguez has been so reliable -- he has a 1.60 ERA since May 1 and opponents are batting .123 off him -- that Mattingly has found it difficult to avoid going to him, particularly when a team's best left-handed hitters are due up. Rodriguez has appeared in 56 games, something of a concern given that he was pitching on a college schedule -- four games a week -- a little over a year ago.
Rodriguez pitched in just 21 minor-league games before joining the Dodgers last August. Two weeks ago, pitching coach Rick Honeycutt asked Rodriguez to cut back on his throwing routine before games.
"It's crazy. I've gotten to a point where I have coaches talking to me. I've asked players what they do when their body is wearing down, because sometimes you wake up the next day and you're dragging," Rodriguez said. "So, I've been talking to the guys to find out what their routines are when that starts to happen."
The two-inning save Monday was the Dodgers' first in more than four years. Mattingly said he and Honeycutt have been concerned for weeks about limiting the workloads of Rodriguez, 22, and Jansen, who has pitched in 57 games.
"It's a little bit of a double-edged sword for us, because you want to control their usage and stay on top of it, but if you have a chance to win a game, it's not like you're going to sit there like, 'Oh well, I'm not going to use him,' " Mattingly said.
Rodriguez is excited about his first trip with the Dodgers to his hometown of Miami later this month. His mother was able to secure 100 tickets from a family friend.
*
Hanley Ramirez
's jammed right shoulder wasn't well enough for him to return to the lineup Friday, but Mattingly said he may be available to pinch hit and could return during this three-game series.
Here are lineups for Friday night's game:
Tampa Bay
1.
Sean Rodriguez
LF
2.
Ryan Roberts
2B
3.
Evan Longoria
3B
4.
Wil Myers
CF
5.
Ben Zobrist
RF
6.
Yunel Escobar
SS
7.
James Loney
1B
8.
Jose Molina
C
9.
David Price
LHP
Dodgers
1.
Mark Ellis
2B
2.
Nick Punto
SS
3.
Adrian Gonzalez
1B
4.
Yasiel Puig
CF
5.
Jerry Hairston Jr
. LF
6.
Juan Uribe
3B
7.
Tim Federowicz
C
8.
Skip Schumaker
RF
9.
Chris Capuano
LHP
August, 9, 2013
8/09/13
12:07
AM PT
Brian Wilson
can see it from afar.
The former All-Star closer just joined the
Los Angeles Dodgers
organization 10 days ago -- and his closest work place to a Dodger Stadium mound was in Rancho Cucamonga -- but he has watched enough games on TV to see what's happening.
[+] Enlarge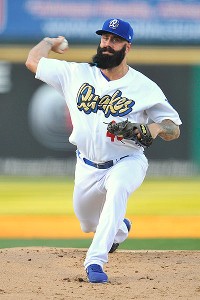 Gary A. Vasquez/USA TODAY SportsBrian Wilson says before the Dodgers even signed him to a deal, he could tell the atmosphere around the team had changed.
"You can see the atmosphere has kind of changed. You watch all the teams throughout the year and kind of see a certain carryover, having a loose atmosphere, playing fun," Wilson said. "You can see they're having a great time."
You would think a guy like Wilson, with his dramatic and ever-changing hairstyles and braided beard, might make things even more fun in the Dodgers clubhouse.
But as Wilson spoke to reporters after his first rehab outing Wednesday night, I couldn't help marveling at what a luxury he is. The Dodgers really didn't have all that urgent a need when they took a $1 million gamble to see if Wilson could give them quality relief work for the final six weeks of the season and, they hope, beyond.
During this 41-game stretch, in which the Dodgers have won 33 games, their relievers are 10-1 with a 2.88 ERA in 115 2/3 innings. Before that, they were 12-17 with a 4.67 ERA.
So, if Wilson is good, they have one more experienced setup man to get the ball to red-hot closer
Kenley Jansen
. If Jansen falters, Wilson might even step in. If he's not good or his arm doesn't hold up, they watch a million bills from their $216 million payroll go up in smoke. Oh well.
Of course, all teams have limitations of one sort or another. The Dodgers are practically without bounds financially, but former owner Frank McCourt left the Dodgers' minor-league system bare. Thus, the Dodgers elected to pass on any potential trades for relievers, holding onto their few premium prospects.
The
Tampa Bay Rays
, who visit Dodger Stadium for the first time ever this weekend, have arrived at a similar place through different means. The Rays, who are the American League version of the Dodgers -- 25-8 since June 28 -- are cash-poor, but prospect-rich.
April, 8, 2013
4/08/13
12:30
PM PT
LOS ANGELES --
Los Angeles Dodgers
manager Don Mattingly has never been all that worried about how
Carl Crawford
would handle the pressure of a massive contract and a new team. He already went through that in Boston.
But that doesn't mean Crawford felt no sense of urgency.
The way he sees it now, the roof began caving in slowly, chunk by tiny chunk, the day he looked at the lineup card in the visiting clubhouse in Arlington, Texas, and saw his name in the No. 7 hole. That was his third game with the Red Sox, April 3, 2011.
Crawford had gone 0-for-7 batting third in the first two games and the Red Sox were facing left-hander
Matt Harrison
. Manager Terry Francona said at the time, "Looking at him, he's obviously trying too hard."
Crawford said Sunday he entered this season intent on giving Mattingly no reason to make such a quick move.
"After going through that, I decided I'm going to try to have hot starts," Crawford said. "You never know when a manager might panic like that again and tell you things like, 'We're doing this for you.' You know? Going through that definitely messes with your confidence because, first of all, you can't believe they spent $140 million to put you in the seven-hole and, second, you've never been in that situation before so you don't really know how to take it.
"It was as if the team really doesn't want you or you're doing something wrong. Now, your mind just starts to get flustered and cluttered with all kinds of stuff."
It is, of course, ridiculously early to make any sweeping conclusions, but through the Dodgers' first six games, Crawford has looked anything but flustered. He looks, in fact, much more like the dynamic, run-scoring force he was for nine seasons in Tampa Bay than the unsure, injury-prone player he became in Boston. He has been the engine of what little offense the Dodgers have produced, hitting .450 and scoring five of the team's 17 runs.
"I think we're seeing little glimpses of what everybody else was seeing for a while," Mattingly said.
His rebuilt left elbow has held up fine. He has, in fact, surprised Mattingly and the other coaches by putting more zip on his throws than they would have expected less than eight months removed from surgery.