Dodgers Report:

Texas Rangers
November, 19, 2013
11/19/13
11:39
AM PT
At least until rumors spring up that the Dodgers have had a secret dinner meeting with the representatives for
Robinson Cano
, which presumably should happen any minute now, here is how the infield situation shapes up:
The Dodgers have no third baseman, a second baseman who has never played a major-league game and a shortstop who some people think should be playing the outfield or designated hitter. It's
Adrian Gonzalez
and three question marks.
Not exactly a settled situation, but that's not necessarily a disastrous state of affairs for the Dodgers. Given the dearth of free agent talent and the unpredictability of trade talks, the Dodgers' flexibility when it comes to rebuilding their infield could be a major advantage. And with their perfectly reasonable off-season imperative to get younger, openings in the infield give them the crucial soil to plant young talent.
They signed Cuban defector
Alexander Guerrero
to a four-year, $28 million deal. That's the contract of a solid everyday player, so the Dodgers expect Guerrero to be on the field for them quickly rather than developing at Triple-A, but at what position? The likelihood is he will take over second base from
Mark Ellis
, but Guerrero has played shortstop most of his life, which usually means he could play any other infield position.
Not a single player who logged an inning at third base last season is still with the organization, except for
Justin Sellers
, who, according to the team, didn't even merit a September call-up.
This would be a good class of free agent third basemen if it were 2005.
Juan Uribe
, who turns 35 before Opening Day, is the best of the bunch and the Dodgers would like to re-sign him, but would it be wise to give him another three-year deal after watching him produce in just one of the three seasons of the last contract they gave him?
Their safest route might be to sign Uribe to a two-year deal, if they can, hope his body holds up and that top prospect Corey Seager is ready by 2016. According to Fangraphs, Uribe had a 5.1 WAR last season, which was essentially identical to that of
Adrian Beltre
(5.2). On the other hand, only two third basemen in the last four years --
Alex Rodriguez
and
Scott Rolen
-- have produced a WAR of 3.0 or better after turning 35. Third basemen tend to age fast.
Beyond Uribe, it's impossible to find an everyday option among free agents.
Eric Chavez
is a 90-games-a-season guy these days.
Placido Polanco
will be 38.
The options are more interesting at shortstop and the Dodgers have been non-committal when asked where they plan to play
Hanley Ramirez
next season. For the first time since 2008, Ramirez rated out as an adequate shortstop last season, but that seemed largely due to the fact he only played 76 games there. Assuming he can stay healthy next season, he could be exposed as a major liability at shortstop, not an ideal situation for a team that relies on its pitching.
ESPNBoston's Gordon Edes reported that the Red Sox are convinced
Stephen Drew
will be signing with another team, so why couldn't that team be the Dodgers? Drew didn't hit in the post-season, but he is a more-than-solid shortstop with a knack for getting on base and good pop. He'll be 31 next season, so swapping him for Uribe would help the Dodgers get younger, but injuries have kept him off the field. He has averaged fewer than 100 games per season the last three years. He also declined the Red Sox's qualifying offer, which means the Dodgers would have to surrender a draft pick to sign him.
Jhonny Peralta
is a solid free-agent alternative to Drew, but he also carries the baggage of last season's 50-game suspension for using a banned substance.
General manager Ned Colletti's best option might be to keep Jon Daniels on speed dial. Everybody in baseball knows the Dodgers have an extra outfielder and the
Texas Rangers
have an extra infielder. According to reports, the two teams had some discussions at the general manager meetings, but they didn't get all that far. It seems reasonable to assume that the names
Matt Kemp
and
Elvis Andrus
arose in those meetings.
Trading a power-hitting center fielder with borderline MVP talent for a light-hitting shortstop might seem folly, but Andrus is only 25, would improve the Dodgers' infield defense immensely, is one of the fastest players in the game, a deft bunter with good on-base skills. He would be the Dodgers' logical solution to the leadoff question.
The players have similar contracts, so finances wouldn't impede a deal. Neither player has no-trade protection. It might be a longshot, but given how much uncertainty the Dodgers have in their infield this winter, a bold plan of action might not be a bad idea.
May, 23, 2013
5/23/13
12:32
PM PT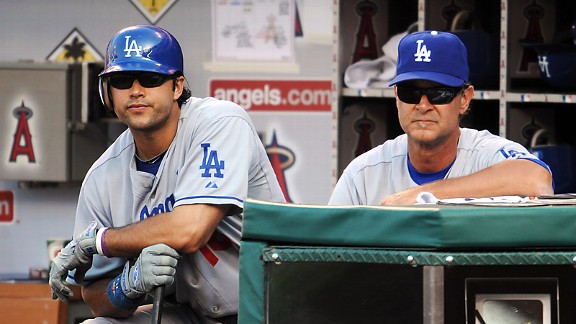 Jayne Kamin-Oncea/USA TODAY Sports
Andre Ethier
was the first player Ned Colletti traded for. He was the first player the Dodgers' new owners made lavishly rich.
When those two elements combined to sign Ethier to a five-year, $85 million extension about a year ago, Colletti said of those owners, "They are all about winning."
Like a lot of things around this team, it takes on a different tint now, doesn't it?
Manager Don Mattingly benched Ethier before Wednesday's game in Milwaukee and implied that the volatile right fielder doesn't always compete as hard as Mattingly would like. The Dodgers have a lot of smooth, stylish players and Ethier certainly fits that description, but they don't have a lot of old-school tough guys. Ethier told reporters after the game that he "takes offense" at Mattingly's comments.
All of which leaves the Dodgers where, exactly?
The problem with giving players long-term mega-deals is that you so often regret them. Nowadays, it usually doesn't take that long. In Ethier's case, the Dodgers probably started having their doubts by about August or September as he was hitting .222 against left-handed pitching -- not atypical of his career.
They watched some solid short-term stop gaps sign with other teams (
Torii Hunter
, a far better clubhouse presence, is batting .313 with Detroit). By spring training, when Yasiel Puig was tearing up the Cactus League, Ethier's extension had to have become a full-scale regret. Now, with Puig and Joc Pederson both apparently just on the horizon, it appears the Dodgers have little choice but to move Ethier eventually, and that probably won't be cheap.
Let's assume for a moment that Mattingly isn't in the Dodgers' long-term plans or that this rift can be repaired. So, maybe there won't be a personality conflict rippling through the team. Can we also assume that Mattingly's opinion was isolated to his office, or that he didn't have conversations with Colletti or anyone else in the front office before making them?
It's become pretty apparent that Ethier's value to the Dodgers has eroded. Can they get anything for him? Dave Cameron at Fangraphs explores that question in some depth
here
and concludes that Ethier is basically an average outfielder trending toward part-time player, that his current contract will be a "total albatross" by the fourth year, but that the Dodgers might be able to get some return if they agree to pay $40 million or so of what they owe him. Kansas City, Seattle, Texas and Baltimore have been mentioned as landing spots for Ethier.
Is it worth it to make a move now, when everybody in baseball knows your position, when Ethier (.405 slugging) isn't performing particularly well, and when -- according to the Dodgers themselves -- Puig is too combustible to be a fit just now?
The better course of action might be wait a while -- maybe the trade deadline, maybe the offseason. Perhaps Ethier heats up and elicits more interest. It buys you more time for Puig and Pederson to develop. Who knows; maybe it goes the other way. Maybe Ethier produces, the Dodgers get hot and -- gasp -- they use those two outfielders as bait to add a missing piece at the deadline.
In 2004, everybody in baseball knew the Angels had to trade outfielder
Jose Guillen
after his famous clash with Mike Scioscia, and GM Bill Stoneman still got a couple of useful players --
Juan Rivera
and
Maicer Izturis
-- off Washington GM Jim Bowden. He made that trade in November, months after the confrontation.
The Dodgers just might have to tolerate a bit of awkwardness until they can make a rational move.
January, 16, 2013
1/16/13
10:54
AM PT
The Dodgers' new owners have spent more than $600 million in acquiring players since they bought the team less than one year ago. They will enter the 2013 season with the highest payroll, at more than $213 million, in baseball history.

Now, the only question is whether they can turn money into wins.

We'll take a look at some of the issues facing the Dodgers as they enter a season filled with promise, but as always, fraught with peril. What are the costs -- and what are the opportunities -- inherent in such a high-stakes gamble?

First up: Can they afford to rely on journeyman Luis Cruz as their starting third baseman?

ESPN's Buster Olney reported Tuesday that the Dodgers have considered making a run at free agent third baseman Scott Rolen. Before you get too excited, remember that Rolen turns 38 three days after Opening Day and, when healthy, he has batted .244 the past two seasons in Cincinnati.

The Dodgers, presumably, would be looking at Rolen to provide depth.

But it raises a larger question: After investing so much in every other area of the team, can they afford to rely on Luis "Cochito" Cruz as an everyday presence at third base in 2013?

Cruz had a dynamic season in 2012, coming out of nowhere (no offense, Albuquerque) to provide the corner pop the Dodgers had so badly lacked. He batted .297, smacked 20 doubles in less than 300 plate appearances and slugged .431. His real forte was defense, playing capable shortstop and, then, spectacular third base.

Great story, a Mexican kid taking a city with one of the biggest Hispanic populations in the U.S. by storm. Fans at Dodger Stadium yelled "Cr-uuuu-z" every time the ball came anywhere near him.

But there's also this: Why did it take him until he was 28 years old to establish himself in the major leagues? Why did he spend all of 2011 in Triple-A? Why did five other organizations give up on him?

The Dodgers have proven they'll spare no expense when it comes to fixing a need. They say they don't view third base as a weakness, but you wonder what they're discussing internally as spring training grows near. Should they trade for an established third baseman and stash Cruz as a super-utility guy? Should they sign Rolen or another established veteran, maybe Brandon Inge, as insurance?

The scenarios don't stop there. Hanley Ramirez looked terrible at shortstop last season and he didn't play a lick of shortstop on his winter-ball team in the Dominican Republic, against the Dodgers' wishes. Should they move Ramirez back to third? If so, they could go in several directions. They could use Cruz or Dee Gordon at shortstop or they could swing a trade for a shortstop. The Texas Rangers, with uber-prospect Jurickson Profar pushing for time, reportedly have dangled Elvis Andrus in trade talks all winter.

Add it all up and you're left with the impression that the left side of the infield is the most worrisome aspect of this team. It's great to invest in pitching, but it's not going to work if the shortstop isn't fielding ground balls. The Dodgers think they have a fearsome lineup, but it's difficult to absorb underproduction at a premium position like third base.

If they go into spring training exactly as they are, they'll have fewer questions than the vast majority of major-league teams, many of whom only have three reliable starters or have serious voids in their bullpens.

There are no guarantees in baseball, no matter how much money you're willing to throw around. The prudent course seems to be entering spring training with Cruz as your established guy. It sends the right message to the rest of the players in your organization: Work hard enough, succeed, and we'll make room for you.

If Cruz struggles through March and April, you still have options. If Ramirez is making every routine grounder a bang-bang play at first, you have plenty of time to adjust. It's not as if everything freezes once Opening Day rolls around. Profar might be tearing up Triple-A, a la Mike Trout last April, and the Rangers might feel even more compelled to move Andrus. Teams might release struggling veterans as spring progresses, giving the Dodgers more opportunity to add left-side depth.

But for now, just keep on cruising.
October, 22, 2012
10/22/12
10:57
AM PT
The Dodgers have said they'll spare no expense in the pursuit of talent all over the globe and they proved that by signing Cuban defector Yasiel Puig for $42 million in June. Now, they're reportedly engaged in talks with pitcher Shohei Otani, who would be the first Japanese high-schooler to come directly to the United States.
Otani
announced Sunday
that he will sign with a U.S. team rather than pitch in his native country. The Dodgers are among a handful of teams pursuing Otani, 18, including the Texas Rangers and Boston Red Sox.
"I think I will start in the minor leagues but I want to challenge in the majors. It's been my dream since entering high school," Otani told reporters in Japan.
The stakes are fairly high because Otani has been clocked throwing 97 to 99 mph. Already, he has drawn comparisons with the previous generation's Japanese pitching phenom, Yu Darvish, who went 16-9 with a 3.90 ERA for Texas last season.
Because Otani is not under contract with a Japanese professional team, the major-league team that signs him would not have to go through the expensive posting system.